* Please note that while this speaker's specific speaking fee falls within the range posted above (for Continental U.S. based events), fees are subject to change. For current fee information or international event fees (which are generally 50-75% more than U.S based event fees), please contact us.
Top25 Speaker Voting

Connie Podesta needs 6 vote(s) to make it into the Top 25 speakers on Speaking.com!
Speaker Booking Tip
"Tip: ask your speaker to do a book signing or attend a VIP meal with your guests. "
For Event Planners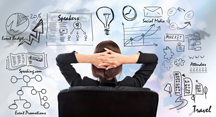 • Keynote Speaker Booking Toolkit.
• Booking a Celebrity Speaker.
• How to Find and Book the Right Speaker.
• Google+ Event Planning Forum.
• Tips for International Clients Booking U.S. Based Speakers.
Similar Speakers
Sam Horn

Intrigue expert, Sam Horn helps others find their unique message and deliver it in a way that cannot be ignored. The communication specialist has assisted…

Christine Cashen

People across the globe are raving about Christine Cashen and her refreshing take on everyday life. Christine is one of the few individuals to meet…

Todd Dewett

Dr. Todd Dewett is one of the world's most exciting and original voices in the leadership and life skills space. He is consistently the #1…

Our client rep was a pleasure to work with. He was well organized and kept me updated every step of the way. The level of professionalism and the quality of the materials received were excellent. I will be in touch for future speakers!
Mattel
About SPEAKING.com
Established in 1994, we are exclusive agents for some of the world's leading experts, celebrities and professional speakers.
We offer event planners a fully staffed speaker logistics planning team, plus a personal SPEAKING.com Account Executive – a knowledgeable and trustworthy partner. We guarantee your satisfaction with your speaker and a smooth booking process.
Contact us today to book your favorite speaker.

"Your presentations at WAHSA′s Fall Conference are further testimony to your power as a professional speaker. Based on delegates′ comments on our evaluation forms, you were the single most important ingredient in our recipe for this successful conference."
Janice Mashak, Wisconsin Assoc. of Homes and Services for the Aging

"Your two-hour presentation to our AAL managers resulted in one of the most valuable meetings of the year; at least that is what many of them told me after the event. I agree! One of your talents is your ability to communicate managerial concepts other speakers spend hours grappling with, in just a few words. Your suggestions about how to deal with difficult people, for example, are not only uncomplicated but practical."
John O. Gilbert, President and CEO, Aid Association for Lutherans

"I don′t know if you are aware that the Million Dollar Round Table rarely invites a speaker back, and never the next year - but in your case we are pleased to make an exception. By popular request, we would like to invite you for an encore presentation as one of our Main Platform speakers...."
Karen Lewis Clark, CMP, Program Coordinator, Million Dollar Round Table

"Everyone loved you! After one session, I felt like a rock star! I got so many positive comments that I not only can′t remember them all, but to put them in perfectly paragraphed and punctuated prose is not possible. But I did keep hearing she was the best we ever had and let′s have her again next year!"
Tasca Lincoln-Mercury, Inc.

"You were the highlight of the conference - even better than George and Barbara Bush or Kenny Loggins!"
American Express

"Just a brief note to Thank You for the great presentation at our Annual Management Retreat - you were sensational! As you were aware, your audience consisted of our top NASA management together with the senior managers from our larger support contractors at Stennis, Lockheed Engineering, and Sverdrup Technology."
NASA

"Based on the overwhelming responses from the participants, it is safe to say that you were the best speaker in over 14 years!"
University of Delaware

"Connie received the highest rating on our post-meeting survey that I have seen in 24 years!"
Western Southern Financial Group
Make a Fortune Selling to Women (Nook Book)
In Make a Fortune Selling to Women, Connie Podesta combines psychology and sales tactics to create a how-to guide for closing sales with women. With a lively voice and no-nonsense tone that both men and women will appreciate, Podesta offers specific tips for overcoming the big five Deal Breakers:

1. She doesn′t want to play the game

2. She doesn′t think the salesperson views her as a legitimate decision maker

3. She doesn′t like the salesperson

4. She doesn′t trust the salesperson

5. She doesn′t think the salesperson is the right person for the job

Riddled with revealing anecdotes, Make a Fortune Selling to Women describes the male and female approach to the buying experience--without being condescending to either gender. And both salesmen and saleswomen will rely on this book to help them secure more sales with women.
Order Here




How to Stay Employed in Tough Times: The Insider′s Guide to being #1 in the Workplace (Nook Book)
At a time of decreasing organizational loyalty and a decline in long-term job security, CEOs, managers, and human resources directors reveal on-target answers to the question on the minds of employees everywhere: What does my boss want? Based on a national survey of more than 300 people, this succinct guide provides real-life advice regarding job security today.
Order Here




Self-Esteem and the 6-Second Secret
Updated Edition of Bestseller!

Full of warmth and humor, this book will help educators and parents work positively with kids to strengthen their self-esteem and feelings of self-worth.
Order Here





STAND OUT FROM THE CROWD:
How to Out-think and Out-Perform the Competition
Reality: "Business as usual" is no longer enough. The game has changed, and the competition is closing in with new strategies daily. If you want to STAND OUT and succeed in an environment where dramatic change happens at the click of a mouse, then you will have to out-shine past performance, out-think old ideas and out-maneuver anyone who says it can′t be done and close the gap between where you are NOW and where you want, need and deserve to be to achieve great results.

ASK YOURSELF: What do you bring to the table that is so memorable AND ESSENTIAL that people would CHOOSE to be your customer, colleague, employee, leader, or partner INSTEAD OF TURNING ELSEWHERE?

Solution: Your success depends upon your ability and determination to be recognized as a unique, vital, "one-of-a-kind" brand that consistently delivers more than expected in the areas of added value, creative thinking, managing expectations, leadership and amazing, proactive service to both internal and external customers. Entertaining, yet insightful and refreshingly candid, Connie has the answers you need to accelerate past your competition and truly STAND OUT FROM THE CROWD!

ABSOLUTE FEARLESS SUCCESS:
The Power of Passion and Potential
Reality: Just imagine how successful you could be in all areas of your life if you understood the psychology and absolute power of human behavior and the mind as it relates to motivation, performance, strengths, and overcoming obstacles. Connie is an expert in helping people close the gap between where they are now and where they want and need to be to truly succeed and achieve outstanding results--at home and at work.

Get ready to explore every aspect of what makes people do what they do and say what they say. The bottom line is: you can expect the best or you can expect the worst. Either way, you will most likely prove yourself right. The power of your own thoughts, beliefs and perceptions are game-changers and will alter the direction of your future from that moment on. What do you really want? Health? Wealth? Happiness? Promotion? Increased sales? Better relationships? It is all right within your grasp. Connie is fearless about helping people find the power and determination to achieve more than they ever thought possible.

Solution: With laugh-out-loud humor, amazing insight into what makes people tick and killer success strategies, Connie will empower you to develop the FEARLESS attitudes necessary to embrace new ways of thinking, leading, selling, balancing home/career, nurturing relationships, raising families, motivating employees, providing customer service, creating productive teams and last but not least LIVING LIFE the way it was met to be lived. If you are ready to discover just how successful you can really be--this is the session for you. It could change your future forever!

DYNAMIC FEARLESS LEADERSHIP:
The Power of Influence and Empowerment
Reality: Leadership is a powerful privilege--open to everyone, regardless of title or job description. Connie has worked with some of the world's great leaders and discovered two common traits: 1) they have the intuitive ability to identify the "gap" between where people (including themselves) are now and where they need to be in order to achieve powerful RESULTS and 2) they have the talent and desire to use that knowledge to mentor, train, and inspire others to be confident and successful in their own right. Leadership is more about service, than wielding power. More about empowering people than "managing" people. More about "charging people up" than being in charge. More about making good choices for the right reason than pleasing everyone.

Solution: With her comedic wit and trademark no-nonsense style, Connie is known world-wide for helping leaders create teams that are energized and FEARLESS in their quest for success. Get ready to go straight inside the minds of most common leadership styles and see which one fits you to a tee and which one would be YOUR first choice to follow and respect.

Keep the message alive long after the event! Fearless success strategies can be found in these best-selling books! GAME-CHANGING FEARLESS SALES:
The Power of Influence and EMPOWERMENT
Reality: The Number one key to increasing your sales is to dentify the gap between where your customer is NOW and where they need to be to achieve the results they want. Closing that "gap" is what closes the deal and no one can teach you how to do that better than Connie. Bottom line--"Selling as Usual" won't cut it anymore. Pressure tactics and overcoming objectives is both outdated and irritating.

Solution: Connie is FEARLESS when it comes to taking sales to a whole new level. And don't even try to use the economy, territory, or price as excuses. SELLING YOURSELF is more important than product, price or brand. Connie puts you right smack inside the mind of today's new breed of customer. Bargain-hunting. Internet Savvy. Indecisive. And PICKY--especially when it comes to the buying process.

With her tell-it-like-it-is delivery, laugh-out-loud humor and killer SALES STRATEGIES, get ready to increase sales, grow your business, develop long-term customers and.....BLOW THE ROOF off of sales done the "old" way!

LIFE WOULD BE EASY IF IT WEREN′T FOR OTHER PEOPLE:
The Power of Relationships-Personal and Professional
Reality: Difficult people and situations can certainly drive us crazy—at work and home. Imagine what you could accomplish if you understood what makes people do what they do and say what they say. Bottom line: the quality of your relationships impacts everything--your ability to learn. Lead. Sell. Produce. Love. Enjoy life. Stay healthy. Experience success. Luckily, Connie's got the answers you need to "decode" the mystery of human behavior so you can handle whatever life throws you way.

Solution: With a rare blend of laugh-out-loud humor, engaging personality, and fearless life strategies, Connie has the uncanny ability to get right inside the minds of every type of personality so you can be a WINNER in the relationship game. Get ready to learn more about yourself and others than you ever thought possible.
Connie Podesta: Demo Video
Connie Podesta: Speech Excerpt
Connie Podesta: Speech Excerpt
Connie Podesta: Speaker