* Please note that while this speaker's specific speaking fee falls within the range posted above (for Continental U.S. based events), fees are subject to change. For current fee information or international event fees (which are generally 50-75% more than U.S based event fees), please contact us.
Top25 Speaker Voting

Connie Dieken needs 6 vote(s) to make it into the Top 25 speakers on Speaking.com!
Speaker Booking Tip
"Tip: find a speaker in your local area to save on travel costs. Most speakers will also reduce their keynote fee for local events. "
For Event Planners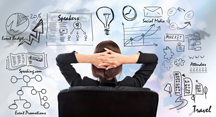 • Keynote Speaker Booking Toolkit.
• Booking a Celebrity Speaker.
• How to Find and Book the Right Speaker.
• Google+ Event Planning Forum.
• Tips for International Clients Booking U.S. Based Speakers.
Similar Speakers
Vinh Giang

Vinh Giang's passion for magic and self-taught business skills lifted his family out of poverty and into a top tier income bracket. An award-winning entertainer,…

Todd Buchholz

A managing director at the $15 billion Tiger hedge fund, Todd Buchholz has an extraordinary resume, encompassing the presidency of an international consulting firm employed…

Saj-nicole Joni

Saj-nicole Joni, Ph.D. is a gifted business strategist and confidential CEO advisor, speaker, and author who works with top leaders and boards to solve their…

Your speakers bureau was a tremendous resource for the NHL as we planned and executed our NHL Club Business Meetings. Their assistance with securing our keynote was invaluable. They provided detailed information in a timely manner which was crucial to the success of the event. The execution was seamless!
National Hockey League
About SPEAKING.com
Established in 1994, we are exclusive agents for some of the world's leading experts, celebrities and professional speakers.
We offer event planners a fully staffed speaker logistics planning team, plus a personal SPEAKING.com Account Executive – a knowledgeable and trustworthy partner. We guarantee your satisfaction with your speaker and a smooth booking process.
Contact us today to book your favorite speaker.

"Reviews from Connie′s presentation however were outstanding and I can easily say she was the highest scoring guest speaker on our attendee′s review sheets."
Department of Veterans Affairs
(Event booked by Speakers Platform)
"Perfect. Exactly what we needed to be more on point and improve our presentation skills."
– Apple Computer
"Your advice is spot-on. We're making faster connections, communicating with better candor and eliminating miscommunications."
– Diebold
"Absolutely fantastic. We're now getting our points across more effectively in today's fast-paced world."
– Olympus
"Your communication expertise is immense. Thank you for being a part of our success."
– Charter One Bank
"Your strategies are both original and practical. Our sales and marketing teams have gotten powerful results."
– Moen, Inc.
"Your coaching was the experience of a lifetime."
- General Electric
"Outstanding, exhilarating, energizing, charismatic, motivating, exciting, fantastic!"
– Clemson University , Executive Education
"The skills we've learned in your workshops have transformed our business."
–Visa Partner Cardinal Commerce
"Your coaching made our CEO and CFO look and sound great. The results have been outstanding."
– Agilysy
"Terrific. Splendid. Your program transformed our leader."
–Cleveland Museum of Art
"You brought out the best in each person and delivered precisely the results we hoped for."
–Medical Mutual
Your training has been a hit with the doctors. They've improved their communication skills immensely."
– The Cleveland Clinic
You speak with authority, insight and wisdom. Your presentation was vibrant, customized to the audience and right on target!"
– Society for Human Resource Management
"Your coaching made our CEO and CFO look and sound great. You immediately grasped the magnitude and sensitivity of the situation and delivered just what our leadership team needed. The results has been outstanding."
– Pioneer Standard Electronics
"Your coaching was an experience of a lifetime. I would gladly recommend your services to any professional."
– GE Financial Assurance
"Your media training moved us light years ahead. I have no doubt there will be a sea-change in the standard of our media interviews."
– First Church of Christ, Scientist
"Our media outings are wildly successful! Your strategy has been a big hit. Your insight has been extremely helpful with media relations."
– Jr. PGA Public Relations firm
"I learned more from you in ten minutes than I did in four years of communications courses. Your media know-how is incredible."
– Host of "Up Late" Television
"You captivated the audience with your dynamic delivery and authentic, truly useful information. You were a tremendous hit!"
– National Association of Women Business Owners
"I've never been more confident about my keynote speaker. You put on a terrific – and enlightening show! And ours is not an easy-to-impress group. You are a real pro."
– Public Relations Society of America – Cleveland Chapter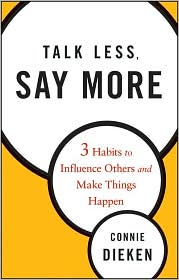 Talk Less, Say More: Three Habits to Influence Others and Make Things Happen
Talk Less, Say More
is a revolutionary guide to 21st-century communication skills to help you be more influential and make things happen in our distracted, attention-deficit affected world. It′s full of specific tips and take-aways to ensure that you′re fully heard, clearly understood, and will ignite positive action in any business or social situation.
You′ll achieve more with less. Less wordiness. Less tune-out. Less frustration. You′ll gain more time. More positive outcomes. More rewarding relationships.
Whether you′re a business leader, emerging leader, or salesperson, you need to persuade others to succeed. This book will get you there. It will help you cut through distractions, demands, and information overload to get real results.
Author Connie Dieken coaches leaders to communicate with purpose. She′ll help you instantly gain more power and influence while spending less time being tuned out.
With this book′s fast-paced, no-nonsense style, you′ll discover Connie′s Connect-Convey-Convince® methodology. These three powerfully simple habits will help you:


CONNECT with anyone to instantly capture their undivided attention


CONVEY and nail information without overloading or confusing


CONVINCE anyone to take the action you want and feel good about it


Communication is the single greatest challenge in business today. Talk Less, Say More will help you reach your A-game in interpersonal communication, giving you more power to change minds and inspire remarkable results—while talking less.
Order Here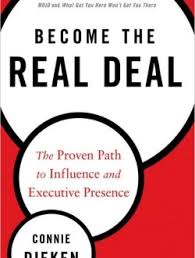 Become the real deal and you'll become the leader you're meant to be.
If you want to make change in your organization and in your world, and advance your own career, you need to become a person who can effectively influence others to take action. When looking to bring about organizational change of any kind, the main skill required is influence. Nothing will help your cause more than being able to effectively influence others to take action. Become the Real Deal presents a modern and practical approach to leadership that yields unlimited dividends for leaders at all levels. Author Connie Dieken calls these dividends your Return on Influence® (ROI).
You'll discover your own Centers of Influence through a series of visual dashboards and learn how to capitalize on these Centers of Influence to become the powerful, purposeful authority you're meant to be.
Readers will learn how to override personal influence-killing tendencies, such as narcissism, anxiety, long-windedness, silence, social façades, and invisibility.

Connie Diekenis the country's foremost Fortune 500 communication coachan executive coach to the world's top brands, an Emmy award winning former TV news anchor, reporter, and inductee of the Radio/Television Broadcasters Hall of Fame.
For anyone seeking to be the "real deal," this book uncovers the strengths and skills you need to gain influence and lead your organization to success.

Solving Your Presence Problem
How to Build Your Personal Brand, Establish Trust and Gain Lasting Influence
Whether your audience members want to move a team to action or elevate their own careers, they need presence. But what is presence? Now more than ever, people are quick to judge, resist and dismiss. During this highly interactive keynote, Connie pinpoints the three most crucial presence problems that undermine person power – and guides each person to identify and solve their issues to transform into the powerfully influential leader they're meant to be.
Your audience will discover how to:
Lead others to seek their presence, trust them, and willingly follow their lead.
Override presence-killers such as egotism, anxiety, long-windedness and social façades
Be – and be recognized as – the real deal, thereby boosting their leadership capabilities
This keynote is based on Connie's newest bestseller, Become the Real Deal
Talk Less, Say More
Three Habits to Influence Others and Make Things Happen
Is your audience frustrated by distracted, impatient people tuning them out? Are they having trouble getting their points across in today's time-pressed, noisy world? In this keynote, they'll learn how to elevate their relationships forever. They'll walk away ready to implement three powerful habits that will transform the true metric of influence – the way others respond to them. And it will never be more positive after this program.
Your audience will discover how to:
Connect with what others want and values to capture their attention
Convey information with portion control so they don't confuse others
Convince anyone to reach an ideal outcome and feel good about it.
This program is based on Connie's bestseller, Talk Less, Say More
Present To Win
Develop & Deliver Ideas that Influence
Your audience will never approach or deliver a presentation the same way after experiencing this program. This keynote hones in on the outcome of presenting: how to influence positive decision-making. From this point forward, your attendees will place their own audiences at the center of everything they do. Connie models her strategies from the stage, so your audience gets a double dip as they discover her wildly successful approach that Fortune 100 teams have adopted as their winning presentation model.
Your audience will discover how to:
Reverse-engineer messages to influence even the most demanding people
Simplify to amplify to fight presentation bloat
Present naked. (It's not what it sounds like, but it's wildly fun.)
This program is adapted from Connie's executive coaching program.

Connie Dieken: Keynote Speech
"Who holds the power? The person you are trying to communicate with." Connie Dieken demonstrates the transformational power of learning to connect, convey and condense.
Connie Dieken: Introduction