* Please note that while this speaker's specific speaking fee falls within the range posted above (for Continental U.S. based events), fees are subject to change. For current fee information or international event fees (which are generally 50-75% more than U.S based event fees), please contact us.
Top25 Speaker Voting

Christine Ervin needs 6 vote(s) to make it into the Top 25 speakers on Speaking.com!
Speaker Booking Tip
"Tip: speakers bureaus can provide: speaker fee negotiation, insurance, smooth logistics and value add-ons such as extra sessions. "
For Event Planners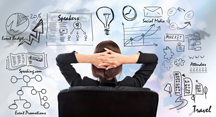 • Keynote Speaker Booking Toolkit.
• Booking a Celebrity Speaker.
• How to Find and Book the Right Speaker.
• Google+ Event Planning Forum.
• Tips for International Clients Booking U.S. Based Speakers.
Similar Speakers
Jerry Yudelson

Jerry Yudelson is a professional engineer, a consultant to leading companies in the green marketplace and the most prolific author in the business of green…

Peter Boyd

Business and environment expert, Peter Boyd helps companies accelerate the adoption of business solutions that lower carbon emissions and increase long-term profits. Driven by his…

Jerry Yudelson

Jerry Yudelson is a professional engineer, a consultant to leading companies in the green marketplace and the most prolific author in the business of green…

Working with your speakers agency on our training projects during the year proved to be a great business choice. I felt that my account reps were always around when I needed them, willing to help and listen. They showed flexibility when it was required and were reliable and dependable.
KPMG, Europe
About SPEAKING.com
Established in 1994, we are exclusive agents for some of the world's leading experts, celebrities and professional speakers.
We offer event planners a fully staffed speaker logistics planning team, plus a personal SPEAKING.com Account Executive – a knowledgeable and trustworthy partner. We guarantee your satisfaction with your speaker and a smooth booking process.
Contact us today to book your favorite speaker.

"Christine Ervin's Game Changer Keynote for stakeholders and policy makers in the IT industry was far from being just another presentation by another expert. Her ability to communicate and her knowledge of the technical and environmental issues surrounding green buildings and sustainability made her talk a source of change, comment , and ongoing thought for all who attended."
David Rosenburg, Program Director, Uptime Institute′s 2009 Symposium

"We could not have made a better choice in asking Christine Ervin to serve as our inaugural speaker for Wofford College′s Santee-Cooper Lecture Series on Energy & Sustainability. Her convocation address to our student body, faculty, and honored guests was scintillating. …(T)hrough specific examples of innovation, she gave us hope that we will find a way through to sustainability."
John Lane, Associate Professor

"Christine Ervin was fantastic as our keynote speaker on sustainability for AH&LA′s 2008 Fall Conference and the International Hotel/Motel & Restaurant Show in New York City…"
Kimberly Miles, Senior Vice President, American Hotel & Lodging Association

" …thank you again for your outstanding presentation to our conference attendees. I have heard nothing but kudos."
Andy Sirmon, Strategic Marketing Manager, The Linc Network

"As our keynote speaker for Focus the Nation, Christine spoke with grace and enthusiasm on the possibilities for addressing climate change. It was incredibly uplifting to have a female environmental leader, with her experience and knowledge, share perspectives on how we already are beginning to make the changes we need to see in society."
Katie King, Campus Climate Challenge Campaign, Whitman College

---

Partial Client List:

Alerton/Honeywell
American Solar Energy Society
Arizona State University
American Hotel & Lodging Assoc
American Council on Renewable Energy
Ball State University
American Public Power Assoc
Hawaii Clean Energy Festival
Concordia College
Johns Manville
Int′l Consumer Trends Forum
Los Angeles Community Colleges
Johnson Controls American Public Works Association
Nat'l Assoc of Business Officers
Linc Services
National Energy Efficiency Summit
University of Illinois
Nth Power
Oregon League of Cons. Voters
University of Nevada
Sandvik Group
State of Idaho
University of Oregon
Service Master
U.S. Dept. of Energy
University of Pennsylvania
Sierra Nevada
U.S. Environmental Protection Agency
University of South Carolina
Sun Microsystems
West Coast Energy Congress
Whitman College Uptime Institute (IT)
Engineering Energy Congress
Christine Ervin illuminates green market trends and the larger picture of sustainability for a wide variety of audiences—business, nonprofit organizations and colleges and universities. Her leadership record and content bring credibility. Her engaging style and passion for making a difference bring inspiration.
Frequent topics:
The New Industrial Revolution: Moving to a sustainable, low-carbon economy is both a daunting challenge and the portal for revolutionary innovation. Christine weaves together the critical challenges, market drivers and once-in-a-life time opportunities to make a difference. bullet
The Exuberant World of Green Buildings: Historically slow to innovate, the building sector is now the leading example of what green market transformation is all about. Christine's fast-paced profile of the market reveals trends, drivers, exemplary projects and what lies beyond green. bullet
Clean Energy: Christine explores the compelling case for transforming the largest infrastructure built by man - our energy system. She also focuses on the "soft" side of technology that can make all the difference between a laboratory curiosity and something that sweeps the market.
Other Sample topics include:
What's driving the trend toward voluntary governance in the U.S. and Europe? Is the trend good—or alarming?
The special case of green product labels---from computers and carpets to salmon and shiraz.
An even closer look at third-party certification partnerships for whole sectors of the economy including LEED® for buildings.
How the U.S. Green Building Council became "the hottest nonprofit in the country" – a view from the CEO's seat.
Close encounters: when the leading edge touches mainstream markets
The people part of market transformation – inspiring stories from the construction site to the Beltway.
Implications for voluntary trends in a rapidly warming climate: can they deliver?
Christine Ervin: Green Market Transformations
Christine Ervin discusses the key factors that are successfully driving positive transformation in an industry that historically is known for its resistance to change. She cites two forces that are resetting the bar in construction and building: the LEED evaluation and rewards system for structures that meet environmental objectives and the business owners who have championed the movement.
Christine, who was vital in launching LEED, indicates that it would never have taken off so quickly without the support of personal and private sector leaders. "The administrator for the GSA stood up, world's largest property manager…he said all GSA building over a certain square footage are going to be LEED, not just certified, but the next level up: silver." Reflecting on his promise, Christine states, "You can imagine almost the ripple of confidence that sent through the marketplace and the almost instant credibility that we had."
Christine Ervin: IT meets Green Building
Christine Ervin examines how the building sector lags in progress when compared to other industries. She asks us to imagine if Founding Father Thomas Jefferson could see our world, pointing out that he would most likely marvel at the advances in transportation and communication, since in his day both interstate travel and messages took days to weeks and in the best of circumstances relied on horsepower.
"But then he'd look at how we're building our homes and other buildings and say 'It's not so unlike what we were doing at Monticello 200 years ago,'" Christine hypothesizes his puzzlement. "'Why aren't your houses making their own energy? Why aren't the landscapes cleaning the air and the water?'"
Christine Ervin: Inventing a Sustainable Future