* Please note that while this speaker's specific speaking fee falls within the range posted above (for Continental U.S. based events), fees are subject to change. For current fee information or international event fees (which are generally 50-75% more than U.S based event fees), please contact us.
Top25 Speaker Voting

Christine Clifford needs 5 vote(s) to make it into the Top 25 speakers on Speaking.com!
Speaker Booking Tip
"Tip: speakers bureaus provide added value that you cannot get by booking speakers directly. "
For Event Planners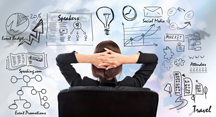 • Keynote Speaker Booking Toolkit.
• Booking a Celebrity Speaker.
• How to Find and Book the Right Speaker.
• Google+ Event Planning Forum.
• Tips for International Clients Booking U.S. Based Speakers.
Similar Speakers
Emory Austin

Specializing in building bridges between subjective human choices and the complexities of the modern electronic world, Emory Austin's vibrant and delightfully humorous presentations provide practical…

Susan Ford Bales

One of the country's most beloved advocates on dealing with breast cancer and drug addiction, Susan Ford Bales has touched thousands with her compassion, empathy,…

Susan Ford Bales

One of the country's most beloved advocates on dealing with breast cancer and drug addiction, Susan Ford Bales has touched thousands with her compassion, empathy,…

Our client rep was a pleasure to work with. He was well organized and kept me updated every step of the way. The level of professionalism and the quality of the materials received were excellent. I will be in touch for future speakers!
Mattel
About SPEAKING.com
Established in 1994, we are exclusive agents for some of the world's leading experts, celebrities and professional speakers.
We offer event planners a fully staffed speaker logistics planning team, plus a personal SPEAKING.com Account Executive – a knowledgeable and trustworthy partner. We guarantee your satisfaction with your speaker and a smooth booking process.
Contact us today to book your favorite speaker.

"Christine, I really want to thank you attending our Club Siemens event in November. Your presentation was very well received by our customers, and many of them have since commented to me on how many great ideas they took away from our event based on your presentation. The advice that you offered was very consistent with the marketing initiatives we have been deploying with our Club Siemens members over the past few months. Thanks again for taking time out of your Thanksgiving weekend to spend with us."
Jeff Malpass President & CEO Siemens Hearing Instruments Inc. Cambridge, Ontario, Canada

"You spoke to our Siemens Canadian Sales group recently as well as our top 50 customers. I wanted to say thanks for a very well done and thought provoking session. Many of my client attendees went out of their way to comment on how valuable they felt it was to them (and their businesses). I went out and purchased your book YOU, Inc. and will be giving it to all my customers. I can't wait to dig in to it! Thanks again!"
Mike Enns Siemens Hearing Instruments Inc. Ontario, Canada

"I recently attended the Professional Club Marketing Association's national strategic conference. Through many years of attending conferences, seminars and presentations targeting marketing and salespersons, I had become a bit jaded. I love selling and marketing, but felt most speakers simply took the same basic thoughts and put their spin on it. Not so with Christine Clifford. I WAS BLOWN AWAY!!! With sharing her personal experiences and insight, it totally invigorated all who attended her two presentations. Every topic she covered had the audience captivated. I was literally enthralled and had wished she was booked for the entire day. I highly recommend Christine to others looking for a program that inspires people to reach their potential."
Angela Wilson Director of Marketing & Membership Hawk Pointe Golf Club

"Christine Clifford swooped in like a Texas tornado and turned my business upside down! She was just the motivation I needed to help me make changes, implement them and see them through to fruition. I cannot say enough about how she has affected my life. She will do the same thing for your company."
Larry Gatlin, Grammy-Award Winning Singer, Songwriter, Businessman

"Christine Clifford′s ability to look at a product, within any industry, and find a better way to market that product is extraordinary. I recommend that every corporation or association spend an hour or two, minimum, with Christine."
Chuck Smith, Senior Merchandise Manager, Kmart Corporation

"Your development of 'Spinning Ideas Into Action' was such an inspirational program--touching on your business experiences, your personal experiences and how that has propelled you to success. It was just what we were looking for from this program. I just wish we could have had you speak for another hour! We highly recommend you to others looking for a program that inspires people to reach for their potential."
Chantel Dunham, Director of Development, Women in Business Council

  "Thank you so much for being a part of our Marketing Masters Academy. The insight for professional marketing that you brought to the program added a much needed dimension.  I appreciate all the hard work and preparation you put in to learn about our industry and the needs of our members. You do such a nice job of helping business owners see the possibilities that exist. Thank you again for all your help."
Sheri Bennefeld, Training Specialist, Nexstar, Inc.

" Thank you so much for presenting at our Sales Kick Off. I have received excellent feedback on your presentations. Many of the attendees went out of their way to tell me how much they enjoyed listening and learning from you."
Terry Niles, President, GAGE Marketing Services

"Thank you for partnering with 3M to educate our employees on the very important topic of resiliency. That is a message that we feel very strongly about at 3M and feel it is necessary to equip our employees with the tools for responding to challenges and change. Kudos for the wonderful work you are doing. I would welcome the opportunity to partner with you again!"
Jamie Langlois, Work/Family Coordinator, 3M

"I wanted to let you know that I used one of your recommendations and… it worked! I am in sales, so the first call I made after your program, I did like you said… asked for a referral. I am now in touch with a 60 store chain on the east coast that is interested in our product. You are on a great journey. I'm glad our paths have crossed."
Barbara Valencour, Vice President, West 7th Street Distributing, Inc.

"Thank you for presenting your co-branding and pricing strategies. You are a gifted entrepreneur with sharp instincts."
Sue Rusch, President, Direct Sales Resources, Inc.
MOST REQUESTED PROGRAMS:
Let′s Close a Deal! Turn Contacts into Paying Customers for Your Company, Product, Service or Cause
Our entire lives revolve around selling, regardless of our job descriptions. The question is not: "Am I a salesperson?" The question is: "How can I be more effective?" Christine articulates the intuitive process that identifies how and why a deal will appeal, and demonstrates in step-by-step detail how to present information so persuasively that it increases the likelihood of getting a "yes." Christine explores everything from understanding where your client is coming from to packaging, customizing, marketing, connecting, partnering, pitching, and perk-o-lating your deals. Create Niche Notoriety™ and establish Loyals for Life™. Learn to close deals with major organizations or individuals who can propel your business to the next level.
You, Inc. The Art of Selling Yourself
Christine was the top salesperson in the multi-billion dollar retail services industry for eight years, and in 1994 signed the largest contract in the history of her industry with Proctor & Gamble, doubling the size of her company overnight. Yet Christine believes that it′s not the product, service or cause that people buy from you or your company: It′s YOU. Anyone who sells for a living knows instinctively that you′re not just selling a product or service-- what you′re really selling is you. How do you give a perceived distinction from, and advantage over, your competition? How do you make prospects more inclined to take your calls? By learning to sell yourself. And selling yourself is an art. Come learn from a Master.
Selling Intangibles: Four Keys to Successful Service
Whether you are selling an actual product or a true service, it all comes down to you and the service you provide your clients. We experience a product or service based on how we feel about the person providing that service. What are the four keys to marketing and selling services? Price and what is yours saying about the quality of service? Brand, and what are you doing to promote yours? Packaging and can you afford not to take a complete visual inventory of yourself, your company, and your marketing materials? And relationships: how do you create extraordinary client relationships? Christine Clifford explores these with colorful, humorous real-life examples and years of expertise.
Become Your Industry Leader: The True Positioning of the Totem Pole
Ever heard the expression, "He started at the bottom of the totem pole?" According to Indian lore, the character at the bottom represents the strength and leadership of the pole. Christine believes that you can rise to the top of your industry, regardless of where you start, in two years or less following her ten steps to success. Whether you are in management, sales, marketing, or are self-employed, her secrets will inspire and motivate you to get going today!
Networking in a Nutshell: Create Connections To Drive Your Business
Get squared away on the professional connections that can propel your business toward guaranteed success. Christine′s methods of getting to the decision makers will leave your audience buzzing with excitement and waiting to get back into action. You never know who you might meet.
Loyals for Life™ Create Extraordinary Client Relationships
How does Christine Clifford create loyal customers who come back year after year? By asking, "What would they love?" Learn to thank your clients in spectacular ways that are memorable and life-lasting. Generate referrals and word-of-mouth business by partnering with your clients and prospects. Christine shares the keys to long-term, profitable partnerships.
Inspiring Breakthrough Secrets to Live Your Dreams
One of North America′s most inspiring authorities in personal and professional transformation reveals her secrets, insights, and strategies that will empower your organization to break through its limitations and live your dreams.
The Blessings of Misfortune: Learn to Spin Straw Into Gold
Has your company lost an important client? Been downsized? Been touched by chronic illness? Learn the keys to overcoming adversity and turning misfortune into fortune.
Laughter: Prescription for a Cure!
If you are looking for a keynote address that will teach your audience a new way to look at life′s adversities, this is it! Christine′s immediate family has dealt with heart disease, diabetes, dialysis and kidney transplant, hepatitis, chronic depression and drug abuse. Her success stories are powerful and humorous examples of survival in the face of adversity. Don′t forget to laugh!
An Afternoon of Hope, Laughter & Positive Thinking
Using her world-famous cartoons, stories and audience participation, Christine helps people release their tensions and relax into the moment. With a powerful message of hope and inspiration, Christine reminds us that we can′t always change what has happened to us, but we can change our attitudes. Christine helps individuals rediscover the healing power of humor.
Am I Out of Sick Days Yet?
Illness, especially chronic disease, wrecks havoc on employers and the people left back in the office trying to ′fill the gaps′. Christine helps corporations and their employees learn to deal with changes in the office, ways to offer support, and methods to deal with the challenges that occur when a valued employee becomes ill. No down time here!

Keynote Speech