* Please note that while this speaker's specific speaking fee falls within the range posted above (for Continental U.S. based events), fees are subject to change. For current fee information or international event fees (which are generally 50-75% more than U.S based event fees), please contact us.
Top25 Speaker Voting

Christine Cashen needs 8 vote(s) to make it into the Top 25 speakers on Speaking.com!
Speaker Booking Tip
"Tip: ask your speaker to do a book signing or attend a VIP meal with your guests. "
For Event Planners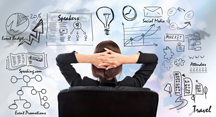 • Keynote Speaker Booking Toolkit.
• Booking a Celebrity Speaker.
• How to Find and Book the Right Speaker.
• Google+ Event Planning Forum.
• Tips for International Clients Booking U.S. Based Speakers.
Similar Speakers
Sam Horn

Intrigue expert, Sam Horn helps others find their unique message and deliver it in a way that cannot be ignored. The communication specialist has assisted…

Connie Podesta

Connie Podesta, CSP, can make a world of difference. She is an excellent keynoter whose general session audiences range from 20-10,000. It is not unusual…

Jeanne Robertson

As a 6' 2" high school basketball player, Jeanne Robertson averaged more than 30 points per game in her junior and senior years. She was…

Everyone at your speakers bureau was incredibly attentive and easy to work with; you have been a conference organizer's dream!
ABS Capital Partners
About SPEAKING.com
Established in 1994, we are exclusive agents for some of the world's leading experts, celebrities and professional speakers.
We offer event planners a fully staffed speaker logistics planning team, plus a personal SPEAKING.com Account Executive – a knowledgeable and trustworthy partner. We guarantee your satisfaction with your speaker and a smooth booking process.
Contact us today to book your favorite speaker.

"You have to be one of the most dynamic and passionate speakers we have ever seen. We had over 1,000 participants raving about you! Everyone was talking about how inspired they were and what a memorable experience you provided for them. You were titled 'the bomb' because you blew everyone away…you were the 'star' of the show!"
Director, University of Texas Medical Branch
"Wow! Every one of the 80-plus attendees left the room energized—overflowing with ideas we could use at work and in our personal lives. We're so lucky to have found a world-class speaker."
Vice President, Morgan Press
"The absolute enjoyment evidenced by the audience was the best I've seen in my 11 years attending this conference, or in any other conference. She finished the 90-minute address... and no one was ready to leave."
President, Michigan Association of Collegiate Registrars & Admissions Officers
"Bravo! We wanted a speaker to close our general session who would leave our group charged-up, motivated and excited for their achievements. And that's exactly what you did! In addition, you stole the show. I can't thank you enough for giving us more than we expected. Every single person in the room was mesmerized by your presentation. Nobody wanted it to end. It was a meeting planner's dream."
LOMA AVP, Meetings & Conventions
"Absolutely the best seminar I've ever attended! Christine brings to the audience the perfect combination of inspiration, wit and humor… this is truly one you won't want to miss!!"
EOC, Home Builders Association
"What a speaker! Lively and enthusiastic, Christine pulls the whole audience in with her energy. She kept our diverse group attentive and involved the entire time. I have booked speakers for the past eight years, and this was by far the best training session we have ever had."
Executive Assistant City of Coppell
Partial Client List:
3M Precision Optics, Inc.
Aegon
Affiliated Computer Services
American Greetings Corp.
Anritsu
AT&T
Bunn Capitol
CEC Entertainment
Cartoon Network
Corning
EDS
Express Employment Professionals
Fast Signs
Federal Aviation Agency
International Customer Management Institute
Jarden Home Brands
Jet Propulsion Laboratories
LOMA
Luxottica
MOEN
Radio Shack
Ramquest
Raytheon
Remax
Robert Mondovi Vineyards
Sabre, Inc.
SBC Communications
Sears Roebuck & Company
Sony Pictures
State Farm
Sysmex America, Inc.
Texas Instruments
The Coca-Cola Company
The Hartford
Time Warner Cable
Trammell Crowe Residential
TSM Exhibit
Union Pacific Railroad
United Airlines
WalMart
YMCA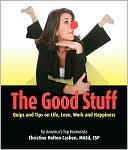 The Good Stuff
Christine Cashen, America's Top Humorista and internally acclaimed speaker, delivers an action-packed, content-rich read that will energize your life and totally crack you up. The Good Stuff is jammed with practical ideas that are hilarious and relevant! Bad boss? Crazy kids? Stressed-out? She's got you covered- and then some. So if you're looking for the holy grail—that magic pill that will transform you for the better— fu-getta-bout-it. If you need quick, common-sense ideas to help maintain your sanity and a huge dose of humor to boot, pick up this book up NOW. Smart people everywhere are doing it!
Stop Global Whining!
The fact is: we are all forced to do more with less – fewer staff, declining resources, and 40 hours of stuff to do in a 24-hour day. This can really wear us down! What to do? Sure you can waste energy complaining, but how productive is that!? Be part of the solution, not part of the problem. Christine will share the secret to getting what you want with what you've got, and she'll show you that you have what it takes right now to make a difference in your workplace and your life. This is the perfect program to kick-start any event!
Why Can't Everybody Just Get Along?!
With her incredibly humorous and relatable style, Christine gives you the tools to identify, understand and approach conflict creatively. Learn the secrets to defuse anyone in any situation, blow off steam before you boil over, and bring peace to all across the land. This conflict and teamwork program is a wonderful interactive break-out session.
Extreme Humor Makeover
It's the Fun Factor: How to boost productivity, lower stress, and understand people better than ever. Get ready to bring more fun into your work day, as expert speaker and motivator Christine Cashen brings you this fast-paced, entertaining program. You'll discover the keys to having more fun, improving productivity and morale, while at the same time lowering stress and improving job satisfaction! This program is ideal for an opening keynote to energize the audience or the perfect closing keynote to end your conference with a bang!

Chrstine Cashen Demo Video
Christine Cashen reveals her secret to a happy life and how anyone can apply it. "How you start your day really creates your day," she observes. "I want you to do this: it's called 'The Two-Hour Good Mood Commitment.' Now you don't have to act like you're in a good mood; you just have to say it.
"You get in the car and you start driving to the office, and you're the only one who knows how to drive today. Somebody cuts you off and you say, 'Normally that'd make me mad. That guy is lucky I'm in a good mood.'
"You get to work and the first two hours of the day, if somebody asks you how you are, [you say] 'I'm in a good mood,' and keep walking. People oftentimes get really curious. They start following you down the hall [and asking,] 'What makes you so happy? Why are you in a good mood? Are you leaving?'"
Christine Cashen: Southern Women Always Get Their Way
Chrstine Cashen: Archived / Vintage Speech Clips