* Please note that while this speaker's specific speaking fee falls within the range posted above (for Continental U.S. based events), fees are subject to change. For current fee information or international event fees (which are generally 50-75% more than U.S based event fees), please contact us.
Top25 Speaker Voting

Chris Helder needs 8 vote(s) to make it into the Top 25 speakers on Speaking.com!
Speaker Booking Tip
"Tip: speakers bureaus can provide: speaker fee negotiation, insurance, smooth logistics and value add-ons such as extra sessions. "
For Event Planners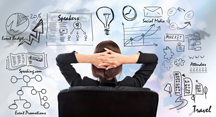 • Keynote Speaker Booking Toolkit.
• Booking a Celebrity Speaker.
• How to Find and Book the Right Speaker.
• Google+ Event Planning Forum.
• Tips for International Clients Booking U.S. Based Speakers.
Similar Speakers
Doug Lipp

Disney University training veteran, Doug Lipp is sought after for his expertise in helping organizations build adaptive, world-class service cultures that fuel growth and long-term…

Amanda Gore

Communications and performance expert Amanda Gore uses the latest psychological research to transform behaviors, cultures, and attitudes so that employees can reach greater heights when…

Anthony Bourke

Accomplished fighter pilot and seasoned CEO, Major Anthony Bourke has helped thousands of leaders streamline growth and improvement in their companies. After flying hundreds of…

SPEAKING.com does a wonderful job! Our AE always responds promptly and is very professional, thank you!
AlphaNet
About SPEAKING.com
Established in 1994, we are exclusive agents for some of the world's leading experts, celebrities and professional speakers.
We offer event planners a fully staffed speaker logistics planning team, plus a personal SPEAKING.com Account Executive – a knowledgeable and trustworthy partner. We guarantee your satisfaction with your speaker and a smooth booking process.
Contact us today to book your favorite speaker.

"Chris Helder is the best young speaker in the world right now in my opinion. Chris has spoken twice at our company and blew away the room getting standing ovations both times. This doesn't happen very often because our people are used to hearing the best speakers – from Anthony Robbins to Robert Kiyosaki."
- LARRY KENDALL, CHAIRMAN THE GROUP INC., COLORADO, USA
"Excellent. Having sat through countless motivational speakers - Chris would rate as the best. He overlapped business goals and personal - very important for people who spend so much time at work."
- Nadine Lacroix, Marketing & Communications Manager Volkswagen Financial Services, Australia
"It's not just the exuberance, nor the passion. It's not even just about the remarkable content. With Chris Helder you know he just gets it. He READS his brief, knows who he's talking to – then gets a feel for the audience in the first 30 seconds. Wham! Everyone engaged, along for the ride and soaking up his invaluable insights and lessons."
- Steve Rawlins, Managing Director DMP Marketing, Australia
"Chris is a truly unique individual who sees the fundamental drivers of sales with crystal clarity. His passion for success is evident in all he does. We engaged him to share his tools of influence which saw not only out sales team inspired but in turn delivered on great sales outcomes."
- RADEK SALI, CEO, SWISSE VITAMINS AUSTRALIA
"Chris is a dynamic speaker that captures your attention from start to finish. He engages with humour, energy and fun, but most importantly he delivers a message that you can apply immediately in your personal and professional life. I use the FORD principle every time I network."
- JORDAN HAWKE, EXECUTIVE GENERAL MANAGER, ASTERON LIFE, AUSTRALIA
"Chris is one of the best speakers we have had. He is engaging, amusing and real. His content resonates with my team and they all loved it. After two big nights the team was attentive during the entire last day – not many speakers can pull that off."
- LEANNE PILKINGTON, GENERAL MANAGER, LAING AND SIMMONS REAL ESTATE, SYDNEY, AUSTRALIA
"We have worked with Chris at my last two companies. Chris' mastery of influencing skills has enabled him to break it down to the essence of what drives results."
- ARTHUR CHARLAFTIS, GENERAL MANAGER SALES AND OPERATIONS, REA GROUP, AUSTRALIA
"Chris Helder is a highly entertaining speaker who has had an incredible impact in teaching our salespeople how to influence others. With his engaging style and clear messages, Chris constantly rates in the top echelon of speakers used by the hockingstuart group".
- NIGEL O'NEIL, MANAGING DIRECTOR AND CEO, HOCKINGSTUART REAL ESTATE, MELBOURNE, AUSTRALIA
"Having selected and promoted 127 professional speakers over the last 12 years, Chris' presentation in Wellington ranked as the highest presentation EVER! This is amongst people like Brian Tracy, Stephen Lundin and Michael Gerber."
- MIKE DOUGHTY, MANAGING DIRECTOR THE KNOWLEDGE GYM, AUCKLAND, NEW ZEALAND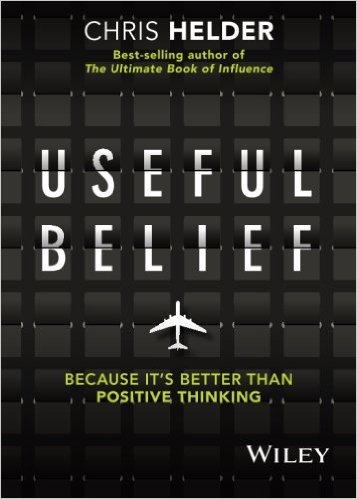 Useful Belief
Positive thinking has had its time — the new way of overcoming life's challenges is USEFUL BELIEF.
Useful Belief turns the "be positive" industry upside down with a fresh and modern approach to achievement. Sometimes things in life are not positive. Sometimes bad things happen to good people. If you've had a nightmare of a year, the last thing you want to hear is "Be positive!" Instead, you need an actual strategy to dig yourself out, and a truly useful guidebook to show you where to go next. This is that guidebook.
Through the engaging tale of a business traveller and the three significant encounters on his journey, this book takes you on a journey of your own — to self awareness, and an improved approach to business, parenting and relationships. You'll learn how thinking "useful" is better than thinking "positive", and you'll uncover the utility of your past, present and future challenges. You'll undergo a major shift in the way you solve your problems, and you'll learn how to navigate your way out of ambiguity and toward success.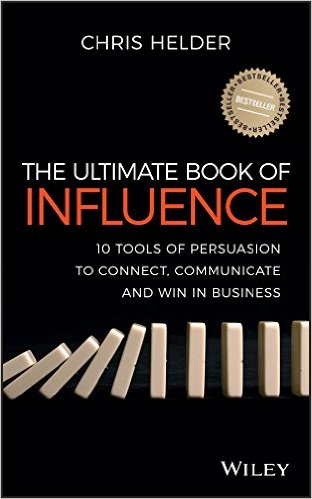 The Ultimate Book of Influence
Master the power of influence and persuasion to achieve more in work and life
For business leaders and managers, as well as those who work in sales, the power of influence can be a potent advantage. The ability to persuade others based on what you know about them is the first step to convincing someone to buy your product or buy into your business vision. In The Ultimate Book of Influence, author Chris Helder—a master of communication and one of Australia's most sought after speakers on influence—shares ten essential tools that will enable you to influence others so you win the sale or seal the deal.
The tools in this book will show you how to read body language, uncover what's most important to a client, convince others to take action, understand the four essential types of people at your workplace, and much more.

Useful Belief... Because it's better than Positive Thinking
This presentation is a game changer in the field of motivation and performance. For years, people have been told to try and be "positive". The reality is that when most people try this they are unable to sustain it and end up feeling worse than when they started out.
This is a presentation about "action". It is not about being "positive", but rather asking questions of yourself such as, "What is the most useful thing to believe about this situation?" and "What is the most useful thing that I could do today to get me closer to where I want to be?" Positive thinking is about a feeling, while Useful Belief is all about "action".
This presentation will help participants to:
Alter the approach and be more effective when tackling tasks
Give a new framework to help improve the focus of your time and energy
Improve your approach to make practical decisions in the workplace
Increase your results by taking the right action
Feel empowered and motivated by changes they can make right away
The Power of Influence…Mastering the Customer Experience
This is the presentation that has made Chris one of the most popular presenters around the world. This powerful program makes an IMMEDIATE impact in the areas of communication and maximising the customer experience.
Prepare for a HIGH ENERGY presentation that will leave participants with "tools" to PERSUADE and INFLUENCE. Chris has a fresh approach that concentrates on understanding those you are trying to influence, in order to create a stronger connection and ultimately results.
This presentation will help participants explore:
The greatest communication, persuasion and influencing tools that are practical and can be implemented immediately
Learn a list of "1%" behaviors that significantly improve your results
Increase your persuasion skills to get clients to take action
Building Relationships that matter in business
Understanding the power of coding success and replicating winning behavior

Chris Helder, Communication Expert: Keynote Demo
Chris Helder introduces the concept of "useful belief," a tool he believes can change the way you lead your life and the results you get. Rather than "positive thinking," he urges people to think about what kind of future they want to create and then ensure that their thoughts or attitudes contribute to making that vision or goal a reality.
He offers several relatable examples, one of which is a common complaint circulating among parents about "kids today." A father of three boys, Chris explains that when someone brings up "the challenges" of raising a family in the 21st century, he declares, "Well I think it's the greatest time in the world to be a kid, and I think it's the greatest time in the world to be a dad." Letting us glimpse into his psyche, he explains that it doesn't matter whether or not those statements are "true"; the fact that he believes them actually makes him a better dad, because those thoughts help him stay "present and locked in."
Chris Helder, Communication Expert: Speech Excerpts
Chris Helder, Communication Expert: Speech Excerpts