* Please note that while this speaker's specific speaking fee falls within the range posted above (for Continental U.S. based events), fees are subject to change. For current fee information or international event fees (which are generally 50-75% more than U.S based event fees), please contact us.
Top25 Speaker Voting

Chris Brogan needs 20 vote(s) to make it into the Top 25 speakers on Speaking.com!
Speaker Booking Tip
"Tip: speakers bureaus can provide: speaker fee negotiation, insurance, smooth logistics and value add-ons such as extra sessions. "
For Event Planners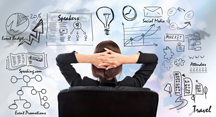 • Keynote Speaker Booking Toolkit.
• Booking a Celebrity Speaker.
• How to Find and Book the Right Speaker.
• Google+ Event Planning Forum.
• Tips for International Clients Booking U.S. Based Speakers.
Similar Speakers
Glen Hiemstra

Once you hear Glen Hiemstra speak, the future will never look the same. People from 120 countries regularly turn to the internationally acclaimed expert's website,…

Howard Putnam

Learning to fly his father's Piper Cub airplane as a child on an Iowa farm, Howard Putnam has risen through the ranks of the airline…

Christian Rangen

Christian Rangen is an entrepreneur, business school lecturer, author, strategy and innovation consultant and a lifetime adventurer who loves kitesurfing deserted Brazilian beaches, trekking across…

Everyone at your speakers agency were professional and helpful throughout the process, making it easy to book, communicate, and prepare for our event.
Hewlett Packard
About SPEAKING.com
Established in 1994, we are exclusive agents for some of the world's leading experts, celebrities and professional speakers.
We offer event planners a fully staffed speaker logistics planning team, plus a personal SPEAKING.com Account Executive – a knowledgeable and trustworthy partner. We guarantee your satisfaction with your speaker and a smooth booking process.
Contact us today to book your favorite speaker.

"Chris is a rockstar of sorts in social media circles and I felt that he would be a natural to speakChris at the Summit. I didn't know what to expect, I didn't know what kind of a speaker he was I just knew his content was great. To answer the question…he is a GREAT speaker. He was entertaining and kept the audience engaged and entertained through the entire keynote. What I like about Chris is that he keeps things in perspective regarding social media. Social media is about being social. It is about listening and being a ′promiscuous connector.′ Chris couldn't have been nicer to deal with or more accommodating with his time."
Michael Bowers,
chair of the Ohio Growth Summit.
"Chris Brogan was an overwhelming success at our most recent event. Chris' presentation style was authentic, engaging and entertaining. Most importantly, Chris proved to be an effective and informative speaker. We will definitely be asking Chris back."
Michael Geoghegan,
CEO of Gigavox Media.
"Chris Brogan, true to his reputation, is the authority when it comes to helping companies discover and implement social media into their business model. At the recent Thomson Innovation Summit, I had the opportunity to work closely with Chris in developing content and defining his role as the facilitator of what proved to be a fascinating discussion around enabling and monetizing professional social networks. Chris not only knew his stuff as a panelist, where he joined Daniel Palestrant of Sermo and Geoffrey Hyatt of Contact Networks as Guy Kawasaki grilled them about their business models, but also challenged the attendees to think differently about how to generate ROI in a strict corporate culture using social media and digital tools. His participation and prowess in the field undoubtedly added to the success of the event."
Ryan Paddock,
Digital Scientists
"Chris Brogan grabs his audience up and engages them in an interactive exchange that takes everyone through a journey of social media enlightenment. At the nxt.pr PRSA Southwest District conference, Chris led his group on an exploration of possibilities and solid case studies that each participant could take back and implement in their own organizations. I highly recommend Chris to anyone serious about engaging in social media."
Mary Hunter Wagoner,
Owner Image PR
"Chris Brogan connects with audiences, which is what makes his a special kind of speaker. He's down-to-earth, expertly informed and professional… not to mention, a lot of fun to watch. I'm looking forward to sharing the stage with him again."
Jim Kukral,
www.jimkukral.com
"Chris Brogan is a true genius when it comes to delivering compelling presentations on complex topics. When I invited him to speak at the Killer App Expo I knew he'd be informative and insightful but even better than that he was also entertaining. Everyone who attended his session came away enlightened and excited about incorporating social media tools into their lives and businesses. If you're looking for someone to come in and rally the troops around the use of social media I can think of no better person than Chris Brogan. Plus he's great fun to grab a beer with afterwards!"
Geoff Daily,
App-Rising.com
"I was on a panel that Chris moderated, I have been introduced by Chris as the MC at an event, and I was in the audience when he spoke at the Inbound Marketing Summit. In all three cases, Chris did a great job. There are two things about Chris that I like as a speaker. First, he is very authentic — he has no pretenses and is very real. Second, he knows what he is talking about — he is one of only a handful of people that really ′gets′ the social mediasphere and is articulate about it."
Brian Halligan,
CEO of Hubspot
Google+ for Business: How Google′s Social Network Changes Everything
The Complete Business Guide to Google+, Today's Hottest New Social Network!

Every week, millions more people sign up for Google+: Suddenly, it's today's hottest new social network. Google+ for Business reveals why Google+ offers business opportunities available nowhere else--and helps you grab those opportunities now, before your competitors do. Top social media professional speaker and business advisor Chris Brogan shows how to get great results fast, without wasting time--and without wasting a dime. Brogan guides you through using Google+ for promotion, customer service, community building, referrals, collaboration, and a whole lot more. You won't just master innovative new tools like Circles and Hangouts: You'll use them to generate more customers and more cash!

Make the right first moves after you've signed up for Google+
Take advantage of links between Google+ and Google search
Define the best Google+ strategy and tactics for your business
Create a business page that attracts new paying customers
Integrate Google+ into your current online/digital strategies
Learn how your customers are using Google+--and give them what they're looking for
Use Circles to organize your contacts and interactions more effectively
Create Google+ posts that draw attention and spark conversations
Master warm selling on Google+
Build a simple, low-cost content strategy around Google+
Grow your audience and share others' valuable content
Discover new ways to derive even more value from Google+

Order Here




Trust Agents: Using the Web to Build Influence, Improve Reputation, and Earn Trust
There′s no question that the Internet has changed the way we do business—especially when it comes to marketing. Consumer environments are short on trust and populated by consumers who are cynical, savvy, and informed. Though it′s easier than ever to reach your customers, it′s less likely that they′ll listen. Today, the most valuable online currency isn′t the dollar, but trust itself.

At the same time, social networks and personal connections have far more influence on consumers than your marketing messages ever will—unless your business knows how to harness them. In Trust Agents, two social media veterans show you how to tap into the power of these networks to build your brand′s influence, reputation, and profits.

Trust agents aren′t necessarily marketers or salespeople; they′re the digitally savvy people who use the Web to humanize businesses using transparency, honesty, and genuine relationships. As a result, they wield enough online influence to build up or bring down a business′s reputation. This book will show you how to build profitable relationships with trust agents, or become one yourself.

In an online world defined by its transparency, becoming a trust agent is no easy task, but once you′ve established your reputation, you can build influence, share it, and reap the benefits of it for your business. When you′ve learned a trust agent′s secrets, your words can carry more power and more weight than any PR firm or big corporate marketing department.

Learn to use the power of the Web and social networks for your business now. Trust Agents gives you all the tools and strategies you need to do it the right way—honestly, effectively, and profitably.
Order Here



Insider: Strategies and Secrets for Business Growth in the Age of Distractions.
If people can buy from anyone, why buy from you? In this age of distractions where rectangles of glass have seized our attention, how do we show people that we care about their success beyond the sale? In this new world, every business must become a media business, but how do we rise above the noise? And why does a technology from the 1990s hold some of the best hope for your future success? Join business advisor and New York Times bestselling author Chris Brogan for an actionable dive into how to build an Insider strategy for success.
The Marketing Factories are Broken - The Future of 1000 People Problems and the Database of One
Only a handful of huge companies still exist. In the midst of this, smaller and midsized companies are using marketing and sales techniques that were tooled to match the size and scale of the Industrial Revolution. Everything in the business world has changed, except for the tools of marketing and selling. And all the while, people haven't changed one bit. Learn from Chris Brogan how to go about marketing and selling as if you're talking to just one person at a time, and how you can do this profitably.
Marketing at Velocity - How Fresh Is Best in Marketing Data
We're in an amazing time. There's more sales and marketing data available to us than ever before. However, an abundance of data causes all new issues along with some great opportunities. How can you take advantage of the power of exceptional marketing and sales data AT THE TIME OF NEED instead of weeks later, in a historical format? What are the opportunities related to velocity-based-marketing? How can anyone in the sales chain (from marketer to salesperson to point-of-sales person) take advantage of this great opportunity? Join business advisor Chris Brogan of Owner Media Group as he covers this and other related topics.
Ownership for Organizations: How An Owner's Mindset Improves Employee Contribution and Commitment
Over the past five years, business has changed dramatically. Between resizing efforts, flattening of hierarchies, and a whole wave of technological shifts that encourage new methods of interaction and business-making, corporations now face new challenges. How do you retain your better employees? How do you prevent brain drain? How do you utilize the best of the new technologies without causing productivity damage? How can we encourage employees to feel a sense of ownership of their duties and roles? Starting with concepts and then moving into concrete planning examples, this speech provides guidance and execution-ready concepts for your organization's approach to improved contributions and productivity. (Good for leadership, management, sales and marketing).
Content Marketing Strategy: How to Use the Web's Tools to Drive Business
You've been told to blog. You've been told to podcast. Someone told you to make more video. What they didn't provide was a simple, concrete method to build up sales and marketing volume through the creation of integrated and easy-to-produce content creation and distribution strategies for your organization. Meet with a 17-year veteran of the online content space and learn a framework for creating, distributing and maximizing potential value from your content marketing and social media usage. (Good for sales and marketing.)
Mission-Driven Execution: How to Empower Individuals and Organizations to Thrive
The challenges of productivity, time management, prioritizing, sales success, and overall business execution are all tied to one core challenge: people aren't operating from a powerful guiding mission. Far beyond a forgotten piece of paper in a company binder, the mission we're talking about drives every element of execution as well as the resources required to build production capacity. Learn the core Ownership principles and how to actually map your mission, your actions, and your message into an aligned and powerful system for success. (Good for personal leadership, management, sales, and marketing events.)
The Value of the Networked Organization
Research and technology has caught up to what we've always believed: that individual contributions are one thing, but a networked employee brings more resources to bear on solutions for the organization, reports a higher level of potential happiness, and delivers many more tangible benefits than a similarly skilled but non-networked individual. How do we prepare for the always-on, fast-touch, let-me-take-a-selfie world and maximize benefits, value, and contributions in this space? (Ideal for HR organizations, leadership events, and management too.)
Winning in the Choose Your Own Adventure Economy
We used to try to sell to everyone, but times have changed. Finding the specific people we can best serve now outweighs the intent to reach the masses, but that means we must build even deeper connections, and do more with them. How have technological shifts empowered more selective marketing, selective selling, and frictionless buying? What can you do to take advantage of these trends? What will your business do to breathe life and purpose into all these new digital technologies so that you're building business and not just bleating into the void? (Ideal for sales and marketing events, as well as leadership events.)
Your Topic Wasn't Covered?
I speak to leaders and organizations daily, ranging from 6th grade classrooms (my aunt asked me) to corporate sales and marketing events, to 10,000 person mega summits. When I'm not onstage, I'm learning from some of the most amazing minds, everyone from US Navy SEAL Commanders Mark Divine and Rorke Denver to US Olympic gold medalist Joe Jacobi to the first female F14 Tomcat fighter pilot Carey Lohrenz and many more. If your topic isn't explicitly here, or if you're uncertain, just contact us and I'll be sure to work it through with you.

Demo Video
Chris Brogan shares his thoughts on disruption in business and the ways in which work should work. He explains, "People like Sir Richard Branson really helped me in my business career, because he made it really clear you can be the person, you didn't have to be the tie wearer, you could really have your own set of rules."
Looking at his own career, he says, "You know, from where I was to where I am now, there's been a lot of spots where I've been a tie wearing guy, or I've been a person just content to sit in the cubicle, and it took me a few stops and starts to work out what kind of owner I wanted to be, and how I started it was by owning my cubicle, then I had to own the vision of whatever I wanted to get done."
Looking at the theory of disruption, he gives his opinion that, "Disruption sounds so great, but if you don't have the way to make it work, you're a homeless person, you're the disruptive guy in the dumpster, it's not that useful."