* Please note that while this speaker's specific speaking fee falls within the range posted above (for Continental U.S. based events), fees are subject to change. For current fee information or international event fees (which are generally 50-75% more than U.S based event fees), please contact us.
Top25 Speaker Voting

Chip Conley needs 3 vote(s) to make it into the Top 25 speakers on Speaking.com!
Speaker Booking Tip
"Tip: speakers bureaus provide added value that you cannot get by booking speakers directly. "
For Event Planners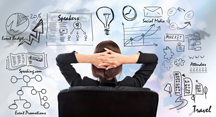 • Keynote Speaker Booking Toolkit.
• Booking a Celebrity Speaker.
• How to Find and Book the Right Speaker.
• Google+ Event Planning Forum.
• Tips for International Clients Booking U.S. Based Speakers.
Similar Speakers
Paul Orfalea

Bestowed with the task of Xeroxing his study group's research paper, Paul Orfalea discovered a hopelessly long line of people at his local copy center.…

Larry Winget

Larry Winget "The Pitbull of Personal Development" and "World′s Only Irritational Speaker" is a four-time New York Times/Wall Street Journal bestselling author. He is a…

Ron Kaufman

Ron Kaufman is the go-to guy for motivation. He is the world's leading educator and motivator, helping companies to transform their customer service and build…

SPEAKING.com / Core Agency were very helpful in every way possible. I would recommend them to others and we will most definitely secure all our future conference speakers through them again.
Babcock & Wilcox
About SPEAKING.com
Established in 1994, we are exclusive agents for some of the world's leading experts, celebrities and professional speakers.
We offer event planners a fully staffed speaker logistics planning team, plus a personal SPEAKING.com Account Executive – a knowledgeable and trustworthy partner. We guarantee your satisfaction with your speaker and a smooth booking process.
Contact us today to book your favorite speaker.

"Chip Conley′s presentation to Safeway′s corporate executives, managers and employees was simply outstanding. His message sparked lengthy and enthusiastic discussions about the PEAK model and how it could be implemented to achieve greater employee satisfaction and new levels of business success."
Marilyn Beardsley, Senior Counsel, Safeway Inc.
"Chip truly engaged and inspired the audience, and provided a unique new lens with which to think about our business. I would highly recommend him as a speaker to any organization seeking to dramatically improve both client loyalty and employee engagement."
Troy Stevenson, Vice President, Client Loyalty, Charles Schwab & Company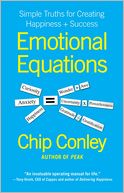 Emotional Equations: Simple Truths for Creating Happiness + Success
Using brilliantly simple math that illuminates universal emotional truths, Emotional Equations crystallizes some of life's toughest challenges into manageable facets that readers can see clearly—and bits they can control. Popular motivational speaker and bestselling author Chip Conley has created an exciting, new, immediately accessible visual lexicon for mastering the age of uncertainty. Making mathematics out of emotions may seem a counterintuitive idea, but it's an inspiring and incredibly effective one in Chip Conley's hands. When Conley, dynamic author of the bestselling Peak, suffered a series of tragedies, he began using what he came to call "Emotional Equations" (like Joy = Love – Fear) to help him focus on the variables in life that he could deal with, rather than ruminating on the unchangeable constants he couldn't, like the bad economy, death, and taxes. Now this award-winning entrepreneur shares his amazing new self-help paradigm with the rest of us.
Order Here
PEAK: How Great Companies Get Their Mojo from Maslow
Part memoir, part theory, and part application, Conley shares JDV's remarkable transformation in this keynote. He provides real-world examples from other companies and shows attendees how they can bring about similar changes in their work and personal lives. He explains how to understand the motivations of employees, customers, managers and investors, and how to use that understanding to foster better relationships and build an enduring and profitable corporate culture.
Toward a Psychology of Business: Simple Truths for Creating a Culture of Happiness and Success
Conley believes the most neglected fact in business is that we're all human, and business schools don't do enough to help us understand that creating peak experiences for stakeholders can create peak performance for a company. Conley shows participants how the PEAK model can be used to understand how a company relates to relationships beyond those with employees and customers—such as investors, vendors, and the community. As a practitioner who has used his own company of more than 3,000 employees as a laboratory for understanding the human condition, Conley's philosophical but prescriptive approach to leadership helps attendees see customer service in a new light.
Disruptive Hospitality: Learning How to See and Surf a Disruption
Conley has disrupted the hospitality industry twice; once as the founder and CEO of Joie de Vivre Hotels (America's second largest boutique hotel company) and in 2013, when he joined the founders of Airbnb to help lead the company to become the most valuable hospitality company in the world. In this presentation, Conley identifies his three rules of disruptive innovation in any industry and how start-ups—as well as established companies—can see a new wave on the horizon and surf that wave to competitive advantage.

Demo Video
"What I had was not a corporate existential problem but a personal existential problem," says Chip. Chip describes how his company weathered two of the worst periods in living memory for the hotel industry, and how his interest in psychology led him to find innovative and successful solutions.
Keynote Speech
Chip Conley Speech
Keynote Speech