* Please note that while this speaker's specific speaking fee falls within the range posted above (for Continental U.S. based events), fees are subject to change. For current fee information or international event fees (which are generally 50-75% more than U.S based event fees), please contact us.
Top25 Speaker Voting

Charles Krauthammer needs 8 vote(s) to make it into the Top 25 speakers on Speaking.com!
Speaker Booking Tip
"Tip: speakers bureaus provide added value that you cannot get by booking speakers directly. "
For Event Planners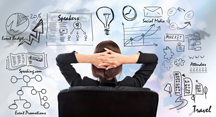 • Keynote Speaker Booking Toolkit.
• Booking a Celebrity Speaker.
• How to Find and Book the Right Speaker.
• Google+ Event Planning Forum.
• Tips for International Clients Booking U.S. Based Speakers.
Similar Speakers
Ian Bremmer

Establishing Eurasia Group with just $25,000, Ian Bremmer has overseen its huge growth to a company with offices in New York, Washington and London with…

Bob Woodward

The most celebrated journalist of our time, Bob Woodward rewrote the rules of investigative reporting and forever changed the dynamic between the American people and…

Lisa Ling

Throughout her career, Lisa Ling has reported from some of the most dangerous locations from the world in an attempt to bring attention, aid, and…

Our speakers were absolutely outstanding and top class. Once again, thank you for making this happen for us. You have been outstanding and the best speakers bureau we have ever worked with!
Volkswagen
About SPEAKING.com
Established in 1994, we are exclusive agents for some of the world's leading experts, celebrities and professional speakers.
We offer event planners a fully staffed speaker logistics planning team, plus a personal SPEAKING.com Account Executive – a knowledgeable and trustworthy partner. We guarantee your satisfaction with your speaker and a smooth booking process.
Contact us today to book your favorite speaker.

"Charles Krauthammer is very funny! Within the first five minutes, people were cracking up laughing at multiple jokes already. Fantastic speaker; very personable and knowledgeable. Everyone that I spoke with really enjoyed it. It was a great event. Dr. Krauthammer was a joy to have speak!"
- Ashbrook Center
"Dr. Charles Krauthammer was outstanding! Our guests loved hearing his candid view on politics in Washington while incorporating his wit and humor. Post event comments included – best speaker ever, what an amazing man, excellent choice, our Facebook friends are jealous. He left the crowd feeling encouraged, hopeful, and wanting more!"
- Center for Arizona Policy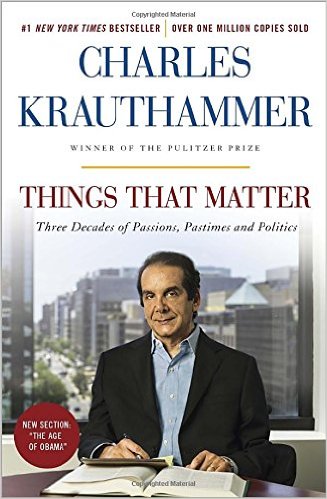 Things That Matter: Three Decades of Passions, Pastimes and Politics
From America's preeminent columnist, named by the
Financial Times
the most influential commentator in the nation, the long-awaited collection of Charles Krauthammer's essential, timeless writings.
A brilliant stylist known for an uncompromising honesty that challenges conventional wisdom at every turn, Krauthammer has for decades dazzled readers with his keen insight into politics and government. His weekly column is a must-read in Washington and across the country. Now, finally, the best of Krauthammer's intelligence, erudition and wit are collected in one volume.
Readers will find here not only the country's leading conservative thinker offering a passionate defense of limited government, but also a highly independent mind whose views—on feminism, evolution and the death penalty, for example—defy ideological convention. Things That Matter also features several of Krauthammer's major path-breaking essays—on bioethics, on Jewish destiny and on America's role as the world's superpower—that have profoundly influenced the nation's thoughts and policies. And finally, the collection presents a trove of always penetrating, often bemused re¬flections on everything from border collies to Halley's Comet, from Woody Allen to Winston Churchill, from the punishing pleasures of speed chess to the elegance of the perfectly thrown outfield assist.
With a special, highly autobiographical introduction in which Krauthammer reflects on the events that shaped his career and political philosophy, this indispensible chronicle takes the reader on a fascinating journey through the fashions and follies, the tragedies and triumphs, of the last three decades of American life.

Politics in Washington
With over 25 years covering and writing about the political scene in Washington, Charles Krauthammer offers unique insight and analysis into the goings on inside the Beltway and on the issues and topics foremost in the minds of most Americans. Audiences will enjoy what viewers of "Inside Washington" and FOX News have long enjoyed: seeing his sharp mind turned loose on the political issues of the day.

International Affairs: An Overview
With over 25 years experience commenting on foreign policy, Charles Krauthammer offers a unique and highly influential perspective. He goes against the grain, not afraid to challenge conventional wisdom (for a decade he was almost alone in calling the Oslo peace agreements a fraud that would inevitably lead to war, and was proved right). Whether writing about 9/11, the Middle East, the democratic revolutions sweeping the world today, or the indispensable role of American power, Dr. Krauthammer's views have been attracting the attention of presidents and senior policy makers for years. Krauthammer shares the insights borne of his experience as a trusted voice on international affairs.
Keynote Speech
Leading up to the heart of his speech with a laugh-per-sentence summary of his personal and professional background, Charles Krauthammer analyzes the miraculous stability the U.S. Constitution has brought the country for over two centuries and examines why this document commands so much reverence in our culture when most other nations may not even realize their constitutions exist or care.
This phenomenon came to Krauthammer's attention over 30 years ago when Egyptian President Anwar Sadat was assassinated by military officers. A U.S. reporter covering the story addressed the line of succession dictated by the constitution of Egypt to a Middle East expert who burst out in laughter, saying, that no one knew the constitution of Egypt existed, no one cared what was in it, and whoever was leading the military was by default the next president.
"There are many things that are miraculous about the Constitution," Krauthammer states, contrasting the situation in Egypt to the power that U.S. citizens and institutions bestow upon a document that is over 200 years old.
Casual Speech
Speech