* Please note that while this speaker's specific speaking fee falls within the range posted above (for Continental U.S. based events), fees are subject to change. For current fee information or international event fees (which are generally 50-75% more than U.S based event fees), please contact us.
Top25 Speaker Voting

Casey Gerald needs 5 vote(s) to make it into the Top 25 speakers on Speaking.com!
Speaker Booking Tip
"Tip: speakers bureaus can provide: speaker fee negotiation, insurance, smooth logistics and value add-ons such as extra sessions. "
For Event Planners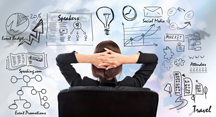 • Keynote Speaker Booking Toolkit.
• Booking a Celebrity Speaker.
• How to Find and Book the Right Speaker.
• Google+ Event Planning Forum.
• Tips for International Clients Booking U.S. Based Speakers.
Similar Speakers
Paul Zane Pilzer

Economist, Business Trend Forecaster As a world-renowned economist, multimillionaire entrepreneur, college professor and former commentator on NPR and CNN, Paul Zane Pilzer is The New…

Whitney Johnson

Founder and Managing Director of the Springboard Fund, Whitney Johnson is a top investor and leading thinker on driving innovation through personal disruption. As cofounder…

Joseph Jaffe

Author of best selling book Flip the Funnel Joseph Jaffe has a new way of looking at things. He is an outspoken leader on innovation…

SPEAKING.com / Core Agency were very helpful in every way possible. I would recommend them to others and we will most definitely secure all our future conference speakers through them again.
Babcock & Wilcox
About SPEAKING.com
Established in 1994, we are exclusive agents for some of the world's leading experts, celebrities and professional speakers.
We offer event planners a fully staffed speaker logistics planning team, plus a personal SPEAKING.com Account Executive – a knowledgeable and trustworthy partner. We guarantee your satisfaction with your speaker and a smooth booking process.
Contact us today to book your favorite speaker.

"The most electrifying speaker of our generation."
- Adam Grant, Wharton Professor, Author of Originals & Give and Take
"Casey has lived the breathtaking fullness of America. He is a real-life Forrest Gump -- oh, and he's not yet 30. His sonorous voice, on the page and the stage, will be a bugle call for his generation, and for the rest of us."
— Anand Giridharadas
Purpose Is the New Bottom Line
After graduating from Harvard Business school, Casey Gerald and his friends wondered what would happen if, instead of "marching off in pinstripe suits to slave away in a cubicle," they set out to the heart of America to put their MBAs to work helping entrepreneurs. The result is MBAs Across America, whose message is simple but vital: There's a new way of changing the world, and each of us has a part to play. In this talk, Gerald shares his story and gives us the three aspects of this "New Playbook of Change."

Other Popular Speaking Topics:


A New Playbook for Change: How Purpose-Driven Business Can Help Reinvent America
The Case for Optimism: A Journey from Inner-City Dallas to Harvard Graduation
Make a Life, Not Just a Living: Overcome Fear, Harness Failure, and Tap into our True Mission to Solve the Big Problems of our Time
A Real Education: What 8,000 Miles Through the Heart of America Taught Me that Harvard Never Could

Casey Gerald, Business Thought Leader: TED Talk
From waiting for the Second Coming of Jesus on New Year's Eve 1999 to the promise that Barack Obama's 2008 election would usher in change, Casey Gerald recounts how time and time again the external forces he believed in have failed to deliver. Taking the audience on a roller coaster of emotions, he highlights the events and unjustifiable inequality he's seen in the past twenty years that have caused him to question his beliefs as he challenges us to embrace "the Gospel of doubt."
The Gospel of doubt, he explains, does not mean we can no longer believe, but rather, that we should examine the validity of the answers that society, government, religion, and other institutions have told us, The Gospel of doubt, in his words "raises the question, 'Why?' With all the power that we hold in our hands, why are people still suffering so bad?" It is Gerald's hope that by embracing this Gospel, we can direct our attention to the big problems of our time and find new ways within our own power to solve them.
Casey Gerald, Business Thought Leader: Keynote
Casey Gerald, Business Thought Leader: Interview Excerpt
Keynote Speech
Casey Gerald, Business Thought Leader: Harvard Business School Commencement Speech