Top25 Speaker Voting

Carey Lohrenz needs 2 vote(s) to make it into the Top 25 speakers on Speaking.com!
Speaker Booking Tip
"Tip: speakers bureaus can provide: speaker fee negotiation, insurance, smooth logistics and value add-ons such as extra sessions. "
For Event Planners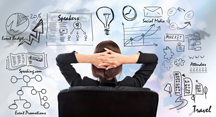 • Keynote Speaker Booking Toolkit.
• Booking a Celebrity Speaker.
• How to Find and Book the Right Speaker.
• Google+ Event Planning Forum.
• Tips for International Clients Booking U.S. Based Speakers.
Similar Speakers
Harry Broadman

For thirty-six years, Harry Broadman has been an expert practitioner in international finance, investment and trade, business growth, risk-mitigation, innovation strategy, and corporate governance reform.…

Margie Warrell

Coach, author, and mother of four Margie Warrell is constantly sought by conferences, corporations, and media outlets for her advice on taking risks, living courageously,…

Vikram Mansharamani

Experienced global equity investor and business trends expert, Vikram Mansharamani helps you anticipate your future. The popular Yale University professor is a highly followed authority…

Everyone at your speakers bureau was incredibly attentive and easy to work with; you have been a conference organizer's dream!
ABS Capital Partners
About SPEAKING.com
Established in 1994, we are exclusive agents for some of the world's leading experts, celebrities and professional speakers.
We offer event planners a fully staffed speaker logistics planning team, plus a personal SPEAKING.com Account Executive – a knowledgeable and trustworthy partner. We guarantee your satisfaction with your speaker and a smooth booking process.
Contact us today to book your favorite speaker.

"Carey ′Vixen′ Lohrenz spoke to 300 school administrators at our annual leadership conference. Her engaging presentation was chock-full of information about how to strategically align teams for success. Talk about polished and professional! She had so much information to share with our school leaders - we are already finding ways to bring her back for additional all-day sessions with our leaders so they can dive deeper into her military-based strategies to create winning, effective teams. Vixen is caring and sincere & thrives on excellence and helping others reach their full potential. We were fortunate to have her with us. Outstanding person - outstanding presenter. Gotta love her!"
Adam Palmese, Orange County Public Schools Leadership Conference
"I have known Carey Lohrenz for a few years and have seen a few ′shorts′ of some of her presentations. So when the time came to develop our speaker roster for our 2012 Summits on Operational Excellence in the EU, she was at the top of the invite list. I can say without reservation that it was a very wise choice that I made. She was engaging, provocative, dynamic, yet humble. She made everyone in the room contemplate their own ′comfort zones′ and challenged all to stretch beyond. We even used some of the techniques she conveyed immediately afterwards at our Managing Directors workshop to great success. I offer my strongest recommendation of her - and her team."
Joseph Paris, XONITEK EU Operational Excellence Summit (Budapest & Milan)
"Well done. I believe those who participated were able to take away many practical applications. I think you truly inspire those you coach to face their lives with intention, integrity, and courage, regardless of their circumstance."
Lynne Shaffer, CEO, EWI, Executive Womens International
"FANTASTIC! You continue to impress us all with your knowledge, wisdom, and yes, resilience! Thanks so much for sharing and teaching us this evening! Really, really outstanding presentation!"
Jane Bratton, EWI
Fearless Leadership: High-Performance Lessons from the Flight Deck
An F-14 fighter pilot's top lessons for leading fearlessly--and bringing a team to peak performance As an aviation pioneer, Carey D. Lohrenz learned what fearless leadership means in some of the most demanding and extreme environments imaginable: the cockpit of an F-14 and the flight deck of an aircraft carrier. Here, her teams had to perform at their peak--or lives were on the line. Faltering leadership was simply unacceptable. Through these experiences, Lohrenz identified a fundamental truth: high-performing teams require fearless leaders.
Since leaving the Navy, she's translated that lesson into a new field, helping top business leaders, from Fortune 500 executives to middle managers, supercharge performance in today's competitive business environments. In Fearless Leadership, Lohrenz walks you through the three fundamentals of real fearlessness--courage, tenacity, and integrity--and then reveals fearless leadership in action, offering advice on how to set a bold vision, bring the team together (as wingmen, not Top Gun mavericks), execute effectively, and stay resilient through hard times.
Whether you're stepping into your first leadership role or looking to get out of a longstanding rut, Fearless Leadership will act like your afterburner--rocketing you to ever-higher levels of performance.





LESSONS IN LEADERSHIP FROM THE FLIGHT DECK
As the first female F-14 Fighter Pilot in the U.S.Navy, Carey Lohrenz knows what it takes to win in one of the highest pressure, extreme environments imaginable.
In 1994, when Carey "Vixen" Lohrenz was deployed to the USS Abraham Lincoln, there were fewer than 5 female aviators on a ship of 5000 male crew members. Facing uncharted waters in an intensely male-dominated environment, Lohrenz learned vital lessons in leadership that followed her into the corporate world. The most successful leaders share a common foundation of principles used from the flight deck to the front office. The greatest leaders from all corners of the world know how to inspire, use good judgment, take initiative and make powerful decisions — with integrity.
In this popular inspirational keynote, Carey shares the fundamentals that helped her win in the cockpit at Mach 2, and can help your team win in business:
Be a Catalyst: Make change happen by focusing on what matters most
Be Tenacious: Overcome your fear of failure
Be Committed: to Excellence Prepare, Execute, and Debrief to accomplish seemingly impossible missions every day
Be Resilient: Turn adversity into success
An industry pioneer and team performance accelerant, Carey is uniquely qualified in the fundamentals of Leadership, Teamwork, Winning Under Pressure, Reducing Errors and Overcoming Obstacles.
This highly popular leadership keynote will challenge, inform, and inspire your team to move to higher levels of performance in these difficult economic times. Lohrenz offers bottom-line expertise with clear, realistic takeaway items for audiences that can produce both short-term and life changing results.
Lohrenz is a sought after motivational speaker and international speaker whose leadership messages resonate with a wide variety of public and private organizations — from healthcare and financial institutions to women's groups and Fortune 500 companies.
LESSONS IN PARTNERING
Just like in aviation, in a rapidly changing global environment Speed is Life. Collaboration is critical to business success and Managing Successful Strategic Partnerships is crucial. Competitive advantage is gained when your organization can optimize partnerships and strategic alliances. Deeper relationships with partners can be the key to long term success and growth.
In this inspiring and engaging keynote, Carey shares what it takes to be on the "Leading Edge". Those things that helped her succeed in one of the most extreme environments on earth can help elevate your team, gain advantage and uncover opportunities.
STRIKING A BALANCE
A successful career, a happy family, and a balanced personal life leave little time for many people to nurture their dreams.
As a former Naval Aviator, a corporate executive, and as a busy mother of four, Carey "Vixen" Lohrenz knows first-hand the challenges of navigating the many demands of daily work-life balance. In this riveting inspirational keynote speech, Carey will inspire you to "Be the Catalyst" and look beyond your circumstances.
Just as pilots do a "systems check" before takeoff, Carey's motivational speech will walk you through a Pre-Flight Check on your journey towards success.
Belief in Yourself and Your Abilities: To be successful and ultimately take charge of your life, overcoming lack of self-belief is one of the biggest hurdles you need to overcome.
A Firm Commitment: Be unwavering and purposeful in your actions.
Clarity of Purpose: Clarity of purpose and a clear picture of precisely what you want to achieve are key factors in achieving success.
Make a Plan — Stay Focused: Keep life's distractions and interruptions at bay by creating your plan — and sticking to it.
Carey's highly popular keynote will inspire and energize while providing work-life balance tools to help you regain control of your personal and professional life.
REMAINING RELEVANT
In a challenging economic environment, remaining relevant to your customers and within your organization is critical to your survival. Those who fail to deliver value to their consumers, shareholders, clients and teammates become extinct. Could that happen to you? In aviation, complacency kills. Same is true in business: if you become complacent and fail to ignore the warning signs (shifts in culture, trends, global demands, budget restrictions), you could be facing extinction.
In this energizing and empowering keynote Carey shares the fundamentals that helped her win in the cockpit at Mach 2, and can help your team win in business; by learning the importance of remaining relevant, how to accelerate performance, how to stay agile and adaptable, and how high performing teams become excellent.
PATIENT SAFETY, TURNING HIGH RISK INTO HIGH REWARD
If you only had one opportunity to decide, one chance — would you have the right information and tools available to make the BEST decision possible?
Carey Lohrenz knows what it takes to win in one of the highest pressure environments imaginable, where inconsistent execution can generate catastrophic results. When it comes to risk management and safety, carrier aviators have it down to a science. With zero tolerance for error, they rely on every crewmember, regardless of rank, to work as a team and maintain safety awareness at all times.
Consider the standards of carrier aviation:high-risk-image
Simple, rigorous checklists
A culture that doesn't tolerate safety lapses
Sound critical decision making skills
Clear communication
A collaborative model
Carey's "Patient Safety" keynotes and workshops challenge, inform and inspire your employees to move to higher levels of performance and operational excellence in high-risk and sometimes dangerous environments.
Carey shares leadership risk planning strategies and training to:
Improve leadership, communication and teamwork among your physicians, nurses, staff and patients
Improve the patient experience
Assess the situation
Demonstrate simple root cause analysis that will highlight "what" is right, versus "who" is right
Create a positive safety culture
Reduce human error and the chance of a mishap
Encourage a commitment to safety from all of your healthcare providers while maintaining clinical quality
Debrief to improve future performance and outcomes
Managing risk is like walking a tightrope. It is a constant balancing act, identifying and mitigating safety, operational and reputational risks. These tools will allow you to survive and succeed, with superior results consistently, just as Carey Lohrenz did in the demanding world of fighter aviation.
Carey Lohrenz is a dynamic healthcare speaker whose passion for improving patient and staff satisfaction in the fast-paced field of healthcare brings results. With her authentic, highly motivational personality, she is in demand as a patient safety keynote speaker nationwide. Not only is she sought after by medical and pharmaceutical professionals for her risk management solutions, but small businesses and large corporations appreciate her "flight plan" for success.
inspirational Keynote Demo
"Adversity introduces you to yourself," says Carey Lohrenz, as she tells of a time when she had to spend eighteen months proving her competence to be allowed to get back into the cockpit. Speaking from personal experience she tells her audience, "If we as leaders allow our judgments to be made on perceptions then our organizations will become schizophrenic."
Keynote Speech: Lessons in Leadership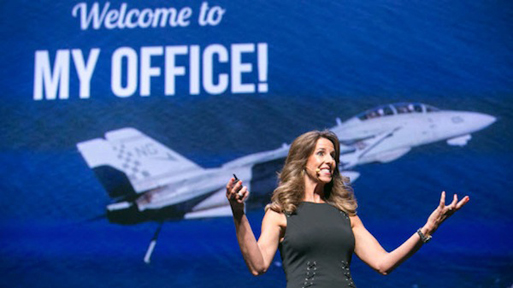 The first ever female F-14 Tomcat Fighter Pilot in the U.S. Navy, Carey Lohrenz brings her experience of fast-moving, dynamic environments, where poor decision-making can lead to catastrophe, to the world of business strategy. A graduate of the University of Wisconsin, where she was a varsity rower training at pre-Olympic level, Carey attended the Navy ... more