* Please note that while this speaker's specific speaking fee falls within the range posted above (for Continental U.S. based events), fees are subject to change. For current fee information or international event fees (which are generally 50-75% more than U.S based event fees), please contact us.
Top25 Speaker Voting

Cal Thomas needs 7 vote(s) to make it into the Top 25 speakers on Speaking.com!
Speaker Booking Tip
"Tip: speakers bureaus provide added value that you cannot get by booking speakers directly. "
For Event Planners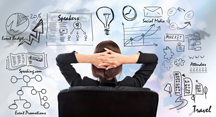 • Keynote Speaker Booking Toolkit.
• Booking a Celebrity Speaker.
• How to Find and Book the Right Speaker.
• Google+ Event Planning Forum.
• Tips for International Clients Booking U.S. Based Speakers.
Similar Speakers
Lawrence Kudlow

Influential supply-side economist, Larry Kudlow is CNBC's Senior Contributor, a nationally syndicated radio host, and an unapologetic supporter of capitalism and free markets. Drawing from…

Brian Kilmeade

With over a decade of experience as a stand-up comedian, Brian Kilmeade brings his unique political insight to Fox & Friends, the number one rated…

John Kasich

Always known to be a man of straightforward style and boundless energy, John Kasich was elected to the Ohio State Senate at 26, and to…

It was an extreme pleasure to work with our account rep. She was friendly, flexible, and knowledgeable about all their speakers. She made the process simple. I cannot begin to put into words the impact that our speaker had on our audience. People are still taking about his presentation and his program set a standard on all diversity programs.
FDIC: Federal Deposit Insurance Corporation
About SPEAKING.com
Established in 1994, we are exclusive agents for some of the world's leading experts, celebrities and professional speakers.
We offer event planners a fully staffed speaker logistics planning team, plus a personal SPEAKING.com Account Executive – a knowledgeable and trustworthy partner. We guarantee your satisfaction with your speaker and a smooth booking process.
Contact us today to book your favorite speaker.

"Cal was wonderful. He was definitely the right person for us to bring in. We appreciate Shawn′s recommendation. The most important part of a fund raising dinner is the ask. It was perfect. I had people come up to me afterwards, telling me they have never heard a better ask. Because of it, we have already had our best fund raising event in the history of the school. We are still receiving gifts and will most likely reach our goal by the end of the week. Cal also received a standing ovation afterwards. "
Doug Cain
Portland Christian Jr./Sr. High School
Portland, OR


"Cal was straight to the point in his analysis of our current social climate (no surprise) but was absolutely hilarious in his way of making a wonderful case for Desert Christian Schools. I've read Wit and Wisdom, which is very humorous, but his stage presence and comedic delivery opened the door to everyone's heart to receive the challenge he made to support DCS. Some of our staff members have asked how Cal knows so much about our school – he skillfully wove our mission and capital campaign into the fabric of his presentation. It was, in a word, FANTASTIC!"
Cecil Swetland
Executive Director and CEO, Desert Christian Schools

Common Ground: How to Stop the Partisan War That Is Destroying America
Inspired by their popular USA Today column, conservative Cal Thomas and liberal Bob Beckel unmask the hypocrisy of the issues, organizations, and individuals that have created and deepened the partisan divide at the center of American politics, and make a strategic case for why this bickering must stop. Thomas and Beckel explain how bipartisanship and consensus politics are not only good for the day-to-day democratic process but also essential for our nation′s future well-being. Entertaining and informative, funny and healing, Common Ground is a must-read for all concerned citizens.
Order Here




The Things That Matter Most
In this controversial and thought-provoking bestseller, one of America′s most widely-read syndicated columnists explains how we have lost sight of the things that matter most.

"Thomas brings insight and good cheer to the important intellectual battles of the age."--William J. Bennett, author of The Book of Virtues.
Order Here





MOST REQUESTED PROGRAMS:

The Bottom Line Isn′t Necessarily The Bottom Line
The Things That Matter Most
The Death of Ethics in America
Sleeping Through the Wake-Up Call: What We Should Have Learned from 9/11, But Didn′t
Signs of Hope for a Spoiled Society
Cal Thomas rewrites the story of the ant and grasshopper in light of current American politics
During a speech at the Heritage Foundation, Thomas used the classic story of the ant and the grasshopper to describe what he sees as the negative impacts of the current American political scene. He began by saying that "the essential message of America has always been positive and optimistic," adding, "the United States of America has always been about ideas in search of an ideal, and we still are." He continued by saying that he believes that the current administration will bring more challenges than the U.S. has ever faced.
He summarized the story of the ant who worked hard to store up food all summer long, while the grasshopper relaxed and played without working to prepare for the winter. In Thomas's version of the story, the grasshopper calls a press conference and demands to know why he is left to suffer while the ant is warm, well-fed and comfortable. The media and the government then blame everyone else for the grasshopper's situation instead of the grasshopper himself.
Cal Thomas - Liberty University Convocation