* Please note that while this speaker's specific speaking fee falls within the range posted above (for Continental U.S. based events), fees are subject to change. For current fee information or international event fees (which are generally 50-75% more than U.S based event fees), please contact us.
Top25 Speaker Voting

Bruce Boguski needs 6 vote(s) to make it into the Top 25 speakers on Speaking.com!
Speaker Booking Tip
"Tip: speakers bureaus can provide: speaker fee negotiation, insurance, smooth logistics and value add-ons such as extra sessions. "
For Event Planners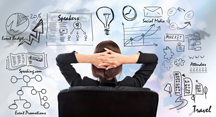 • Keynote Speaker Booking Toolkit.
• Booking a Celebrity Speaker.
• How to Find and Book the Right Speaker.
• Google+ Event Planning Forum.
• Tips for International Clients Booking U.S. Based Speakers.
Similar Speakers
Ross Watson

Ross Watson holds a degree in community and outdoor recreation, which combine his passion for the outdoors with his strong social conscience. Ross learned from…

Once again our agent did an outstanding job. Not only did he provide me with a number of options for potential speakers but he helped with seeing who was available, when they could speak, and getting everything done in a timely fashion. I look forward to working with him again.
Auburn University
About SPEAKING.com
Established in 1994, we are exclusive agents for some of the world's leading experts, celebrities and professional speakers.
We offer event planners a fully staffed speaker logistics planning team, plus a personal SPEAKING.com Account Executive – a knowledgeable and trustworthy partner. We guarantee your satisfaction with your speaker and a smooth booking process.
Contact us today to book your favorite speaker.

"Bruce Boguski is at the top of the list of speakers. Bruce was invited to speak with the entire district staff during a Fall Inservice Day. He was so well received that the teachers wanted more of his knowledge, and asked that it be arranged to have him speak to both teachers and students prior to proficiency and achievement testing. Bruce brings humor, energy, research and real life examples that audiences of all ages can relate to. He tailors his presentation to fit the need and participants leave feeling positive and challenged. Students, teachers and parents walk away with strategies for peak performance that can be implemented into daily routines."
Karen Arbogast, Director of Curriculum / Special Programs
Southeast Local Schools

"Even the youngest students talked for days after the presentation about the many things they could do to help themselves perform better on the tests and succeed in the classroom."
Kay Kuhlman, Principal
Haskins Elementary School

"Our students did a terrific job on the proficiency tests. They tied the districts highest ever score in science, and they surpassed the previous high scores in writing, reading, math, citizenship and overall. Your work with our students and teachers was a critical part of our test preparation. We could not have achieved as well we did without you."
Joe Shivers, Principal
Columbiana Schools

"It was a pleasure hearing your story, witty humor and motivational techniques. Your excellent presentation really kept our attention. I was impressed that your powerful and entertaining program included a challenge for us to take action now toward our goals and dreams. You were exactly what we needed to get our staff back on the right track. You entertained, you energized the group, you gave them great ideas, and you freed their minds for creative thinking and that′s just what we wanted. Your program exceeded all our expectations."
Wendy Baxter, Director of Marketing
Tuttle Construction Inc.

"Your presentation was so in-tune with what we all needed to hear, it was amazing! I had no idea the impact you would have on our Representatives. You alone changed the attitudes that made the rest of the conference one of the most enjoyable I′ve ever had the pleasure of being involve with."
John Cameron, SVP Sales
Continental Capital

"Thank you for helping to make our national convention a huge success! There were many magical moments throughout the weekend and your presentation was certainly one of the highlights. The questionnaires and comments regarding your presentation were phenomenal. Our Consultants were blown away by your insight and your presentation style."
Sandie White, Director, Sales Support
Henn Workshops

"Our group truly enjoyed your enthusiasm! Your ability to provide "real world" examples that caused people to step back and think about the decisions they make in their lives, and the attitudes with which they make them, is refreshing. Comments from our session evaluations were extremely positive including such quotes as Phenomenal and Outstanding."
Benet Rupp, Vice President, TAHRA
Toledo Area Human Resource Association

"With recent economic conditions affecting everyone, including employees at Cooper, it was necessary to have a good meeting to start off the new year. The motivational speaking you provided was just the lift we needed. Many members who attended told me how your talk motivated them on how to handle all the changes our company is, and will, go through. Your talk got everyone fired up and I hope they stay positive throughout the year."
Peggy Turner, Credit
Cooper Tire & Rubber Company

Partial Client List:
Time Warner
University of Notre Dame
Insurance Women of Toledo
State Farm Insurance
IBM
Goodyear Tire & Rubber
Key Bank
BP Oil
Ross Laboratories
Cooper Tire & Rubber
Whirlpool Incorporated
UniGlobe World Travel
Nabisco Foods
St. Vincent Medical Hospital
McDonald & Company
Toledo Hospital
Prudential Insurance
Pizza Hut
American Heart Association
Arizona Society for HR Management
Microsoft Great Plains
Westinghouse Anniston
Jones Potato Chips
Ikon Office Solutions
Boston Pizza International
World Tire
Breast Cancer Foundation

Achieving The Impossible
Drawing from the personal experience of breaking his neck and being told he would never walk again, Bruce passionately delivers a dynamic presentation about the four crucial action steps that must be taken to achieve any goal or dream. Attendees will develop and implement confidence-building techniques that really work and learn how to change their belief system to achieve amazing success. They will discover the advantages of a positive mental attitude and how to change frustration and negativism into a "can-do" environment. Bruce will demonstrate the power of setting goals, visualizing them and following through.
You will learn:
The one quality exhibited by all successful people and what we can do to attain it.
A simple three word formula used to produce belief in oneself.
The power of "GOYA"(get off your attitude).
How to give 100% all of the time.
How to communicate to encourage success.
Fourteen words to never use when you want positive results.
The one word to never use in pressure situations.
Enhancing performance through visualization.
The Flight of the Goose (Empowering through Teamwork)
When groups of professionals who care about each other and share a common belief get together, unbelievable goals can be achieved. Nowhere in nature is this better illustrated than within the remarkable spring and winter flights of the goose.
This seminar uncovers how every instinctive action of each individual goose has significance for the entire flock. More importantly, the presentation will reveal how to use these principles for enhancing human performance.
In this seminar, you will learn:
How shared vision can accomplish any task more quickly.
To harness the power of positive imagery.
Why working together creates powerful synergy.
The value of shared leadership.
The art of using encouragement as a motivator.
This thought provoking seminar focuses on the lessons learned from geese and how to apply these lessons to inspire teamwork and cooperation. The session incorporates specific examples, revealing exercises and audience participation guaranteeing fun, entertainment and a learning experience.
Brain Based Success - Brain Based Learning Strategies
Wouldn′t it be fantastic to create an environment that is compatible with the way in which the brain is designed to learn? The latest brain research can be implemented to do just that! Brain based learning is the first ever comprehensive and biologically-driven framework for learning. It is a system-wide approach based on the way current research in neuroscience suggests that our brain naturally learns best. Specific techniques for providing a peak learning environment in the home and classroom will be discussed, including:
Having more fun and learning more.
Developing a memory for learning at home and at school.
How to have instant creativity.
The effect of diet on learning and how to improve it.
Reducing stress and building confidence for learning.
Setting the stage for peak performance in school.
The effect of color, music, and lighting on learning.
Constructing a "learning room" for efficient study time.
Building a belief system for learning.
Understanding different learning styles and adapting to them.
Most research of the brain has been done in the last twelve years. This seminar is designed to teach the remarkable findings of this research and give specific methods to be used in the classroom and home to make learning fun and efficient.
The Testing Zone - Standardized Test Taking Strategies
Students learn how to become super test-takers in this fast paced, educational assembly. The biggest obstacles to peak performance while taking tests are anxiety and nervousness. By implementing the D.R.I.V.E.R. system described in his book, The Testing Zone, Bruce will explain and illustrate practical techniques to reduce test anxiety and to relax under the pressures associated with any testing situation.
Students will discover how to use the mind and body together for immediate results. They will explore and learn the following:
Specific exercises to improve handwriting skills.
Methods for reducing stress and relaxing for peak performance under pressure.
Techniques for building confidence and establishing a belief system for learning.
Activating instant creativity.
Three exercises to instantly increase memory and the ability to recall information.
The use of Brain Gym to increase performance in school and sports.
How to become twice as smart while studying.
Schools that have used this assembly keep having Bruce back year after year because of the amazing results achieved by the students after learning this crucial information. References can be furnished upon request.
Finding The Zone - Peak Performance Under Pressure
Whether an athlete, business professional, student or teacher, being able to perform at a peak level is directly related to how well you control your emotions. "The Zone" is that mysterious place where everything is going your way, you are on a roll and can't be stopped. YOU are in complete control, relaxed and powerful! Well, The Zone is no longer a mystery. This presentation debunks the myths and teaches specific techniques designed to help the attendees control their emotions, relax under pressure and "find The Zone" to enter their peak performance state whenever they desire.
You will discover:
How diet effects performance and The Zone.
Four practical ways to reduce or eliminate stress.
Three simple, yet powerful techniques for building super confidence.
Two methods for activating creativity.
Four exercises to instantly activate memory.
The use of Brain Gym to increase performance in school and sports.
How to develop and implement rituals for peak performance.
This presentation can be tailored to include addressing stress, dealing with change, making positive choices, and all types of peak performance. Participants will learn how to activate The Zone at any time to excel in the classroom, sports, business and life. Take control of your circumstances before they take control of you — start NOW!
Follow Your Dreams
A dynamic and insightful look at the quest for achieving our dreams. Seven crucial qualities for the pursuit of any goal are discussed with a high level of audience participation involved, helping to draw each attendee into the presentation. What you will learn:
The biggest reason people don′t reach for their dreams and how to overcome this obstacle.
How time can become an ally in our pursuit of happiness.
Changing your positive attitude into positive beliefs.
The attribute that we all possess, but seldom use, for reaching our goals.
The one word to never use when pursuing a dream.
Learned Helplessness - Symptoms, Causes and Cures
Learned Helplessness is a behavioral phenomenon becoming more common in classrooms across the country. It is not an invented disorder, but a chronic and serious condition. It is estimated that 30% of our student population is susceptible and LH will usually affect the most social, outgoing and aggressive student personalities.
Do these symptoms sound familiar? Do you know students or young adults that give up easily? Won′t try new things? Blame others for their failure? Develop a negative attitude and negative expectation? Resort to sarcasm and become apathetic?
We used to label these students "lazy", but research indicates that certain traumatic events can cause the brain to stop producing important neurotransmitters, specifically Norepenephrine, Dopamine, Serotonin and Adrenaline; resulting in less fuel for the brain.
Research has uncovered some basic causes for LH. Number one is having weak role models. Yes, the people we hang with do have an important influence on our motivation and success. Number two is a traumatic event like a relationship coming to an end, losing an important athletic contest, flunking a test or death in the family. Number three is that caregivers (parents, teachers, coaches) do too much for the students and soon they expect to be rescued from their mistakes instead of working through them on their own. Number four and most important is a distorted self-image. This self-image is usually characterized by a negative, global, and permanent explanatory style.
The good news is that since LH is a learned behavior, it can also be unlearned. Here are seven "cures" or suggestions to help alleviate Learned Helplessness.
Provide good role modeling. Always be in charge and confident. Handle problems with professionalism and a "can do" attitude.
Increase physical activity. Avoid sitting in front of the TV. Keep your mind active and not focused on the toxic event.
Have the student begin a journal and share feelings and activities of the day.
Give the student more responsibility. Provide them with a leadership role to help them increase perceived control in their life.
Get a book or attend a seminar on goal setting and learn this life altering skill. Start small and work your way up.
Use affirmations and tell the student what they are capable of doing instead of putting them down.
Study relaxation techniques and teach the student how to handle the stress filling their lives.
Learned Helplessness is serious. It can lead to depression, alcohol and drug use, and destructive behavior including suicide. Learn to recognize the symptoms and activate the cures by getting family, school and community involved. Learned Helplessness will go away in time unless it is continually reinforced at home and in school, but can become a living nightmare through it′s duration. Increase activity, set goals, take responsibility, build confidence and be a good role model in order to develop strong, intelligent, confident students.
Successful Living in a Guerrilla World
The current state of our economy, the aftermath of 9/11, snipers attacking our cities, child abductions, unrest in the Middle East and countless other factors have made it impossible for Americans, children or adults, to live without tremendous pressure and stress. Many citizens are buckling under the strain. Several are suffering from depression, sleepless nights, anxiety and nervousness along with other specific physical ailments associated with the added daily pressure.
In this powerful seminar, you will learn how to regain control of your career and personal life. The days of reducing stress in our lives are over! NOW is the time to learn how to become mentally tough in order to successfully conquer the serious challenges facing us in the twenty first century. Join us in this fast-paced, energizing, fact filled seminar and take control of your destiny now!
This is not one of those wimpy, feel-good seminars that simply instruct you to reduce the stress in your life. That is not going to happen! Our seminar will equip you for the war on stress and teach you how to handle pressure situations with confidence and an unshakeable inner spirit.
What you will learn:
How to create a powerful belief in yourself to overcome any obstacle.
To develop practical exercises designed to help control your emotions and elevate your performance in stressful situations.
Learn to implement specific methods that help you focus, visualize, relax and concentrate for added power under pressure.
Discover how to be cool under pressure by utilizing confidence-building techniques that really work.
Turning Slumps Into Streaks
There′s a word that can strike fear into the heart of the mightiest athlete, cause panic in even the most determined performer, and baffle the most knowledgeable coaches, causing them to shake their heads in disbelief. The word is "SLUMP."
"To a ball player - a slump is like a plague, - second only to the black death."
- Gil Hodges, Brooklyn Dodgers
In fact, slumps are not "the black death", and they are not nearly as mysterious as they seem. In this session, you will learn why slumps start, how to prevent them, and specific remedies for a speedy exit from any slump.
You will discover:
The five physical causes of all slumps.
The one common denominator in all slumps and how to correct it.
Fourteen words that, if uttered, will ensure a sub-par performance.
How nutrition can cause a slump and a special diet to prevent these types from occurring.
The ten-step technique guaranteed to snap you out of your slump.
The workshop can be edited for time restraints, but is usually a two and a half hour presentation. However, we can discuss some of the most advanced techniques available today for preventing and turning around slumps, giving you a big advantage for the coming season.
Keeping Your Brain Alive
Based on the revolutionary new research and book by Lawrence C. Katz, Ph.D. and Manning Rubin, this seminar exposes the myths concerning senility and manor loss by explaining how the brain prefers to learn and remember. More importantly, dramatic neurobic exercises will be explained and demonstrated. When exercised will allow the participants (and their brains) to do the following.
Produce more brain nutrients for longevity.
Acquire instant creativity.
Access more areas of memory and recall.
Establish more neural pathways and get more of the brain involved in our everyday activities.
Jump-start underused senses for peak performance.
Change everyday activities into powerful brain exercises.
New research indicates that we can actually "grow" brain cells and manufacture synapses to compensate for the effects of aging.
Have you forgotten someone′s name recently? Do you keep misplacing items around the house? Have you been losing your car keys? Have you forgotten an important lunch date with a friend? If so, discover why these things happen and how to build a neural defense system for keeping your brain flexible and productive. Book this seminar today!
The Golf Zone
Give yourself or team a tremendous advantage by learning the mental skills required to play consistent golf. Casual and professional golfers will admit that golf is almost 100% mental. And yet, how much time is spent working on the mental part of your game? Get a head start on your golf season by learning and using mental toughness training techniques that will allow you to improve your game dramatically overnight.
Why spend money on clubs promising longer drives, special putters, long distance balls or those popular gimmicks that never seem to work? Why not invest in the one thing that holds the key for your power performance? Your Mind!
"The Golf Zone" reveals proven mental techniques that golfers can use immediately to improve their performance on the links. Most golfers experience improvement the very same day after learning these powerful techniques:
Learn 3 confidence-building techniques that will make you a powerful performer under Pressure.
Use 2 powerful techniques that Tiger Woods implements to develop his unshakeable belief.
Discover 2 visualization methods used by Jack Nicklaus to win the U.S. Open.
Uncover 2 food additives found in almost every snack food that you should avoid at all costs while golfing. They assure that your brain will shut down during competition and cause you to make bad decisions.
Learn the one anchoring technique used by Fred Couples that allowed him to become the leading money winner on the pro tour in the late eighties and early nineties.
Ask yourself these questions:
Did you ever play an amazing front nine only to fall apart on the back nine? Discover 4 secrets, when put into action at the turn, will allow you to continue the momentum needed for a fantastic round.
Do you know the feeling of losing that friendly Nassau because you missed a two-foot putt? Learn 3 mental techniques that will make you a tremendous pressure putter and lower your score immediately.
Have you ever blown up on one hole and were unable to regain your composure for the rest of the round? Learn 3 relaxation techniques used by Olympic and professional athletes that produce immediate results.
Is there one particular hole you just can′t master? This one powerful mental technique allows you to change this troublesome hole into your favorite one on the entire course.
The Golf Zone presentation can be conducted at customer appreciation events, sales meetings, before golf tournaments or for college or high school athletes. Anyone booking this seminar will receive a free copy of The Golf Zone, by Bruce Boguski, also the author of The Winner′s Edge. This amazing product contains 2 CDs and a personal workbook.

Demo Video
Bruce Boguski explains his philosophy of positive thinking that underlies all of his motivational speaking. He says, "In my experience there are three things we can do to develop a positive belief. Number one, if things don't go right for you today, if you lose a sale, if you miss a foul shot that cost you the game, if you don't do well on a test, if you break up a relationship, what do you do tonight? We go home and we think about all the things that you could have done. What if I'd done that, what if what if what if. What if thinking never works, it takes us to the wrong moment of time, the past."
Continuing his theme, Bruce urges, "Let's stop making negative moments so large that we can't overcome them. What I suggest we do is make the positive moments so large that they can help us through negative situations. How do we do that? Start a journal. Tonight, before you go sleep, write down three things that you were blessed with today."
Moving onto his next point, Bruce advises, "Learn to live in the only moment of time that's important, that is the now. Whenever anyone asks me what time it is, I take my watch out and say the only moment that exists is now, is the only moment we can control."