* Please note that while this speaker's specific speaking fee falls within the range posted above (for Continental U.S. based events), fees are subject to change. For current fee information or international event fees (which are generally 50-75% more than U.S based event fees), please contact us.
Top25 Speaker Voting

Bridget Brennan needs 6 vote(s) to make it into the Top 25 speakers on Speaking.com!
Speaker Booking Tip
"Tip: find a speaker in your local area to save on travel costs. Most speakers will also reduce their keynote fee for local events. "
For Event Planners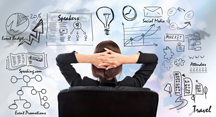 • Keynote Speaker Booking Toolkit.
• Booking a Celebrity Speaker.
• How to Find and Book the Right Speaker.
• Google+ Event Planning Forum.
• Tips for International Clients Booking U.S. Based Speakers.
Similar Speakers
Nick Sarillo

Nick Sarillo has proved that successful small businesses are driven by visionary leadership. The success of his company Nick's Pizza & Pub (the sixth busiest…

Duncan MacPherson

Professional branding and client acquisition expert, Duncan MacPherson has been coaching financial professionals for over 20 years. His company Pareto Systems is at the forefront…

Dr. Janet Lapp

Rated by Toastmasters International as one of the top three speakers in the world, Dr. Janet Lapp has helped over 2,000 audiences from Argentina to…

Working with your speakers agency on our training projects during the year proved to be a great business choice. I felt that my account reps were always around when I needed them, willing to help and listen. They showed flexibility when it was required and were reliable and dependable.
KPMG, Europe
About SPEAKING.com
Established in 1994, we are exclusive agents for some of the world's leading experts, celebrities and professional speakers.
We offer event planners a fully staffed speaker logistics planning team, plus a personal SPEAKING.com Account Executive – a knowledgeable and trustworthy partner. We guarantee your satisfaction with your speaker and a smooth booking process.
Contact us today to book your favorite speaker.

"We invited Bridget to our Western European Management Conference and she delivered a fantastic keynote speech about the fastest growing consumer segment – the female consumer. Her excellent insights into marketing and selling to women contributed to passionate discussions amongst the participants. Her positive attitude and great energy definitely helped to deliver a memorable presentation. Simply excellent."
Christian Stegmaier, Senior Director Business Development Western Europe, adidas-Group

"Simply brilliant. Bridget's message is compelling and engaging, and full of important information. She leaves a lasting impression."
Tony Rogers, CMO, Walmart U.S.

"I invited Bridget to one of my European Senior Leadership Team Meetings in order to raise awareness on "the most powerful consumer" and on "the female factor," and she had a tremendous impact. Bridget intervened right after a session on gender balance, and her presentation had an amplifying effect. Both the content and the delivery were just outstanding, and a call to action."
Laurent Freixe, Executive Vice President and Zone Director for Europe, Nestlé S.A.

"Bridget's presentation to the global golf industry at the 60th PGA Merchandise Show was a home run! She was able to connect in a unique way with our largely male audience, allowing them to better understand the power and trends within the women's demographic, gender differences and how to translate those into action at the golf facility level in order to gain more share of her wallet."
Sandy Cross, Director of Women's & New Market Initiatives, The PGA of America

"I recently read Bridget's book Why She Buys and I enjoyed the message so much that I felt compelled to invite her to speak to my team and she did not disappoint. I was delighted to discover that Bridget speaks as powerfully and persuasively as she writes. Her vast knowledge of the female consumer gave my team valuable insights that we were able to apply to our business immediately."
Kim Gregoire, Customer Business Development, Unilever

"Bridget was an immediate and much talked about hit at our inaugural Food Vision Summit. Authoritative, engaging and supremely well informed, she held her audience in the palm of her hand from her opening words to her closing comments. She certainly knows a lot about marketing to women – and just as much about speaking to men. Our 80% male audience was challenged, enlightened, even a little provoked; but never threatened or brow beaten! She was also generous with her time and knowledge throughout the Summit, engaging helpfully and enthusiastically with delegates from around the world."
Christina Wood, Events Development Director, William Reed Business Media

"Bridget and her team are on fire and incredible to work with! Not only did Bridget give an informational and energetic presentation to our Conference of over 18,000 women, but she tailored it specifically to our company, getting to know our field and our language. Her message resonated with our audience and left them inspired and filled with ideas to grow their businesses. Bridget is a must have speaker for any type of business!"
Susan Lehman, Sales Manager - New Consultants, Thirty-One Gifts

"Bridget is a high-energy, high-content speaker who easily engages her audience, because she takes the time to truly understand the room. She does her research about who she is talking to and seamlessly integrates the needs of the audience into her remarks. Put simply: Bridget brings it."
Jen Hoelzle, Director, Illinois Office of Tourism

"Bridget and her team were a delight to work with. They were professional, efficient and very thoughtful throughout the whole process. They were meticulous in assuring that they were covering all areas that we wanted explored. Bridget was the highest-rated speaker at our conference (even beating out Jeffrey Gitomer!) and for good reason. She delivers outstanding results in a lively fashion. Bridget presented vital information to our members that both educated and explained how and why they need to alter their business model to attract more women to their business. A first-class experience! "
Robert Treadway, Director of Communications, International Cemetary, Cremation & Funeral Association

"Bridget is by far one of the most engaging and interesting speakers I have had an opportunity to work with. She knows how to captivate an audience and get a clear and consistent message across using wit, real life examples and lots of charisma. Our audience appreciated the effort into making her message and insights adaptable and usable for day to day business. Finally I would like to mention the pleasure it was to work with Bridget and the Female Factor staff as they made reaching project milestones and deliverables a very positive experience. "
Federico Eduardo Fiallos Salmerón, Gerent Corporativo De Mercadeo, Organización Publicitaria, S.A., Honduras

"Bridget Brennan is the smartest, freshest and most entertaining presenter I've seen in a long time. She gives her audience the gift of seeing women in a completely new way. If you can hire Bridget, do it."
Claudia B. Mobley Ph.D. Director, Center for Retailing Excellence, Sam M. Walton College of Business, University of Arkansas

"Having Bridget speak at our event was a smart move. The content was right on target for our audience and Bridget's speaking style was engaging, thought provoking and fun. She truly energized the crowd and had everyone talking about Why She Buys for hours after the session. I would highly recommend Bridget for any speaking engagement."
Scott Allan, Vice President of Marketing, Rakuten

"Bridget is a gifted and compelling speaker who is one of the top experts on women consumers in the world today. She uses real life examples to explain key points and always succeeds in turning the audience into happy, grateful learners."
Nan McCann, President of PME Enterprises & Producer of the Marketing to Women "M2W" Conferences

"Bridget Brennan was one of the best investments I've ever made as a conference manager. She didn't just talk generally about marketing to women. but gave specific, actionable advice to our attendees on steps they could take immediately to do a better job. I couldn't be happier!"
Nora Simmons, Club Industry Show, Penton Media

"Bridget Brennan's sold-out event in El Salvador was a huge success! Her message is compelling, direct, clear and is transmitted with humor and real examples. Bridget is an excellent international speaker and we wouldn't think twice about having her again!"
Sandra Lorena Gomez, Directora Proyectos Especiales, Editorial Altamirano Madriz / El Salvador

"Way more than a Rock Star - She is the Whole Rock Band. Bridget is an outstanding speaker, high energy and engaging throughout her presentation. Bridget′s messages are appealing for a variety of audiences. And she is cross-cultural - her message resonated strongly among Mexican audiences from Company Presidents to Top CGS CMO′s."
Carola Cruz, Accenture

"Bridget is the kind of speaker that you dream of hiring when you plan an event. She educates audiences about an important topic - women - in the most engaging and entertaining way imaginable. I have worked with Bridget on two different events and each time she has left her audiences buzzing and asking for more."
Kelly Muno, Senior HR Manager, Procter and Gamble, Network of Executive Women

"Bridget hit a home run for us as the keynote speaker for our conference. She earned the highest score we′ve ever had for a speaker, and most importantly, she brought a fresh, new voice to our industry. Her talk was compelling, insightful and entertaining. She opened our industry′s eyes to the importance of focusing on female consumers."
David Perry, Executive Editor, Furniture Today

"Any company that depends on women customers should talk to Bridget."
Eric Elder, Senior Vice President, Marketing Communications, The Ryland Group and Ryland Homes

"Bridget kept our attendees rapt for the duration of her keynote by getting to the heart of marketing to women. Her entertaining and informative observations helped many in our industry quickly identify what they are doing right and what they are doing wrong. Her research applies to any industry, but she diligently researched natural products brands prior to her appearance and made things "click" for our audience. I'll recommend Bridget for any audience looking to get it right from the digital shelf to the store shelf!"
Jody Mason, Conference Manager, Natural Products Expo West

"If you′re looking for a corporate speaker who can raise your awareness, entertain, and capture the attention of a demanding, co-ed audience, then look no further than Bridget Brennan. She delivers the goods and leaves the audience in agreement with her message."
Richard Bellas, Vice President, Global Procurement, Advertising, Marketing, Media & POS, PepsiCo

"Bridget is the real deal, and a genuine leader in the field of marketing to women. She's an engaging speaker who inspired and enlightened our employees by giving them new ways to look at our target audience. Her enthusiasm is infectious and empowering, and you can take her advice to the bank."
Rob Matteucci, former Chief Executive Officer, Evenflo Company

"Bridget Brennan did an outstanding job as the Moderator at our recent Southern California Network of Executive Women′s event. She thoroughly engaged the 350 attendees with her quick wit and enthusiastic energy. The audience and the Panelists were thrilled with the evening′s results. She was also a joy to work with, and I would highly recommend her for any Moderator or Key Note Speaker engagement."
Bridget Prince, Nestlé USA

"Bridget Brennan is a captivating speaker! She participated in a seminar-discussion organized by the French Trade Commission-Ubifrance in New York in 2010 and the audience hung on to her every word. She presents a subject matter which is thoroughly interesting and engages the audience with her gestures, inflections, anecdotes and facts!"
Sara Harris, Director Design & Décor, French Trade Commission-Ubifrance
Why She Buys: The New Strategy for Reaching the World′s Most Powerful Consumers
If the consumer economy had a sex, it would be female.
If the business world had a sex, it would be male.

And therein lies the pickle.

Women are the engine of the global economy, driving 80 percent of consumer spending in the United States alone. They hold the purse strings, and when they've got a tight grip on them as they do now, companies must be shrewder than ever to win them over. Just when executives have mastered becoming technology literate, they find there's another skill they need: becoming female literate.

This isn't always easy. Gender is the most powerful determinant of how a person views the world and everything in it. It's stronger than age, income, or race. While there are mountains of research done every year segmenting consumers and analyzing why they buy, more often than not it doesn't factor in the one piece of information that trumps them all: the sex of the buyer. It's stunning how many companies overlook the psychology of gender when we all know that men and women look at the world so differently.

Bridget Brennan's Why She Buys shows decision makers how to bridge this divide and capture the business of the world's most powerful consumers just when they need it most.

No Matter Where You Live, Women Are a Foreign Country: You'll discover the value in studying women with the same intensity that you would a foreign market. Women grow up within a culture of their own gender, which is often invisible to men. Brennan dissects this female culture and explains the important brain differences between men and women that may cause your female customers to notice things about your products, marketing campaigns, or sales environment that you might have overlooked.
The High Fives: There are five major trends driving the global female population that are key to determining their wants and needs. These global shifts are just beginning to be tapped by businesses, and learning about them can provide you with an invaluable blueprint for long-range planning.
The Good, the Bad, and the Ugly: Find out how the best and brightest companies have cracked the female code, and hear horror stories about those that haven't. Through instructive case studies and interviews, Why She Buys provides practical, field-proven techniques that you can apply to your business immediately, from giants like Procter & Gamble and Toyota to upstarts like Method home-care products and lululemon athletica apparel.

At a time when every company is looking for a competitive advantage, Bridget Brennan offers a new and effective lens for capturing market share.
Order Here





From stadium-sized crowds to executive boardrooms, Female Factor CEO and Why She Buys: The New Strategy for Reaching the World's Most Powerful Consumers author Bridget Brennan teaches her audiences how to see the world through a female lens. Attendees leave her presentations with the ability to examine their business in a powerful new light. Thought-provoking and practical, Brennan's lessons are immediately applicable to a wide variety of corporate environments.
Below is a representative list of Bridget's most popular speeches. We are happy to work with professional speaker bureaus and meeting planners to create customized programs for clients with specific needs.
Why She Buys: How to Grow Your Business with the World's Most Powerful Consumers (Signature Keynote)
Women are the engine of the global consumer economy. They drive 70-80% of all consumer spending with their buying power and influence, and they've never had more options for what or where to buy. The question is: are they buying enough from you? In a lively presentation based on her acclaimed book (called "essential reading" by The Wall Street Journal), Brennan educates audiences on how to evaluate sales, marketing, product design and customer service practices from a female perspective. She provides relevant and practical business applications that marketing and sales teams can apply immediately to their jobs. You'll learn enduring principles and major trends that combine to give you a powerful competitive edge. Also available for a business-to-business audience.
PARTICIPANTS WILL LEARN:
- The biggest trends driving women's purchasing patterns
- The key to appealing to women without alienating men
- Communication strategies that resonate with women consumers
- Strategies for driving an emotional connection to your brand
- Best practices from leading-edge businesses

The Top Trends in Marketing to Women
OVERVIEW: As society changes, so does the practice of marketing to women. Strategies that were viewed as contemporary only a few years ago may be viewed as patronizing today. Is your marketing keeping up? Why She Buys author and Female Factor CEO Bridget Brennan provides insights, education and context for the major trends driving women consumers. She distills the deeper meanings behind these trends, and helps your team apply this knowledge to increase the effectiveness of your marketing efforts. From broad demographic changes to gender culture and the global patterns in the way women make purchasing decisions, Brennan offers techniques for breaking through the clutter and staying relevant with the world's most powerful consumers.
PARTICIPANTS WILL LEARN:
- The most important trends driving women's purchasing patterns, and the business implications of each
- What gender culture means to marketers
- Techniques for staying relevant to female culture over the long term
- The motivators that matter most
- Best practices from across industries

The Seven Deadly Sins of Selling to Women: What Every Sales Organization Needs to Know Now
OVERVIEW: Bridget Brennan, the world's leading expert on women consumers, reveals the most common behaviors that alienate women in marketing and sales, and simple ways to course-correct and kick-start growth in your business. Women are the world's most coveted consumers because they drive 70-80% of all purchasing decisions and buy for everyone in their lives. This makes for powerful math when building your customer base, but only if you do it right. Avoid the classic mistakes and learn how to be best-in-class.
Bridget will cover the big trends driving female spending, best practices on how to sell to women and Monday morning strategies to implement immediately. Winning becomes a whole lot easier when you are the business that women choose, instead of your competitors. If you're a business looking to grow your appeal with women consumers, this is the presentation for you.
PARTICIPANTS WILL LEARN:
- Why women often view the sales process differently from men, and what this means to your communications style
- How to create an inspiring service environment
- Four key motivators that drive women's purchasing decisions
- "Watch outs" to avoid at all costs
- "Monday Morning" strategies that can be implemented immediately

Mastering the Customer Experience for Women Buyers
OVERVIEW: Every moment counts when people are trained to click on a better option if they feel unwelcome or uninspired in your place of business. Mastering the customer experience is crucial, especially when it comes to serving the world's most powerful consumers: women. In this powerful speech, Brennan teaches audiences how to amplify key elements of the service experience to create an emotional connection that drives repeat business, positive reviews and referrals. The critical elements of the customer experience are completely within your control. Yet, lackluster service, poor merchandising and low customer engagement are still too prevalent, and represent just as a great a threat to consumer businesses as anything else. Many of the world's biggest brands and retailers have sought Brennan's advice: let her bring it directly to you.
PARTICIPANTS WILL LEARN:
- Five important ways selling is different now
- A roadmap of the biggest trends driving women's purchasing patterns
- Four key motivators that inspire spending and loyalty
- What not to do
- "Monday Morning" strategies that can be implemented immediately

The Salesperson's Guide to Winning the Last Three Feet of the Sale
OVERVIEW: Raise your game, increase sales and set yourself apart from the competition by developing the skill set that earns the business of women buyers. Elevating the person-to-person customer experience is opportunity number one for traditional salespeople, and it can be your most powerful differentiator against online competitors. When there are literally hundreds of places where a customer can buy your product or service, why should they buy from you?
In this highly practical and thought-provoking presentation, Why She Buys author and Female Factor CEO Bridget Brennan educates sales representatives and client service executives (of both genders) on relationship-building skills that increase their ability to earn the confidence of women buyers. She sets the foundation for win-win client relationships that generate sales, referrals and repeat business. Participants will be inspired by Brennan's galvanizing message that even in the smartphone age, nobody makes a buying decision with their thumbs. There is a heart and mind behind every purchase.
PARTICIPANTS WILL LEARN:
- What Selling Looks like Now
- Four powerful ways to leverage the "human" advantage
- Strategies for engaging your customers
- How to Instill Confidence in You and Your Products
- "Monday Morning" strategies that can be implemented immediately

Catch Me If You Can: Marketing to Millennial Women and Families in Perpetual Motion
OVERVIEW: Myth-busting, thought provoking and packed with practical ideas, Bridget Brennan provides powerful insights on the generation of women who are now in their prime purchasing years: Millennials, born between 1980-2000. We often learn about Millennials as a collective group, but what are the distinctions among Millennial women, who are a driving force in consumer spending? Attendees will learn the cultural dynamics that have shaped Millennial women and modern parenting styles, and the subsequent impact on their purchasing behaviors, marketing responses and sales effectiveness.
PARTICIPANTS WILL LEARN:
- How the mass documentation of Millennials' lives impacts brand choice
- What Millennials' parenting styles mean to brand aspirations and purchasing
- Why inspiration is a crucial component for this age group
- How expectations for the sales experience are changing
- Best practice examples from leading-edge brands and businesses


Speech Demo
Bridget Brennan explains what is actually happening when a female customer enters the retail environment. She says, "When a woman goes shopping, she is looking out for other people's wants and needs, and this really impacts how she makes purchasing decisions."
Explaining how companies will have to change if they are truly to maximize the power of their marketing to women, Brennan says, "I am here to propose to you a new lens for looking your business. The new lens is looking at everything you do through the lens of gender."
Detailing why addressing marketing to women is so important, she says, "But the reason we're here talking about women is the sheer volume of purchases made by women. Women are responsible for between 70 and 80% of all consumer purchasing. Men can be looking at the exact same product and be judging it by completely different criteria."
Bridget Brennan, Marketing and Sales Speaker: Speaking Reel