* Please note that while this speaker's specific speaking fee falls within the range posted above (for Continental U.S. based events), fees are subject to change. For current fee information or international event fees (which are generally 50-75% more than U.S based event fees), please contact us.
Top25 Speaker Voting

Brian Beaulieu needs 7 vote(s) to make it into the Top 25 speakers on Speaking.com!
Speaker Booking Tip
"Tip: find a speaker in your local area to save on travel costs. Most speakers will also reduce their keynote fee for local events. "
For Event Planners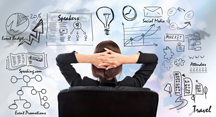 • Keynote Speaker Booking Toolkit.
• Booking a Celebrity Speaker.
• How to Find and Book the Right Speaker.
• Google+ Event Planning Forum.
• Tips for International Clients Booking U.S. Based Speakers.
Similar Speakers
Alan Beaulieu

For more than two decades, companies have turned to Alan Beaulieu for economic forecasting and details about the international business outlook. As one of the…

Todd Buchholz

A managing director at the $15 billion Tiger hedge fund, Todd Buchholz has an extraordinary resume, encompassing the presidency of an international consulting firm employed…

Hamish McRae

One of Europe's top economic commentators and futurists, Hamish McRae gives audiences an in-depth look at the ingredients for success in an increasingly stressful and…

Our agent was great to work with. Very easy to reach when needed and promptly returned messages. Thank you for making our event such a big success, we are looking forward to working with you again soon!
American Lung Association
About SPEAKING.com
Established in 1994, we are exclusive agents for some of the world's leading experts, celebrities and professional speakers.
We offer event planners a fully staffed speaker logistics planning team, plus a personal SPEAKING.com Account Executive – a knowledgeable and trustworthy partner. We guarantee your satisfaction with your speaker and a smooth booking process.
Contact us today to book your favorite speaker.

Rave Reviews for Brian Beaulieu:

"Brian was spectacular, charismatic and incredibly relevant."
C. Homann,
Royal Bank of Canada

"Brian's presentation was insightful, relevant and very entertaining. The presentation in Bend, Oregon was the best presentation on the economy in this region for many years. I found his message on investing in businesses especially enlightening, as well as the optimal timing of those investments in the business cycle."
Roger J. Lee,
Director,
Economic Development for Central Oregon

"You WOWED our members at Nexstar's Super Meeting in Atlanta! Everyone enjoyed your great sense of humor and how you were able to connect specifically to them during your presentation. You could have heard a pin drop in the room while you were speaking as everyone was captivated."
Sandie Jacobson,
Nexstar Network

"I can safely say that, in my 13 years of putting together programs for the Marketing Council and other AGMA meetings, you are the most interesting, most informative, most enlightening and most enthusiastic speaker we have ever had!"
Kurt Medert,
Vice President,
American Gear Manufacturers

"Brilliant! I could have listened for hours!"
Andrew Wood,
Talius
Make Your Move: Change the Way You Look At Your Business and Increase Your Bottom Line
A business book for these unprecedented times. After the most severe economic collapse in a generation, business leaders want to know how to protect themselves, plan for the future, and identify advancing trends in order to seize opportunities. Written by brothers Brian & Alan Beaulieu, this important new book, Make Your Move: Change The Way You Look At Your Business And Increase Your Bottom Line is a solutions-oriented management tool for mastering problems that thousands of businesses face regularly.

In clear, non-technical language, using proven business cycle analysis on which Alan and Brian are leading authorities, Make Your Move explains precisely what steps to take and when to take them.

It will help executives escape their recession mentalities and apply individual action plans to position their companies for an improving economy—as well as show them how to be profitable in any economic climate, even in a recession.

This breakthrough book will help you…

See what's coming—Spot future economic shifts well before they take place.
Understand business cycles—It can mean the difference between your company's success and failure.
Know where you are—Identify the phase cycle your business is in and how to profit from it.
Unlock the mystery behind leading indicators—And make them your economic crystal balls.
Increase profits consistently and reliably—Capitalize on cyclical changes and boost your bottom line.

Economic swings are inevitable. Make Your Move, written by two of our country's most experienced practical business economists, will guide you through the upswings and downturns, and give CEOs, business owners, top executives and senior managers the insights they need to maximize profits in every phase of any business cycle.
Order Here





Mr. Beaulieu is Chief Economist for Vistage International and TEC, global organizations comprised of over 13,000 CEOs. Mr. Beaulieu has been providing workshops and economic analysis seminars across the US and Canada to literally thousands of business owners and executives for the last 25 years.
Brian Beaulieu provides economic forecasts with 96% accuracy so companies can improve their performance and profits.
A sample of what you will learn in his keynote programs:
Short-term and long-term economic forecasts (U.S. and /or abroad).
How our forecasts impact your company.
What ITR Management ObjectivesTM apply at this time in the business cycle.
Is the economy going to grow?
What about inflation?
What are the up and coming economies?
What leading economic indicators should we be watching for?
Keynote Speech
Mr. Beaulieu sets out his vision for the future trends that companies will be facing in the next few years. Citing many reasons for optimism, he explains, "It's important that they realize that although there's going to be a little blips, overwhelmingly it's going to be positive, they really need to be questioning whether they have enough resources, enough people, enough capital, enough physical capacity to produce everything that's going to be available to them in terms of opportunity."
Renowned for his 96% forecasting accuracy, he says, "We think they should be borrowing money, there's a lot of banks out there, there's a lot of private equity, this is a great time with these interest rates to be leveraging up, borrowing money and moving your business very aggressively into new markets, new opportunities."
Sounding a note of caution amongst the optimism, he warns, "I would say stay away from putting an awful lot of money into the stock market; it sure seems poised for a correction, and along those lines I would be taking the profits of the table or putting stop-loss orders on their equity positions."
Keynote Speech