* Please note that while this speaker's specific speaking fee falls within the range posted above (for Continental U.S. based events), fees are subject to change. For current fee information or international event fees (which are generally 50-75% more than U.S based event fees), please contact us.
Top25 Speaker Voting

Braden Kelley needs 6 vote(s) to make it into the Top 25 speakers on Speaking.com!
Speaker Booking Tip
"Tip: speakers bureaus provide added value that you cannot get by booking speakers directly. "
For Event Planners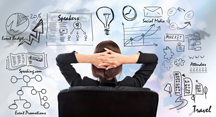 • Keynote Speaker Booking Toolkit.
• Booking a Celebrity Speaker.
• How to Find and Book the Right Speaker.
• Google+ Event Planning Forum.
• Tips for International Clients Booking U.S. Based Speakers.
Similar Speakers
Michael Gelb

Leading authority on the practical application of genius thinking, Michael J Gelb is a pioneer in the fields of creative thinking, change management, accelerated learning…

Isaac Lidsky

Over the course of 12 years, Isaac Lidsky gradually went blind due to a rare genetic disease. Though he initially viewed his diagnosis as a…

Ann Bancroft

An inspiration to women, girls and aspiring explorers across the world, Ann Bancroft shares her stories of travel and adventure in her motivational speeches in…

SPEAKING.com / Core Agency were very helpful in every way possible. I would recommend them to others and we will most definitely secure all our future conference speakers through them again.
Babcock & Wilcox
About SPEAKING.com
Established in 1994, we are exclusive agents for some of the world's leading experts, celebrities and professional speakers.
We offer event planners a fully staffed speaker logistics planning team, plus a personal SPEAKING.com Account Executive – a knowledgeable and trustworthy partner. We guarantee your satisfaction with your speaker and a smooth booking process.
Contact us today to book your favorite speaker.

"A next-generation innovation writer and thought leader worth watching."
Scott D Anthony, Head of Asian Operations, Innosight

"You got terrific feedback from the attendees… We really hope to have you speak at a future event!"
- Pippa Callaghan, Event Producer, Connecting Group

"You were one of our top-rated presenters, and your presentation was mentioned frequently as most useful and of highest value during the summit."
- Jonathan Bahe, Managing Director, Design Futures Council

"Braden is a very good speaker who can transmit key messages with clarity and originality. I wish the best to Braden in the future!"
- Nathalie Hublet, Media Manager, UBA

"Braden was an exceptional speaker at our annual insurance event in Peru, not only due to the clarity and quality of his presentation, but because he managed to leave important seeds of innovation with the audience. Braden set a superb standard for the conference."
- Fernando Cesar Gonzales Daly Marrou, Director of Sales, MAPFRE Perú

"Thank you for being part of Second Line New Orleans. Your presence helped make our first annual conference a great success."
- The Second Line Team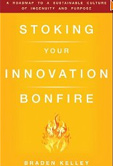 Stoking Your Innovation Bonfire
Want to recapture your organization's original innovative spirit? Stoking Your Innovation Bonfire helps you remove the obstacles that have crippled the innovation superpowers that made your organization successful in the first place.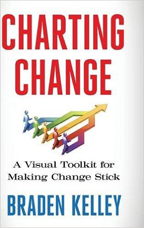 Charting Change: A Visual Toolkit for Making Change Stick
Research shows that up to seventy percent of all change initiatives fail. Let's face it, change is hard, as is getting an organization on board and working through the process. One thing that has been known to be effective is on boarding teams not only to understand this change, but to see the process and the progress of institutional change.
Charting Change will help teams and companies visualize this complicated process. Kelley has developed the Change Planning Toolkit™ and the Change Planning Canvas™, which enable leadership and project teams to easily discuss the variables that will influence the change effort and organize them in a collaborative and visual way. It will help managers build a cohesive approach that can be more easily embraced by employees who are charged with the actual implementation of change. This book will teach readers how to use this visual toolkit to build a common language and vision for implementing change.

Stoking Your Innovation Bonfire
Open Innovation and Crowdsourcing
Building Effective Innovation Teams (2-4 HOUR WORKSHOP)
Innovation Masterclass (FULL DAY)
Global Innovation Certification Bootcamp (TWO DAYS) - GIMI Certified
Increasing Sales Leads with Inbound Marketing
Making Your Business a Social Business
Building a Social Media Strategy
Building a Content Marketing Strategy

Braden Kelley - Demo
Braden talks about his work as an innovator and a Social Business Architect. "I am a Social Business Architect, which means I work with businesses to create better connections with their customers, with their employees and partners through the use of digital media, email, social media, those kinds of things."
Braden is energized, leading his audience to the beginning of their journey of innovation. "Are you ready to innovate? Are you ready to fight through some of the necessary blows you may suffer, and some of the flesh wounds you may encounter as people fight against the new ideas you may try to embed and grow within your organization?"
He explains the steps to innovation, starting with the first question, "what are we focusing our innovation efforts on?" The audience participates in a question-and answer section that shows us how every person can see an object differently than their neighbor or colleague.
Instinctual Innovation versus Intellectual Innovation