* Please note that while this speaker's specific speaking fee falls within the range posted above (for Continental U.S. based events), fees are subject to change. For current fee information or international event fees (which are generally 50-75% more than U.S based event fees), please contact us.
Top25 Speaker Voting

Bob Phibbs needs 9 vote(s) to make it into the Top 25 speakers on Speaking.com!
Speaker Booking Tip
"Tip: find a speaker in your local area to save on travel costs. Most speakers will also reduce their keynote fee for local events. "
For Event Planners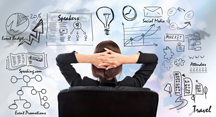 • Keynote Speaker Booking Toolkit.
• Booking a Celebrity Speaker.
• How to Find and Book the Right Speaker.
• Google+ Event Planning Forum.
• Tips for International Clients Booking U.S. Based Speakers.
Similar Speakers
Michael Soon Lee

For over 25 years, Michael Soon Lee has been the go-to expert for how to boost sales to diverse populations. Michael equips teams with the…

Rick Segel

Rick Segel has a passion for retail! He is the ultimate business development specialist. He turns meetings into events, events into life-time memorable experiences. He…

Shawna Suckow

Ranked among the top women speakers in business, Shawna Suckow uses her 20 years of expertise as a million-dollar B2B Buyer to help sales professionals…

Working with your speakers bureau has been a pleasure. Everyone on your team was extremely responsive and informative, and really helped us to customize our event. I will be sure to reach out to your agency again in the future with any speaker needs that I may have.
The Advisory Board Company
About SPEAKING.com
Established in 1994, we are exclusive agents for some of the world's leading experts, celebrities and professional speakers.
We offer event planners a fully staffed speaker logistics planning team, plus a personal SPEAKING.com Account Executive – a knowledgeable and trustworthy partner. We guarantee your satisfaction with your speaker and a smooth booking process.
Contact us today to book your favorite speaker.

What impressed me about Bob was his ability to connect with our audience of Star Motorcycle dealers. He did his homework prior to the seminar and his research paid off as he was able to explain concepts that hit home with our dealers.

Bob has a laid back style that allows him to show his knowledge of retail while the audience laughs and enjoys the training. After Bob′s presentation you realize you had fun but you also have key take-aways that you can implement to make a difference in your business.

I told Bob he had to present real world ideas that can be implemented that will have a positive impact on our dealers business and Bob delivered. I would definitely recommend Bob, he understands retail and brings to the table real business concepts that can be turned into actionable items.
Joe D, Motorcycle Product Manager, Yamaha

Congratulations on a stimulating presentation on Monday at our North American dealer conference. Your topics and presentation hit the mark with our dealers who have seen a great variety of speakers throughout the years. As you are no doubt aware finding a speaker who truly understands the retail process along with its' creative solutions, is a difficult task.

Your confidence to ask for "any questions you would like me to satisfy by the end of this presentation" sums up the reason I would refer you to others in the future. Keep up the passion , we need it in this retail game!
Craig L., VP Sales, Beachcomber Hot Tubs

Our dealers are still raving about our July event – especially your presentation. A few of our dealers even put your advice into practice, and – guess what – they saw an immediate improvement in their business and employee morale. Thank you again!
Shirley H., Sr. Marketing Manager, Brother International

What fun we had working with you at our convention! I have been working with keynote speakers for more than I care to admit and you truly had an understanding of their business, the day-to-day competition they face and the steps they need to take to compete. Many of our dealers have commented on the appropriateness of your speech and the fact that they would have loved to have heard more.
Nancy J., Husqvarna Viking

People were raving about your presentation! Everyone said this was the best event they ever attended of any manufacturer!
Dean S., President, Brother International

When we first engaged you, we had an idea about growing our business, but had little idea as to how to make it happen. Your help in every aspect of the development of our business—menu, recipes, training, marketing, just to name a few--has brought us a national following and tens of thousands of customers to our stores every month. You have been there to help build our brand from 4 stores to more than 100. Your passion during our two-week franchisee training has given them a clear picture of how to build their business. Your wisdom, patience and insight have made us a better company.
Marty C., Founder and President, It's A Grind Coffee Franchise

As a speaker, you captivate audiences with the use of humor and by having them interact with you. The energy level in the rooms was always high, and as word spread about how great your seminars were, the attendance kept increasing. As the person that hired you to speak to our retailers, reps and manufacturers, I was extremely pleased with your performance, and with the feedback I got from my group. Every retailer in business today should hear your message!
Karen G., Casual Furniture Retailers Association

Bob, our metamorphosis has been wildly successful! There has been a consistent monthly increase in materials circulation averaging from 12-20%! Watching the hungry public gobble up books and DVDs in this area has been the single biggest thrill!
Paula B., Chula Vista Public Library

It is rare to find a professional speaker who is willing to immerse himself in our industry and customize a training program specific to our participants. Bob Phibbs has done this for us. He has worked side-by-side with our customers, consulted with them and attended our product trainings. Our customers feel connected to him because they feel he really knows and understands their business.
Donna K., Training Manager, Hunter Douglas Window Fashions Gallery

Your keynote address exceeded our expectations. Bob, you certainly were well prepared and kept the client's attention. Thank you for a job well done. We would highly recommend you and would certainly use your services again.
Pat P., Myriad Software

Thanks again for your inspiring presentation to our members.
Dave K., Director of Education, True Value

We have had several occasions to invite Bob Phibbs to provide training for groups of retailers. Bob′s style makes the sessions fun and rememberable. His message is actionable, with a to-do list for the attendees that will grow their business if they follow his advice.
Ron S., Vice-President, Hunter Douglas Inc. Corporate Education

Bob helped us manage our business better and sell our rooms quicker so we could continue to upgrade and improve guest satisfaction. Bottom line: our business doubled within three years.
Bill P., Owner, Bay Shores Peninsula Hotel

We flew Bob in and within two weeks Bob provided us with more than 80 concrete ideas that were understandable and capable of implementation for our three stores. Bob was very candid with us and forced us to focus on who we were and enabled us to determine the direction needed to go.
Trent B., Vice President, Epic Touch
The Retail Doctor′s Guide to Growing Your Business: A Step-by-Step Approach to Quickly Diagnose, Treat, and Cure
It′s one of the toughest economies in years, but don′t fear-the doctor is in

Are you among the thousands of retailers frustrated by market challenges and looking for ways to take control of your business? Are you looking for the advice of an expert consultant, but unable to spend the money? Then The Retail Doctor′s Guide to Growing Your Business is for you.

By providing a step-by-step approach to evaluate your current business practices, The Retail Doctor offers professional guidance

Redesign your organizational structure
Reap the maximum returns on your investment
Keep your business financially healthy

Following the advice in these pages will help you devise a sound strategy to accomplish your goals and outperform your competitors. You′ll also gain clear insight into all areas of human resource management, sales training, merchandising methods, and marketing.

While your competitors are looking for a magic bullet to solve their problems, with The Retail Doctor′s Guide to Growing Your Business, you can be making changes that will guarentee enormous returns and financial success.
Order Here





Bring retail speaker Bob Phibbs to your trade group, business association, national conference or select customers with one of the his retail sales and marketing presentations below:
You Can Compete!
Retail isn't that hard to perfect… it comes down to having the right people and right product for your customers. When you drop one of those, you end up settling. And if the past year has taught us anything about retail sales, it's that you just can't settle anymore if you want to get ahead of the competition and stay there. In this retail sales training presentation, you'll discover how to make bigger sales and earn the profits you seek by building the right team, holding on to existing clientele, and capturing new customers.
Marketing Smarter Than Your Competition
Interruption marketing is the past; the future of marketing is participation. To make more money, you need to get in front of those people looking for your products or services by getting top search engine rankings. This marketing presentation shows you how to monitor your brand, engage your customers and create direct links to what your local customers are searching for so you can market smarter than your competition.
Selling Like A Pro
In order to move more merch, your employees must possess great customer services skills so they can build trust quickly and start a relationship with your customers. In this presentation, Bob reveals his proven sales process you can easily apply to see your sales increase, your merchandise turn increase and your employee turnover plummet.
Merchandising for Sales
With these days of budget cuts and computer scheduling programs to minimize overlap of hours, your employees simply can't be everywhere suggesting add-ons. Displays are your silent salesperson, from the intriguing windows to the impulse items at the counter. They are the foundation of a healthy business. In "Merchandising for Sales," Bob shares tips and tools that will help you create kick-butt displays that move product quickly.
How To Train and Manage Your Sales Team
In order to earn the profit you desire, you need your sales team at the top of their game, focused on the customer and adding value. This retail management presentation reveals secrets to managing your sales team, raising them from lowly clerks to the top of the selling mountain!

Demo Video
Long Speech Excerpt
Speech Excerpt