* Please note that while this speaker's specific speaking fee falls within the range posted above (for Continental U.S. based events), fees are subject to change. For current fee information or international event fees (which are generally 50-75% more than U.S based event fees), please contact us.
Top25 Speaker Voting

Bob Hirschfeld needs 6 vote(s) to make it into the Top 25 speakers on Speaking.com!
Speaker Booking Tip
"Tip: speakers bureaus provide added value that you cannot get by booking speakers directly. "
For Event Planners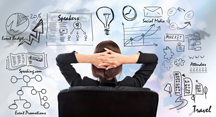 • Keynote Speaker Booking Toolkit.
• Booking a Celebrity Speaker.
• How to Find and Book the Right Speaker.
• Google+ Event Planning Forum.
• Tips for International Clients Booking U.S. Based Speakers.
Similar Speakers
Dr. Will Miller

A seasoned psychotherapist, respected faculty member at Purdue University, and well-traveled stand-up comedian, Dr. Will Miller's approach to shaking off stress is second-to-none. The nationally…

Todd Newton

Daytime Emmy-award winner Todd Newton is one of America's most beloved game show hosts, a certified life coach, and trainer. For over 20 years he's…

Harry Freedman

In 40 short years, Harry Freedman MD, PhD, JD, has been a doctor, consultant, a top stockbroker and motivational speaker. He has been described as…

I will certainly recommend to others that they contact you for guest speakers in the future. It was a pleasure working with you as well. We all appreciate your professionalism and exemplary service.
BASF
About SPEAKING.com
Established in 1994, we are exclusive agents for some of the world's leading experts, celebrities and professional speakers.
We offer event planners a fully staffed speaker logistics planning team, plus a personal SPEAKING.com Account Executive – a knowledgeable and trustworthy partner. We guarantee your satisfaction with your speaker and a smooth booking process.
Contact us today to book your favorite speaker.

"You provided an entertaining and witty look at what passes for normal in the everyday business world. I would gladly recommend you to anyone considering utilizing your talent."
Joseph Schneider, National Association of Home Builders
"You definitely caught the attention of the audience and woke them up with riveting laughter in preparation for the rest of the event. Thank you for helping make our event such a huge success!"
Mike Rioux, IDEA
"By collaborating closely with us for months before the event and customizing his material to fit our theme, Bob Hirschfeld delivered a thoroughly engaging keynote that had our audience laughing heartily."
Sandra Prescott, The Data Warehousing Institute
"Bob Hirschfeld's universal business humor met with great appreciation by our senior level financial executives heralding from 16 countries. His grand opening, which was customized to our company's history, brought tremendous laughter and it was clear Bob had captured the essence of our business."
Marcia Seibald, Citco Financial Services
"You were fantastic! Your extremely funny and insightful presentation delighted a very discerning crowd--Presidents and CEOs of emerging companies. A top-caliber comedy hour with business backbone. You set the perfect tone for an evening of fun and networking."
Karen Edelman, Editorial Director, Forbes Management Conference Group
"Your presentation was exceptional, I truly enjoyed it and have heard lots of positive comments. Thanks for helping us make our conference a great success."
Nancy Webster Manager, Service Delivery Communications, IBM
"Your unique observations clearly connected with many of our members' own interactions with new technologies. Perhaps more importantly, your presentation emphasized that it is not we who are the "dummies" when it comes to computer technology."
Susan Sarfati, Greater Washington Society of Association Executives
"I want to thank you for an excellent presentation. You received exceptionally high ratings on our survey--a sure sign that you met and exceeded the audience's expectations! I also want to thank you for your professionalism as a speaker. Everything that I needed you to do to make my life easier was done. A speaker who respects the planners needs is very much appreciated!"
Joan Orentlicher, LOMA
IBM
Johnson & Johnson
Microsoft
Security Industries Association
National Association of Manufacturers
Honda
Forbes Presidents Forum & Forbes CIO conference
Oracle Users Group
Ziff Davis
Consumer Electronics Association
Mortgage Bankers Association
Canon
Smith Barney
Electronic Commerce World
American Society of Association Executives
Ameritech
Network World
CACI International
American Society of Travel Agents
Quantum Corporation
Deutsche Banc Alex Brown
General Services Administration
Filemaker
American Meeting Planners
American Chamber of Commerce Executives
law.com
Food Marketing Institute
HR Events
American Corporate Counsel Association
Watson Wyatt Worldwide
Manufactured Housing Institute American Hardware Manufacturers Association
Americans for the Arts
Medical Group Management Association
HR Southwest Human Resources Conference
"Cybersatirist" Bob Hirschfeld lampoons business and technology with customized presentations created exclusively for savvy conference audiences. He provides appropriate comic relief by mining the laughs from any business topic including social media, mobile and cloud computing and cyber security. Bob can also add a humorous yet motivating perspective on the challenges and rewards of sustainability.
As a keynote, Hirschfeld will leave your audience smiling, refreshed and ready to tackle the rest of your conference agenda. He's also perfect for after-dinner entertainment that ties in with your conference topics.
The first "Cybersatirist," Hirschfeld has been performing at conferences for over 15 years for a long list of clients that include Microsoft, Siemens, Forbes, State Farm and Shell. His success was profiled in The Wall Street Journal and USA Today. No wonder Jay Leno called him, "one of the top satirists in the country.
Funny Business: A Satirical Look at the World of Business
Bob finds the laughs in a wide range of business topics including social media, time management, meetings, Powerpoint, branding, customer service and software upgrades. He also shows the humor in what it would be like to run your family as if it were a business. Audiences readily get the underlying message of finding humor in dealing with stress and adapting to change and technology.
Funny Green Business
Bob is one of the only speakers who uses humor to convey an "eco-friendly" message on the challenges, opportunities and rewards of green and sustainable policies. His approach is funny, fun and motivational. Bob's creative presentation includes a tongue-in-cheek history of green business and humorous perspectives on lowering your carbon footprint, recycling, increasing energy efficiency, the green office and clean energy. Underlying the humor are positive and informative strategies for sustainability.
America the First Start-Up
Satirist Robert Hirschfeld re-imagines our Founding Fathers as the entrepreneurial founders of the start-up America, by humorously using the context of current business and technology, to tell their remarkable story. The result: a funny, informative and creative presentation that shows how our founders truly were disrupters, risk-takers and visionaries.
First our founders declared war against the old ways of government by fighting for independence from the parent company England. Then they coded a new "open source" system of government for and by the people. It was a remarkable feat, considering they had to surmount opposing views on design, features and scope of the system. Yet they worked as a determined team and succeeded through the now nearly extinct political tradition known as "compromise" to create a brilliant framework for our Constitutional system of government
Eventually our government system, like a software operating system, became bloated, dysfunctional and corrupted. That's why we need to reconnect with the constructive, innovative start-up spirit of our founders to get this system and our country back on track for the great destiny our founders intended

Bob Hirschfeld: Demo Video
Bob Hirschfeld invigorates audiences by transforming the mundane into a laughable matter. From the ever-growing cell phone addiction to the effects of social media, he finds the funny in topics to which the general population can relate.
He makes reference to a photo of a man and woman who are out on a lunch business meeting. Sharing a table, each one has dropped their face down toward their smart phone, because, according to Bob, they are texting each other. "They could be making a Skype video call and then they could see each other's faces on their screens," Bob recommends as method of taking the meeting to the next level.
Bob Hirschfeld: Going Green
Bob Hirschfeld discusses the challenges and occasional irony of "going green," demonstrating how taking a topic too seriously can be counterproductive. He recalls one of the first steps he took towards embracing environmental stewardship: purchasing a book loaded with "100 ways to save the planet."
"One of the first things it said was 'Buy less paper,'" Bob states. "So I returned the book."
Bob Hirschfeld: Smart Technology is making us dumb
Bob Hirschfeld: Speech Excerpt