* Please note that while this speaker's specific speaking fee falls within the range posted above (for Continental U.S. based events), fees are subject to change. For current fee information or international event fees (which are generally 50-75% more than U.S based event fees), please contact us.
Top25 Speaker Voting

Blake Mycoskie needs 4 vote(s) to make it into the Top 25 speakers on Speaking.com!
Speaker Booking Tip
"Tip: find a speaker in your local area to save on travel costs. Most speakers will also reduce their keynote fee for local events. "
For Event Planners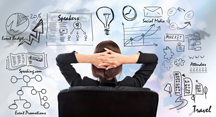 • Keynote Speaker Booking Toolkit.
• Booking a Celebrity Speaker.
• How to Find and Book the Right Speaker.
• Google+ Event Planning Forum.
• Tips for International Clients Booking U.S. Based Speakers.
Similar Speakers
Magic Johnson Jr.

Earvin "Magic" Johnson went from being one of the most powerful players on the NBA court to one of the most influential business figures in…

Marcus Lemonis

CNBC business superstar, Marcus Lemonis is America's doctor for small businesses. The charismatic serial entrepreneur and owner of the multi-billion dollar company, Camping World, shot…

Joe Gebbia

Chief Product Officer & Co-Founder at Airbnb, Joe Gebbia reinvented the hospitality industry, breaking down biases against strangers and skyrocketing the growth of the Shared…

I'm extremely impressed with your speakers bureau's follow-through, responsiveness and willingness to understand our needs so that he could match the best speakers with what we are looking for. I will definitely work with you again in the future. Thank you for all that you did to help us create an exceptional learning experience for our attendees.
American Society of Association Executives
About SPEAKING.com
Established in 1994, we are exclusive agents for some of the world's leading experts, celebrities and professional speakers.
We offer event planners a fully staffed speaker logistics planning team, plus a personal SPEAKING.com Account Executive – a knowledgeable and trustworthy partner. We guarantee your satisfaction with your speaker and a smooth booking process.
Contact us today to book your favorite speaker.

"One of the most interesting entrepreneurs [I've] ever met."
- President Bill Clinton
"Having Blake at our executive retreat was a great decision. His passion for doing something that matters was inspiring and engaging. No matter how seasoned an executive you are, Blake's entrepreneurial approach to business is a true example for all of us."
- Chairman, NBC Entertainment
"Blake was wonderful! He established an immediate and warm connection with our students, provided a genuine, heartfelt life story connected to business principles. An absolute cannot miss speaker. The best part? His message has been sustained and we continue to prosper from his visit!"
- Dr. John Jasinski, President, Northwest Missouri State University
"Blake is the perfect speaker for your next meeting. He was insightful, funny, and had a fantastic rapport with the crowd. He connected with the audience with an open, conversational style that kept everyone engaged. Whether you want to hear about Tom's, entrepreneurship, or doing good — he's the guy you need."
- Andy Sernovitz, CEO, SocialMedia.org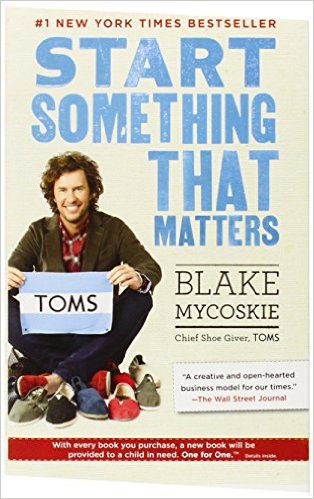 Start Something That Matters
The incredible story of the man behind TOMS Shoes and One for One, the revolutionary business model that marries fun, profit, and social good.
Why this book is for you:
You're ready to make a difference in the world—through your own start-up business, a nonprofit organization, or a new project that you create within your current job.
You want to love your work, work for what you love, and have a positive impact on the world—all at the same time.
You're inspired by charity: water, method, and FEED Projects and want to learn how these organizations got their start.
You're curious about how someone who never made a pair of shoes, attended fashion school, or worked in retail created one of the fastest-growing footwear companies in the world by giving shoes away.
You're looking for a new model of success to share with your children, students, co-workers, and members of your community.

You're ready to start something that matters.

With every book you purchase, a new book will be provided to a child in need. One for One.™

Conscious Capitalism and the Future of Business
In this visionary talk, Blake Mycoskie shows you how to succeed in a new era of relentless competition and heightened social awareness. Why is philanthropy your best competitive advantage? How do you make money and do good simultaneously? How are the two acts intertwined? At TOMS—a self-sustaining, for-profit company—the act of giving is the cornerstone of its business model, integral to its financial success. In a behind-the-scenes look at how it all works, Mycoskie shares counterintuitive ideas ("In tough times, give more!") that you can apply to your own business.

His bold, winning strategies are proven, and have been talked about by Bill Clinton, the Obama administration, and the hundreds of thousands of customers that have joined the TOMS movement by buying a pair of shoes. Inspired, inspiring and most of all practical, Mycoskie presents a new direction for business, offering TOMS as his prime case study. After hearing him speak, you too will know why giving just makes sense.

The New Social Entrepreneurism
How do you turn ideas into great businesses? And how do you create businesses that people love, and love to talk about? In this keynote, serial entrepreneur Blake Mycoskie shares his secrets for starting, growing, and sustaining new businesses. Before TOMS, Mycoskie ran a successful national campus laundry service, sold a media company to Clear Channel, and ran an online driving school featuring hybrid cars. Where did each idea come from, and what is the common thread connecting their success?

With infectious enthusiasm, hard-won lessons, and a generous sense of encouragement, Mycoskie lets you in on the proven tactics he's used to become one of the new faces of American entrepreneurism.
Blake Mycoskie, Social Entrepreneur: SXSW Keynote
Blake Mycoskie shares how his refusal to listen to conventional business advice created one of the most successful social entrepreneurial models in the world. After spending a day of his Argentinian vacation working with a non-profit group that collected and delivered shoes to children in the slums surrounding Buenas Aires, Blake was inspired to find a more sustainable model of meeting the children's needs. As a seasoned businessman with no experience organizing or running charities, he felt uncomfortable depending on donations, so he came up with the idea of a for-profit shoe company, TOMS, that would donate one pair of shoes to a child in need for every pair purchased.
His colleagues and friends back in Los Angeles admired the idea, but said that a one-for-one system could never be a pillar of sustainable business, insisting that it was simply too much to give away. Not only did Blake go ahead with his plan anyway, he later made the decision to not spend a dime on traditional marketing, instead focusing on ways to engage top customers whose evangelism was far more effective than paid ads.
Funds, then, were channeled to the "TOMS' Ticket Program" which allowed loyal customers to accompany the crew on their shoe giving trips around the world. "It became very clear to me if there was one thing that our most loyal customers and fans wanted more than anything, it was to actually go and put shoes on kids' feet," Blake states.
Blake Mycoskie, Social Entrepreneur: Keynote
Blake Mycoskie, Social Entrepreneur: Why the One for One model