* Please note that while this speaker's specific speaking fee falls within the range posted above (for Continental U.S. based events), fees are subject to change. For current fee information or international event fees (which are generally 50-75% more than U.S based event fees), please contact us.
Top25 Speaker Voting

Billy Riggs needs 21 vote(s) to make it into the Top 25 speakers on Speaking.com!
Speaker Booking Tip
"Tip: speakers bureaus can provide: speaker fee negotiation, insurance, smooth logistics and value add-ons such as extra sessions. "
For Event Planners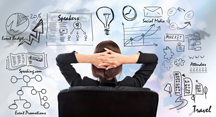 • Keynote Speaker Booking Toolkit.
• Booking a Celebrity Speaker.
• How to Find and Book the Right Speaker.
• Google+ Event Planning Forum.
• Tips for International Clients Booking U.S. Based Speakers.
Similar Speakers
Jake Poore

Healthcare customer service expert Jake Poore spends most of his time in the trenches of hospitals. Equipped with a first-hand understanding of the demands and…

George Hedley

The founder and owner of Hedley Construction & Development, Inc., George Hedley is one of the top construction business speakers and industry experts. Drawing from…

Teresa Allen

Teresa Allen's approach to communicating with your customers and increasing sales is summed up in the name of her book and her most popular keynote…

My Account Executive was able to work within my quick turn around time and price limitations to find the perfect speaker for the job. Although I thought finding and booking a speaker for our sales meeting would be the most difficult part of the planning process, your agency made it the easiest.
Ales Group USA, Inc.
About SPEAKING.com
Established in 1994, we are exclusive agents for some of the world's leading experts, celebrities and professional speakers.
We offer event planners a fully staffed speaker logistics planning team, plus a personal SPEAKING.com Account Executive – a knowledgeable and trustworthy partner. We guarantee your satisfaction with your speaker and a smooth booking process.
Contact us today to book your favorite speaker.

Just what our company needed! You're the best I've ever seen.
John Zumwalt, Chairman and CEO, PBS & J (Fortune 500)
I have attended scores of motivational speeches. WITHOUT A DOUBT, YOU ARE LIGHT YEARS AHEAD OF EVERYONE. Thanks!
Allen B. Pease, Attorney, Black and Veatch Consulting and Engineering
Hilarious facial expressions!! W/out a doubt the best and most amazing presentation I have seen. Funny!
No name given, IBM
Spectacular, awesome, extraordinary, entertaining, enlightening, grand are just a few of the words I would choose to describe your presentation!
Suzanne Hungerford, Meeting Planner, State Farm Insurance
He is a true professional! Wow!!
No name given, Bank of America
Great, entertaining and very inspiring! The best I've ever seen. I especially like the way you customized the presentation to our organization.
Kathy Mabe, President of Western Operations, Nationwide Insurance (Fortune 500)
Fantastic! Great way of delivering the training. Kept the audience engaged. You spooked me!! I'm going back to work now extremely motivated! Thank you!
Wendy Leighton, Area Manager, Chevron
One minute I was laughing so hard I cried. The next I felt so lucky to be where I am in life that I cried.
Joe Blomstein, Wausau Insurance Company
I was really drawn in by his pure passion for life.
Jason McCollum, Wausau Insurance Company
Humor, magic and positive thinking… the three mysteries of life. Billy Riggs has mastered all three in an entertaining and captivating display.
Charity Myatt, Wausau Insurance Company
Fantastic! Great way of delivering the training. Kept the audience engaged. You spooked me!! I'm going back to work now extremely motivated! Thank you!
Wendy Leighton, Area Manager, Chevron
Humor, magic and positive thinking… the three mysteries of life. Billy Riggs has mastered all three in an entertaining and captivating display.
Charity Myatt, Wausau Insurance Company
Billy's a freakin' rock star! Great stage presence!
Mark Leidheisl, Senior Vice President, Wells Fargo
Billy was superb! He combined his magic, humor and message to deliver an uplifting and thought-provoking keynote to all our attendees. He had our audience captivated and laughing not only at his wonderful message and humor but also at themselves. They left smiling and many stated that his message was "right on" and "hit the mark." He received a rating of 9.8 with 10 being perfect!
Wendy J. Ruud, Vice President, Independent Community Bankers of North Dakota
Terrific… very entertaining and motivational. Several of my key people who have been with me 8 or 9 years have sought me out to tell me that yours was the best program we've ever had at our conference. I'm not just blowing smoke -- I agree with them!
Garry Pincock, CEO, American Cancer Society, Pennsylvania Division
Thanks to your professionalism and knowledge, the 2006 Administrative Conference was a huge success! YOUR KEYNOTE WAS THE HIGHEST RATED WE'VE EVER HAD!
Lou Suquett, Senior Regional Service Director, Boys and Girls Clubs of America
I found this very rewarding and I needed to hear it.
Janet Huckabee, Program Manager, Arkansas Red Cross, Wife of Arkansas Governor Mike Huckabee
Most amazing and inspirational. Very entertaining.
Kathy Flamson, Rotary International
Your program was the best we've ever had at our fund-raising banquet. It was fun, moving and – most of all – led people to open their wallets and help out.
Paul Schulz, Campaign Manager, The United Way of Galveston
Absolutely wonderful!! Amanda Diffie,
Campfire USA
Positively Magical Selling
Demolishing the psychological barriers that reduce sales, and unleashing the attitudes that makes them soar!
Effective selling is the result of accurate beliefs - beliefs about the marketplace, the client, and yourself. Consequently, your greatest obstacles to stratospheric sales success are your illusions, faulty beliefs that lurk in the subconscious mind to lower self-confidence, undermine motivation, and reduce closing ratios. In this fascinating combination of classic magic, humor, and education, world-class illusionist Billy Riggs helps eliminate these psychological glass ceilings, propelling your sales force to higher sales and greater satisfaction.
Positively Magical Service
Exploding the Poor Attitudes that Prevent Superior Service!
Today′s market is more highly competitive than ever before. But successful businesses know that the most effective and least expensive way to distinguish their company from the competition is to provide mind-boggling customer service. In a dazzling combination of magic and education, world-class magician Billy Riggs exposes the five grand illusions that prevent you and your staff from serving your customers in a way that keeps them coming back again and again, and reveals the secrets of rendering Positively Magical Service.
Positively Magical Service Subtopics:
Customer Loyalty: The Magic Formula
Positively Magical Service for MANAGERS
Positively Magical Service for EMPLOYEES
The Magic of Multilevel Marketing
Dazzle, encourage and inspire your network marketing organization with this entertaining and fun blend of comedy, magic and training. Billy Riggs has significant and successful MLM experience and will rejuvenate your people as never before!
The Magic of Balance!
Keeping Life in Balance Can Be a Real Trick!
The inherent danger of passion-induced work is its appetite for consuming all of life. Whether motivated by obsession or necessity, the driven worker is in jeopardy of losing family, integrity, health, and happiness. By internalizing the four core values of character, intimacy, achievement, and reliance, you will harness the power of an integrated life and move beyond survival to success and balance. You will discover how to "Drive Yourself Without Driving Yourself (or those around you) Crazy."
The Power of a PMA!
Reshaping Your Company by the Power of a Positive Mental Attitude
The single most important factor in success is attitude. A positive attitude directly impacts the bottom line because it improves performance, reduces turnover, and decreases absenteeism. Best of all, a fabulous attitude is contagious. Help your staff embrace change with a smile, adjust to hardship with optimism, and strive to be their best each and every day by experiencing the "Magic of Attitude"! This unique and energetic combination of entertainment, comedy, and enlightenment allows world-class illusionist Billy Riggs to demonstrate how attitude and performance are inextricably linked, and motivates your staff to turn their new attitude into profitable action.
How to Read Your Client′s Mind
Revolutionary Training for the Sales Professional Who′s Heard It All!
Negotiating and selling would be easy... if you could read minds! Clients frequently conceal ulterior motives, hidden agendas, and secret fears that unnecessarily complicate the sales process. When salespeople cannot quickly discern a customer′s specific needs and wants, valuable time is wasted and sales are lost. Watch world-class illusionist Billy Riggs perform astounding feats of "mind-reading" on audience members and then listen as he reveals the closely-guarded secrets of leading psychics and mediums, enabling you to know what your customers (or kids!) are really thinking.
How to Achieve the Impossible
Demolishing the misguided attitudes that prevent managers from producing spectacular results!
Extraordinary success is the result of extraordinary leadership. In this powerful presentation, magician Billy Riggs impresses leaders and managers with the core beliefs held by all remarkably successful leaders, and shatters the illusions that limit growth. This presentation is perfect for leadershp or board training and is entertaining, motivational, and highly practical. Learn how your organization can achieve the impossible from a master of the impossible!
The Magic of Education - For ALL School Staff
Exemplary districts are led and staffed by people who all share the goal of transforming students′ lives. Bus drivers, cafeteria workers, librarians, faculty members and administrators are all challenged to internalize this vision in a hilarious in-service program that won′t soon be forgotten!
Pure Entertainment Program
For those who just want fun and entertainment, master magician and comedian Billy Riggs will knock their socks off and leave them with goose bumps!

Demo Video
In this video, Mr. Riggs opens by saying, "I am convinced that most of life's problems can be traced back to one or more of a handful of grand illusions that we all carry with us in our heads." He goes on to explain that these illusions include "beliefs, assumptions, biases, defense mechanisms," but mostly attitudes.
Mr. Riggs goes on to explain that these illusions can only be shattered through a positive attitude. "You and I hold right now in the palm of our hands in equal measure the single greatest purely human power in this universe, and that is the power to face any circumstance with a fabulous attitude," he says.
Full Presentation