* Please note that while this speaker's specific speaking fee falls within the range posted above (for Continental U.S. based events), fees are subject to change. For current fee information or international event fees (which are generally 50-75% more than U.S based event fees), please contact us.
Top25 Speaker Voting

Bill Toliver needs 1 vote(s) to make it into the Top 25 speakers on Speaking.com!
Speaker Booking Tip
"Tip: find a speaker in your local area to save on travel costs. Most speakers will also reduce their keynote fee for local events. "
For Event Planners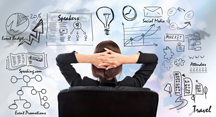 • Keynote Speaker Booking Toolkit.
• Booking a Celebrity Speaker.
• How to Find and Book the Right Speaker.
• Google+ Event Planning Forum.
• Tips for International Clients Booking U.S. Based Speakers.
Similar Speakers
Michael Soon Lee

For over 25 years, Michael Soon Lee has been the go-to expert for how to boost sales to diverse populations. Michael equips teams with the…

Ira Blumenthal

A visionary business development expert, Ira Blumenthal has been invited to open for speakers like President George H. W. Bush, General Colin Powell, Bob Dole,…

Kare Anderson

It doesn't get much higher-level than a presidential campaign, and Kare Anderson created over 208 issues-formation teams for President Obama's first run for office. She…

Once again our agent did an outstanding job. Not only did he provide me with a number of options for potential speakers but he helped with seeing who was available, when they could speak, and getting everything done in a timely fashion. I look forward to working with him again.
Auburn University
About SPEAKING.com
Established in 1994, we are exclusive agents for some of the world's leading experts, celebrities and professional speakers.
We offer event planners a fully staffed speaker logistics planning team, plus a personal SPEAKING.com Account Executive – a knowledgeable and trustworthy partner. We guarantee your satisfaction with your speaker and a smooth booking process.
Contact us today to book your favorite speaker.

"I am officially a Bill Toliver 'groupie!' His willingness to say what everyone else was thinking was so refreshing and hopeful."
&nbsp United Way National Conference
"The most engaging and entertaining speaker I have heard in a long time. Unexpected insights that proved to be quite relevant. Unorthodox, inspiring."
&nbsp Association of Fundraising Professionals
"I thought Bill Toliver had a great presentation and true passion. It was very exciting to listen to—the highlight of the conference. What a refreshing change from the usual conference speaker."
&nbsp American Marketing Association
"I learned more in 90 minutes than I did in any college class I've ever taken. This is one of the best speakers I have ever heard. I've never even thought about a fraction of what Bill opened my mind up to today. Thank you."
&nbsp Good Samaritan Society
"Bill Toliver and Desmond Tutu were the highlights of our conference.""
&nbsp United Way Global Leadership Conference
From Gandhi to Google: Building Social Movements in a World of Social Medias
An insightful discussion on how the marriage of traditional consumer marketing and social movement building can bring about just the kind of support your organization needs. Bill will demonstrate effective movement building efforts around the world, and dissect the essential ingredients of each in a way that empowers his audience with real world advice.
Telling the Difference Between a Fad and a Trend in a World of Change
The first decade of the internet and social media had many times more "rabbit trails" than success stories. Entire companies (and trading indexes) were built quickly, and then literally crashed over night because of flawed business models and the inability to see the difference between a fad and a true trend. This conversation by a guy who worked for IBM when the first PC was shipped, has been through enough boom and bust cycles to speak to this issue with both authority and humour.
The Turning Point in History When History Failed to Turn
A compelling study of powerful social movements that failed, with particular emphasis on the "People's Spring of 1848." The discussion will provide important lessons for what will be required to sustain current-day social movements.
Leadership in the 21st Century
An ironic look at how leaders have become profoundly ineffective in the 21st Century—just when we need leadership most. How political vitriol, servant-based management philosophy and political correctness have left leaders across the spectrum afraid of their own shadows. Particular focus on new flatter, leaner models and how not to make the logical mistakes as everyone scrambles to be more progressive.
Of Marketers and Messengers
Most civil society organizations have a healthy aversion to traditional consumer style marketing strategies and sales tactics. It seems unsavory to consider things like "branding," "market position" and "competitive advantage" when your mission is about the future of our environment, or funding for the arts, or the wellbeing of children. Bill will encourage us to hold on to that healthy skepticism, while at the same time offering a model for communications that merges the tactics of traditional consumer marketing with the best strategies of social movement building. He'll take us on a fun and informative journey through some of the most effective social movements and nonprofit campaigns over history and help us see how there is a way to build a critical mass of support for the causes we hold so dear.
Swimming Against the Current of Today's Politics, Economics, and Headlines
Politics seem deadlocked somewhere between "Yes we can" and "Over my dead body." Economics have left all of us worried about of our next paycheck much less our retirement plans. Headlines that provide hourly reminders of revolutions and tsunamis, terrorism and climate change. It's no wonder that today's social impact organizations are having a hard time getting air time—much less lasting support! Bill will offer some key strategies to rally people around your cause. Regardless of what might be in the headlines, or which way the political or economic winds may be blowing.
Ten Critical Mistakes Non-Profit and Civil Society Organizations Make
The U.S. and England are often seen as leaders in innovative communications and fundraising techniques for non-profits and civil society organizations. However, they've also taken many decisions that have created very consequential—though often unforeseen—mistakes. This keynote address provides a frank look at the problems that can arise when "consumer-style" marketing tactics, and "business-style" leadership models are too quickly applied to organizations devoted to social change. This session will provide a fun and informative illustration of how these mistakes were created, and provide sound practical advice on how you can avoid making them yourself. The session will be targeted toward a wide range of people involved in communications, fundraising and non-profit leadership.
Doing Well by Doing Good
Companies have an opportunity to play a far more important role in creating progress in the world, if they had the courage to see social responsibility as something more than an effective marketing or employee retention strategy. This presentation provides an inspirational look at the role corporations could—and sometimes do— play if they had the courage to live closer to their own values and commitments.
What You Didn't Know about "Them."
Did you know the country with the largest number of women in Parliament is Rawanda? This presentation is a fun and surprising look at the many different misperceptions and underestimations people in the West have about those in the other hemisphere. It's a an inspirational look at the real-life circumstance of people around the world, and the important difference we could each make if we saw ourselves as brothers and sisters, rather than global competitors for the earth's resources.
Bill Toliver: United Way International Leadership Forum
Speaking at United Way in Central Ohio, Toliver opened by joking that he is "a big deal," noting that he has "had dinner with Oprah and Gayle at the same time," and that when he was in college he "threw eggs at the South African ambassador's house."
He then explains why he is "the poster child for United Way," telling the story of how his mother lived in poverty after both of her parents died and she was put into foster care. He then tells the story of how his father's parents also died, leaving him in the foster care system as well. He says that the "Toliver lineage could have ended if there wasn't a helping hand there." Based on this story, he goes on to discuss the "moral necessity" of movements like United Way.
Bill Toliver: Opening Plenary Speech
Bill Toliver: Cancer Council NSW