* Please note that while this speaker's specific speaking fee falls within the range posted above (for Continental U.S. based events), fees are subject to change. For current fee information or international event fees (which are generally 50-75% more than U.S based event fees), please contact us.
Top25 Speaker Voting

Bill Rancic needs 17 vote(s) to make it into the Top 25 speakers on Speaking.com!
Speaker Booking Tip
"Tip: ask your speaker to do a book signing or attend a VIP meal with your guests. "
For Event Planners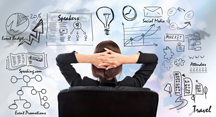 • Keynote Speaker Booking Toolkit.
• Booking a Celebrity Speaker.
• How to Find and Book the Right Speaker.
• Google+ Event Planning Forum.
• Tips for International Clients Booking U.S. Based Speakers.
Similar Speakers
J.R. Martinez

J. R. Martinez has been inspiring, motivating and empowering his audiences with his amazing story of recovery since sustaining severe burns on 34% of his…

Len Berman

With over 4 decades in broadcasting, there is no major sports event that Len Berman has not covered. He has been to many Super Bowls,…

Glenda Hatchett

For a decade, millions watched Judge Glenda Hatchett's compassionate and just rulings on the hit court show Judge Hatchett. As a speaker, the seasoned legal…

Our client rep was a pleasure to work with. He was well organized and kept me updated every step of the way. The level of professionalism and the quality of the materials received were excellent. I will be in touch for future speakers!
Mattel
About SPEAKING.com
Established in 1994, we are exclusive agents for some of the world's leading experts, celebrities and professional speakers.
We offer event planners a fully staffed speaker logistics planning team, plus a personal SPEAKING.com Account Executive – a knowledgeable and trustworthy partner. We guarantee your satisfaction with your speaker and a smooth booking process.
Contact us today to book your favorite speaker.

"Thanks so much for fitting our MMLA conference into Bill's busy schedule. He was wonderful!! All my surveys from the attendees gave him an 'excellent' review!"
Joanne Misuraca, Executive Director, Michigan Mortgage Lenders Association
"Bill was an absolute hit! His sincerity and down to earth manner allowed the group to easily identify with him and his message about facing your fear and never giving up was very well received. We also appreciated Bill taking the time to answer everyone's questions, take photos and sign all of the books. The group was absolutely buzzing afterwards. A superb start to our conference!"
Emma Le Breton, Sales and Marketing Administrator, ING Life
"Not only was Bill the perfect speaker, tying in his personal business experience, leadership characteristics and business success tips for navigating change, he was simply a great, sincere person with whom everyone enjoyed conversing. Our group was very pleased with his presentation."
Julie A. Bellamy, VP - Global Human Resources, AEES
"The event was wonderful – Bill exceeded our expectations and I have heard nothing but wonderful comments, including several voice and e-mails. I truly appreciate all of the effort both of you made – the event was a total success. In fact, we had to bring in extra chairs after the event began. The president of Fox Communities Credit Union said in effect, 'Anyone can make a speech, when Bill answered questions from the audience; you saw that there was a real intellect behind the man!'"
Carolyn B. Nankervis, President, MarketWise Consulting Group, Inc
Partial Client List:
Midwest A.C.E.
Microsoft
Snag-A-Job.com
Mastercard
Wake Forest University
University of Chicago
Coca-Cola
Allergan
KPMG
Ohio State University
Leo Burnett
Allstate Insurance Company
LaSalle Bank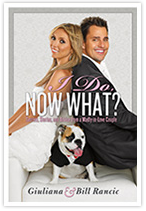 I Do, Now What?
Five million viewers tuned in to The Style Network for Giuliana DePandi and Bill Rancic's fairy tale wedding in Italy, as the passions, tears, and champagne flowed. But what happened once the honeymoon was over? After all, she's been stationed in Los Angeles as one of E! Entertainment's most popular personalities, and he's kept his home in Chicago, where this handsome winner of The Apprentice has been busy running an empire of his own. How, we've wondered, is this marriage really working out?
With all the funny, frank, and characteristically down-to-earth personality that fans of their hit reality show, Giuliana and Bill, have come to adore, this glamorous couple takes you behind the scenes of their real-life marriage. Like all newlyweds, they've faced the big issues that wedlock manages to invite, including money (to merge or not?), household chores (she's disorganized, he's a neat freak), arguments (without staying mad), and trying to have a baby (it's not as easy as they thought!). Sharing their newfound and sometimes hard-won insights, they offer suggestions on such topics as communication, giving and receiving support, trust and jealousy, quality time, friends and in-laws, fighting fair, and sex and romance.
A must-read for newly married couples, or those about to take the plunge, or anyone who wants to know the secrets of everlasting love, I Do, Now What? is an upbeat real-world resource for the most ambitious journey of a couple's life: marriage!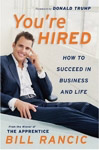 You're Hired
Bill Rancic, winner of the hit TV show The Apprentice, tells how anyone can become their own personal success in both business and life, using his own experiences as a self-made entrepreneur.
Getting back to basics, Rancic shares insights about his own path to The Apprentice—his work ethic, top business strategies, and lessons learned competing on the show, working for Donald Trump—and offers a practical, step-by-step guide to climbing the success ladder from first job to Boardroom. From valuable lessons learned as a budding ten year old entrepreneur pitching pancake sales; to starting his own small business to pay for college; to launching an on-line cigar company now worth millions—Rancic proves you don't need to be a Harvard MBA to be a success in business.
Includes a foreword by Donald Trump!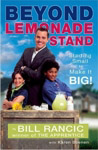 Beyond The Lemonade Stand
Want to go on a money-making adventure? In Beyond the Lemonade Stand, Bill Rancic, winner of the smash-hit show The Apprentice, coaches you on how to succeed in business—while being smart, fair, and helping those who need it.
Includes:
20 ideas for your own kid business and 5 easy steps to get each one started
Stories from Bill about how to be honest and come out on top!
Words of advice from super celebrities such as Donald Trump and Andy Roddick on how they learned to succeed
Thoughts about how you can share your successes with others, by helping those who need it
A build-your-own business worksheet that will turn your ideas into reality.
Some of Bills Speaking Topics:

How to think long term in a short term world
How to use challenging times to your advantage
The future of real estate in America as we know it...
How to manage and lead your team in times of uncertainty... educate, motivate, activate
How to think like an entrepreneur in corporate America
Innovation... the blood line to your future
How to recognize and seize opportunity as a sales team
Bill Rancic Full Speech
"It's up to us not to bury that potential, it's up to us to be agile, to adopt that never-quit, never-making-excuses mindset," Bill Rancic tells his audience as he explains the secrets behind his extraordinary success as a TV personality, entrepreneur and author. "We need to reverse engineer our lives, you need to close your eyes and imagine where you will be ten years from now. Are you going to be happy with where you're at?"
Bill Rancic Demo Video
Bill Rancic Speech