* Please note that while this speaker's specific speaking fee falls within the range posted above (for Continental U.S. based events), fees are subject to change. For current fee information or international event fees (which are generally 50-75% more than U.S based event fees), please contact us.
Top25 Speaker Voting

Bill Conerly needs 6 vote(s) to make it into the Top 25 speakers on Speaking.com!
Speaker Booking Tip
"Tip: ask your speaker to do a book signing or attend a VIP meal with your guests. "
For Event Planners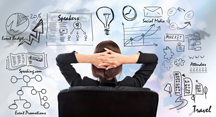 • Keynote Speaker Booking Toolkit.
• Booking a Celebrity Speaker.
• How to Find and Book the Right Speaker.
• Google+ Event Planning Forum.
• Tips for International Clients Booking U.S. Based Speakers.
Similar Speakers
Louie Gravance

For over a decade Louis Gravance designed and oversaw training for the Walt Disney Company, maintaining its reputation as "the happiest place on earth." Today…

Marc Hogan

A flippant bet that he couldn't become a stand up comedian in a year led Marc Hogan to discover a wealth of skills ending in…

Mallory Brown

Social entrepreneur Mallory Brown represents a new generation of philanthropy. At age 24, she founded World Clothes Line, an online business that donates one article…

I'm extremely impressed with your speakers bureau's follow-through, responsiveness and willingness to understand our needs so that he could match the best speakers with what we are looking for. I will definitely work with you again in the future. Thank you for all that you did to help us create an exceptional learning experience for our attendees.
American Society of Association Executives
About SPEAKING.com
Established in 1994, we are exclusive agents for some of the world's leading experts, celebrities and professional speakers.
We offer event planners a fully staffed speaker logistics planning team, plus a personal SPEAKING.com Account Executive – a knowledgeable and trustworthy partner. We guarantee your satisfaction with your speaker and a smooth booking process.
Contact us today to book your favorite speaker.

"Bill did a great job. We look forward to a continuing relationship."
John Hamburger, Franchise Times
"You are a master at your craft and a favorite of our audience."
Jim Parker, UBS Financial Services
"During the course of his nine-year stint with First Interstate, the engaging executive became known for the quick wit he displayed at numerous speaking engagements."
The Business Journal
"It can be difficult to find economists who provide good substantive information who are also entertaining and engaging. I received many enthusiastic comments about Dr. Conerly from members and others in the audience."
Molly Steckel, Idaho Telecom Alliance
"As the highest rated speaker on our program, your remarks about the economy and its relationship to the financial services industry were relevant, timely and insightful. One of your greatest strengths is your ability to talk economics in an easy listening style. Participants appeared to be "taking it all in" without having to decipher what you were saying."
Becky Tongish, Kansas Bankers Association
"Bill Conerly is one of the most interesting and engaging speakers I have ever heard. The fact that he is a very funny man is a bonus."
James A. Kronenberg, Oregon Medical Association
---
Select Clients Include:
ACEC
Ag First
American Forest Resources Council
Arizona Bankers Association
Associated General Contractors
Bank Holding Company Association
Bank of America
Bank of the West
Banner Bank
Boeing
Bonar Plastics
Book Manufacturers Institute
Cascade Policy Institute
CBIZ-Nation Smith
Chicago Title
Commercial Finance Association
Community National Bank
Council of State Governments
Credit Suisse
Credit Union Executives Society Annuel Convention
Economic Roundtable
Farmers & Merchants Bank
Federal Home Loan Bank of Seattle
Franchise Times
Goldwater Institute
Interplast Group
Iowa Bankers Association
Kansas Association of Counties
Kansas Bankers Association
Kennedy Associates Real Estate Counsel
Key Bank
Legend Homes
Liberty Northwest
Montana Independent Bankers
Moss Adams
Nike
Oklahoma Council of Public Affairs
Oregon Medical Association
Pacific Northwest Bank
Pacific Northwest Steel Fabricators Association
SERA
South Dakota Banker Association
Viking Bank
Washington Contract Loggers Association
Washington Forest Protection Association
Washington Trucking Association
Wells Fargo Bank
Women′s Food Service Forum
Wood Products Credit Union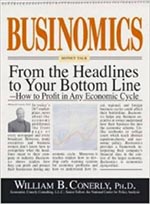 Businomics From The Headlines To Your Bottom Line: How to Profit in Any Economic Cycle In today's 24/7 marketplace, news about the economy dominates the front page of every newspaper and every broadcast. However, many executives and business owners don't understand what the headlines mean to their company or industry.
Businomics shows readers how they can profit and protect their businesses during any economic cycle. Moreover, it teaches readers how to develop early warning systems for economic problems and how to understand how local, regional, and foreign business cycles could affect their bottomline. Businomics helps any business executive or owner understand how their business fits into the economic scheme. Unlike textbooks or college courses which teach abstract equations, theory, and economic policy, Businomics makes economics painless—and gives managers and business owners everything they need to know to understand how the economy affects their enterprise and investments.
The Economic Outlook

This presentation is focused on the current issues of greatest concern to business managers and owners. Key issues include:
The economic outlook for the nation and key industries.
Financial markets: the outlook for interest rates and the stock market.
The regional or industry outlook, based upon the interests of the particular audience.

This presentation is always laced with commentary on current events and anecdotes about current business challenges, such as maintaining financial flexibility in a recession, getting ready for the recovery, facing foreign competition. Specific content varies with the economy and the audience.

What are the big changes coming in the next decade? Demographics, globalization, finance and technology are covered with a focus on what businesses should do today to prepare for tomorrow.

Business Planning in Uncertain Times
Caterpillar's business was hit terribly hard by the last recession, but the corporation came out of the downturn smelling more like a rose than a big yellow machine. The key, according to Fortune magazine, was economic contingency planning.

A business leader cannot manage the economy nor the many other external factors that impact the firm, but leaders can manage the business's plans. With good plans, a company can thrive in the fat years and use the lean years to gain market share from careless competitors. This workshop will help business leaders learn how to do that. The goal will be for all participants to be able to help their companies survive harsh events when they occur, as well as take advantage of good fortune when it arises.

The Next Decade: What Businesses Should Do TODAY to Prepare for Tomorrow
Bill Conerly is an expert on what business leaders should to right now to create a more profitable business future. Bill looks at the big changes we can expect in the next decade – demographics, globalization, finance, and technology – avoiding speculation as much as possible. Instead, he relies on business history, current trends and comprehensive research to make his forecasts.

At every step he connects future scenarios with action plans that leaders should put in place now. Specifics are adjusted for the particular audience, and often include how to prepare for the coming demographic time bomb, how to use advances in data capture and storage to set more profitable prices; how to use new social networking tools to improve employee productivity and increase customer loyalty.

The Small Business Financial Crisis
How the mortgage crisis is affecting the availability of credit--and what small and medium business can do about it to ensure that they can meet their borrowing needs. Along the way we′ll explain how globalization is changing the world of finance, how securitization is impacting all business borrowers, with a clear emphasis on action steps that should be started today.

Freedom and Prosperity: The Case for Optimism
In this substantive yet inspiring presentation, Bill Conerly explains the mechanism for economic growth around the world. He draws upon sources ranging from professional economists to commentators such as Francis Fukuyama (The End of History) and Thomas Friedman (The Lexus and the Olive Tree), weaving in Nike and Brazilian soccer star Ronaldo. He connects economic freedom and political freedom with economic performance, leading to a surprising burst of optimism for the fate of the world in the coming hundred years.

What We′ve Learned About Investments from Bear Stearns, Enron, Tech and the Housing Bubble
This timely presentation presents academic lessons in common-sense language. Bill usually targets an audience of bright people with no particular expertise in finance. He explains what went wrong with many people′s investment plans, and how to set it right for the long run.

Motivational Speaker
People use this label in different ways, so here′s the data: Bill always has strong content, emphasizing actionable ideas that corporate executives and small business owners can implement immediately. His short-term economic forecast is sometimes optimistic, sometimes pessimistic, but he always expresses his long-run vision of a world growing in prosperity and freedom.

Bill Conerly: Business Cycles in the Economy
Bill Conerly: Europe's Recession and American Business
Bill Conerly: Humorous Excerpts