* Please note that while this speaker's specific speaking fee falls within the range posted above (for Continental U.S. based events), fees are subject to change. For current fee information or international event fees (which are generally 50-75% more than U.S based event fees), please contact us.
Top25 Speaker Voting

Bill Capodagli needs 5 vote(s) to make it into the Top 25 speakers on Speaking.com!
Speaker Booking Tip
"Tip: some speakers might provide one of their popular book titles as a free gift to your audience. "
For Event Planners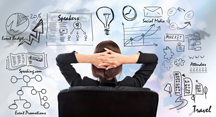 • Keynote Speaker Booking Toolkit.
• Booking a Celebrity Speaker.
• How to Find and Book the Right Speaker.
• Google+ Event Planning Forum.
• Tips for International Clients Booking U.S. Based Speakers.
Similar Speakers
Nan Crawford

Influential leaders, well-known authors, and speakers from multiple disciplines have called her their "secret weapon." She is the great presenter behind great presenters. Nan Crawford…

Marilyn King

Former Olympian Marilyn King is an extraordinary speaker, providing business leaders and educators with the tools and skills they need to dig deep–and reach for…

Steve Uzzell

Steve Uzzell is one of the top advertising and corporate photographers in the world. His 30 years of experience began with National Geographic, where he…

Our Account Executive is an extraordinary person. Always available, very kind and funny. Eager to help and always quick to respond. I have so much fun working with him. A very delightful experience. I hope continue working together for years to come!
Credicorp Bank
About SPEAKING.com
Established in 1994, we are exclusive agents for some of the world's leading experts, celebrities and professional speakers.
We offer event planners a fully staffed speaker logistics planning team, plus a personal SPEAKING.com Account Executive – a knowledgeable and trustworthy partner. We guarantee your satisfaction with your speaker and a smooth booking process.
Contact us today to book your favorite speaker.

"We were delighted to have Bill with us. The comments received from many folks were that they found his information engaging and useful for their work. Additionally, having him remain with us during the week and present a breakout the afternoon following his workshop was a bonus that many people enjoyed."
PCPA (Event booked by Speaking.com)
"The luncheon was a huge success and the audience was impressed with Bill's presentation. We had a sellout crowd, between 400 and 410 people."
Glen Ellyn Chamber of Commerce (Event booked by Speaking.com)
"Overall very good responses from our attendees - many felt they received great information and inspiration."
Opening Minds through the Arts (OMA) Foundation (Event booked by Speaking.com)
"With their breadth of topics and depth of knowledge, Bill and Lynn helped my team to operate at true peak performance."
Whirlpool Global
"I could not ask for more professional and competent partners for our public programming offerings. It was a pleasure to work with Bill and his support staff in providing such a high quality, hands-on, learning experience for our constituents. We continue to receive positive comments on The Disney Way—Dream, Believe, Dare, Do program nearly three months after delivery. Their program is exciting, fresh, new, thought –provoking, and entertaining. Are you tired of offering just another lecture? Bill will put your constituents to work in a seminar they will not forget. This may be just what your clients are looking for when it comes to needing a new method for instilling creativity in their workplace…a full day's work and their phenomenal book to support the learning."
Northern Illinois University
The Disney Way program addresses universal business issues and therefore is appealing to those in virtually every profession. Most leaders are intrigued with Disney's so-called "secret recipe" for success and are enthusiastic to learn practical methods for adapting the ingredients into their own organizations. Here are some actual reactions from our audience:
"Outstanding presentation! This presentation gave me some great ideas that I will bring back to my company."
"Great antidotes, powerful images"
"Great discussion on teams and the people side within Disney"
"Excellent and applicable. Very inspiring."
Based on the experience of The Management Roundtable, I believe you will find that the innovative Dream, Believe, Dare, Do process will captivate your audiences and provide a solid foundation to restructuring their organizations in "The Disney Way."
Kimberly Weir, Conference Director, Management Roundtable, Inc.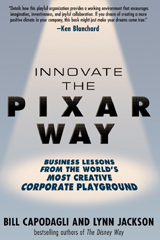 Innovate the Pixar Way
Pixar was built upon the "magic' of Walt Disney. Pixar's Ed Catmull and John Lasseter have long admired the genius of Walt Disney. Ed's childhood heroes were Walt Disney and Albert Einstein. In the 9th grade, John Lasseter discovered a library copy of The Art of Animation written by Disney biographer, Bob Thomas, and later decided to become an animator. It is no accident that Ed and John modeled Pixar in Walt's image.
One of their great discoveries was a 1930s memo written by Walt Disney himself, revealing the secrets of how to build a creative and successful company. Inspired by Walt's words, Ed and John have put a stake in the ground by saying: "this is the kind of company we want to build." The Pixar organization honors the legacy of Walt Disney by fulfilling the promise of bringing the "story" to life... refusing to take shortcuts (in comparison to the crippling short-term mentality that has become a cancer in American business culture today), and never compromising the integrity and quality of its work. It's all about living their "story" every day, continuously moving forward and championing excellence at all levels.
Walt Disney's Dream, Believe, Dare, Do success credo has inspired the creative culture at Pixar, and is the key to their success. In Innovate the Pixar Way, Bill Capodagli and Lynn Jackson introduce the formula for unleashing a Pixar-type creative genius in any organization:
Dream... Begin with a Story: Ed Catmull said: "Our directors have to be masters at knowing how to tell a Story that will translate into the medium of film. This means that they must have a unifying vision—one that will give coherence to thousands of ideas that go into a movie—andthey must be able to turn that vision into clear directives that the staff can implement."
Believe... Populate your organization with creative people who embrace a set of unifying core values: Ed Catmull explains Pixar's philosophy: "You get great creative people, you bet big on them, you give them enormous leeway and support, and you provide them with an environment in which they can get honest feedback from everyone."
Dare... Challenge the status quo in your organization; mediocrity is not an option. Michael B. Johnson, head of the Moving Pictures Group at Pixar said: "We're not afraid to take chances, and we know we'll fail along the way, but we do a good job of making each failure part of the process and use it to get to something that we're happy with."
Do... Pay meticulous attention to detail to ensure a level of quality that employees take pride in, and that leads them to deliver great service. John Lasseter remarked, "Quality is the best business plan."
The Pixar Way will help readers discover their own roadmaps for unleashing a creative organization.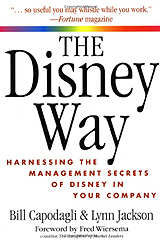 The Disney Way
"I dream, I test my dreams against my beliefs, I dare to take risks, and I execute my vision to make those dreams come true."
Walt Disney
Walt Disney's dreams, beliefs, and daring gave birth to captivating characters, thrilling theme park attractions, and breathtaking tales that have inspired the imaginations of generations of children and adults. Disney also launched an entertainment and marketing empire whose influence is felt around the world, and whose success provides a model of business excellence that can guide any company. Each principle is then examined in detail by illustrating the principle at work at Disney as well as at other successful companies.
Capodagli and Jackson have spent their careers studying Disney and teaching this unique management method to others. As consultants to companies ranging from Illinois Power to Bristol-Myers Squibb and Whirlpool, they have used the Disney principles again and again, and have seen them yield startling performance improvements. They have distilled this wisdom in THE DISNEY WAY. In this book, you'll learn how to: Give every member of your organization the chance to dream, and tap into the creativity those dreams embody; Treat your customers like guests; Build long-term relationships with key suppliers and partners; Dare to take calculated risks in order to bring innovative ideas to fruition; Align long-term vision with short-term execution. And more. No fairy dust. No magic wands. No wishing on a star. Just sound, effective management principles that stem from Walt Disney's values, vision, and philosophy. Lists of questions to ask and actions to take, along with real-life examples, will help you adapt the Disney Way to suit your company's needs. From the hiring and training of employees to the realization of a creative concept to exceptional customer service, every aspect of the Walt Disney Company is linked to Walt Disney's vision.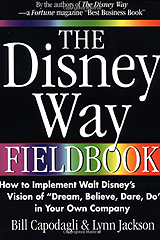 The Disney Way Fieldbook
How to Implement Walt Disney's Vision of "Dream, Believe, Dare, Do" in Your Own Company
Business people around the world raved about The Disney Way and Fortune proclaimed it, "so useful you may whistle while you work." Now, authors Bill Capodagli and Lynn Jackson are back to deliver a comprehensive, step-by-step implementation plan based on Walt Disney's principles outlined in the best-selling The Disney Way.
The Disney Way Fieldbook provides action plans for instilling Disney's vision into any company, complete with diagnostic exercises, practice sessions, proven advice, and insightful questionnaires. Packed with universally applicable tools and techniques, the book also features inspiring quotes from Walt Disney himself and little known facts about his extraordinary empire.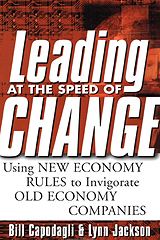 Leading at the Speed of Change
Using New Economy Rules to Transform Old Economy Companies
Today's business climate demands that companies move quickly, adapt rapidly, and innovate like never before... all without losing sight of their core businesses. And one of the biggest challenges facing traditional companies like AT&T is the e-Commerce and Internet Revolution. AT&T is ready for battle. AT&T's goal is to offer one-stop-shopping for the world's communication needs. To do this, AT&T is striving to be on the forefront when it comes to cutting-edge management that fosters innovation, action, and growth. AT&T's largest division, Business Services, is headed by Rick Rocsitt, who Business Week has named a "rising star."
The success of Business Services is crucial to the overall strategy of AT&T. CEO Michael Armstrong is relying on Rocsitt and his team to do for Business Services what he did for AT&T Solutions (providing outsourcing, consulting, networking integration and multimedia call center services). That is, they want Rocsitt to infuse the division with entrepreneurial spirit, to bring that "adrenaline rush" of the DotCom world back into this global giant.
A close look at what Rick did at the AT&T Solutions Division offers lessons for managers and executives on how to manage at "DotCom Speed" and defeat the competition. The success of so many companies depends on it. Bill Capodagli and Lynn Jackson are the authors of The Disney Way, named by Fortune as one of the year's "Best Business Books." Their forte is analyzing the management style of comparies, and identifying exactly what makes the companies tick—what makes them succeed (or what is causing them to underperform). They have been fascinated by the success of AT&T Solutions, and have discovered that Rick Rocsitt's accomplishments can be clearly explained through the paradigm they coined, Dream, Believe, Dare, Do.
In this book, they take a close look at AT&T Solutions—and interview key players at AT&T including CEO Michael Armstrong—to explain exactly how AT&T Solutions grew at such a phenomenal rate (in less than five years AT&T Solutions grew from a dream in the mind of Rick Roscitt to a five billion dollar corporation). The goal is to present a blueprint that managers and executives in any company can use to implement a winning strategy that produces amazing results.
Disney Way Programs
If Walt Ran Your Organization! - The Disney Way
Walt Disney's management lessons are as relevant today as they were four decades ago at the time of his death. And his spirit, the culture he established, and the values he lived by still guide the Disney organization.
In this highly acclaimed presentation, Bill Capodagli describes the 6 reasons why Disney is a relevant role model for today's business leaders. Bill shares lessons from The Walt Disney Company and other highly successful companies such as Four Seasons Hotels and Resorts, Men's Warehouse, and Ernst & Young.
Walt Disney's Four Principles in Action…
Dream . . . of an organization where employees and teams are self-motivated to the successful achievement of long-term goals in an environment of mutual respect and trust
Key Learning: Discover your story and communicate it!
Believe . . . that every employee is capable of creating magical moments for customers
Key Learning: Examine your values and codes of conduct, and understand the importance of using them in decision-making
Dare . . . to make a difference!
Key Learning: Create a unique culture that breaks down barriers, celebrates failure, and promotes a climate of fun
Do . . . create a show-business atmosphere
Key Learning: Understand the Story, the Setting, the Roles, and the Backstage "Magic"
Leadership - The Disney Way
Walt Disney was once asked what the secret to his success was and he replied, I dream things and ways of doing business that have never been done before; I test those dreams against my personal believes and the values of the organization; I dare to take the risks to make my dreams a reality; and I put plans together so those dreams do become a reality. Dream, Believe, Dare, Do are the principles that have guided the Disney organization for over 80 years. Walt Disney's leadership not only created an organization that has stood the test of time, but it created an international icon. Can we even imagine a world without Mickey Mouse, Minnie Mouse or Goofy?
Walt left us over 40 years ago, but his leadership lessons are as relevant now as they were back then. Bill Capodagli will not only explain the critical elements in Walt's definition of leadership, but also provide extraordinary leadership examples from the featured companies in The Disney Way. Bill will also recommend an action plan to improve anyone's leadership skills.
Walt Disney's Definition of Leadership: the ability to establish and manage a creative climate where people and teams are self-motivated to the successful achievement of long-term goals in an environment of mutual respect and trust.
Customer Service - The Disney Way
Walt Disney created an organization that has become the quintessential model for customer service, perhaps in the entire world. In this presentation, Bill Capodagli leads his audience to apply Walt's Dream, Believe, Dare, Do principles to achieve a Disney Way service culture. Bill challenges his audience to view their organizations as "show business." He clarifies the importance of continuously putting on a good "show" for guests. Bill encourages audiences to begin a journey of becoming "customer-centric producers" of their own "shows."
Walt Disney once said. "You don't build the product for yourself. You need to know what people want and build it for them." Bill provides a solid roadmap required to become a customer-centric organization.
Creativity and Storyboarding - The Disney Way
Walt Disney was indeed a creative genius, even though he often said, "we don't allow geniuses around here." His true genius was his ability to focus on being the best by creating something new or reinventing the old. Great leaders don't just meet customer needs; they create unique experiences. They don't simply provide a product or service that meets specifications; they solve customer problems; they fulfill customer dreams; and they create "magical moments."
In this presentation, Bill Capodagli introduces Storyboarding, a tool that Walt Disney created in the 1930s and continued to use in all of his creative projects for the remainder of his life.
Storyboarding is a structured exercise that quickly captures the thoughts and creative ideas from a group of participants. These thoughts and ideas are recorded on cards and then displayed on a board or a wall. The result is what Bill calls an "idea landscape." Storyboarding is an ideal tool for generating solutions to problems and enhancing communications. Bill teaches audiences how storyboards can be adapted to a variety of problem-solving situations in which the introduction of the visual element makes interconnections of ideas, creative thoughts and activities readily apparent.
Bill will present how Disney creates an environment that is conducive to creativity and innovation. Bill also explains how to apply the "nine-step" process to move a "blue sky" dream to a unique guest experience.
Reinventing the Learning Experience in America - The Disney Way
Walt Disney once said, "Crowded classrooms and half-day sessions are a tragic waste of our greatest natural resource - the minds of our children." According to an ACT college entrance exam study, three-fourths of students who recently took the exam lacked the skills to succeed in entry-level, credit-bearing college courses in reading, math, social studies and science, even though they had taken a high school curriculum designed to prepare them for higher education. School systems need to reinvent the educational process just like Walt reinvented the amusement parks and created Disneyland. In this presentation, Bill Capodagli provides the framework for transforming the learning experience using Walt Disney's credo for success…Dream, Believe, Dare, Do:
Dream – Walt Disney made a practice of envisioning the untried and impossible. School systems need to create a vision that motivates teachers, students and parents to succeed in a true learning environment.
Believe – Walt understood that success comes from an entire team sharing a unique set of values. Creating an organization where teachers, staff and students are motivated to achieve long-term goals in an environment of mutual respect and trust is paramount to reinventing the learning experience.
Dare – Walt did not follow in the footsteps of others, sit on the sidelines, or take the safe and unimaginative approach to providing "magical moments" for his guests. School systems must dare to make a difference by breaking out of the traditional "teacher-centered" classroom teaching and embrace "student-centric" learning experiences where the teacher serves as a facilitator.
Do – Walt was a master at creating plans that inspired an entire team to act. The result: a legendary organization with guests who return year after year to relive the magic that Disney created. School systems must also plan for long-term change. Let's not waste, as Walt said, "our greatest natural resource…our children."
If Walt Ran Your Hospital! - The Disney Way
Success in today's health care industry comes from inspired leadership and focusing on the holistic patient experience. There are great lessons to be learned from Walt Disney who believed in creating a "magical" experience for guests. . . the same paradigm that is alive and well in the best of the best health care environments today.
Walt Disney was once asked what made him so successful. He said that he would often Dream of new techniques that had not been attempted in the past; Believe in the power of his own values; Dare to take risks; and then just Do something to accomplish the dream.
In this presentation, Bill Capodagli translates the Dream, Believe, Dare, Do model for the health care setting. He provides a variety of examples, most notably Griffin Hospital in Derby, Connecticut, owner of the famed Planetree approach to hospital management. Bill also recounts the inside story of how the Disney leadership and service standards were achieved – not by sudden flashes of creative insight, but by a much considered and carefully wrought system for constantly raising the bar of excellence. Bill provides solid techniques for adapting The Disney Way model to the health care environment.
Pixar Way Programs
Dreams and dreamers: How to Innovate Like Walt Disney and the Pixarians
Pixar is the benchmark of innovative success. With numerous Academy Awards under their belts, they keep breaking the mold on creativity and taking it to the next level. From Toy Story to Up, Pixar never settles for what they've done but continues to look forward to the future.
Bill takes you on a tour of the most innovative, creative organization in the world. You'll learn how to look at the world through a child's eyes (and why it's important). You'll learn how to believe in your team … how to jump in and try something different … how to create your own corporate playground … and more.
Among the Key Points You'll Learn:
The Dreamers -- Walt Disney and the Pixarians
Dream Like a Child -- Where did the creativity go?
Believe in Your Playmates -- Collaboration in the sandbox
Dare to Jump in the Water and Make Wave -- Try, Learn, Try Again
Do Unleash Your Childlike Potential -- Make a Dent in the Universe
New Beginnings
Bill Capodagli - "Dreams and Dreamers: How to Innovate Like Walt Disney and the Pixarians"
Bill Capodagli tells of how the Pixar company created "Pixar University," an educational program for all its employees with the objectives of expanding workers' horizons and ensuring the company's future as a top notch studio. "Today they have over 100 classes ranging from drawing and sculptures to self-defense and fencing and everyone from the person cleaning the parking lot to the president, Ed Catmull, is encouraged to spend four hours a week in class on company time."
"Randy Nelson [former Pixar producer] was once asked, 'Why would you teach drawing to accountants?'" Bill recounts. "He said, 'We're not just teaching them how to draw. We're teaching them how to be more observant.' And wouldn't any organization be more productive if everyone was more observant?"
Bill Capodagli: IFBG - Interview
Bill Capodagli: National Educational Conference Guest Speaker
Bill analyzes Disney's 90-year record of excellence and the lessons any organization can learn from its practices and founder:
"Walt was once asked what the secret of his success was, and he said that he didn't know how much of a secret it was, but before he would start any new project he would think of four things. First, he would dream of things that had never been done before and ways of doing business that were never tried before. He would test those dreams against his values and the beliefs of his organization. He would dare to take the risk to make those dreams come true and lastly, he'd put plans together so that the dreams do become a reality."
Bill talks about Walt Disney's last days, when he was secretly hospitalized for lung cancer. "When he could no longer sit up in his hospital bed, he had his assistant pin the plans to Walt Disney World above his bed so he could continue to dream and share his dreams about this beautiful park...Let's fast forward the clock about 30 years into the future, and I'm here at Walt Disney World with a group from British Petroleum. One of the vice presidents turns to me and says, 'You know, Bill, it's a shame that Walt Disney didn't live to see this beautiful place completed.' And I thought for a moment. I said, 'George, he did see it. That's why it's here.'"