* Please note that while this speaker's specific speaking fee falls within the range posted above (for Continental U.S. based events), fees are subject to change. For current fee information or international event fees (which are generally 50-75% more than U.S based event fees), please contact us.
Top25 Speaker Voting

Bill Bachrach needs 8 vote(s) to make it into the Top 25 speakers on Speaking.com!
Speaker Booking Tip
"Tip: speakers bureaus can provide: speaker fee negotiation, insurance, smooth logistics and value add-ons such as extra sessions. "
For Event Planners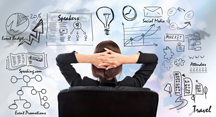 • Keynote Speaker Booking Toolkit.
• Booking a Celebrity Speaker.
• How to Find and Book the Right Speaker.
• Google+ Event Planning Forum.
• Tips for International Clients Booking U.S. Based Speakers.
Similar Speakers
Nick Morgan

Time after time, the country's most powerful business leaders and politicians turn to Nick Morgan to help them write and deliver world-changing speeches and presentations.…

Joe Folkman

Thought leader and one of the most respected psychometricians in the USA, Joe Folkman's keynote speeches on leadership, employee feedback and managing change are in…

Jack Zenger

John H. Zenger – known as "Jack" – is the Co-founder and Chief Executive Officer of Zenger Folkman, a professional services firm providing consulting and…

Once again our agent did an outstanding job. Not only did he provide me with a number of options for potential speakers but he helped with seeing who was available, when they could speak, and getting everything done in a timely fashion. I look forward to working with him again.
Auburn University
About SPEAKING.com
Established in 1994, we are exclusive agents for some of the world's leading experts, celebrities and professional speakers.
We offer event planners a fully staffed speaker logistics planning team, plus a personal SPEAKING.com Account Executive – a knowledgeable and trustworthy partner. We guarantee your satisfaction with your speaker and a smooth booking process.
Contact us today to book your favorite speaker.

"I have recouped all of the money I invested in Bill′s programs and tools with ONE new ideal client family! In a year that the market was down 35%, my business was ahead. I have a renewed drive and zest for who I am and what I am doing in every aspect of my life."
Jo Ellen Nevans, CFP, American Express Financial Advisor

"I use the Financial Road Map with every prospect and existing client. The result is that, in one hour or less, they trust me enough to hire me to write a comprehensive financial and estate plan and be their family wealth coach for life. Developing this skills has been crucial to my success and the almost 5-fold increase of my production to $1.9million in less than 3 years."
Mayur Dalal, AXA Advisors

"My colleagues were shocked when I told them that I don′t have any Bs and Cs. Thanks to my work with Bill Bachrach, I only have A clients."
Gary Moore, Merrill Lynch

"At a time when so many of my colleagues are producting less, my income is up 18.6%. A big part of this result is due to what I learned from Bill Bachrach. I only need 11 more clients and I′m done!"
Brian Fricke, RIA

"Value-Based Selling helped me generate over $60,000 of fees in January alone!"
David Bach

"I used the Values Conversation with a client I have had for 10 years and got $23million more in assets."
Donna Beers

"I walked a prospective couple through the Financial Road Map and then asked them if they wanted to hire me. I told them my fee for their plan is $32,000 and they said ′okay.′ There was no thinking it over or anything. Normally, we might get about $2,500 for a plan. This is definitely significant!"
John Graham

"I have been in the business for 21 months. With the assistance of Values-Based Selling, I have 175 household relationships with about $48million in assets. I have received in excess of 20 ideal referrals and I have closed approximately $10million in business, with another $30,000 in the pipeline. Until I sat down today, I never thought about how much progress I′ve made in the last six months."
Douglas Davidoff



Values-Based Selling : The Art of Building High-Trust Client Relationships


Values-Based Selling is not another repackaging of needs, consultative, or relationship sales techniques. Talk with anyone who has truly discovered the magic of Values-Based Selling and you will wonder why any knowledgeable person would attempt to build lifetime client relationships any other way. You will discover for yourself why these methods are the first choice of people who are serious about being real advisors instead of just salespeople.

Builds a bond of trust that causes the client to be open for a complete, honest fact-finder and asset profile so the financial professional does a thorough job and generates multiple transaction.

Creates the emotional commitment necessary to influence prospects and clients to invest and insure for their future goals instead of spending all their money on what they want today.

Positions the "close" as the natural outcome of a high-trust relationship.

Departs from the superficial chit-chat and groping for common ground to tapping into a client′s values in order to build an unbreakable bond of trust at the beginning of the relationship.

Helps the salesperson evolve from just meeting needs to becoming a valued resource.

Enhances effectiveness on the phone, face-to-face, and in seminar selling situations.

Provides producers with the skills to get the first sale, gather all the assets, and generate a constant flow of referrals.

Supplies managers with the tools to recruit higher caliber producers and inspire them to their highest levels of success. Clients want a knowledgeable advisor who they can trust to tell them what to do. Values-Based Selling teaches producers how to be that advisor. Producers want a knowledgeable and trustworthy leader who will coach them to achieve their highest levels of success. Values-Based Selling teaches managers how to be that leader.


Order Here



Values-Based Financial Planning : The Art of Creating and Inspiring Financial Strategy
In the grand scheme of things, money′s not that important. It′s important only to the extent that it allows you to enjoy what′s important to you. And not worrying about your finances is critical to having a life that excites you, nurtures those you love, and fulfills your highest aspirations. If you want to make smart choices about money, based on what is important to you--your core values--this book is for you.

This informative and well-written book will help you build a financial strategy, starting with your own unique values--what is truly important to you. By defining these unique values, you can create a plan that not only looks good on paper, but spurs you to follow through and achieve your goals. Values-Based Financial Planning: The Art of Creating and Inspiring Financial Strategy will help you realize what′s important to you, align your financial choices with the great life you want, and become inspired to do whatever it takes to have that life.
Order Here

Values-Based Financial Planning™
The Art of Building High-Trust Client Relationships
Recent studies in the Financial Services Industry conclude that the ability to create high-trust, client-centric relationships is the key to attracting "Ideal Clients" and maintaining those relationships over time. For the past 20 years, Bill Bachrach and his team have trained Financial Professionals all over the world to build these types of relationships, and the results have been overwhelming. Financial Professionals who implement the principles of Values-Based Financial Planning™ create a client experience so profound that clients are naturally inspired to:
Engage your professional services within the first meeting
Entrust you to manage all of their financial needs
Respect and follow your advice (without the need for detailed explanations), and
Willingly refer you to other people who fit your Ideal Client Profile
Values-Based Financial Planning™ has positively impacted the personal and professional lives of thousands of Financial Professionals... just like you!
Road Map to Success: Principles, Strategies and Tactics to Build High Trust Clients Relationship
As the leader of the Trusted Advisor movement and after more than 20 years of training and coaching successful financial advisors, Bill Bachrach knows first-hand the attributes that separate the best in our business from the mediocre. Rookies and veterans alike will appreciate Bill′s insights, humor and wisdom about what it really takes to be a successful financial professional in today′s world.
High-Trust Leadership™
A Proven System for Developing an Organization of High-Performance Financial Professionals
Objective:
Provide proven tools for Leaders to fill their pipeline with high quality Advisor candidates.
Motivate new and existing Advisors to consistently execute the daily strategies necessary to achieve high levels of Advisor success.
Content:
How to rapidly build high levels of trust with recruits and Advisors.
How to quickly understand the emotions and values which motivate Advisors to pay the price of true success.
How to integrate these new ideas into existing processes.
How to get good-producing Producers to want to perform for you.
How to avoid being perceived as "just another leader/manager."
How to have a meaningful interview instead of superficial chit-chat.
Benefits to Leaders:
Giant recruiting pipeline of highly qualified Advisors.
Greatly increase understanding of what motivates Advisors to pay the price.
Better retention.
Bring interview skills to the next level.
Better relationships with veteran Advisors.
Shorten time from interview to commitment.
Target serious Advisors only and avoid wasting time with people who will never pay the price.
Bill Bachrach Talks About The Importance of Trust
Inspirational financial adviser trainer Bill Bachrach talks about the issue that is at the very heart of his training and business philosophy; the importance of trust. With his trademark use of anecdote, he relates his experience of skydiving to the business of trust: "There was the dude, the guy with straggly long hair which barely covered his Mickey Mouse earring, and I have to tell you that on a normal day I wouldn't have hired this guy to wash my car!"
Musing on the way in which trust is created, Bill asks, "How does that happen, how do you go from not knowing someone at all to literally trusting them enough to put your life in their hands? Have you ever had that kind of experience? How much time does it take to actually establish a trusting relationship, does it take a long time or is it something that can happen in an instant?"
Bill Bachrach: Financial Advisors- Improve Your People Skills & Get More Clients
Bill Bachrach: Financial Advisors- Tap Your True Potential