* Please note that while this speaker's specific speaking fee falls within the range posted above (for Continental U.S. based events), fees are subject to change. For current fee information or international event fees (which are generally 50-75% more than U.S based event fees), please contact us.
Top25 Speaker Voting

Betsy Myers needs 5 vote(s) to make it into the Top 25 speakers on Speaking.com!
Speaker Booking Tip
"Tip: find a speaker in your local area to save on travel costs. Most speakers will also reduce their keynote fee for local events. "
For Event Planners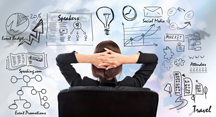 • Keynote Speaker Booking Toolkit.
• Booking a Celebrity Speaker.
• How to Find and Book the Right Speaker.
• Google+ Event Planning Forum.
• Tips for International Clients Booking U.S. Based Speakers.
Similar Speakers
Nataly Kogan

Nataly Kogan is the founder of Happier, an app and a digital wellness company that has been called "the Facebook of the happiness movement." An…

Aimee Mullins

Named one of the "Coolest Girls in Sports" by Sports Illustrated, Aimee Mullins has redefined what's possible for an entire generation of differently-abled people. The…

W Mitchell

After having 65% of his body burned in a blazing motorcycle accident and later paralyzed in a plane crash, W Mitchell went on to build…

I'm extremely impressed with your speakers bureau's follow-through, responsiveness and willingness to understand our needs so that he could match the best speakers with what we are looking for. I will definitely work with you again in the future. Thank you for all that you did to help us create an exceptional learning experience for our attendees.
American Society of Association Executives
About SPEAKING.com
Established in 1994, we are exclusive agents for some of the world's leading experts, celebrities and professional speakers.
We offer event planners a fully staffed speaker logistics planning team, plus a personal SPEAKING.com Account Executive – a knowledgeable and trustworthy partner. We guarantee your satisfaction with your speaker and a smooth booking process.
Contact us today to book your favorite speaker.

"Betsy's wealth of leadership experience combined with her authentic, vulnerable delivery was extremely impactful to our leaders at Southwest. She has an uncanny ability to connect with her audience through real life examples of success and struggles. Betsy is a tremendous talent and her impact has been felt throughout our leadership team."
- Elizabeth Bryant, Talent Development, Southwest Airlines
"Great job Betsy! Our survey results after your September speech were extremely positive. 97% of women thought the content was relevant and something that they could apply to their own jobs. Well done and extremely effective. Thank you again."
- Jenny Xu, Executive Director, Commercial Emerging Technology Bridgestone Americas Tire Operations
"The session with Betsy Myers is transformative for our participants. Betsy creates an intimate setting where participants reflect deeply about themselves as leaders, they recognize their strengths through their challenges, and they carry this inspiration forward."
- Laurie Hurd, Executive Director, ISANNE (Independent Schools Association of Northern New England)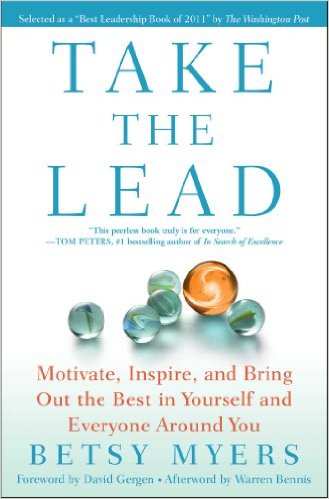 Take the Lead: Motivate, Inspire, and Bring Out the Best in Yourself and Everyone Around You
Why is it that some people challenge and motivate us, while others drain our spirit? What is that magical quality certain people have that makes others engage fully?
In her hugely inspirational and practical book, Betsy Myers—senior adviser to two US presidents and former executive director of Harvard's Center for Public Leadership— demonstrates that you do not need to be in a boardroom, on a battlefield, or on a ballot to have a profound impact on everyone around you. Good leadership is not about having the most knowledge or power but about how you make others feel. Drawing on her experiences from the Oval Office to the playground, Myers reveals seven core principles that will help you:
Set the right priorities for yourself
Uncover problems while they are still easy to fix
Connect with others on a deeper level
Collaborate with those whose viewpoints differ from yours
Push through your fears

True leadership is not just all around us—it's within us.

Balancing Head and Heart: Achieve Excellence in Leadership and Create Outstanding Results
An increasing amount of research looks at the success that results when managers authentically integrate masculine and feminine personality and character traits – what we traditionally think of as the head and the heart. The old masculine model of command and control leadership is no longer effective. You can get anyone to do anything for a short period of time but you won't get their heart. Successful leaders today win both the hearts and minds of their teams. The world has changed and this new leadership model is necessary to inspire and succeed with today's modern worker and for our modern life.
How do leaders successfully fuse such qualities as warmth, compassion and collaboration with "strength of purpose" and decisiveness? How does this generate excellence in leadership while creating a productive and happy workplace? Betsy will explore this issue, providing examples and best practices from leaders we can learn from. She will discuss how we can utilize this balance at work and at home as we confront the complexities of our changing world, each worker, and the workplace.
The Changing Paradigm of Leadership – A New Frontier for Women in Leadership – Including Men
How can it be that women currently hold just 12%-15% of senior leadership (C-suite) positions in corporate America? Why haven't we made more progress, given that women now represent 58% of our college graduates and hold 50% of middle-management positions? Savvy business leaders today are no longer asking "why" they should include and advance women in their organizations, but agree that in today's competitive global marketplace they must harness the top-tier talent in their midst to survive and remain competitive and profitable.
In this discussion, Betsy will discuss this popular topic and ask the question, "Shouldn't we be bringing men into this conversation as full partners?" To truly support, retain and promote women in the workplace, we need to engage our male colleagues in the advancement of women. Betsy has profound insight into today's leadership styles and will discuss the important skills both men and women need to succeed in today's modern workplace and with today's modern worker.
Leadership Creates a Feeling
Research and statistics indicate that as many as one in two American workers feel disconnected in their workplace. This accounts for $350 billion of lost productivity each year. At the same time, American companies spend millions a year on leadership development programs. In her remarks, Betsy challenges us by asking, "Are we teaching the right practices to our future leaders?"
Her book, Take the Lead: Motivate, Inspire, and Bring Out the Best in Yourself and Everyone Around You, describes a counterintuitive view of leadership. When people "feel" valued, supported, appreciated, included, and understood, they are inspired to do their best work. The job of any leader is to bring out the productive feelings of their people. Betsy describes seven principles that serve as a road map for any leader who aspires to bring out the best in their people. This is not just the right thing to do, but rather a proven strategy to employee engagement and profitability.
Authentic Leadership and the Leader in You
Over the past 50 years, leadership scholars have conducted more than 1,000 studies to determine the leadership styles, characteristics and personality traits of the ideal leader. None have produced a clear profile with distinct skills, traits or a specific style that led to success because true leadership is when each of us steps into who we truly are. It is the discovery and deep understanding of our personal story that brings meaning to our lives. We trust leaders who are authentic and not trying to be someone else.
The key to authentic leadership is the combination of being your true self while also learning about the people around you. This combination is what enables leaders to create the environment and culture where people will bring their best selves to a team, partnership or relationship to achieve desired results. This session highlights the journey of authentic leadership, understanding what it looks like for each of us and how we can help others around us do the same.
Being Strategic with Your Career and Your Life – How to Create Your Own Personal Strategic Plan for Success
In this presentation, Betsy discusses important research and thinking around women in leadership and how to be strategic with your own career. Tracing her own personal journey in the private sector, politics and academia, Betsy brings perspective from her experiences as a successful female leader. She will help audiences understand how to confront the work-life balance question, ("Is it really possible?"), the different leadership styles of men and women, and the leadership qualities necessary for the next generation of women. Other topics discussed will include finding mentors and how to best leverage your existing network and interpersonal skills.
Traits of Resilient Leaders
Resilience is formed from disruptive change, often what we thought we did not or do not want. It causes us to lose our focus and comfort level, our energy is disrupted and we feel exhausted, our morale and confidence is at an all time low and trauma from our past can be reactivated. This is life and no one escapes the occasional heartbreak and disappointment. It is not what happens to us but how we bounce back…but more importantly, bounce forward when unexpected challenges and opportunities present themselves. As Carl Jung said, "I am not what happened to me. I am what I choose to become."
This keynote will explore our capacity for resilience along with key strategies to succeed and thrive where you thought you couldn't. How did we handle disappointment in the past? How do I see it as a blessing and turn this into a positive learning experience? How do I move towards my passion from this place and/or help others who find themselves in a similar place?
The Art of Networking
Do you think that networking is walking into a cocktail party with your business cards? Most of us of do and it makes us uncomfortable. The good news is . . . there is another way to think about networking. Life is all about relationships and networking is the skill that not only builds your network but keeps it alive. Your network is both professional and personal and often at times the two overlap. Your network impacts your life in many ways including, getting a job or promotion; getting a project or initiative approved and/or implemented; being included in internal and external meetings and opportunities, etc.
Research shows that we are just 2-6 people from anyone we wish to meet. Networking is simply a tool that allows us to build and grow our professional contacts to accomplish your goals and reach your dreams. This session will cover the key aspects of networking that include communications skills, information exchange and collaboration.

Betsy Myers, Leadership Speaker: Keynote Excerpt, Mount Mary University
Betsy Myers examines the key practices of being an effective leader. Although thousands of studies aiming to identify the qualities of successful leaders have been conducted across academia, she notes that there is no magic formula that people can apply because ultimately, each individual has to step into their authentic selves in order to get others to follow them.
She does however highlight the importance of maintaining focus, sharing the story of how the 2007 Obama campaign transformed a little known senator from a long shot candidate into a serious contender for the White House. "In 2007 everything our campaign did was about Iowa," Myers comments, referring to the first state to have a primary election event. Maintaining that focus even meant having to turn down collaborative events in other states with celebrities like Denzel Washington, because is the words of Myers' supervisor, Obama's campaign manager: "What does that have to do with Iowa?" Myers elaborates, "You have to ask the question, 'How am I spending my time? How is this moving us forward?'"
Betsy Myers at Massachusetts Conference for Women
Betsy Myers - Clinton Support for Women in Leadership
Betsy Myers: Speech Excerpt