* Please note that while this speaker's specific speaking fee falls within the range posted above (for Continental U.S. based events), fees are subject to change. For current fee information or international event fees (which are generally 50-75% more than U.S based event fees), please contact us.
Top25 Speaker Voting

Benjamin Zander needs 1 vote(s) to make it into the Top 25 speakers on Speaking.com!
Speaker Booking Tip
"Tip: find a speaker in your local area to save on travel costs. Most speakers will also reduce their keynote fee for local events. "
For Event Planners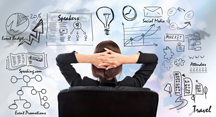 • Keynote Speaker Booking Toolkit.
• Booking a Celebrity Speaker.
• How to Find and Book the Right Speaker.
• Google+ Event Planning Forum.
• Tips for International Clients Booking U.S. Based Speakers.
Similar Speakers
Craig Ferguson

Comedic genius Craig Ferguson has won millions of fans with his unorthodox approach to late night television. As host of CBS's The Late Late Show…

Gloria Estefan

Cuban-born American singer, songwriter, actress and entrepreneur, Gloria Estefan is best known for being the "Queen Of Latin Pop." One of the top 100 best-selling…

Kevin Nealon

SATURDAY NIGHT LIVE veteran, Kevin Nealon has captured the hearts of millions with his dry wit and amicable personality. With over 35 years of stand-up…

Our event was what I would call 'over the top'... The survey results were at 92% very favorable. The speakers formed such a good relationship with myself and others at the conference. I am confident we will bring them back to do more. I will definitely contact you when we are in need of additional services. You have been the best!
American Express
About SPEAKING.com
Established in 1994, we are exclusive agents for some of the world's leading experts, celebrities and professional speakers.
We offer event planners a fully staffed speaker logistics planning team, plus a personal SPEAKING.com Account Executive – a knowledgeable and trustworthy partner. We guarantee your satisfaction with your speaker and a smooth booking process.
Contact us today to book your favorite speaker.

"If we could simply bottle it, and sell it as an elixir, not only could we make a few bucks, but also change the world."
- Eric Oddeifson, Resource Investments, Inc.

"If you want to liberate your soul, listen to Zander′s Mahler. If you want to take your leadership skills to the next level, study the Art of Possibility with the Zanders. In his presentation Ben explodes traditional leadership thinking and takes leadership out of the closet. He blows the door WITH its hinges off that closet, and you can never go back after working with Ben. His leadership view is unconventional, irreverent and bold. Its impact is without boundaries. I have seen Ben Zander′s teaching transform entire teams through Possibility in ways that are nothing short of magical with results that are nothing short of exemplary. He is a catalyst for Excellence."
- Roseanna DeMaria, First Vice President, Leadership & Performance, Merrill Lynch

"In his passionate, almost savagely energetic monologues, Zander leaps about the stage from his piano to a flip chart and back to the piano. He plays, lectures, spins tales, and pushes his audience to laugh, cry, and sing..."
- Polly LaBarre, Fast Company

"Dear Ben - The safe space that you created in that auditorium allowed us to experience self-expression in a challenging and nurturing way. You took a simple everyday act like singing happy birthday and showed us that by giving it our all (by giving it your all) we could move each other to tears of joy. I thank you for the bottom of my heart for such a wonderful lesson. I now carry the possibility of joy inside me."
- George Fuchs
The Art of Possibility: Transforming Professional and Personal Life
Presenting twelve breakthrough practices for bringing creativity into all human endeavors, The Art of Possibility is the dynamic product of an extraordinary partnership. The Art of Possibility combines Benjamin Zander′s experience as conductor of the Boston Philharmonic and his talent as a teacher and communicator with psychotherapist Rosamund Stone Zander′s genius for designing innovative paradigms for personal and professional fulfillment.

The authors′ harmoniously interwoven perspectives provide a deep sense of the powerful role that the notion of possibility can play in every aspect of life. Through uplifting stories, parables, and personal anecdotes, the Zanders invite us to become passionate communicators, leaders, and performers whose lives radiate possibility into the world.
Order Here





A METAPHOR FOR LEADERSHIP
Benjamin Zander′s presentation takes an audience on a journey that offers a startling new perspective on leadership. Through stories, music and concepts it causes a radical shift in perception. This is not a speech, it is an experience!

In this new model of leadership, the conductor sees his job as awakening possibility in others. The orchestra is a group of highly trained individuals poised to coalesce into an effective whole. Passion, creativity and the desire to contribute are basic human instincts to be released.

World famous conductor, Benjamin Zander uses the metaphor of the orchestra and a life-time of experience conducting, coaching and teaching musicians to work his magic to overcome barriers to corporate productivity. This presentation sources fundamental changes in organizations.
Benjamin Zander: Speech
With his trademark passion for music Benjamin Zander explains that music is created from enthusiasm and love, and that all other means of judging it are irrelevant; as he says himself, "We should only grade people on their enthusiasm; anything else is worthless."
Benjamin Zander - Work (How to give an A)
Choosing Your World - Benjamin Zander at European Zeitgeist