* Please note that while this speaker's specific speaking fee falls within the range posted above (for Continental U.S. based events), fees are subject to change. For current fee information or international event fees (which are generally 50-75% more than U.S based event fees), please contact us.
Top25 Speaker Voting

Ben Casnocha needs 8 vote(s) to make it into the Top 25 speakers on Speaking.com!
Speaker Booking Tip
"Tip: ask your speaker to do a book signing or attend a VIP meal with your guests. "
For Event Planners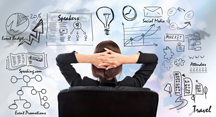 • Keynote Speaker Booking Toolkit.
• Booking a Celebrity Speaker.
• How to Find and Book the Right Speaker.
• Google+ Event Planning Forum.
• Tips for International Clients Booking U.S. Based Speakers.
Similar Speakers
Nick Sarillo

Nick Sarillo has proved that successful small businesses are driven by visionary leadership. The success of his company Nick's Pizza & Pub (the sixth busiest…

Ty Bennett

Ty Bennett is one of the youngest ever recipients to become a Certified Speaking Professional, the benchmark for the best speakers in the world that…

Dr. Mark DeVolder

Known as "The Change Specialist," Dr. Mark DeVolder has guided some of the most high-stake transitions of recent history, preparing Colombian business leaders for the…

Our event was what I would call 'over the top'... The survey results were at 92% very favorable. The speakers formed such a good relationship with myself and others at the conference. I am confident we will bring them back to do more. I will definitely contact you when we are in need of additional services. You have been the best!
American Express
About SPEAKING.com
Established in 1994, we are exclusive agents for some of the world's leading experts, celebrities and professional speakers.
We offer event planners a fully staffed speaker logistics planning team, plus a personal SPEAKING.com Account Executive – a knowledgeable and trustworthy partner. We guarantee your satisfaction with your speaker and a smooth booking process.
Contact us today to book your favorite speaker.

"He was phenomenal. I must have had 30 people come up to me and say 'what a refreshing speaker'. He was just phenomenal. He had four great points and he talked from the heart. We were so happy, I would definitely recommend him."
— Anne Mathison, University of Wisconsin Continuing Ed / Adult Learning Program
"Ben hit it out of the park. Our HR leaders are still raving about his session on the new employer-employee compact and how to recruit and manage entrepreneurial employees. We were very happy to host him at SHRM India!"
— Malina Jacobowitz, Society for Human Resource Management India
"Ben delivered a dynamic, gripping and content-packed presentation that connected directly with the concerns and interests of our delegates. His presentation received excellent feedback from all quarters. Ben was a pleasure to work with throughout, being highly professional, flexible and considerate. He took special care to understand the goals of the conference, our needs as organisers and the desires of the paying delegates. Ben's attention to this important detail was clearly evident in the overall success of his talk."
— Scott Druck, Oxford Strategic Consulting
"I'm delighted to report that the Strategy Conference was a blast! Ben did a such a great job presenting, and to boot, signing tons of books for our attendees and staff. Recently, Ben connected with me on LinkedIn and he mentioned that many of our attendees had reached out to him as well. That's really, really cool! Thanks for making a way for us to finally bring Ben to our conference stage!"
— Renee Sumby, Society for Human Resource Management
"Ben Casnocha is a dynamic and engaging speaker. After he spoke at our HR summit, we received a ton of great feedback on him. One of our audience members wants to hire him already! He presented multiple concepts to HR leaders on how to engage employees in today's marketplace. Ben's message is thought-provoking and encourages HR Professionals to challenge themselves to transform their organizations to attract and retain top performers. I highly recommend Ben as a keynote!"

— Teri Harrell, Dancik International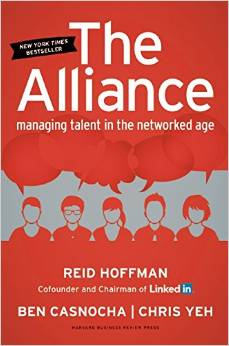 The Alliance: Managing Talent in the Networked Age
Introducing the new, realistic loyalty pact between employer and employee. The employer-employee relationship is broken, and managers face a seemingly impossible dilemma: the old model of guaranteed long-term employment no longer works in a business environment defined by continuous change, but neither does a system in which every employee acts like a free agent. The solution? Stop thinking of employees as either family or as free agents. Think of them instead as allies.
1. The Alliance: Managing Talent in the Network Age
According to Casnocha, the employer-employee relationship is broken. Managers face a seemingly impossible dilemma: They can't afford to offer lifetime employment, but they can't build a lasting, innovative business when everyone acts like a free agent. He tells audiences to stop thinking about employees as family or free agents, and to start thinking of them as allies on a tour of duty.
Based on Ben's recent New York Times bestselling book with Reid Hoffman, founder/chairman of LinkedIn, in this keynote he explains how to recruit, manage, and retain the entrepreneurial employees your business needs to succeed in the networked age. You'll learn:
What all innovative companies do with their best employees.
Why it's possible to rebuild trust and loyalty with your employees even though you can't guarantee lifetime employment.
How to manage employees who seek constant career growth by defining unique "tours of duty."
Why it pays to empower your employees to build their personal brands and expand their professional networks.
How to develop an employee value proposition that resonates with millennials.

Through keynotes and interactive workshops, this is the management and business framework that will help your company generate Silicon Valley-style innovation, delivered by one of the field's most engaging speakers.
2. The Start-Up of You: Transform Your Work and Career with Entrepreneurial Thinking
The career escalator is jammed at every level. Unemployment rates are high. Creative disruption is shaking every industry. Global competition for jobs is fierce. The employer-employee pact is over and traditional job security is a thing of the past.
In a keynote based on his #1 New York Times bestselling book, Ben presents a blueprint for how to thrive in this new economic landscape. The key: learn to think and act like an entrepreneur. In other words, move up that jammed escalator by running your career like it's a start-up business: a living, breathing, growing start-up of you.
You don't need to start your own business, but you do need to adopt the mindset and learn the skill set of entrepreneurs.
Why? Start-ups – and the entrepreneurs who run them – are nimble. They invest in themselves. They build their professional networks. They take intelligent risks. They make uncertainty and volatility work to their advantage. These are the very same skills professionals need to get ahead in today's fractured world of work.
In this keynote, you will learn the Silicon Valley strategies that can jump-start you career. This is a bold presentation on thriving in a world where every professional must be the entrepreneur of his or her own life.
3. Millenials at Work: Crossing the Generational Divide.
Today, four generations are in the same workplace at the same time. This is unprecedented. And it introduces a host of challenges and opportunities. You can't manage millenials the way you were managed. To bring out the best of your millennial employees, and to create a corporate culture where all generations can effectively work with each other, you need to rethink every aspect of how you recruit, manage, and retain employees.
Ben's background makes him uniquely qualified to deliver this entertaining keynote: as "one of America's top young entrepreneurs" according to BusinessWeek he speaks credibly on his own generational dynamics while also drawing upon his leading corporate experience.
Ben Casnocha: Speaking Reel
Ben Casnocha examines the dynamic between employers and employees in the 21st century. "You sometimes still hear CEOs refer to their company as family, but they don't really mean it...It would be unthinkable for my dad to sit me down as a kid and say, 'Sorry, Ben, there's no longer a place for you in the Casnochas. Your table setting skills are doing nothing to deliver the exceptional customer performance we're looking for.'"
"I believe there's going to be a new pact, a new compact that defines the relationship between employer and employee," Ben affirms. "The old compact, this idea that an employee shows up to work totally untrained, totally unentrepreneurial, and pledges lifelong loyalty to your company in exchange for being trained and told what to do and for other job security, that relationship is disintegrated."
"What's replaced it is a compact that's based on alliance more than loyalty, an alliance that acknowledges that the creative adaptive superstars you want to hire in your company are going to have entrepreneurial inclinations that need to be cultivated; they need to be channeled to benefit the company."
Ben Casnocha Panel Moderating
Ben Casnocha: Speech
Keynote Speech