* Please note that while this speaker's specific speaking fee falls within the range posted above (for Continental U.S. based events), fees are subject to change. For current fee information or international event fees (which are generally 50-75% more than U.S based event fees), please contact us.
Top25 Speaker Voting

Barry Nalebuff needs 6 vote(s) to make it into the Top 25 speakers on Speaking.com!
Speaker Booking Tip
"Tip: some speakers might provide one of their popular book titles as a free gift to your audience. "
For Event Planners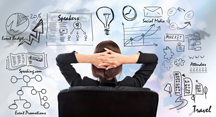 • Keynote Speaker Booking Toolkit.
• Booking a Celebrity Speaker.
• How to Find and Book the Right Speaker.
• Google+ Event Planning Forum.
• Tips for International Clients Booking U.S. Based Speakers.
Similar Speakers
Harry Broadman

For thirty-six years, Harry Broadman has been an expert practitioner in international finance, investment and trade, business growth, risk-mitigation, innovation strategy, and corporate governance reform.…

Lawrence Kudlow

Influential supply-side economist, Larry Kudlow is CNBC's Senior Contributor, a nationally syndicated radio host, and an unapologetic supporter of capitalism and free markets. Drawing from…

Vikram Mansharamani

Experienced global equity investor and business trends expert, Vikram Mansharamani helps you anticipate your future. The popular Yale University professor is a highly followed authority…

Once again our agent did an outstanding job. Not only did he provide me with a number of options for potential speakers but he helped with seeing who was available, when they could speak, and getting everything done in a timely fashion. I look forward to working with him again.
Auburn University
About SPEAKING.com
Established in 1994, we are exclusive agents for some of the world's leading experts, celebrities and professional speakers.
We offer event planners a fully staffed speaker logistics planning team, plus a personal SPEAKING.com Account Executive – a knowledgeable and trustworthy partner. We guarantee your satisfaction with your speaker and a smooth booking process.
Contact us today to book your favorite speaker.

Comments regarding Barry Nalebuff′s presentation at St. Cloud University (event booked by Speakers Platform):


1) Two minutes after he started talking, I knew this was going to be the best Winter Institute ever! (from a faculty person now on phased retirement but who has been at the university for 30+ years).
2) Where did you get him? How did you find this speaker? Is he still here? I want to visit more with him. (from the University President).
3) I learned so much from him-I like the way he thinks (Provost).
4) I wish I had him as my professor. He is an extremely talented educator.
5) Three high school classes came to the morning events of the Winter Institute, and each of their teachers left with a positive, upbeat attitude toward this event in no small part to the new insights that Barry imparted to them.
6) I was very impressed with his ability to seamlessly take off from the presentation of Costas Azariadis that was based on endogenous growth theory and seamlessly follow the topic.
The Art of Strategy: A Game Theorist′s Guide to Success in Business and Life
The authors who brought you the bestseller in game theory, Thinking Strategically, now provide the long-awaited sequel.

Game theory means rigorous strategic thinking. It′s the art of anticipating your opponent′s next moves, knowing full well that your rival is trying to do the same thing to you. Though parts of game theory involve simple common sense, much is counterintuitive, and it can only be mastered by developing a new way of seeing the world.

Using a diverse array of rich case studies—from pop culture, TV, movies, sports, politics, and history—the authors show how nearly every business and personal interaction has a game-theory component to it. Are the winners of reality-TV contests instinctive game theorists? Do big-time investors see things that most people miss? What do great poker players know that you don′t? Mastering game theory will make you more successful in business and life, and this lively book is the key to that mastery.
Order Here

Thinking Strategically
Most books on game theory either focus on specialized applications (cardplaying, business, nuclear war) or bore with mathematics and jargon. Free of formulas and argot, this refreshing exception distills the principles, concepts, tools and techniques--brinkmanship, bargaining, unconditional moves, vicious circles, etc.--with an astonishing diversity of illustrative examples drawn from political campaigns, baseball, neighborhood dynamics of segregation, the military draft, speed limits, childrearing and so forth. In helping strategists anticipate rivals′ responses and win the game, economics professors Dixit and Nalebuff (who teach game theory at Princeton and Yale, respectively) provide managers, negotiators, athletes, parents and other game-players with a formidable weapon.



Why Not?
The notion that innovation can be "routinized" is a perennial theme of business theorists. This engaging primer is more insightful than the usual free-associational, brainstorming protocols.

Economist Nalebuff and law professor Ayres insist that "innovation is a skill that can be taught," and distill it into a few rules of thumb, like "where else would it work?" (putting airline data recorders into cars, for example) and "would flipping it work?", which involves gonzo conceptual inversions like students raising their hands to not be called on or "reverse 900 numbers" where telemarketers pay people to accept calls.

Leavened with a little economics, game theory, psychology and contract law, the authors′ framework furnishes useful heuristics to analyze a host of problems from auto theft to campaign finance reform. The result is an interesting compendium of market-oriented socioeconomic fixes, some intriguing (having HMOs sell their members life insurance as an incentive to keep them alive), and a few improbable (offering Palestinians stock in Israeli companies in exchange for a peace settlement).

Their system does not, alas, always live up to its billing as an assembly line for business innovations. Many of the ideas they showcase are culled from other sources, and many, like having video renters rewind before-not after-they watch the tape, amount to trivial wrinkles on established practice.

The dream of reducing creativity to a set of automatic procedures, shorn of expertise, trial-and-error, eureka moments and plain old hardthinking remains elusive, but the authors seem to know it when they see it.
Barry Nalebuff, Entrepreneurship Expert: Speech at Chicago Ideas Week
Professor Barry Nalebuff shares the unlikely story of how he and his student, Seth Goldman started a beverage company that they then grew into a $100 million brand. The story of their business, Honest Tea, can be summarized in three principles: luck, passion, and application of economic theory.
Although the beverage industry seemed like a saturated and nearly impossible market to break into, Nalebuff explains that when he and Goldman were looking to buy a quick convenient drink, they couldn't actually find anything they wanted. From water to soda to diet drinks, everything was either bland, too sugary, or filled with undesirable chemicals, so they decided to create their own drink. "If there's something out there that's annoying you, that's the seed of a great business," Nalebuff shares. "That's actually an opportunity."
Speech Excerpt