Top25 Speaker Voting

Barry Moltz needs 10 vote(s) to make it into the Top 25 speakers on Speaking.com!
Speaker Booking Tip
"Tip: speakers bureaus can provide: speaker fee negotiation, insurance, smooth logistics and value add-ons such as extra sessions. "
For Event Planners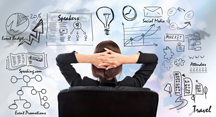 • Keynote Speaker Booking Toolkit.
• Booking a Celebrity Speaker.
• How to Find and Book the Right Speaker.
• Google+ Event Planning Forum.
• Tips for International Clients Booking U.S. Based Speakers.
Similar Speakers
Teri Yanovitch

Along with 85 percent of business leaders today, Teri Yanovitch thinks quality customer service is how your business can set itself apart. Through her enthusiastic,…

Jeff Tobe

Jeff Tobe is a Certified Speaking Professional with a background as an award-winning sales and marketing entrepreneur. He is the author of the popular book,…

Billy Riggs

At the age of 29, Billy Riggs founded one of America's fastest-growing churches. Since 1995, he has been delivering his secular presentation, "The Magic of…

Everyone at your speakers bureau was incredibly attentive and easy to work with; you have been a conference organizer's dream!
ABS Capital Partners
About SPEAKING.com
Established in 1994, we are exclusive agents for some of the world's leading experts, celebrities and professional speakers.
We offer event planners a fully staffed speaker logistics planning team, plus a personal SPEAKING.com Account Executive – a knowledgeable and trustworthy partner. We guarantee your satisfaction with your speaker and a smooth booking process.
Contact us today to book your favorite speaker.

"He was very personable and even spent time talking with a group of high school students attending our function. He received 7 out of 7 for all event criteria, including: style, knowledge and professionalism"
Indiana Venture Center
(Event booked by Speakers Platform)

"Your energy is contagious."
Stefanie Weaver, Kauffman Foundation

"Barry is a great speaker- I highly recommend him for any audience interested in entrepreneurship." "
Steve Mariotti, Founder & President of the National Foundation for Teaching Entrepreneurship (NFTE)

Barry was "on" from the minute he hit campus – welcoming our guests, chatting with our students and warming up the crowd. He delivered an entertaining and informative message with 1000 watt energy. One of the highlights of the evening was the Q&A session, when one of the entrepreneurs in the audience said "you just told my life story". Another guest was so impressed that she bought a copy of Barry′s book for every person in her company. Afterward, he was the last to leave, signing books and answering questions until the very end. Barry provides exactly what he promises - High Impact and High Energy".
Anne McCarthy, Ph. D., Dean, Merrick School of Business

"Barry spoke to a very diverse group of entrepreneurs. His intellectual humor was well received and his interest in local entrepreneurial development was stimulating." "
Maria G. Hampton, Vice President, Federal Reserve Bank of St. Louis

"Thank you for an outstanding presentation here at Ball Sate University this past week. In addition to the advice provided for the students, numerous business owners who attended remarked to us how much they enjoyed your remarks. Thanks again, for helping us launch our Encite Speaker Series" "
Dr. Donald Kuratko, The Stoops Distinguished Professor of Entrepreneurship, Ball State University

"Barry′s insights into entrepreneurship -- the challenges, successes and pratfalls -- kept our audience enthralled. This is one funny guy who has a lot of interesting stuff to say and who offers a truely unique viewpoint on the world of entrepreneurship. Every entrepreneur, and those who work with them, will appreciate Barry′s comedy and will recognize immediately that here′s a guy who′s shared their pain.""
Dinah Adkins, President and CEO, NBIA

"Thank you so much for your presentation at the 41st Annual Small Business Week Awards Luncheon. You were wonderful! Your remarks were insightful; your delivery very enjoyable. We look forward to hearing you speak on many more occasions.""
Judith Roussel, District Director, U.S. Small Business Association

Partial List of Clients
Capital One
General Electric
Office Max
The Atlanta Hawks (NBA)
The Federal Reserve Bank
Department of Agriculture
Small Business Administration
Kauffman Foundation
National City Bank
Harvard Business School
MIT
University of Chicago
Northwestern University
Darden Business School
Thunderbird University
National Association of Community Colleges for Entrepreneurship
Collegiate Entrepreneurs Organization
Young Entrepreneurs Organization
Angel Capital Association
Association of Small Business Development Centers
National Business Incubator Association
International Council on Small Business
American Chamber of Commerce Executives
US Chamber of Commerce
Inc Magazine
Finance Leaders Association
National Foundation for Teaching Education
Illinois Institute for Entrepreneurship Education
National Association of Seed and Venture Funds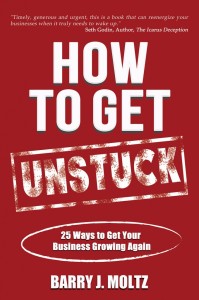 How to Get Unstuck
You wake every morning feeling like you are on a never-ending hamster wheel. Your energy and interest are waning. You have tried many things to turn your business around, but you have failed. You and your business are literally stuck. You keep looking for that magic bullet that will be "the tipping point" to take it to the next level. Sound familiar? You are not alone, and help is right inside this book.
It reveals the 25 most common reasons why companies get stuck and how to fix them. These include:
You Let Today's "Emergencies" Dictate Your Plan
You Take Dangerous Risks Instead of Calculated Actions
Your Customers Can't Find You When They Are Ready to Buy
Your Fear of Rejection Stops You from Selling
You Stop Marketing as Soon as Your Revenue Increases
You Hate Your Customers (and Maybe Even Your Employees or Vendors)
You Only Hire Employees Who Are Weaker Than You
You Allow Lousy Employees (and Customers) to Overstay Their Welcome
You Think Business Is About Growing Sales
Small Town Rules: How Big Brands and Small Businesses Can Prosper in a Connected Economy
Technology and economics are transforming business in a completely unexpected way: suddenly, even the largest companies must compete as if they were small, local businesses. Suddenly, your customers can talk to everyone else across the nation, and people listen to them, not your carefully crafted advertising or branding. It′s just like doing business in a small town, where "reputation is forever." Suddenly, communities and personal connections are critical to your success - just as they′ve always been in small towns.

The best small-town and rural entrepreneurs have been successfully overcoming these challenges for centuries. Their lessons and techniques are suddenly intensely valuable to even the largest companies, most dominant brands, and most cosmopolitan businesses. Small Town Rules adapts these lessons and techniques for today′s new "global small town": one knitted together through the Web, Facebook, and Twitter. Two pioneering entrepreneurs and social media experts show how to:

Survive seasonal cycles and year-to-year fluctuations the way rural farmers and businesses do
Use "small town entrepreneur secrets" for coping with limited access to people and capital
Reduce risk by "piecing together" multiple income sources * Start using customer-driven communication to your advantage
Interact with customers on a more human scale, no matter how big you are
Rediscover your company′s local roots, and more


Order Here




Bounce!: Failure, Resiliency, and Confidence to Achieve Your Next Great Success
Praise for Bounce!

"Bounce! will transform fears into confidence and define your own brand of success. Brilliant!"
—DR. JOE VITALE, author of The Attractor Factor

"Moltz shows us that when we recognize failure as simply part of any business experience and approach it with humility and endurance, we can all have the true confidence we need for future success."
—MICKEY KONSON, Vice President, Small Business Solutions, Capital One

"Bounce! is about how to build long-term business confidence through success and failure. Moltz captures the essence of resiliency by helping businesspeople learn from all of the business outcomes they experience over their career."
—ALAN A. BROWN, Executive Vice President, Nuveen Investments

"Thank you, Barry Moltz, for getting past the ′you can turn it around′ cheerleading and the ′failure is your teacher′ balms that are supposed to somehow ease our pain when we hit bottom in spite of our best efforts. Thank you for taking a hard, honest, and often humorous look at failure for what it really is, and most of all for providing some real practical advice for getting through it."
—SCOTT ALLEN, About.com, A New York Times Company
Order Here




Bam!
Customer service has been turned upside down by the self-sufficiency and immediacy of shopping and buying products and services on the web. Our self-help culture has been transformed into a self-service culture with customers able and willing to do much more for themselves. We are becoming accustomed to the benefits and good feelings that we experience online through automated buying experiences that can be customized and personalized to our schedules, locations, buying patterns, and desires.

More than ever before, the transactional relationship between the seller of products and the buyer of those products is critical to companies′ overall profitability. In this increasingly transparent world where so many products and services are viewed by consumers as commodities, providing exceptional customer service becomes the only sustainable competitive advantage for creating customer loyalty. The harsh economic realities that every business faces today and for the foreseeable future make this even truer.

BAM! is a no nonsense book that teaches companies why they want to deliver effective customer service in this self-service world and how to do it. The book debunks the 20 common myths of customer service-from "The customer is always right" to "Customer service means the same thing to everyone," to "Companies achieve customer service by under-promising and over-delivering"-myths that too many companies use automatically to run their customer service practices and policies without ever questioning them.

BAM! replaces myths with a tactical approach that shows companies how to make more money through attitudes and actions that will help their customers feel satisfied in good times or bad.

Creating satisfied customers is the only enduring competitive advantage left in a world market where virtually everything is a commodity. Forget the customer service platitudes. The only reason a company should offer excellent customer service is because it will make money for the business.
Order Here





KEYNOTES, BREAK-OUT SESSIONS and WORKSHOPS:
Getting Your Small Business Unstuck
What you did to get your business to where it is today, is NOT what you need to do to get your business where it needs to be. Businesses growth requires different actions as the market changes. Barry has identified 6 ways that businesses get stuck, causing their growth to slow. By simply making changes to these unproductive patterns, your business can start to flourish again. Areas discussed are sales, marketing, social media, finance, personal productivity, managing employees and customer service.

How to skyrocket your business by never selling again.
How to ensure that the world wide web is not a worldwide waste of time.
How to hire, train, manage and fire employees.
How to use customer service to make more money.
How to increase your personal productivity by 100%.
How to use your financial statements to predict what will happen next in your business.

Escaping the Double Helix Trap and 7 Strategies to Get Unstuck
The business owner's biggest trap is continually flip-flopping their time between selling things and doing things. While the owner is busy trying to make sales, they aren't getting the work done…the exact work that makes money. Conversely, when they are doing the work, the sales activity slows to a crawl. The Double Helix Trap keeps businesses struggling for years and years, or worse…a lifetime. In this presentation, Barry shows the 7 strategies to get unstuck which include:

The Relationship Ratings Methods: Forget about getting sales, have a system to create systematic relationships. We actually can't sell anything to anyone, we just need to be there when people are ready to buy!
The Rapid Release Strategy: The exact method to avoid long, fruitless sales cycles, and how to get prospects to a buying decision in one-tenth of the time.
The Cringe Factor: The simple but highly effective method to identify vendors who are costing you too much time and money.
The Amplifier Effect: The most powerful technique for growing sales and marketing awareness without taking up any additional effort.

Small Town Rules: How Small Businesses Can Prosper in a Connected Economy
With the internet, every customer can now talk to every other customer. Right now, they are talking about your business and your reputation. It's like living in a small town. Customers trust this earned media (reviews and references) from other customers over any company directed advertisement in their buying decisions. This is how small town owners have been operating for years. Every business now wants to get small and build a community.

What you will learn from Small Town Business Owners:

Rule 1. Plan for zero. There will be tough years ahead. Guaranteed!
Rule 2. Spend creative brainpower before spending dollars. Too much money makes you stupid.
Rule 3. Multiply lines of income to diversify your risk. Don't have all your eggs in a single basket.
Rule 4. Work anywhere, anywhen through technology. Geographic location is a thing of the past.
Rule 5. Treat customers like community. Get off the balcony and have real conversations.
Rule 6. Be proud of being small. Every large corporation finally wants to be you!
Rule 7. Build your local connections. Your customers now want to buy local!

You Need to Be A Little Crazy To Start and Run Your Own Business
The best way to debunk myths about start-up business is to tell the truth: You have to be crazy to start a business. Entrepreneurs live at the complex intersection of business, financial health, physical well-being, spiritual wholeness and family life. Tidbits of insight will vaporize isolation, encourage self-reflection and refresh the spirit of anyone running their own business.

BAM! Delivering Customer Service in A Social Media World
For a long time, a company's commitment to outstanding customer service began…and ended in its mission statement. The goal of the customer being number one in most companies is not translated into tactics for training the staff or incorporating feedback from their customers. Instead, companies continue to pay sales reps bonuses to bring new customers in the door and only pay minimum wages to the customer service reps to keep them there. This formula results in a revolving door of customers and overall poor service. This is all changing in a 24/7 connected world.

The world is your competition. With no geographic boundaries, almost every product or service has become a commodity. Your only sustainable competitive advantage is customer loyalty through great service. If I can get what you sell anywhere, why should I put up with bad service?
With self service kiosks and websites, companies can now personalize the customer experience. Every company can now call you by name, remember what you purchased and recommend what you like. This expectation does not get lower anywhere we surf on the internet, each time we call your company or walk into your brick and mortar locations.
Your company's biggest fear was that a disgruntled customer would tell seven people. A dissatisfied customer can now tell 7 million people! Communicating via social media tools like Twitter, Facebook and YouTube has turned the business world upside down. Companies can no longer control the conversation about their brands through advertising. But, the good news is that social media can also help build a raving fan base and defuse ranting customers.

You will learn: For a long time, a company's commitment to outstanding customer service began…and ended in its mission statement. This is all changing in a 24/7 connected world.

When the world is your competition, customer service is your only sustainable competitive advantage.
Why you need to personalize the customer experience or get left behind
With social media, why customer service is the new marketing.
How to bust the 20 myths of customer service that hold your company back right now.
How to develop a formula to determine the economic value each customer contributes.
How to develop a two-way customizable customer service manifesto.
How to develop action plans for CEOs, line managers, and customer service reps.
How to get your best customers to stay and fire the harmful ones.

Audience: Any manager or owner wanting to make customer service a part of the DNA for their organization. Sample Video on Customer Service View Web site on the book and customer service

The Magic Formula For Small Business Success
With Barry's 25 years in small business, he has finally discovered the "magic formula" to make more profit at any company. Business "gurus" make it seem so complicated, bit it is really simply:

P X P = P where People multiplied times Process means more Profit.

In this session, he teaches participates how small business can take a quantum leap in just 180 days to grow the profit in their business. He shows what and how to implement each part of the equation.

You will learn:
People – People are the key to your business growth and prosperity. In The Magic Formula, participants discover the one thing you need to attract and keep the team they so desperately need to help their business grow.
Process – Right now their business may in reality be more like a glorified job – working for a crazy person (You!). With the systems they'll have in place after this session, they'll enjoy greater freedom, cash flow and control than ever before… Not to mention a renewed passion for what got them started in the first place!
Profit – Once they have the systems and people in place, it's critical to watch their key metrics. They will get the financial tools they need to stay on top of the numbers so they can see the growth, be alerted early for upcoming potholes in the road, and consistently keep their cash flow where it needs to be for their business to grow – without overloading on debt.
Audience: For Business Owners and Managers that want to make more money
Breaking the Cash Crunch
"As a business owner, I sleep like a baby. I go to bed early and wake up at midnight screaming my head off." Sound familiar? Most small business owners spend a ton of energy and time worrying about their financial obligations. We've all felt the crunch of the Great Recession. Cash flow has slowed to a trickle, bank financing is out of the question and customers take longer to pay their bills. Recent surveys indicate that only 5% of business owners understand the secrets to overcoming the crunch and never being short of cash again. Learn them in this session and never run out of cash again.
Stop the Insanity: 10 Real Tricks to Skyrocket your Productivity
Stop confusing being busy with productivity. Recent studies have indicated that multi-tasking can cause brain damage. At the very least, it prevents you from doing any one thing to the best of your ability…and it certainly does not allow more to get done effectively. Here's the thing: Every employee will mimic the way the owner works. They could soon have a team filled with inefficient, multi-tasking workers all running around chasing their tails.
This session uncovers ways to get more done in half the time, even in this interruption-based culture. Better still, it will learn how to guide employees to do the same.
Building a Team that Lasts
One of the most difficult elements of growing a business is hiring and holding onto the right employees. A good rule of thumb is to be slow to hire and quick to fire. Unfortunately, not many business owners follow this advice. Instead, they hire the first person that reasonably fits the role before they've learned enough about that person. Then, when the employee doesn't work out, they hesitate to fire them no matter how many other team members are affected by the incompetence.
Learn how to stop the employee merry-go-round once and for all. In this session, you'll learn the steps it takes to effectively hire, train, manage and fire people to provide the maximum leverage for your business.

Barry Moltz, Entrepreneurship Expert: Keynote
Small business doctor, Barry Moltz explains what it takes to be a business innovator. Speaking about his own successes and failures with refreshing authenticity, Barry shares how he discovered that life was not the upward promotion per year climb his mother had promised him, but rather, a series of ups and downs. "That's the first skill we need to get if we're going to be innovative entrepreneurs," he points out. "The skill of resiliency."
Barry explains that while many people try their hand at running their own business, they often launch with misguided expectations. A belief in your idea and the willingness to see it fail should be top criteria for becoming an entrepreneur, yet people are frequently driven by other motives. "Statistically most people start their own business, because they hate their boss. How many people here hate their boss?" Barry asks the audience casually. "Don't raise your hand if your boss is here. That's not a good career move."
Demo Video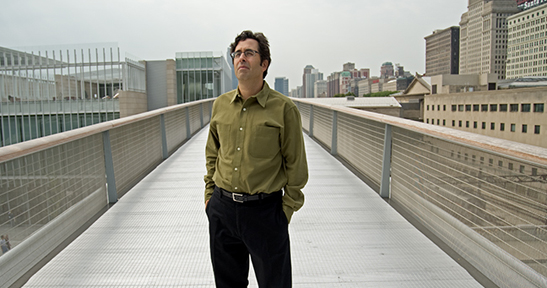 Barry Moltz gets businesses growing again by unlocking their long forgotten potential. Thanks to decades of entrepreneurial experience in his own business ventures as well as consulting countless other entrepreneurs, Barry has discovered the formula to get business owners "unstuck" and marching forward. He applies simple, strategic steps to facilitate change for entrepreneurs, and gets ... more