* Please note that while this speaker's specific speaking fee falls within the range posted above (for Continental U.S. based events), fees are subject to change. For current fee information or international event fees (which are generally 50-75% more than U.S based event fees), please contact us.
Top25 Speaker Voting

Barry Asmus needs 13 vote(s) to make it into the Top 25 speakers on Speaking.com!
Speaker Booking Tip
"Tip: speakers bureaus provide added value that you cannot get by booking speakers directly. "
For Event Planners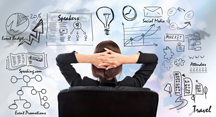 • Keynote Speaker Booking Toolkit.
• Booking a Celebrity Speaker.
• How to Find and Book the Right Speaker.
• Google+ Event Planning Forum.
• Tips for International Clients Booking U.S. Based Speakers.
Similar Speakers
Jerry Michalski

Business advisor and futurist, Jerry Michalski helps organizations navigate the transition from the consumer mass-marketing economy to the Relationship Economy, the new economic model driven…

David Pearce Snyder

Consulting Futurist David Pearce Snyder is a data-based forecaster whose thousands of seminars and workshops on strategic thinking have been attended by representatives from most…

Shawn Dubravac

As Chief Economist for the Consumer Electronics Association (CEA®), Dr. Shawn DuBravac is at the forefront of the latest consumer technology trends. An internationally sought-after…

This has been one of the most outstanding speaker agencies I have had in my 25+ years in the hospitality industry. They have helped my company secure speakers for years to the delight of my attendees. They have secured high profile speakers, even within the confines of a tight turnaround and an even tighter budget. I recommend their services without hesitation. They are truly leaders in their profession looking out for their clients: excellent is all I can say!
AHIMA
About SPEAKING.com
Established in 1994, we are exclusive agents for some of the world's leading experts, celebrities and professional speakers.
We offer event planners a fully staffed speaker logistics planning team, plus a personal SPEAKING.com Account Executive – a knowledgeable and trustworthy partner. We guarantee your satisfaction with your speaker and a smooth booking process.
Contact us today to book your favorite speaker.

"He has star power! He captivated the group."
Pricewaterhouse Coopers event booked by Speakers Platform

"Your passion and energy, combined with the insightful message you delivered, helped to make this years events the best ever. I also have to confess that you re-ignited my passion and interest in economics."
Bill Bohn, President and CEO, Associated Financial Group, LLC

"It is a blessing to hear someone articulate the truth in simple, elegant and humorous manner. I hope quoting you is a freebee, because I have been using some of you stories to educate those that need a dose of truth and a positive view of the great situation we all are living in."
Scott Thompson, Wesco International, Inc.

"I found your speech and comments invigorating. Probably because we are investing significantly in the growth around the world in the very countries and markets you talked about."
Randy Carson, Group President, Eaton Corporation

"I recently was fortunate to hear you speak at the Cardinal Health function in Columbus. I wanted to tell you how much I enjoyed your presentation. I agree with everything you said but could never say it so eloquently or funny."
Dom Palmo, VP/GM, Parmed Pharmaceuticals

"It is unlikely we will have a speaker this dynamic for a long time. His use of humor to illustrate complex economic principles in terms we mere mortals can understand was brilliant. I also thought the Omaha presenters did a great job in moving the program along at a good pace. I would rate this year a 6 on a scale of 5."
Member, Greater Omaha Chamber of Commerce

"You enlightened me to WHY America is and always will be the leader of health, wealth, prosperity, and freedom in the world. 8 years ago, when I saw you at the California Business Educators conference in LA, I made it a personal goal to someday have a conference large enough to have you speak to us. We realized that goal last Wednesday. The highlight of my life."
Doug Sleeter, CEO, Sleeter Group

"Wow. And that is an understatement. Your passion and inspiration flowed from every pore of your body. Your message rang strong, as if rung by the same bell as our founding fathers 231 years ago. Your vision, crystal clear and focused to a bright future for the USA and the world. Thank You."
Sanford Jay Barris, President, Business Marketing Services, Inc.

"Your remarks titled "Prospects for the American Economy" were greatly appreciated by our attendees. Your mix of humor, patriotism, and economic expertise was thoroughly enjoyed. The energy you brought forward in your presentation was also appreciated. It is obvious that you have a great passion for the subjects you covered, including agriculture."
Phillip Nelson, President, Illinois Farm Bureau

"We have been putting this meeting on for a number of years and had numerous speakers. In all those years, I have never had so many people come up to me and tell me what an incredible speaker we had. Virtually everyone I came in contact with made it a point to tell me this."
Craig Cowman, Senior V.P., Cardinal Health, Generic Product Management

"I absolutely love your enthusiasm. You really made me think about our economy, our freedom, and the connection we all have to each other and the economy."
David Murray,Laboratory Corporation of America

"I just hear Barry speak and was amazed. I have never heard complex global economic issues explained with human and so clearly."
Jesse Browning PE, RCDD, Cooke Douglas Farr Lemons

"I was deeply moved by your Tribute to America. Listening to your thoughts on the worldwide movement to titles and property rights was encouraging."
Hernando de Soto, President, Institute for Liberty and Democracy, Peru

"Thanks to Dr. Asmus for one of the most passionate, comprehensive and interesting presentations we've ever had at our annual meeting. "Well done" does not being to cover the gratitude for what he lend to the annual meeting."
Fred Grubbe, President & CEO, National Fraternal Congress of America

"To the Honorable Ion Illiescu, President of Romania: Thank you in advance for finding the time to meet with Dr. Barry Asmus. He is one of America's most articulate spokesmen for a free market economy."
Senator Jon Kyle, Arizona

"I have never heard a speaker who could combine today's news, with yesterday's lessons, and tomorrow's promise as well as you. The laughter, the standing ovation and thought-provoking commentary were bonuses."
Steve Powers, Senior V.P., American Express

"We have received "very" positive feedback. I think the standing ovation was a good clue to his reception and we did have several comments on how they enjoyed his talk."
Terree Wasley, Director, Entrepreneurial Services, Arizona State University

"You entertained them, made them think, made them laugh and ended the conference on a wonderful note."
Carol Brown, Virginia Hospital Research & Education Foundation

"I was particularly impression with how well you "worked the room" in your presentation-involving almost all the executives and tapping into their thinking for the benefit of all."
Joe Ferreira, The Concours Group

"Thanks so much for a great presentation at the Western Conference. Your clarity and exuberance created a kind of brain charge which caused me to think about what you were saying (sometimes it is tempting to tune out at conferences). I had great fun listening to your ideas."
Francie Boland, Blue Cross Blue Shield Western Conference

"On behalf of the American Bankers Association, thank you for delivering such an information packed eye-opening presentation on the economy at ABAs Annual Convention. We especially appreciate the time and effort you took to target your remarks specifically to the banking community."
Marisa J. Broka, Associate Director, Programs, American Bankers Association

"Please accept the belated thank you for the superb job you did at our Leadership Conference. You are a unique package! Outstanding credentials, obvious in-depth knowledge of economics and business and great platform skills. Your ability to make your audience have fun, while probing some very deep subjects are an outstanding combination. Your ability to quickly gain rapport with your audience is amazing."
Ron Willingham, Chairman, Integrity Systems

"Thank you very much for your presentation at our recent convention in Hawaii. I was trying to think of an adjective to describe the wonderful job you did for us. Enthusiastic, outstanding, dynamic – these just seem strong enough. Perhaps the comment from one of our members best sums it up – "Hes the best speaker I have ever heard – anywhere!" Thanks again."
Claire Brannen, Director of Education, American Consulting Engineers Council

"The enthusiasm you displayed and the expertise you conveyed were right on target. I can assure you, our members truly appreciate and always look forward to hearing from you… for they know you have a message to send, and it is sincere. Certainly, you were the key to our success and for that I am grateful."
Roland Arteaga, Defense Credit Union Council, Inc.

"It truly was an honor to have you with us for the 112th Annual convention of Kentucky Bankers Association and you did a wonderful job getting the group charged and receptive at the early morning hour."
Melba S. Stewart, Vice President, Kentucky Bankers Association

"Your presentation at the Million Dollar Round Tables Annual Meeting in Nashville was well presented – and very well received. In the process, you impacted careers and touched lives."
John J. Prast, CAE, LLIF, Million Dollar Round Table

"You certainly were a big part of our success and left our dealer organization with such a positive outlook on agriculture. Barry, you really hit a home run for us as a speaker and I very much enjoyed working with you."
Rick Thompson, Deere & Company

"We would like to express our sincere appreciation for your entertaining and informative presentation to our management staff…" The message was well received by the attendees but more importantly, you left each of our managers with a positive attitude and a new insight on the global economy and Hondas place in it."
Gary Kessler, Vice President, Human Resources and Administration, & Lenora Jackson, Senior Training Specialist, American Honda Motor Company, Inc.

"Your enthusiasm and "out of the box" thinking did just what we wanted. It challenged our attendees to think of the global economy, rather than the local or U.S. economy."
Richard M. Johnson, President and CEO, Wescor

"…expressing our thanks for your great presentation and contribution to the success of the Law Department Retreat."
David R. Carmichael, Senior Vice President, General Counsel, Pacific Life

"Just a brief note to try to convey all of the great feelings I have about what youve done for us. Ill start with a humble "thanks!" --- for teaching us, making us laugh, shed a few tears of joy, for making us think and for making us happy. Thanks for sharing your wisdom, enthusiasm, excitement and energy."
David Boyd, CMP Assistant Vice President, Agency Sales Promotion, Physicians Mutual Insurance Company

"Once in a while you run into a person that leaves a tremendous impression on you and an organization. I am pleased to say you did exactly that for the Far West Equipment Dealers Association convention."
R. Stanley Hill, Executive Vice President, Far West Equipment Dealers Association

"You held the audience in the palm of your hand for the length of your presentation. This is difficult to do with a group of experienced trucking executives. Seldom have I heard such unanimous approval of a presentation at our Convention."
Thomas C. Schumacher, Jr., Executive Vice President, California Trucking Association

"Wow what a great presentation Friday! You were the highlight of the participants day. Thank you so much for being available to shed light into a day designed to inspire participants to create a bold vision for education."
Bill Heitzman, The Heitzman Group Center for Executive Excellence

"My goodness, I simply do not know where to start to compliment you on your presentation to our sales and management group at our Scottsdale conference last week. Your message on the potential we each have, the power of private enterprise and your perspective on the global economic outlook was absolutely engaging."
Mike Lane, A.V.P., Director of Marketing, Cargill Salt Division

"It was a privilege to be a part of this exclusive event and to be enlightened and inspired by your presentation."
Douglas Ducey, President, Cold Stone Creamery

"Your energy and positive outlook are contagious. I found myself energized and motivated by an economist. What an achievement on your part!"
J. Michael Smithers, President, First National Bank

"…after having the pleasure of hearing you speak many times at the Leadership Conference, I had the Burger King National Franchisee Association bring you in for our Annual Convention in Washington, D.C."
John Gullo, Trustee, American Dream Foundation

"What an awesome presentation and such powerful meanings."
Athena Dorsey, Customer Council Liaison, United States Postal Service

"Thank you for once again bringing a great message to one of my groups wrapped up in the one and only Barry Asmus packaging of enthusiasm and creativity and tied together at the top with humor."
Nancy Critchfield, Manager, National Events, American Express

"You are a unique package. Outstanding credentials, obvious in-depth knowledge of economics and business and platform skills."
Ron Willingham, Chairman, Integrity Systems

"Your message on the potential we each have, the power of private enterprise and your perspective on the global economic outlook was absolutely engaging."
Mike Lane, A.V.P. Director of Marketing, Cargill Salt Division

"I know I speak for everyone who heard you when I say that I feel much better about the future of our great country after listening to you."
Rich Giles, Senior Vice President, First Command Financial Planning

"Thanks for Making a Difference with your MDRT audience. In the process, you impacted careers and touched lives."
John J. Prast, Executive Vice President, Million Dollar Round Table

"You certainly were a big part of our success and left our dealers organization with such a positive outlook on agriculture."
Richard Thompson, Deere and Company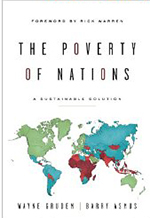 The Poverty of Nations
The whole world has a stake in the war against poverty and leaders across the globe are looking for a permanent solution. That's why economist Barry Asmus and theologian Wayne Grudem have teamed up to outline a robust proposal for fighting poverty on a national level. These two experts believe the solution lies in a comprehensive development plan that integrates the principles of a free market system with the Bible's teachings on social ethics. Speaking to the importance of personal freedom, the rule of law, private property, moral virtue, and education, this book offers a clear path for promoting economic prosperity and safeguarding a country's long-term stability—a sustainable solution for a world looking for the way forward.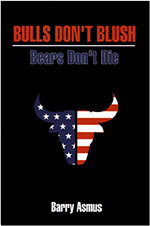 Bulls Don't Blush, Bears Don't Lie
Business expansions don't die. They are assassinated. Bulls discusses the implications of the infusers and destroyers of both wealth and poverty.
Part I discusses the reasons for a continued strong American business expansion. Part II explains we might transform the three costly burdens of social security, health care and education into competitive systems that work. And, Part III describes eleven of the most recognized countries in the world for their 21st century potential.
America's Economic Challenges and Opportunities
What will the 21st century look like for America? What are America's biggest challenges and opportunities? Can we retain the fundamental characteristics that have defined America's greatness? Dr. Asmus describes the three inviolable drivers of a free market economy as well as the three economic freedoms that produce remarkable prosperity.
Globalization and Emerging Markets
Dr. Asmus has 25 years experience with research organizations that economically monitor 180 countries for economic freedom and trade. Worldwide markets and sourcing opportunities make for an exciting future. His new 2013 book with Wayne Grudem, The Poverty of Nations, describes sustainable solutions for poor nations seeking growth and a new beginning.
Energy Powers the Economy
The Stone Age didn't end for lack of stones and neither will the fossil fuel age end for lack of energy. The economic implications of America's discovery of the four largest gas fields in the world through vertical and horizontal drilling and fracking are causing many economists to call it the game changer of the century. The U.S. is now the fastest growing energy producer on the planet. Add the positive geopolitical and wealth producing consequences and our economic future has brightened considerably.
Curing the Health Care Crisis
As The Affordable Care Act imposes $1 trillion of new taxes and another $716 billion from Medicare, the question is what are we getting in return for all of this? Unfavorable population demographics and skyrocketing health care costs only accentuate policies that expand the demand for care and do nothing to increase supply. Can we avoid a European future? The National Center for Policy Analysis believes we can.
Dr. Barry Asmus Keynote Speech
Dr. Asmus, expert economist and public speaker with 25 years' experience, lays out his belief in a free-market economic policy and the ways in which it benefits America. He tells his audience, "Freedom, not government spending, is the mainspring of economic prosperity. Freedom, not democracy, is a country's best investment. Entrepreneurial capitalism is an epic struggle with big government; only freedom and free markets can counterbalance an interventionist state."
Drawing on his own experience of visiting many companies across the United States, Dr. Asmus explains, "I have to tell you, as I travel across this country, I find the belief held very widely that even though the 12 recessions that preceded this will go all the way back to 1930 and the great depression… in every one of them, faulty monetary and fiscal policy [was to blame]."
Having taken his audience through the history of depressions in America, Dr. Asmus comes to the pervious big recession: "Trust me, nine out of ten people believe what I'm going to say: it's the market's fault, it's the bankers' fault, it's greed, it's realtors, it's whatever, it's the market's fault… all the other depressions were faulty monetary and fiscal policy, but not this one?"
Barry Asmus Keynote Speech
Keynote Speech