* Please note that while this speaker's specific speaking fee falls within the range posted above (for Continental U.S. based events), fees are subject to change. For current fee information or international event fees (which are generally 50-75% more than U.S based event fees), please contact us.
Top25 Speaker Voting

Arlene Blum needs 7 vote(s) to make it into the Top 25 speakers on Speaking.com!
Speaker Booking Tip
"Tip: ask your speaker to do a book signing or attend a VIP meal with your guests. "
For Event Planners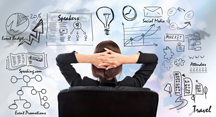 • Keynote Speaker Booking Toolkit.
• Booking a Celebrity Speaker.
• How to Find and Book the Right Speaker.
• Google+ Event Planning Forum.
• Tips for International Clients Booking U.S. Based Speakers.
Similar Speakers
Sharon Wood

Mount Everest was a culmination of an odyssey that began at age twelve when her father took her up her first mountain. By the time…

Robin Sieger

Originally from Scotland, he studied science at the University of Glasgow before going on to fulfill a childhood ambition by becoming a successful comedian, appearing…

Mallory Weggemann

Mallory Weggemann is an American Paralympic swimmer who became a paraplegic following a routine epidural to treat her back pain in 2008. Less than four…

Our Account Executive was a pleasure to work with to arrange our keynote presenter for the Sustainable Brands Sydney Conference. He was swift to respond and his communication was always clear. If I am looking for international speakers, I will think of SPEAKING.com in future.
Sustainable Brands
About SPEAKING.com
Established in 1994, we are exclusive agents for some of the world's leading experts, celebrities and professional speakers.
We offer event planners a fully staffed speaker logistics planning team, plus a personal SPEAKING.com Account Executive – a knowledgeable and trustworthy partner. We guarantee your satisfaction with your speaker and a smooth booking process.
Contact us today to book your favorite speaker.

"Thank you again for addressing our group of high-potential directors and executives at our leadership development program. We appreciated your mixed media presentation, as well as your personal authenticity, humor, and approachability as you told the story of your leadership moments, emphasizing values and vision. You also provided relevant stories about leading successfully while honoring diversity and in spite of adversity."
Anne Kurzenberger, Manager, Leadership Development, Lucent Technologies

"It's clear the spirit of your talk has been brought back into our workplace, as Galileans use your experiences and lessons as metaphors for the problems they encounter and solutions they seek."
Andy Danforth, VP, Human Resources, Galileo Laboratories, Santa Clara

"There are two facets to a talk by Arlene Blum. We are instantly struck by the warmth and poise of this tall, strong woman and then by the modesty evinced by her manner, to the extent that we come away thinking how pleasant and easy it all seemed. (We, too, could do it.)The other facet of her talks is the formidable courage, conviction and competence displayed in her leadership. It is a very auspicious day when Arlene Blum enters it for us."
Audrey H. Duane, The White Mountain School, Littleton, New Hampshire

"Your evening talk on The Great Himalayan Traverse was to quote one student, 'Outstanding. Arlene gave me inspiration to give my best toward everything I do. Best program I've been to in my three years at Caltech."
Julie Bolster, Director, The Caltech Y

"Your presentation of 'Women in High Places' at Hewlett-Packard's 1991 Technical Women's Conference was a smashing success! The audience really enjoyed your enthusiasm and your rapport with them was astounding. You used humor and realism so effectively that it was easy for the audience to translate your message into action. It must have been wonderful to receive a standing ovation from the more than 850 technical women attending the Conference. You were an inspiration to all of us."
Anita Doucet, Hewlett-Packard

"Your lecture received more acclaim and confirmation of wide range appeal than any other presentation we have had at Castilleja School. Senior students, seventh grade students, faculty, administrators and support staff – all were singing your praises."
Jeannine Martson, History Head, Castilleja School, Palo Alto

"Several people told me that your talk was their favorite lecture in the Wannaker Series since its inception five years ago. Your personal charisma, humor, courage, and honesty; the artistic slides; and the awesomeness of your achievements dazzled the audience. We want to thank you for the unforgettable experience you gave to our community, including allowing the honor of having you as a role model for ourselves."
Judith Solar, Dana Hall School, Wellesley, Massachusetts

"'Women in High Places' has eight to ten of the most beautiful slides one is ever likely to see, and indeed, someone in the audience asked if they weren't taken from an airplane."
Audrey H. Duane, The White Mountain School, Littleton, New Hampshire
Annapurna: A Woman′s Place
In this twentieth anniversary edition of Annapurna: A Woman′s Place, expedition leader Arlene Blum chronicles the dramatic story of leading the American Women′s Himalayan Expedition through storms, icefalls, avalanches, conflicts, and reconciliations -- all the way to the summit.
Order Here




Breaking Trail: A Climbing Life
By the author of the bestselling Annapurna:A Woman's Place

Arlene Blum defied the climbing establishment of the 1970s by leading the first all-female teams on successful ascents of Mt. McKinley and Annapurna, and was the first American woman to attempt Mt. Everest. At the same time, her ground-breaking scientific work challenged gender stereotypes in the academic community. With candor and humor, Blum recounts herjourney from an overprotected childhood in Chicago to the tops of some of the highest peaks on earth, and to a life lived on her own terms. Breaking Trail is a testament to the power of taking risks and pursuing dreams.
Order Here





Climbing Your Own Everests:  Leadership and Teamwork  
Climbing the world′s highest mountains is an excellent a model for achieving other extremely demanding objectives. Mountaineering requires total physical, intellectual and psychological commitment--and can yield the greatest rewards. Reaching the summit means standing on the top of the world with an ocean of white-capped peaks on every side and the clouds at your feet. Arlene Blum has had extensive experience in leading successful Himalayan expeditions and organizing other complex ventures.
Based on this experience, her lecture focuses on how to define worthwhile goals, manage logistics and finances, select a winning team, anticipate and solve problems, maximize successes, and overcome failures. Her presentation emphasizes decision making and group dynamics in stressful situations, and the leadership skills and vision needed to get a team to the top.
Dramatic stories of the Himalaya and the people who have climbed there combine with stunning slides for an unforgettable lecture.
High Places Around the World

Join Arlene for a unique-- never to be repeated-- adventure: 15 months of climbing and explorations in Africa, Asia, and New Zealand. From December 1971 to February 1973, Arlene and companions followed the summer around the world, up and down across the equator, doing consecutive mountaineering expeditions in eleven of the world′s major mountain ranges.
Some of the countries where they climbed -- Ethiopia, Afghanistan, Iran, Uganda - are now closed to Westerners or irreversibly altered. Highlights include five ascents in the legendary Mountains of the Moon-- glaciated peaks rising to 16,700 feet from the equatorial jungle of Uganda; climbs in the Alum Kuh range in the "Valley of the Assassins" in Iran; four first ascents of 15,000 foot peaks surrounding the Vale of Kashmir; and Noshaq, a 24,000 foot high peak in the remote Wakkhan corridor of Afghanistan.
These round-the world climbing adventures in remote, spectacular regions are documented by outstanding slides. It was Arlene′s first realization that seemingly impossible dreams can be accomplished by careful planning and determination.
The Great Himalayan Traverse Across the Himalaya and Beyond
During 1981 and l982, Arlene Blum and Hugh Swift were the first Westerners to make a traverse across the Great Himalayan Range of Bhutan, Nepal and India.  To do this epic trek they had to obtain special permits to cross politically sensitive areas, find a feasible route across 2000 miles of  high passes and rugged gorges, and plan and obtain in advance nearly all the food and equipment they would need for their nine month journey.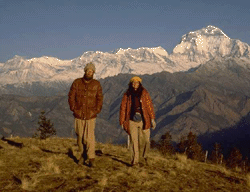 They began near the eastern border of Bhutan, a small Buddhist kingdom reminiscent of Shangri-La. Their journey continued over icy passes up to 19,000 feet high and into river valleys below 2,000 feet, gaining and losing an average of 3,000 feet each day. They reached Lamayuru Ladakh in India after extraordinary adventures amongst a diversity of peoples, cultures, plants and animals that is unsurpassed anywhere on this planet.
The Great Himalayan Traverse slide show consists of the best of more than 12,000 color slides Arlene took along the way. They are shown with two projectors and a dissolve, local music taped during the trek, and her personal narration.
Travel and Trekking in the Himalayas  
This introduction to Himalayan travel is designed for all those who dream of Himalayan adventure. Spectacular slides accompanied by traditional music transport us to this magical mountain world. An overview of the peoples, culture, religion, art, and history of the Himalaya will prepare prospective travelers for their upcoming trips. This information is also valuable to armchair travelers seeking a new perspective from which to view their own lives and society.
The presentation is based on the popular Himalayan Trekking and Travel Course taught by Arlene Blum at UC Berkeley since l982. It is available as an evening slide/lecture or as a comprehensive all day seminar tailored to the interests of the audience. Practical information such as how to prepare for the trip, choose food and equipment, select modes of travel, and stay healthy can be included.
Australia: the Great Barrier Reef
Arlene Blum -- known for her climbing and trekking adventures in high places -- has recently gone "down under" to explore one of the largest and least known wilderness areas on the planet: Australia′s Great Barrier Reef. In the vast quiet underwater wilderness are countless unexplored canyons, peaks and valleys teeming with aquatic life. Arlene tells memorable stories of the peculiar habits of the colorful reef-dwellers and her own adventures such as the dramatic rescue of a stranded dolphin.
"Diving is much less work than climbing," she reports. "Weightless below the waters, you can ascent vertical walls with a kick of your fins....In the mountains there always comes a time when I want to go back down to the world. I never want to come up from the reef."
Arlene′s presentation consists of stunning slides taken above and below the water in a two-projector dissolve format and accompanied by music composed especially for it.
Women in High Places: Annapurna and Other Climbs
In 1978, a team of ten women led by Arlene Blum made the first American ascent of Annapurna I (26,500′), a difficult and dangerous Himalayan giant. Arlene′s slides and personal narrative portray the major psychological and organizational challenges she overcame in putting together the expedition, leading the climb through storms and avalanches to the triumph of the summit, and dealing with the tragic deaths of two of her team members.
This classic Annapurna story is embedded in a fascinating and often humorous history of 175 years of climbing and exploration by women. Arlene tells of Maria Paradis who climbed Mt. Blanc in 1808 to get more business for her souvenir stand at the foot of the mountain; Alexandra David-Neel, who at the age of 56, walked 2,000 miles to Lhasa disguised as a Tibetan beggar woman; and of her own expeditions to McKinley, Everest and Bhrigupanth.
The lecture reveals the challenges and rewards of climbing the world′s highest mountains. Its beautiful slides are presented in a two projector-dissolve format with Himalayan and Western music.
Damsels on Denali: Leadership Lessons from the Roof of the World
In 1970, a brochure for a guided expedition up Denali stated: "Women can join the Denali expedition for a reduced price. They will be permitted to go as far as Base Camp to help with the cooking." At that time, many people-men and women alike-doubted women had the strength or skill to climb the to the highest point on the North American continent. 
Arlene Blum rose to this challenge and helped organize the first all woman expedition to Denali, of which she became the deputy leader. The Denali team persevered though storms and difficulties to reach the summit at 20,320 feet on July 6, 1970. When the team leader became critically ill just below the top, Arlene had to take over leadership of the expedition.
This lecture recounts the dramatic story of the successful rescue from near the top of Denali and the challenges and rewards of this historic ascent. It focuses on the leadership skills needed to get a team up and down one of the world's fiercest mountains - skills that can be transferred to other endeavors.
Across the Alps with Baby
In 1987 Arlene Blum, Rob Gomersall, and their four to six month-old daughter Annalise Gomersall Blum made a traverse from hut to hut "Across the Alps with Baby" through some of the Alpine regions of Austria, Italy, Switzerland and France.
This slide lecture about the challenges and rewards of parenthood in high places transports you to verdant alpine meadows flanked by towering Alpine peaks.
"Carrying Annalise and all her baby gear, nursing and diapering our way across the Alps was as much work as climbing Mount Everest," Arlene reports. "But it was lots more fun!"
Keynote Speech
Google Talks Presentation
Talking to an audience at the Google campus, Arlene Blum reminisces on her life in science and her vital work on banning carcinogenic chemicals, saying, "Scientists like to do theoretical things, nobody is interested in practical things. So he asked me would I look at it, and I was sufficiently depressed, so I said yes."
Arlene recalls how in the middle of the research she suddenly received an invitation to climb Everest: "This was 76, the bicentennial year, no American woman had ever even tried Everest, so I had this terrible choice, did I write this paper about the cancer-causing pyjamas or did I climb Mount Everest?"
With her usual determination, Arlene explains how she made the choice: "It was easy, I did both."
Keynote Speech at Reed College
Speech