* Please note that while this speaker's specific speaking fee falls within the range posted above (for Continental U.S. based events), fees are subject to change. For current fee information or international event fees (which are generally 50-75% more than U.S based event fees), please contact us.
Top25 Speaker Voting

Antonio Nieto-Rodriguez needs 7 vote(s) to make it into the Top 25 speakers on Speaking.com!
Speaker Booking Tip
"Tip: ask your speaker to do a book signing or attend a VIP meal with your guests. "
For Event Planners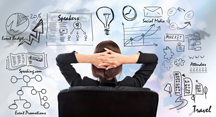 • Keynote Speaker Booking Toolkit.
• Booking a Celebrity Speaker.
• How to Find and Book the Right Speaker.
• Google+ Event Planning Forum.
• Tips for International Clients Booking U.S. Based Speakers.
Similar Speakers
Rana Florida

When the world's leading corporations need direction or winning market strategies, they turn to Rana Florida, the CEO of the Creative Class Group. The influential…

Dennis Snow

Customer experience expert, Dennis Snow shows organizations across all industries how to stand out from their competition by delivering world class service. For 20 years,…

Thomas Kolditz

Retired Brigadier General Tom Kolditz is an internationally recognized expert on crisis leadership and leadership in extreme contexts. His time as a Leader Development Expert…

SPEAKING.com does a wonderful job! Our AE always responds promptly and is very professional, thank you!
AlphaNet
About SPEAKING.com
Established in 1994, we are exclusive agents for some of the world's leading experts, celebrities and professional speakers.
We offer event planners a fully staffed speaker logistics planning team, plus a personal SPEAKING.com Account Executive – a knowledgeable and trustworthy partner. We guarantee your satisfaction with your speaker and a smooth booking process.
Contact us today to book your favorite speaker.

"Antonio was a keynote speaker at our top 300 managers conference we recently organized, and attendees unanimously acclaimed his intellectual sharpness, oratorical dexterity and interpersonal skills. Antonio has a knack for breaking complex topics down into easy-to-grasp subjects. In addition, participants also appreciated his ability to apply management and strategy topics to real-life challenges, shedding light on quick yet effective ways to efficiently solve everyday problems. In short: Antonio is a brilliant, savvy presenter whom I would like to hear again and again and again."
- Communications Manager, ING BANK
"Antonio is an excellent speaker and communicator. He recently presented "Selling Project Portfolio Management to the CXO team by making the link to Strategy Execution" to my project management community which was very well received. Antonio was articulate, informative and extremely insightful. He was extremely well prepared and very knowledgeable on the subject matter. I would highly recommend Antonio as a speaker on project management topics."
Advisory Project Manager / PM Knowledge Network Lead, IBM
"Antonio was a keynote speaker at our yearly summit in 2014. His speaking session was the latest one session after three days of solid presentation. It's 16:30 and the crowd was exhausted... Antonio gets on the stage… He starts to tell his story... It takes thee minutes to capture the entire crowd! With simplicity and lot of humor he got all the attention of the audience, delivered his messages, provided worth full thoughts, and finished his presentation voted by everybody as the best speaker of the conference… (by far)..."
Senior Strategy, Marketing & Business Development executive, Qatar Petroleum
"I had the pleasure of seeing Antonio speak at our annual convention. where he had the crucial speaking slot at the very end of the day. Antonio's presentation style is perfect for this slot - he has precisely the right combination of humour, passion and content knowledge to completely capture the audience's attention. If you have the chance to see Antonio speak, do so! His wealth of experience combined with his charismatic presentation style is truly inspirational."
- People and Organisational Change Manager, Johnson & Johnson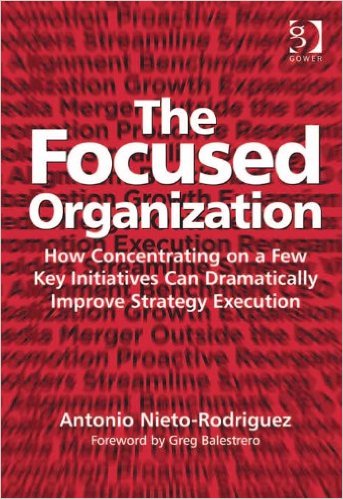 The Focused Organization
How concentrating in just a few key initiatives can dramatically improve strategy execution
Most aptly named The Focused Organization, Antonio Nieto-Rodriguez' book discusses how fewer, more effectively elected and managed projects are the key to strategy execution and long-term success and how project management is a key in this process.
Organizations that focus on just a few key initiatives are able to perform significantly better than organizations trying to achieve too many objectives. This focused approach not only impacts organizations financially but also assists them in achieving strategic objectives, motivating staff and in this way resulting in profitable organizations.

To Focus or not to Focus?
It takes just 7 seconds for our brain to decide whether to pay attention, to listen, to take action…or not. This decision is often made unconsciously; either our brain connects with the topic or not. But when the connection happens, then we are in the 'bubble', in the 'zone' – we are FOCUSED. Antonio's experience straddles business and academia and he knows a thing or two about being focused.
Other suggested speaking topics include:
Selling Project Management to the Executive Team
Successful Strategy Execution
How to Manage and Benefit from Change

Antonio Nieto Rodriguez, Business Strategist: TEDxULB
Antonio Nieto-Rodriguez discloses why it is so difficult for our brain to focus more on the positive side of life and what we can do to steer our mind away from its masochistic tendencies. Revealing that our brain decides to focus or ignore a topic in as little as seven seconds, Mr. Nieto-Rodriguez explains that more often than not, our minds continue to wander from theme to theme until they find a negative memory or thought to dwell on.
Thinking for the worse, as it turns out, is a survival trait that dates back to prehistoric times, when our ancestors needed to be constantly on edge in order to survive a world of nonstop danger. While our genetics may be slow to catch up with our environment, Mr. Nieto-Rodriguez claims, "Everyone can train their brains to look at the positive side of change...With a positive mindset while you are going through some of the most painful changes of your life, you can learn, you can grow, and you can become a better person."
Antonio Nieto Rodriguez, Business Strategist: Keynote
Antonio Nieto Rodriguez, Business Strategist: Keynote in Spanish