* Please note that while this speaker's specific speaking fee falls within the range posted above (for Continental U.S. based events), fees are subject to change. For current fee information or international event fees (which are generally 50-75% more than U.S based event fees), please contact us.
Top25 Speaker Voting

Anil Gupta needs 5 vote(s) to make it into the Top 25 speakers on Speaking.com!
Speaker Booking Tip
"Tip: speakers bureaus can provide: speaker fee negotiation, insurance, smooth logistics and value add-ons such as extra sessions. "
For Event Planners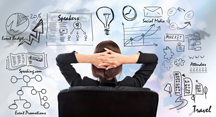 • Keynote Speaker Booking Toolkit.
• Booking a Celebrity Speaker.
• How to Find and Book the Right Speaker.
• Google+ Event Planning Forum.
• Tips for International Clients Booking U.S. Based Speakers.
Similar Speakers
Ichiro Fujisaki

Having served as Japan's top diplomat for issues concerning economy, trade, politics, and security, the honorable Ichiro Fujisaki is one of the most well connected…

Haiyan Wang

Haiyan Wang specializes in global strategy, executive education, management consulting, and doing business in China and India. As Managing Partner of China India Institute, she…

Mary O Devereaux

Dr. Mary O'Hara-Devereaux holds degrees from the Universities of Michigan and California as well as Fielding Graduate University. She has taught at the University of…

This has been one of the most outstanding speaker agencies I have had in my 25+ years in the hospitality industry. They have helped my company secure speakers for years to the delight of my attendees. They have secured high profile speakers, even within the confines of a tight turnaround and an even tighter budget. I recommend their services without hesitation. They are truly leaders in their profession looking out for their clients: excellent is all I can say!
AHIMA
About SPEAKING.com
Established in 1994, we are exclusive agents for some of the world's leading experts, celebrities and professional speakers.
We offer event planners a fully staffed speaker logistics planning team, plus a personal SPEAKING.com Account Executive – a knowledgeable and trustworthy partner. We guarantee your satisfaction with your speaker and a smooth booking process.
Contact us today to book your favorite speaker.

"Dear Anil, your speech was clearly the talk of the CSLE for the entire next day. You accomplished precisely what we had hoped for: to shift the perception of our members with regards to their strategies for BRIC regions. You also advanced pragmatic wisdom for our crowd, particularly with what I considered the quote of the speech: Cut the chains and you become free, cut the roots and you die. I believe those words will be carried by our audience in perpetuity.
Again, we thank you so much for your fantastic contribution, for delivering a perfect presentation, for educating everyone of the realities of China and India emergence, and for making our CSLE event more special. "
Conference Chair, Thought Leadership Institute
"Anil, your keynote to the (the senior executive group) was terrific! You absolutely captured people′s attention as they realized how different the international marketplace will continue to look in the future. We spent Friday morning talking about the implications of your information in a session facilitated by some of our leaders. "
Senior HR executive, one of the world's top three hotel chains
"Anil, terrific job with your presentation! Here are some of the illustrative comments: Insightful…Very thought provoking…Open, candid perspective on the subject…Excellent. A mind shift. Insightful & provocative. Helped us see around corners…One of the best opening speakers…A great global perspective, well prepared and very thought provoking…Very thought provoking discussion…True global view – not common @ our company…Fascinating! Very interesting analysis. I want more like this….Stimulating…Very interesting & provocative…Very appropriate & timely…One of our best presentations in years…Outstanding – challenging…A real eye opener for the challenges that lie ahead…Leading edge thinking – very thought provoking…Excellent speaker with great clarity. "
Chief Learning Officer, one of the world's largest engineering and construction services companies
"Anil, your session was very well received. The knowledge you conveyed in a short period of time was impressive. You made some very impactful observations about a US/European company pursuing the Indian market with current global products and services e.g. a solution in search of a problem without understanding the markets in India. This lead to a very stimulating discussion after you left. Thanks for leading a stimulating session. "
Executive Coach and Senior Consultant to CEO, one of the world's largest manufacturers of analytical instruments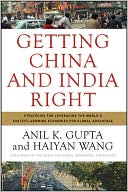 Getting China and India Right: Strategies for Leveraging the World′s Fastest-Growing Economies for Global Advantage
"The best book by far to analyze how the rise of China and India will fundamentally reshape global strategies."
—Mark J. Penn, CEO, Burson Marsteller; author of
Microtrends
; adviser to Bill Clinton, Tony Blair, and Bill Gates
"Crisp. An insightful guide to survival and success in the new era."
- Wim Elfrink, EVP and chief globalization officer, Cisco Systems
"Will inspire every global CEO to re-examine their China and India strategy."
—William V. Hickey, CEO, Sealed Air Corporation
"Timely, comprehensive, insightful, richly documented, and a superb guide."
- Edwin D. Fuller, president, Marriott Lodging-International
"Forceful. Practical advice, illuminating evidence—a compelling read."
—Ravi Venkatesan, chairman, Microsoft India
Order Here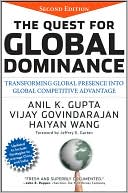 Quest for Global Dominance: Transforming Global Presence into Global Competitive Advantage
Anil K. Gupta, Vijay Govindarajan, and Haiyan Wang are among the most distinguished experts in the field of globalization. In The Quest for Global Dominance they present the lessons from their twenty-year study of over two hundred corporations. They argue that, in order for a company to create and maintain its position as a globally dominant player, executives must ensure that their company leads its industry in the following four essential tasks:
Identifying market opportunities worldwide and pursuing them by establishing the necessary presence in all key markets
Converting global presence into global competitive advantage by identifying and developing the opportunities for value creation that global presence offers
Cultivating a global mindset by viewing cultural and geographic diversity as an opportunity, not just a challenge
Leveraging the rise of emerging markets especially China and India to transform the company′s growth prospects, global cost structure, and pace of innovation
Order Here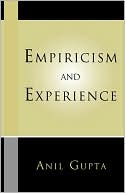 Empiricism and Experience
This book offers a novel account of the relationship of experience to knowledge. The account builds on the intuitive idea that our ordinary perceptual judgments are not autonomous, that an interdependence obtains between our view of the world and our perceptual judgments. Anil Gupta shows in this important study that this interdependence is the key to a satisfactory account of experience. He uses tools from logic and the philosophy of language to argue that his account of experience makes available an attractive and feasible empiricism.
Order Here
Global Strategy in the Age of China and India
The rise of China and India is a game-changing phenomenon. Gupta talks about why China and India are the only two countries in the world that simultaneously constitute four game-changing realities: mega-markets for almost every product and service, platforms to dramatically reduce a company′s global cost structure, platforms to significantly boost a company′s global technology and innovation base, and springboards for the emergence of new fearsome global competitors. He then outlines how companies can leverage the market and the resource opportunities presented by the China and India phenomenon to achieve global dominance within their particular industries.
Changing the Rules of the Global Game: Is Your Company A Rule Maker or A Rule Taker?
Gupta talks about why every company must cultivate a bias for changing the rules by which it plays the global game within its industry. He then shares the logic that companies can use to reinvent the rules of the game by rethinking answers to the three classic questions for every business: How can we dramatically redefine who our target customers are? How can we dramatically reinvent the value that we should be delivering to our customers? And, how can we dramatically redesign the end-to-end value chain architecture in order to create and deliver this value?
Building and Exploiting Global Presence: The Quest for Global Dominance: Transforming Global Presence Into Global Competitive Advantage
Gupta talks about the key questions that business leaders must address in order to develop winning strategies to go global and to transform global presence into global advantage. He offers conceptual frameworks that executives can use to answer these questions and illustrates these frameworks with compelling examples.
Cultivating A Global Mindset
Individuals differ in how they sense and interpret the world around them. So do organizations. And, these differences matter. Gupta shares his insights about why far too many companies are blind to the ongoing transformation of the global economy and the real opportunities and challenges resulting from this transformation. He offers concrete guidelines that individuals and companies can use to develop a global mindset. The development of a global mindset requires not only an openness to and knowledge of diversity across cultures and markets but also the ability to integrate across this diversity.
Leveraging Synergies Across Businesses
Capturing synergies across businesses is one of the hardest tasks for most CEOs. Gupta shares insights from his research and consulting experience about why most companies talk incessantly about the benefits of synergy but find it very hard to actually realize these benefits. He talks about how companies can sidestep three common pitfalls in the pursuit of synergies: assuming that just because two businesses have something in common, there must be synergies; ignoring the possibility that alliances between independent companies may sometimes be more effective and efficient than internal coordination between peer business units; and, looking only at the potential benefits while ignoring the costs associated with trying to realize synergies.

Anil K. Gupta on Innovation through Globalization
"If two decades ago you did a search for India- it would come up with India-Pakistan, not India-China," says Anil Gupta as he outlines the astonishing rise of the Indian economy and the ways in which this growth can be leveraged. He outlines the astonishing size of the potential market: "In India now there are 800 or 900 million adults, how many of them three years from now may have smart phones? 700 million."
Anil Gupta Interview
Anil Gupta: Speech Excerpt
Keynote Speech