* Please note that while this speaker's specific speaking fee falls within the range posted above (for Continental U.S. based events), fees are subject to change. For current fee information or international event fees (which are generally 50-75% more than U.S based event fees), please contact us.
Top25 Speaker Voting

Andy Core needs 9 vote(s) to make it into the Top 25 speakers on Speaking.com!
Speaker Booking Tip
"Tip: speakers bureaus provide added value that you cannot get by booking speakers directly. "
For Event Planners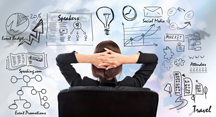 • Keynote Speaker Booking Toolkit.
• Booking a Celebrity Speaker.
• How to Find and Book the Right Speaker.
• Google+ Event Planning Forum.
• Tips for International Clients Booking U.S. Based Speakers.
Similar Speakers
Joanne Lichten

Known as "America's On-The-Go Health Guru", Dr. Jo Lichten has presented over 1,000 keynotes and programs for busy professional adults looking to boost their energy,…

Tim Wilkins

Tim Wilkins is a stand-up comedian, TV and radio personality, writer and professional speaker who has been active for more than 20 years. He has…

Zonya Foco

As an author, TV host, and national speaker, Zonya Foco is leading America in the fight against obesity, diabetes, cancer, and heart disease through smart…

Our event was what I would call 'over the top'... The survey results were at 92% very favorable. The speakers formed such a good relationship with myself and others at the conference. I am confident we will bring them back to do more. I will definitely contact you when we are in need of additional services. You have been the best!
American Express
About SPEAKING.com
Established in 1994, we are exclusive agents for some of the world's leading experts, celebrities and professional speakers.
We offer event planners a fully staffed speaker logistics planning team, plus a personal SPEAKING.com Account Executive – a knowledgeable and trustworthy partner. We guarantee your satisfaction with your speaker and a smooth booking process.
Contact us today to book your favorite speaker.

"As you know, this was the first time we have brought a speaker back to repeat as our Keynote speaker on the topic of Wellness and Nutrition. But based on last year, I know our team would resonate with your presentation, but I was taken off guard by the number of people that came up to you afterward with stories of putting your ideas into action. Many of our team members reported dramatic improvement in their health, attitudes and their motivation to improve themselves, both at work and home.

Your message and style of delivery resonates on a deep and important level with people. It′s real, timely and addresses something we all experience daily - the need and want to improve ourselves, but often not feeling like we can. You provide reasonable and encouraging ideas and tools that help us bridge the gap between knowing what we should do and doing more of what really counts."
Gwinnett County Public Schools
(Event booked by Speakers Platform)

"Andy, saying your exceeded expectations is an understatement. The way you reach out to the audience shows you are a professional in every sense. If every speaker had your energy and insight my world would be a much simpler place. I look forward to working with you in the future."
Joe Skarda,
Goggins, Inc.

"Andy, everyone had a wonderful time and left the seminar very motivated! I commend you on getting through to a tough crowd and I look forward to working with you in the future."
Michelle Neville,
Marketing Division, Tyson Foods, Inc.

"Your lecture was a refreshing change for the group and really propelled the success of the event. Thank you for your enthusiasm!"
Shay E. Hopper,
Event Planner, McDonald Eye Associates

"We have been doing Diabetes Alert for 15 years and you are the best speaker we have ever used. You honestly connected with the group and it showed in the comments I received. You are definitely our top choice for next year. Additionally, I personally appreciated your support in promoting the event and our vendors. Thank you for helping make this program a success."
Pam Laney,
R.D., Event Planner

CORPORATE CLIENTS:

Abbott Laboratories
Arkansas Edu Television Network
Barclay′s Bank
Beaches Resorts
Dayspring Cards
California State University
Coldwell Banker
Intel
Kersh Wellness
Michels Corporation
Mine Safety and Health Admin
NaturaLawn of America
Newell Rubbermaid
Ross Consumer Products
Rockline Industries
The Clorox Company
The Gillette Company
Tyson Foods
University of Arkansas
University of Tennessee
Unilever
U.S. Dept of Labor
Vivendi Universal Games

HEALTHCARE CLIENTS:

American Cancer Society
Arkansas Dept of Health
Barnes Jewish Medical
Coalition for a Healthy and Active America
Covenant Healthcare
MANA
Mercy Health System
McDonald Eye Associates
The Maxillofacial Surgery Center

ASSOCIATION CLIENTS:

Academy of Interdisciplinary Dentofacial Therapy
Activate Omaha!
American Heart
American Society of Association Executives
Arkansas Cancer Coalition
Arkansas Governors Council on Fitness
Arkansas Public Health
Arkansas Psychological
Arkansas Realtors
Arkansas Society of Assn Executives
Building Operators and Managers (BOMA)
Community Health Centers
Diabetes Alert!
Exhibitor Show
Exhibitor Show Fastrack
Healthcare Convention and Exhibitors
Holmes Safty
International Assoc of Convention Centers
Mega-Metro Conference
National Speakers
NOARK
Society of Gov Meeting Professionals
Tennessee Cancer Coalition
Tennessee Public Health
World WIT
Life Balance - Redefining Humanly Possible
Today′s working culture can have you constantly running 90mph, hair on fire. Tomorrow will get faster. The good news, is that what you yearn for - more balance in your life - is actually the solution to your more with less dilemma. In Andy′s program, you will learn how to improve your work-life balance, productivity, health, and abilty to stay motivated in turbulent times.
Here′s what else you′ll get:
18 IPA (Ideas per hour) that end with a 24 hour step-by-step blueprint to winning the "more with less" challenge.
4 Core Principles for running 90 mph with your hair on fire and living healthy.
A laugh every 37 seconds.
1 Core Truth. Improving your work-life balance is the foundation to improving everything.
Stress Right – How to better dodge, withstand and use stress to your advantage
Even though stress is called a "silent killer," most people know that it:
Can cost an organization $7500 per worker, per year (if they make at least $25/hr)
Is likely behind 9 out of 10 visits to primary care physicians
Is the #1 cause of lower back pain
Worsens the top 7 killers of both men and women
Makes life way harder than it should be
But what most people don′t know, is what to do about it. In this program, you will learn what is really behind many of the problems facing your organization and you personally. Can you beat stress? You bet. Learning to Stress Right will enable you to:
Take four "must do" steps that turns stress into positive energy
Maximize your adrenalin, but manage it so you do not "hit the wall"
Significantly reduce the hormone that makes you want to strangle people
Plug in a pre-sleep ritual that makes you sleep like a log
Beat stress eating and other negative thought related patterns
Keep family and friends happy when you are busy
Learn new patterns that makes healthy choices automatic
Sales Energy - Having "the Juice" to Get & Keep More Clients
Objective for this Keynote or workshop:
Sales Professionals will create maximal, sustainable and motivated performance by using proven ideas to improve their daily system. Bottom line, this program creates more capable Sales Professionals who generate more revenue for themselves and for your company.
The benefits of this program – your people will know:
How to out pace their competitors by maximizing their energy level, attitude and ability to be "on their game" daily – including skills proven by NASA that improve productivity by 47% from 3-5PM.
How to be in the mental and physical state that rapidly builds trust with prospects and referral Sources.
The Science of Peaking and how Opportunity + Energy Drumpfs Time Management seven days a week.
What a top Sales Professional's best day looks like and a step-by-step blueprint to plan to adapt that day to their life.
Why they don′t do what they know they should to grow their business... and how to get on with it.
How to get off the "I wish I could spend more time with my family" treadmill and make personal regeneration a competitive advantage.
How to maximize deep sleep so that you can still be "on your game" with limited sleep time.
Your Sales Professionals will be able to:
Convert more contacts into appointments due to increased energy, motivation and focus.
Convert more appointments into clients by bringing the best version of themselves to more of those opportunities.
Enhance customer service because they really can "do more with less."
Capitalize on more opportunities by reducing the need to miss work.
The bottom line – after this program your Sales Professionals will know how to achieve greater professional success, personal significance and do so without burning themselves out in the process.
Wellness Engagement - What it takes to effectively pitch, implement and sustain a successful worksite wellness program
Regardless of what the future holds for healthcare, worksite wellness programs are and will continue to be critical to sustaining healthcare benefits, not to mention profitable companies. The big question is not, "Should I implement a worksite wellness program," but rather:
What does it take to effectively and persuasively pitch wellness to your stake holders?
After you get the yes, how do you set up your program so that you maximize participation and ROI?
Then, after the honeymoon period is over, what must you do to ensure your program continues to grow versus experiencing a steady decline in participation and the slow, painful death experienced by most worksite wellness programs?
In this "dig in and get your hands dirty" workshop, wellness consultant Andy Core, M.S. will give you doable, tactical answers to those questions, plus insights into his experience with companies like Gillette, Wal-Mart, Unilever, Clorox, Coldwell Banker, the U.S. Army and many others.

Andy Core Speech
Humorously interpreting a typical day at the office, Andy Core examines why we don't do the things that we know we should. He puts our choices in context connecting them to the greater history of decisions and habits we've made and formed during our lives.
"A lot of experts say, 'Seriously, people why don't you choose that watercress salad instead of that Chicago-style deep pan pizza?' because they're talking about making choices in a vacuum," Andy states. "All these decisions throughout your day and the days previous have built up this behavioral momentum driving you a certain direction...It's great news because you can change those patterns, you can change that momentum, and drive yourself the other direction."
Andy Core - Prevention Motivation