* Please note that while this speaker's specific speaking fee falls within the range posted above (for Continental U.S. based events), fees are subject to change. For current fee information or international event fees (which are generally 50-75% more than U.S based event fees), please contact us.
Top25 Speaker Voting

AmyK Hutchens needs 7 vote(s) to make it into the Top 25 speakers on Speaking.com!
Speaker Booking Tip
"Tip: some speakers might provide one of their popular book titles as a free gift to your audience. "
For Event Planners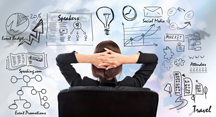 • Keynote Speaker Booking Toolkit.
• Booking a Celebrity Speaker.
• How to Find and Book the Right Speaker.
• Google+ Event Planning Forum.
• Tips for International Clients Booking U.S. Based Speakers.
Similar Speakers
Ty Bennett

Ty Bennett is one of the youngest ever recipients to become a Certified Speaking Professional, the benchmark for the best speakers in the world that…

Sam Parker

Leadership authority, Sam Parker is the co-founder of InspireYourPeople.com and the author of 212° the extra degree, the groundbreaking book that has sold over 1…

Nick Morgan

Time after time, the country's most powerful business leaders and politicians turn to Nick Morgan to help them write and deliver world-changing speeches and presentations.…

Our event was what I would call 'over the top'... The survey results were at 92% very favorable. The speakers formed such a good relationship with myself and others at the conference. I am confident we will bring them back to do more. I will definitely contact you when we are in need of additional services. You have been the best!
American Express
About SPEAKING.com
Established in 1994, we are exclusive agents for some of the world's leading experts, celebrities and professional speakers.
We offer event planners a fully staffed speaker logistics planning team, plus a personal SPEAKING.com Account Executive – a knowledgeable and trustworthy partner. We guarantee your satisfaction with your speaker and a smooth booking process.
Contact us today to book your favorite speaker.

"We had the distinct pleasure of having AmyK Hutchens participate in the FBA 2nd Annual Women in Banking Conference and make a fantastic presentation to the Florida women executive attendees. She did an excellent job and had everyone's rapt attention throughout her presentation. She received the highest rating on the evaluations of all the speakers. I highly recommend AmyK to any meeting planner who wants to give their audience a high quality, professional presentation with tangible and useful ideas to take away and use in their offices the next day."
- Peter J. Brokaw, Senior Vice President of Education, Florida Bankers Association
"AmyK is a one-of-a-kind speaker and she was the highest rated speaker of our entire conference! Her "Ignite Brilliance in Your Innovation" session at our supply chain conference was exhilarating, refreshing and most of all, thought provoking. AmyK asked provocative questions to spark creative problem solving, she shared the differences between creativity and innovation and showed how smart leaders can create systems to improve individual and company performance. It was an eye-opening experience to learn how all of us can tap into more creative and innovative thinking and behaviors. If you are looking to add tremendous value to your team or to an event, engaging AmyK is a sure win!"
- Rhett Asher, Vice President, Asset Protection, Data Security & Crisis Management, Food Marketing Institute
"Thank you, thank you, thank you!!! I can't begin to tell you how MANY positive remarks I heard about your session. Probably the best was, "I would have stayed three more hours." So many people got so much out of today. Thank you so much for providing what many folks indicated was the best presentation in which they have participated in years!!! I look forward to working with you again!"
- Janay Rickwalder, Vice President, Marketing, Communications and Membership, National Pest Management Association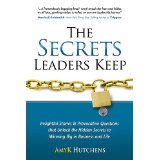 Secrets Leaders Keep
What Does It Take To Win BIG in Business and Life? In this landmark book, AmyK tackles the many issues that leaders face but are afraid to talk about. Through creative character monologues and provocative questions, AmyK masterfully exposes the innermost secrets and fears of today's leaders. With gripping, dramatic and often hilarious stories, she might make you wonder if she's writing about you! And yes, she is...sort of. Having worked closely with numerous leaders as a consultant and confidant, AmyK was privileged to witness the inner obstacles leaders face that can short-circuit success, and she understands how best to overcome them. It is by defining and discussing these secret roadblocks that the solutions become apparent and transformation can happen. AmyK's unique story-telling approach reveals secrets that most leaders would not normally share - secrets about their politics, philosophies and perceptions. Secrets about who they are, how they play, why they lead in a certain way, and secrets about what prevents them from leading more effectively. Each story is a creative amalgamation representing themes and patterns AmyK witnessed while working with executives from hundreds of companies worldwide over the past twenty years. If you have any doubts about how best to actualize your brilliance and maximize your potential, then dive into these leaders' secrets and discover you're not alone.
IGNITE BRILLIANCE in your leadership
What's the secret of brilliant leadership? Will your current workforce be the solution or the problem in America's future? What questions should you be asking to drive higher performance & productivity and a culture of excellence? How can leaders be a catalyst for igniting brilliance in their teams and creating unprecedented competitive advantages as well as profits?
Leadership happens one conversation at a time. You are responsible for the quality of this conversation. Through humor, insight and experience, AmyK provides leadership tools that have immediate practical applications for increasing performance and productivity levels in individuals and teams.
AmyK shares the 2 critical elements leaders must "sell" each & every day; the 5 questions leaders need to ask to best influence and foster productive behaviors; how to create and retain high performers; and how to grow a healthy, profitable organization.
IGNITE BRILLIANCE in your creativity & innovation
It's time to THINK DIFFERENTLY! After several years of cloudy skies, executives are actively shifting from survival mode and risk aversion to seeking off-the-chart growth and game-changing behavior.
In this highly interactive and engaging address, AmyK will share how to develop an innovative strategy for your company that involves visionary leadership and bold ideas that make a lasting impact. Does your company have the right skills to take on tomorrow? Do your people possess the behaviors necessary to create a culture that fosters innovation and generates long-term growth? What's the secret to getting your next great idea? AmyK shares how to generate more creative ideas and how to take these ideas to market...fast!
IGNITE BRILLIANCE in your sales
Instead of complaining that you need more sales, ask your sales team, "How do we define a great client relationship?" Incorporating neuro-science, AmyK shares questioning techniques and tools to increase the productivity of your sales system from lead generation to check received.
Learn how every successful sale is closed with 3 steps inside the brain; the #1 Most Effective Sales Conversation; the 4 questions every prospect must be asked; the 3 insights you should know about each and every customer and why an objection is just an opening to close!
IGNITE BRILLIANCE in your story
What does it take to be a brilliant, happy leader? Who are you behind the mask? What's your story? What if you refine or even rewrite your story to create an even bigger, bolder more brilliant legacy with your life?
AmyK exposes the secrets leaders keep, sheds light on the fears leaders face, and shares practical steps to choosing and crafting stories that drive better behaviors and more profitable results.
Held back by limiting beliefs? Break through your thinking patterns and shape a stronger, more compelling future. Tired of the endless grind or just weary from the constantly moving finish line? With 1700+ presentations to over 45,000 executives around the globe, AmyK will transform your perspective on how smart leaders write their own narrative for living significantly meaningful, energized lives.

AmyK Hutchens, Business Strategist: Keynote Excerpts
AmyK Hutchens challenges leaders to search their identities and craft a narrative that will rally greatness and build the foundation of a brilliant legacy. Through a theatrical display of four characters inspired by previous think tank clients, she shares the secrets leaders keep and fears they hold back, prompting the audience to rethink how they choose to frame themselves to their company and public.
However, the one issue all her characters bring to the stage is the difference between smart leaders and brilliant leaders: smart leaders know things, but brilliant leaders question what they know, and that is the first step to transforming followers. "My favorite all time business formula," she shares, "Change the thinking, change the behavior, change the result."
AmyK Hutchens, Business Strategist: Interview
AmyK Hutchens, Business Strategist: Speech Excerpts