* Please note that while this speaker's specific speaking fee falls within the range posted above (for Continental U.S. based events), fees are subject to change. For current fee information or international event fees (which are generally 50-75% more than U.S based event fees), please contact us.
Top25 Speaker Voting

Alan Hobson needs 7 vote(s) to make it into the Top 25 speakers on Speaking.com!
Speaker Booking Tip
"Tip: some speakers might provide one of their popular book titles as a free gift to your audience. "
For Event Planners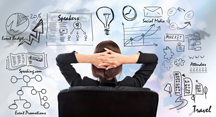 • Keynote Speaker Booking Toolkit.
• Booking a Celebrity Speaker.
• How to Find and Book the Right Speaker.
• Google+ Event Planning Forum.
• Tips for International Clients Booking U.S. Based Speakers.
Similar Speakers
Peg Neuhauser

Since publishing her now classic book Tribal Warfare in Organizations, Peg Neuhauser has become one of the most sought-out experts in conflict resolution, mediation, and…

Yossi Ghinsberg

Isolated in the Amazonian jungle after his raft went over a waterfall, Yossi Ghinsberg should have perished. Instead the Israeli, a 22-year-old youth at the…

Murray Banks

Murray Banks combines his natural flair as a speaker with the skills of an experienced educator who has taught at every level from grade school…

Our agent was great to work with. Very easy to reach when needed and promptly returned messages. Thank you for making our event such a big success, we are looking forward to working with you again soon!
American Lung Association
About SPEAKING.com
Established in 1994, we are exclusive agents for some of the world's leading experts, celebrities and professional speakers.
We offer event planners a fully staffed speaker logistics planning team, plus a personal SPEAKING.com Account Executive – a knowledgeable and trustworthy partner. We guarantee your satisfaction with your speaker and a smooth booking process.
Contact us today to book your favorite speaker.

"Alan was a MAJOR hit. He brought our conference to a motivating, uplifting conclusion. Several attendees mentioned how well Alan did his homework and really related his message to issues we face."
North Carolina Hospital Association

"You hit it out of the park with your outstanding presentation at our 3rd Annual Cancer College event!  We truly appreciated the time you took to customize your presentation for us and couldn′t have asked for more. You really blew us away when you incorporated our "Patient Passport" into your presentation. I was amazed that the passport, which you had only heard about the day before on our brief hospital tour, made the stage with you. You knew us very well. We have heard nothing but rave reviews!"
Stephanie M. Weirsman, Planning & Marketing, Bridgeport Hospital, Yale New Haven Health System, Bridgeport, CT

"In my 18 years with Melaleuca we have had the pleasure of hearing from some of the best in the business.  The list is a "who′s who" that includes Colin Powell, Les Brown, Lou Holtz and Rudy Giulani.  Of all those presenters, none have come close to understanding our business model, our products and our culture as you did.  As inspiring as your personal story is, and as impressive as your stage presence and delivery was, I was most impressed with your attention to the smallest details about our company.  Your research and preparation definitely paid off and it showed - - in spades!"
Phil Crescenzo, Executive Director, Melaleuca, Inc., Buena, NJ

"We were all intrigued by your commitment to learn about who we are in order to weave the story of Staples into your message and your story.  Like my colleague leading our other sales division, I was a little sceptical that after covering our overly complex structure, terms, acronyms, etc., that it would all be relevant when blended into your presentation.  Then, like my colleague, I sat there in the audience listening in awe of your ability to use all of our terms, names, issues, challenges and opportunities and use each of them accurately and in context, in fact, in perfect context!...  As our SVP of sales said in his closing remarks at the end of the meeting, he′d have bought anything that you were selling!"
Doug Woodard, V.P., Contract Merchandising / Inside Account Management, Staples Advantage, Staples Inc., Franmingham, MA.

"Thank you for your unbelievable attention to detail and for giving so much of yourself at our annual meeting of CEOs.  We received numerous unsolicited compliments adn you achieved this in a very difficult late afternoon time segment.  For as long as you have been speaking -- 20 years, I′ve been coordinating our annual meeting. I′ve hired many speakers over the years from all backgrounds and expertise.  I′ve never had the pleasure of working with a speaker that was so willing to be accessible and genuine in his desire to learn about the audience and the purpose for which they are meeting.  Then, you incorporated that information seamlessly into your presentation. Most paid speakers want just a few sound bites for their stock presentation and they come with lots of riders, do their thing, collect their money and are gone.  Your approach to speaking is refreshing and it mirrors your climb if Everest - research in advance, the training and learning phase, acclimation to the environment (audience). then the climb, and finally the safe return from the summit before embarking on the next challenge.  As you say, it′s ′97% preparation and the rest execution.′  You very definitely walk your talk."
Henry J. Scarfo, Assistant Secretary & Managing Director of Corporate Affairs & Insurance Services, American Automobile Association, Heathrow, FL

"Alan Hobson is unique.  In my many years working with professional speakers, I have never experienced one who invested so much time learning about our mission and goals, and integrating them seamlessly and repeatedly into his presentation.  He would have been great without that element but, with it, he was a smash hit.  I also have never left an event while participants were still in line to meet him and get his autograph.  On a 10-point scale, Alan is on an 11!"
Paul J. Taylor, Senior V.P., South Shore Hospital, South Weymouth, MA

"I have never seen, ever, in my 17 years with this firm, a speaker who learned more about us before you gave the speech. It wasn′t just a cursory level of understanding. It went well below the surface. You went out of your way to understand not only our industry, but our firm."
Bob Sabelhaus, EVP, Director, Private Client Group Legg Mason Wood Walker, Inc., Baltimore, MD

"The way you tied your message into State Farm was outstanding. It wasn′t a speech that could be delivered anywhere to any group. You really tailored it to us. It′s a powerful story that made a powerful connection to us - exciting, refreshing, a hit."
George Holton, VP, State Farm, NE Zone, Chadds Ford, PA
Most Popular Keynote Presentations:
Ever Upwards!
After more than a decade of preparation, Alan Hobson′s first non-guided, corporately sponsored and self-organized expedition to Mt. Everest missed the summit by 3,000 feet when his team′s high camp was blasted off the mountain by gale force winds.  He returned home to judgements that he had failed.  But instead of giving up, he used his hard-won experience to begin again more intelligently.  Three years later he was back on Everest with half the budget of his first expedition, half the personnel and no bottled oxygen.  This time, his team missed the top by just two city blocks when their lead climber developed severe high altitude sickness.  Expedition members decided to try to rescue him rather than continue blindly for the summit.  They saved is life.  Still, Alan again returned home to allegations that he and his team had failed.  Undeterred, he returned a third time to the mountain three years later and finally made it safely to and from the top of the world.  Three years after that, he was diagnosed with an aggressive blood cancer and given less than a year to live.  Again, Alan defied the sceptics.  He made a 100% recovery and today he is almost as physically fit as he was prior to his last Everest expedition.  And, he is officially medically cured.  Alan shows audiences how to turn setbacks into comebacks and obstacles into opportunities.
Swifter, Higher…Smarter!

It happens to everyone. You establish a goal, but fall short of achieving it. You try again, but a competing priority suddenly requires you to shift your focus, or your resources. Then, you finally succeed, only to be blindsided by the unexpected. Alan Hobson faced all of these situations on his three non-guided, corporately sponsored and self-organized expeditions to Mt. Everest and while climbing back from cancer. In his spellbinding fully
personalized
presentations, he draws invaluable connections between the priceless lessons of his life experiences and the specific challenges you face personally and organizationally. He does this by using an exhaustive five-step personal preparatory research process that enables him to link his experiences with your unique challenges and opportunities in perfect context with complete accuracy. This has earned him the distinction of being one of the best adventure speakers in the world. Alan inspires audiences to transform obstacles into opportunities and emerge swifter, stronger and smarter than ever before.  
Scaling the Inner Everest

Three years after Everest, Alan faced his biggest mountain. Diagnosed with acute leukemia (an aggressive blood cancer) and given less than a year to live, once again, he refused to give up. Today, he is one of less than a few dozen people ever to regain an elite level of fitness after an adult blood stem cell transplant to eradicate the disease. He has now been cancer-free for more than nine years and is officially medically cured. He is living proof that no mountain, no matter what kind, is insurmountable. This provides a powerful new perspective for everyone present. 
Succeeding – on Purpose

After his first non-guided, corporately sponsored and self-organized Everest expedition did not make it to the top, Alan's second attempt missed the summit by just two city blocks when the expedition′s lead climber came down with life-threatening high altitude sickness. His team worked for 33 continuous hours and saved the man's life, but it meant postponing the achievement of their goal. Discouraged, but not defeated, Alan walked away again with another set of precious lessons and started over on his third expedition with renewed determination. This time, he succeeded in safely climbing to and from the top of the world. Then came an avalanche of a totally different sort. In today's tough economic times, instant adaptability and psychological resilience are essential to success. Alan shows audiences how to rise to the challenge of cataclysmic change and effectively re-prioritize without losing sight of their mission, vision, values or objectives. Beyond that, the possibilities are limitless – if we stay on purpose.
Executing with Excellence

After three non-guided, corporately sponsored and self-organized expeditions to Mt. Everest, an experienced Alan Hobson finally stepped onto the roof of the world. It was a true triumph of tenacity almost two decades in the making. He shows audiences that even when times are hard, if we remain focused on executional excellence and maintain a relentless upward drive toward higher performance, we really can achieve the ultimate. His powerful personal example resonates on an individual and organizational level. When this is combined with his trademark personalization of every presentation in perfect context and with 100% accuracy, the results are impressive. A must-see for any individual or organization aspiring to greater heights.  
Rising to the Challenge of Change

In today's environment of uncertainty and constant change, Alan's messages of tenacity and teamwork could not be more timely. He offers practical tools for managing the unexpected, as well as those challenges we can more easily predict. The hard-won wisdom he has garnered on the outer and inner Everests of his life has real world relevance, applicability and power. When he links it directly to your specific challenges using his trademark personalization process, the results are palpable. He is a tough man for tough times but a master at making his messages immediately applicable today – the perfect guide for anyone facing an Everest of ambiguity and the unknown. So get ready for the climb of
your
life! It's time to triumph over trial and reach your peak!  
Keynote Speech
Alan Hobson illustrates the impact that our subconscious has on whether or not we meet our goals. In order to climb Mount Everest, Alan needed to put in hundreds of hours training, but his speaking schedule often kept him far from mountains.
His solution was strapping on a 50-pound backpack and walking on a treadmill or as he puts it "working four times harder and getting no where" while repeating his mantra of "I can/I will climb Mount Everest." "When our subconscious minds hear something often enough, sooner or later we begin to believe it," he affirms.
Keynote Speech