* Please note that while this speaker's specific speaking fee falls within the range posted above (for Continental U.S. based events), fees are subject to change. For current fee information or international event fees (which are generally 50-75% more than U.S based event fees), please contact us.
Top25 Speaker Voting

Alan Beaulieu needs 6 vote(s) to make it into the Top 25 speakers on Speaking.com!
Speaker Booking Tip
"Tip: ask your speaker to do a book signing or attend a VIP meal with your guests. "
For Event Planners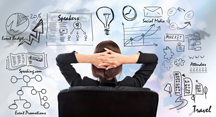 • Keynote Speaker Booking Toolkit.
• Booking a Celebrity Speaker.
• How to Find and Book the Right Speaker.
• Google+ Event Planning Forum.
• Tips for International Clients Booking U.S. Based Speakers.
Similar Speakers
Jason Schenker

One of the world's most reputable economic forecasters, Jason Schenker ranks #1 in his outlooks for 12 out of 28 different categories measured by Bloomberg…

Hamish McRae

One of Europe's top economic commentators and futurists, Hamish McRae gives audiences an in-depth look at the ingredients for success in an increasingly stressful and…

Brian Beaulieu

One of the most accurate forecasters of the economic outlook in the USA, Brian Beaulieu has been making economic predictions for the Institute for Trend…

Our agent was great to work with. Very easy to reach when needed and promptly returned messages. Thank you for making our event such a big success, we are looking forward to working with you again soon!
American Lung Association
About SPEAKING.com
Established in 1994, we are exclusive agents for some of the world's leading experts, celebrities and professional speakers.
We offer event planners a fully staffed speaker logistics planning team, plus a personal SPEAKING.com Account Executive – a knowledgeable and trustworthy partner. We guarantee your satisfaction with your speaker and a smooth booking process.
Contact us today to book your favorite speaker.

Alan has presented on a regular basis to major Fortune 500 corporations. Here is just a selection of rave reviews from his recent keynotes.
"Alan has been presenting to us once a year for nine years. We bring him back yearly because he does such an outstanding job. He prepares interesting slides and charts and gives us an overall view of where the economy is going. Then he ties it in to our business."
Alexander Ma, American Honda Motor Co.
"The conference was a huge success due to Alan′s participation in our program. In fact, he received the highest rating of all the speakers at this conference."
Leslie Miller, Conference and Meeting Planner, National Fluid Power Association
"The lessons and strategies you shared as part of the Strategies for a Tough Economy panel were of enormous value to the more than 700 entrepreneurs and small business partners in attendance."
Mark Herlyn, Vice President, Advertising, The New York Times
"Your economic outlook was clear, concise, professional, thought-provoking, and entertaining, giving all of us information to assist us in economic planning for both our personal and professional lives"
Gregory Bocchi, Executive Director, Powder Coating Institute
"You packed the house, and convinced the skeptics in the room that the economy and business cycles can be explained clearly, ensibly and humorously!"
Rick Doyle, Gases and Welding Distributors Association
"I was in the audience—mouth wide open, jaw dropped—listening to your entertaining, inspiring and surprising economic reflections yesterday Thank you for giving such a candid and intelligent take on the recovery and what it will take to be successful in the next few years."
Lida Citroën, LIDA360, LLC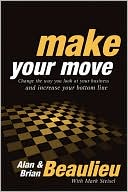 Make Your Move: Change the Way You Look At Your Business and Increase Your Bottom Line
A business book for these unprecedented times. After the most severe economic collapse in a generation, business leaders want to know how to protect themselves, plan for the future, and identify advancing trends in order to seize opportunities. Written with his brother Brian Beaulieu, Alan's important new book,
Make Your Move: Change The Way You Look At Your Business And Increase Your Bottom Line
is a solutions-oriented management tool for mastering problems that thousands of businesses face regularly.
In clear, non-technical language, using proven business cycle analysis on which Alan is the leading authority, Make Your Move explains precisely what steps to take and when to take them.
It will help executives escape their recession mentalities and apply individual action plans to position their companies for an improving economy—as well as show them how to be profitable in any economic climate, even in a recession.
Alan's breakthrough book will help you…
See what's coming—Spot future economic shifts well before they take place.
Understand business cycles—It can mean the difference between your company's success and failure.
Know where you are—Identify the phase cycle your business is in and how to profit from it.
Unlock the mystery behind leading indicators—And make them your economic crystal balls.
Increase profits consistently and reliably—Capitalize on cyclical changes and boost your bottom line.
Economic swings are inevitable. Make Your Move, written by two of our country's most experienced practical business economists, will guide you through the upswings and downturns, and give CEOs, business owners, top executives and senior managers the insights they need to maximize profits in every phase of any business cycle.

Alan Beaulieu provides economic information with practical application. What makes a presentation by Alan Beaulieu so unique is his extensive understanding of business cycles and the ability to explain the implications to any audience.
The Recovery: How Long and How Fast
What will be the end result of the government bailouts and should we expect more? What will the recovery look like over a period of years? What future impact will the current Administration have on the economy? What are the short-term and long-term economic forecasts for the U.S. and abroad? More importantly, how will those forecasts directly impact your company? In this wide-ranging presentation, economics speaker Alan Beaulieu answers these questions and more as he forecasts the outlook for keys industries as well as the global economy with the clarity that audiences have come to expect.
Other topics include:
Short-term and long-term economic forecasts (U.S. and/or abroad).
How those forecasts impact your company.
Is the economy going to grow?
What about inflation?
How will the U.S. be affected by corporate production facilities being moved overseas?
Republican or Democrat—what impact does each type of administration have on the economy?
Does the stock market give us a true reading of the economy?
What leading economic indicators should we be watching for?
See the future first—before your competition does.
Speech Excerpt
Alan Beaulieu presents his renowned insights into the issues that will most seriously affect business in the years to come. He opines, "It's all about management, because the ways we manage our companies will be vastly different in the next few years. We are not going to be able to manage our firms with the same expectation, the same rationale, with the same plan."
Giving a warning about what is to come, he says, "I'm as excited about the future as others in a way, but there are going to be some dangers which we're going to have to face, they're not going to go away and they are going to be difficult."
Showing his audience the accuracy for which he is renowned, he points to a grass and explains, "The green line is the forecast, the yellow line is what has actually happened. You can't see the yellow line because it's underneath the green line, the economy has developed exactly the way my brother and I forecast."
Alan Beaulieu: How Are We Going To Manage In The Future?
Alan Beaulieu: Prepare for the Recovery - It's Coming and There's Hope
Alan Beaulieu: Fiscal Reality