* Please note that while this speaker's specific speaking fee falls within the range posted above (for Continental U.S. based events), fees are subject to change. For current fee information or international event fees (which are generally 50-75% more than U.S based event fees), please contact us.
Top25 Speaker Voting

Alan Bean needs 8 vote(s) to make it into the Top 25 speakers on Speaking.com!
Speaker Booking Tip
"Tip: find a speaker in your local area to save on travel costs. Most speakers will also reduce their keynote fee for local events. "
For Event Planners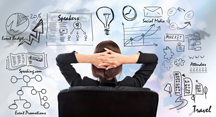 • Keynote Speaker Booking Toolkit.
• Booking a Celebrity Speaker.
• How to Find and Book the Right Speaker.
• Google+ Event Planning Forum.
• Tips for International Clients Booking U.S. Based Speakers.
Similar Speakers
Laura Schwartz

Having acted as the Clinton Administration's White House Director of Events for four years, Laura Schwartz is an authority on building powerful relationships and staying…

Chris Widener

Chris Widener is widely recognized speaker who has presented dynamic programs in countries around the world, such as: Egypt, China, Singapore, Spain, Russia, Germany, Canada,…

Bryan Clay

The 2008 Olympic Gold Medalist in the decathlon, Bryan joined an exclusive group of American decathletes who earned the title of "World's Greatest Athlete," including…

THANK YOU for your consistent communication, organization, and hard work. It truly has been a pleasure partnering with you too, we would love to stay connected with you for future events.
National Human Resources Association
About SPEAKING.com
Established in 1994, we are exclusive agents for some of the world's leading experts, celebrities and professional speakers.
We offer event planners a fully staffed speaker logistics planning team, plus a personal SPEAKING.com Account Executive – a knowledgeable and trustworthy partner. We guarantee your satisfaction with your speaker and a smooth booking process.
Contact us today to book your favorite speaker.

"Alan was a big hit. His presentation , story and willingness to personally meet, sign autographs, take photos, etc 75 plus people really combined to generate tremendous appreciation and value."
Dallas Chapter of the Society for Information Management
Event Booked by Speakers Platform
"Alan was awesome!! He was very well received and hit every topic relavent. People were so thrilled and honored to have him here. Everyone loved hearing a leadership/motivational presentation that was outside of Intel. And to be honest, was almost emotional for me...meeting someone that accomplished such great things was a once in a lifetime experience for most people. Everyone has requested more events like this. Alan is such a wonderful person to work with. Very positive comments. And working with your organization was also very positive. Thank you for making this easy. Will keep your web site in my favorites."
Intel
Event Booked by Speakers Platform
"Captain Bean showed professionalism, flexibility and great patience during his time in Grand Junction. There were a few glitches on our end but he took it all in stride and was very pleasant to work with. We were very happy with Captain Bean′s performance."
Nani Darvell
St. Mary′s Hospital Foundation
Grand Junction, CO

"Your presence at our 25th anniversary celebration was, without a doubt, the highlight of the event. Not only was your presentation entertaining, but it also conveyed in a dramatic way the importance of teamwork and goal setting in achieving success. Our guest were delighted that you were available to talk with them individually."
Keith Peterson, President
Cytrol
"Everyone was blown away by your ′out of this world′ presentation. It was obvious that you carefully tailored your message with thrilling first hand tales of human drama and adventure, problem-solving examples, a great sense of humor, and little known inside stories so that it would be relevant to what we were trying to accomplish."
Donald P. LaSalle, Ph.D., President
Talcott Mountain Science Center
"Alan, your space experiences were filled with excellent messages relative to the commitment to quality, teaming and personal drive necessary to achieve established goals. These messages were key to the theme of our meeting of ′Achieving Breakthrough Results.′ The response to your inspiring, informative and motivational presentation was outstanding."
Kathy J. Meredith
Honeywell
"On behalf of our entire team, let me thank you sincerely for the truly inspiring message you shared with us... As was the case in 1990 and 1993 when you and I previously worked together, I′ve heard nothing but expressions of awe and optimism."
Michael A. Marino, Group Vice President
NYNEX Manhattan

Alan Bean Painting Apollo: First Artist on Another World
Alan Bean, Painting Apollo: First Artist on Another World captures humankind′s adventure in space through the eyes and emotions of the only artist who has ever been there. Through a brilliant display of color and craftsmanship, Alan Bean shares his unique perspective, conveying what only eleven other humans have experienced, in a way that only he can. As Alan Bean writes, "The art I make now is the beginning of a new category in the progression of art history, art of human experiences off our home planet, Earth. I have the honor and responsibility of being first."
Featuring 120 of Alan Bean's luminous paintings in a starkly dramatic presentation and paired with quotes from some of the most brilliant and adventurous minds throughout history, the book explores the majesty of humanity′s near spiritual drive to explore the limits of our imagination and technical capabilities. Flight manager extraordinaire Gene Kranz of Apollo 13 fame recalls the historical drama of the Apollo era from his unique eyewitness perspective on the ground. Legendary art critic Donald Kuspit places the work in the context of contemporary art and landscape painting. Finally, author William Fox, an expert on the dynamics of art and cognition, places Alan Bean in a long lineage of artists and explorers, from Thomas Moran and Ferdinand Hayden in Yellowstone, to Edward Wilson alongside Robert Falcon Scott in the Antarctic. But Alan Bean, our first ever guide to a wholly other world, is artist and astronaut in one.

Apollo : An Eyewitness Account By Astronaut/Explorer Artist/Moonwalker
"Al Bean and Andy Chaikin portray in paintings and text the true life adventure of an astronaut exploring the wonders of the moon."
James A. Lovell
"In Apollo, Alan Bean and his astro-artistry recreate the drama and excitement of man's exploration of the moon as could only be chronicled by one who had been there."
Neil Armstrong
"What one must understand about Al Bean is he is the only artist to have ever walked on the moon. No poet has ever been to the lunar surface, nor any journalist, architect nor songwriter. In the realm of the Arts it has fallen upon Al Bean to be the one moonwalker to turn hard data brought back from the moon into something other than numbered photographs, The images that Al has committed to canvas, them, are important, inspiring, and priceless works of art, Not only has he painted the moon, he's been there."
Tom Hanks
A motivational presentation by Alan Bean, the fourth man to walk on the moon, will help any organization reach for its own stars.
Alan will tailor his remarks around your goals and objectives and help all in attendance understand that they already have the talents and opportunities to make their dreams come true. It′s a rare opportunity to learn from--and share time with--a moonwalker.
Reach for the Stars for Down-to-earth Results
Tailored to each audience's goals, Alan Bean's program is entertaining and motivational. He incorporates slides of his mission to the moon on Apollo 12, and offers a look at the astronauts, scientists and engineers who worked together and made an impossible dream a reality. He inspires audience members to realize they can accomplish equally challenging goals in their own lives. Bean's goal is to help audience members believe they can accomplish the challenges and dreams of their own lives and professions; that each of them can reach for their own stars.
From Astronaut to Artist (new idea)
After he retired, astronaut Alan Bean took a path very different from many of his fellow astronauts. Bean started painting. Through his paintings, which sell for more than $50,000 each, he chronicles the experiences he and other astronauts had on the moon. His style has evolved into fantastical, detailed images that show what it was like to travel to the moon and back. As an artist who used to be an astronaut, Bean wants audiences to know how they can break the mold, do the impossible, and what it takes to follow their dream.
Astronaut - Apollo and Skylab Missions
Alan Bean, Apollo 12 lunar module pilot, became the fourth man in history to set foot on the moon. As commander of Skylab mission II, he lived 59 days in space, 270 miles above planet Earth. Under his leadership, his crew accomplished 150% of their pre-mission goals - a record unsurpassed before or since. During his career, Alan helped establish 11 world records in aeronautics and space. He tailors each speech around the theme of the client′s event and the goals the client wishes to emphasize.
Says Bean, " I want to help the audience feel that they too can accomplish the challenges and dreams of their own lives and professions... That each of us can reach for our own stars... to understand that each of us can reach for our own stars... to understand that they are not light years distant but as close as our workplace, our home, and our family." After his presentations, he will personalize 75 mini-prints of one of this paintings providing audience members the opportunity to talk with Captain Bean.
Alan Bean: Speech Excerpt
With characteristic good humor and charm, Alan Bean lays out the foundation of his presentation for his audience: "I'll tell you, and this is only if you're nice by the way, if you laugh at my jokes and so on, I'll tell you the number one lesson I learned in 18 years as an astronaut. It changed my life, for the better. I'll tell it to you, it seems simple, we'll see. It will change you for the better too."
Remembering the thrill of his first journeys into space, Alan shares his vision for the future of space travel: "People are going to love going into space. Not quite now, because it's too expensive, but someday we're going to go to the moon just like we travel to Europe for a week's vacation."
Recalling a life changing experience when he disagreed with another astronaut and then realized that it may well have been himself in the wrong, Alan reminisces: "That changed my life, when I said to myself that he's right, and I have to change, I've got to find a way of caring about these people I'm working with. What I found out is if I didn't know somebody, hadn't heard of him, I could take him to lunch, I'd probably end up liking him. I just hadn't got to know these people, I wasn't doing what I should have done."
Alan Bean: Apollo 11 Anniversary
Alan Bean: Moonwalker and Space Artist