* Please note that while this speaker's specific speaking fee falls within the range posted above (for Continental U.S. based events), fees are subject to change. For current fee information or international event fees (which are generally 50-75% more than U.S based event fees), please contact us.
Top25 Speaker Voting

Aaron Ross needs 6 vote(s) to make it into the Top 25 speakers on Speaking.com!
Speaker Booking Tip
"Tip: speakers bureaus provide added value that you cannot get by booking speakers directly. "
For Event Planners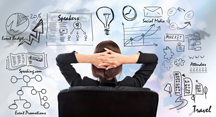 • Keynote Speaker Booking Toolkit.
• Booking a Celebrity Speaker.
• How to Find and Book the Right Speaker.
• Google+ Event Planning Forum.
• Tips for International Clients Booking U.S. Based Speakers.
Similar Speakers
Robin Crow

Robin Crow's flourishing career has spanned over four decades in one of the most competitive industries imaginable. The musician-turned-entrepreneur knows first-hand how to thrive in…

Jim Cathcart

One of the most recognized motivational and sales speakers in the world, Jim Cathcart was named one of the "Top Sales Influencers" by Top Sales…

Connie Dieken

Formerly a broadcast journalist, Connie Dieken brings the insights from her bestsellers Talk Less, Say More and Become the Real Deal to thought leadership presentations…

Our agent was great to work with. Very easy to reach when needed and promptly returned messages. Thank you for making our event such a big success, we are looking forward to working with you again soon!
American Lung Association
About SPEAKING.com
Established in 1994, we are exclusive agents for some of the world's leading experts, celebrities and professional speakers.
We offer event planners a fully staffed speaker logistics planning team, plus a personal SPEAKING.com Account Executive – a knowledgeable and trustworthy partner. We guarantee your satisfaction with your speaker and a smooth booking process.
Contact us today to book your favorite speaker.

"Aaron has the ability to connect with his audience and help them tap into their confidence. He is engaging, passionate and active as a presenter. I appreciate his style and comfort in front of groups."
- Richard Walker · Efficient Technology Inc Play Purpose and Power
"I truly enjoyed how you seamlessly paired humor and authenticity with incredible content. You not only were able to communicate a large sum of great information, but you kept me engaged as well. Aaron is able to take what can be an overwhelming topic and cut it into bit size chunks that not only seem doable, but he instill the confidence and tools within you to make you capable of accomplishing what you want."
- Jessica Henning · Bond Girl Bootcamp Coaching Calls
"Always seem positive and encouraging. Has priorities nailed down. An entrepreneur with a humanist side."
- Matthew Bailey Multiple Conferences and Webcasts
"Aaron is a passionate and informed speaker that not only loves what he does, but that actively and affectionately engages his audience before, during and after he speaks. He does so in a manner, which suggests that he's as committed to their pursuit of career independence as much as they are. It's that magical something that brings his audience closer and leaves them enthused and ready."
Sasha Strauss · Innovation Protocol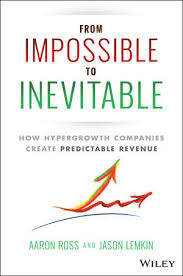 From Impossible To Inevitable: How Hyper-Growth Companies Create Predictable Revenue
Impossible Goals, Inevitable Successes
Why are you struggling to grow your business when everyone else seems to be crushing their goals? If you needed to triple revenue within the next three years, would you know exactly how to do it? Doubling the size of your business, tripling it, even growing ten times larger isn't about magic. It's not about privileges, luck, or working harder. There's a template that the world's fastest growing companies follow to achieve and sustain much, much faster growth. From Impossible to Inevitable details the hypergrowth playbook of companies like the record-breaking Zenefits (which skyrocketed from $1 million to $100 million in two years), Salesforce.com (the fastest growing multibillion dollar software company), and EchoSign—aka Adobe Document Services—(which catapulted from $0 to $144 million in seven years). Whether you have a $1 billion or a $100,000 business, you can use the same insights as these notable companies to learn what it really takes to break your own revenue records. For instance, author Aaron Ross shows how he grew his income from $67,000 to $720,000 in four years while maintaining a 20-30 hour work week and welcoming a new child—nine times.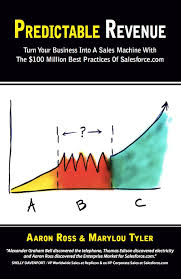 Predictable Revenue: Turn Your Business Into A Sales Machine With The $100 Million Best Practices Of Salesforce.com GROW REVENUE BY 300% OR MORE AND MAKE IT PREDICTABLE...

Discover the outbound sales process that, in just a few years, helped add $100 million in recurring revenue to Salesforce.com, almost doubling their enterprise growth... without cold calling or a boiler room approach.
This is NOT another book about how to cold call or close deals. This is an entirely new kind of sales bible for CEOs, entrepreneurs and sales VPs to help you build a sales machine, and a sales culture that people love.
What does it take for your sales team to generate as many highly-qualified new leads as you want, create predictable revenue, and meet your financial goals without your constant focus and attention? What does it take to attract top sales talent, people who exceed and want to stay and grow with your company?
LEARN INSIDE
How an outbound sales process ("Cold Calling 2.0"), that without cold calls or a marketing budget, can generate a 9% response rate and millions of dollars from cold prospects.
The Seven Fatal Sales Mistakes CEOs and Sales VPs (even experienced ones) make time and time again.
How outbound sales and selling can be friendly, helpful and enjoyable.
How to develop self-managing sales teams, turning your employees into mini-CEOs.
And more...

Create Predictable, Scalable Sales Revenue
Aaron and his team are helping companies triple their new sales growth with a refreshing approach to outbound sales. Learn:
3 fatal sales mistakes sales leaders make
How to build an outbound sales machine that can triple your pipeline
Why salespeople shouldn't prospect
How to hire and grow the best kinds of salespeople
What it takes to create sales growth that scales
Attendees walk away with specific ideas & actions they can begin implementing the next day to begin increasing sales.

The presentation can be a keynote, or tailored to fit agendas from 30min – 2 hours or longer, if it's in a workshop format. The longer the time, the more work-shopping Aaron can do, allowing attendees to walk away with custom ideas and pre-built plans.

Other Suggested Keynotes and Topics:
Why Salespeople Shouldn't Prospect
Tripling Your Sales
Sales
Business Growth
Best Practices
Entrepreneurship
Marketing

Aaron Ross, Sales Strategist: Building Outbound Sales Through Predictable Revenue
Aaron Ross shows sales groups reliable techniques they can implement to meet or surpass monthly goals, so that they can live their life outside work stress-free and to the fullest. "Why should you have to stress over a number?" he asks rhetorically.
Once young companies exhaust their organic customer base – most often, employees' and investors' friends and families – they must make the arduous "walk over hot coals" and attract customers who've never heard of them in order to continue growing. The tactics they use are mostly experimental, and for that very reason they experience more failures than successes. "What you don't have is some sort of repeatable system to drive growth," Aaron states. "By getting that system in place you get to the green side on the right where you can just scale."
Aaron Ross talk at Coloft: "Create Predictable, Scalable Revenue"
Aaron Ross, Sales Strategist: Interview On Building A Sales Machine