Top25 Speaker Voting

Aaron McDaniel needs 5 vote(s) to make it into the Top 25 speakers on Speaking.com!
Speaker Booking Tip
"Tip: speakers bureaus provide added value that you cannot get by booking speakers directly. "
For Event Planners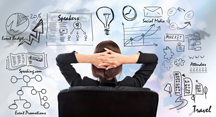 • Keynote Speaker Booking Toolkit.
• Booking a Celebrity Speaker.
• How to Find and Book the Right Speaker.
• Google+ Event Planning Forum.
• Tips for International Clients Booking U.S. Based Speakers.
Similar Speakers
Bobbie Staten

Bobbie is a funny, funny lady. She is a rare talent with spontaneous, creative, contagious humor. She delivers clean, original material that leaves the participants…

Teresa Allen

Teresa Allen's approach to communicating with your customers and increasing sales is summed up in the name of her book and her most popular keynote…

Michael Soon Lee

For over 25 years, Michael Soon Lee has been the go-to expert for how to boost sales to diverse populations. Michael equips teams with the…

I just wanted to send a quick follow-up note to say – THANK YOU! I appreciate your partnership, and perseverance in helping us to find the right speaker for our group. Our speaker was absolutely excellent! The group loved him; it was perfect.
DeVry Education Group
About SPEAKING.com
Established in 1994, we are exclusive agents for some of the world's leading experts, celebrities and professional speakers.
We offer event planners a fully staffed speaker logistics planning team, plus a personal SPEAKING.com Account Executive – a knowledgeable and trustworthy partner. We guarantee your satisfaction with your speaker and a smooth booking process.
Contact us today to book your favorite speaker.

In today's business climate, a new message is a must, and Aaron's delivery of the "thinking of the millennial" opened my eyes to how I need to change me! Aaron is the Stephen Covey of his generation!
-Frank Gambuzza, President, Intercoiffure America/Canada
I have found few that can top Aaron McDaniel. His topic around hiring, coaching and nurturing millennial talent is most timely and he executes on stage with style and grace. From the initial meeting to his post-session follow up, Aaron is world class... He does it all with humor and an easy to listen style that keeps people engaged regardless of age. If you are looking for someone to discuss how to blend millennials into the workplace, hire Aaron McDaniel, hire him now.
-Jack Hubbard, Chairman & Chief Sales Officer, St. Meyer & Hubbard
Aaron did his homework and customized his presentation to be relevant to the industry and to my company specifically. His understanding of and discussion around the Millennial generation is critical knowledge for every company and manager in today's workplace. Aaron's presentation style is relaxed and confident, which allowed him to really engage with the audience individually and as a group. Aaron was a true pleasure to work with, start to finish.
–Al Giobbie, Sr. Vice President, Provident Bank
Aaron was amazing to work with from start to finish. He worked with me to customize his talk for our group and really focused on what would be interesting and relevant for the audience. His session was really dynamic and engaging with multiple people coming up immediately to me after the talk to compliment the session. We would love to bring Aaron in again to speak to our group!
–Jenna Chen, Chief of Staff, Deloitte Consulting
In his session "Redefining Age in the Workplace: Diversity is More Than Just Ethnicity and Gender," Aaron McDaniel provided workable solutions... Participants learned tips that would be beneficial throughout their careers. McDaniel helped them understand the importance of being patient, stepping outside their comfort zones, making careful decisions and being open to career coaching. Attendees also left with a clear understanding of the value of collaboration among different generations in the workplace. In his session, McDaniel inspired millennials to become engaged and empowered to succeed and helped prepare them to lead those who will eventually follow in their footsteps.
— Sheron Rose, Vice President, Montgomery Area Chamber of Commerce
We had the opportunity to feature Aaron McDaniel at one of the Young Professional Networking events. Our members left feeling inspired to enact the strategies he presented during the event. His strong communication and facilitation skills were impressive. He provided invaluable insight and we look forward to collaborating in the future.
— Perrine Zen, President, Wells Fargo Young Professional's Network- San Francisco
Outstanding! Thank you for taking part and being a part of our leadership conference. [Aaron's] thoughtful presentation hit the minds and the hearts of all assembled. Clearly [his] message added the dimension to our gathering that was at the center of our vision for the organization.
— Donn Wadley, Rotaract District Manager
THE YOUNG PROFESSIONAL'S GUIDE TO THE WORKING WORLD
School does not teach you how to be successful at work.
The Young Professional's Guide to the Working World provides important insights on the topics essential to success within the first 5-10 years of any corporate career, including:
How to get promoted faster and drive results not matter what your industry or job title
The 25 attributes all successful young professionals possess
How to avoid being a DOPE (someone who Disses Opportunity, Potential & Earnings)
The keys to becoming a STAR in your career (someone who is Savvy, Tenacious, Adaptive & Resourceful)
How to create and implement a career development plan
Leveraging mentoring to ensure career success


THE YOUNG PROFESSIONAL'S GUIDE TO MANAGING
One of the hardest challenges in anyone's career is transitioning from being a employee responsible yourself to a manager responsible for others.

The Young Professional's Guide to Managing fills this void with a mix of relevant tips and stories. It is an essential guide for all new managers and emerging leaders, providing insights, including:

How to successfully transition to being a manager, from the very first day
The 10 skills all young professionals must develop to thrive as STAR managers
Managing people of different generations
How to hire, develop, and lead teams to incredible results
Advanced strategies for young managers, including how to fire under-performing employees and how to squash office politics



Maximize your Gen Y ROI
Combination of "The Future of Customer Engagement" and "Empowering Your Millennial Workforce" (listed below)- most popular among clients. Addresses how to attract/retain Millennial customer and empower Millennial employees (executive audiences)
The Future of Customer Engagement
Learn how Millennials think, what they value, how to appeal to them and how to develop Millennial customer loyalty (executive audiences)
Empowering your Millennial Workforce
Gain key insights and practical advice into how to get the most out of your Millennial employees and set them on the right track to be the future leaders of your organization (executive audiences)
Intrapreneurship & Innovation: How to drive lasting change & results through innovation.
Learn how to develop an entrepreneurial spirit within your organization (with effective implementation of Silicon Valley mindsets & process) (all audiences)
Work-Life Integration
It's no longer work/life "balance" - the two are fully intertwined with the demands of today's market and mobile technology. Learn how to deliver top results at work while maintaining the life outside of work that you have always wanted (all audiences)
The Young Professional's Guide to the Working World
College doesn't teach you how to be successful in professional work environments. Get the proven playbook for how to build the foundation for a successful career (Millennial/Young professional audiences)
How to Be the Boss
Being a young manager is tough, especially when you are managing your ex-peers and people your same age or much older and with more experience than you; excel as a young manager using the framework discussed in this session (Millennial/Young professional audiences)
60 Days to Success
People change jobs every 2-3 years. With each change you are expected to hit the ground running and contribute to your organization, which is often difficult. This session outlines the Who, What, When, Where, Why and How of getting any new job on the right track from day 1. (all audiences)

Aaron McDaniel, Millennial Expert: Keynote
Aaron McDaniel unpacks the secrets to understanding and engaging Millennials both as talent and consumers. With 80 million Millennials in the work force today, no organization can fully thrive if they are unable to reach the hearts and minds of this key demographic.
Drawing comparisons between a youthful Steve Jobs and Mark Zuckerberg, McDaniel explains that many of the characteristics associated with Millennials - traits such as passion, impatience, and a belief that the rules don't apply to them - are actually a product of youth rather than a specific generation; however, Millennials' youth is unfolding in a very different context. Instead of the Vietnam War or MTV, this generation has come of age in a world shaped by social media and mobile technology.
"A lot of what we talk about Millennials in spirit is very similar to how you and your generation were a few years ago," McDaniel asks to the Baby Boomers and Generation Xers in the audience to take in account their similarities.
Aaron McDaniel, Millennial Expert: Demo Reel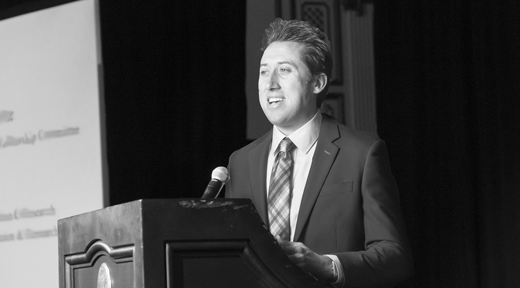 Millennial speaker Aaron McDaniel delivers timely "aha moments" and viable solutions on how to bridge generational gaps in the workplace and marketplace. Drawing from his own experience as a Millennial in the corporate world, McDaniel has floored audiences with his ability to connect to attendees of all ages while giving them tools and insights to ... more