* Please note that while this speaker's specific speaking fee falls within the range posted above (for Continental U.S. based events), fees are subject to change. For current fee information or international event fees (which are generally 50-75% more than U.S based event fees), please contact us.
Top25 Speaker Voting

Aaron Dignan needs 8 vote(s) to make it into the Top 25 speakers on Speaking.com!
Speaker Booking Tip
"Tip: speakers bureaus can provide: speaker fee negotiation, insurance, smooth logistics and value add-ons such as extra sessions. "
For Event Planners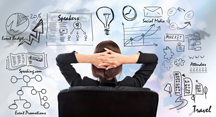 • Keynote Speaker Booking Toolkit.
• Booking a Celebrity Speaker.
• How to Find and Book the Right Speaker.
• Google+ Event Planning Forum.
• Tips for International Clients Booking U.S. Based Speakers.
Similar Speakers
Eythor Bender

CEO of Berkeley Bionics, developer and maker of wearable robots, Eythor Bender works at the forefront of the new industry of bionics that aims to…

Robert Tucker

Having studied the topic of innovation and the world's greatest innovators for over three decades, Robert B. Tucker has been an adjunct professor at UCLA…

Tom Koulopoulos

Named one of the industry's "Killer Consultants", Tom Koulopoulos is a leading futurist. The founder of the 25-year-old premier think tank, Delphi, he provides advice…

Our Account Executive is an extraordinary person. Always available, very kind and funny. Eager to help and always quick to respond. I have so much fun working with him. A very delightful experience. I hope continue working together for years to come!
Credicorp Bank
About SPEAKING.com
Established in 1994, we are exclusive agents for some of the world's leading experts, celebrities and professional speakers.
We offer event planners a fully staffed speaker logistics planning team, plus a personal SPEAKING.com Account Executive – a knowledgeable and trustworthy partner. We guarantee your satisfaction with your speaker and a smooth booking process.
Contact us today to book your favorite speaker.

"The weekend was a great success and Aaron Dignan was wonderful. His presentation was inspiring and the team really found his work inspirational. He helped them crack open some tough challenges."
Starcom
"Aaron is one of the smartest thinkers around when it comes to digital technology and how to make it work for you. As a presenter, he's equally well-versed in translating and communicating his insights in a way that is both entertaining and actionable."
General Electric
"Aaron Dignan was a hit! He brought his 'A' game and delivered to the attendees a memorable session."
Society for Human Resource Management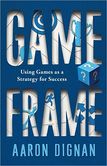 Game Change: Using Games as a Strategy for Success
Ever wonder why teens can spend entire weekends playing video games but struggle with just one hour of homework? Why we're addicted to certain websites and steal glances at our smartphones under the dinner table? Or why some people are able to find joy in difficult or repetitive jobs while others burn out? It's not the experiences themselves but the way they're structured that matters. Illuminated throughout with a series of real-world examples and hypothetical scenarios, Game Frame promises a crash course in game design and behavioral psychology that will leave the reader—and, by extension, the world itself—more productive. Revolutionary, visionary, practical, and time-tested, Game Frame will change the way you approach life.
Lessons Games Teach Us About Enhanced Performance
Playing games is one of the most popular activities in our culture, generating tens of billions of dollars in revenue and absorbing literally billions of hours per week. Yet we still conceptualize games as frivolous and distinct from the meaningful activities of the real world. The truth is that human beings are built to play. Our brains are wired for the kind of experience that games provide, and play is just another word for learning, under optimal conditions. Looking around our world for signs of play, we begin to see games unfolding on top of everyday life. Boy Scouts earning merit badges and business travelers collecting frequent flier miles are behaving a lot more like gamers than we might expect. And this kind of thing is happening everywhere. So what does it all mean? It means that we're capable of playing games with the systems that govern our real life activities, and that when we do, we're more engaged, motivated, and likely to succeed. Aaron Dignan has explored this new breed of games in preparation for the release of his new book on the subject, and has returned with some lessons for anyone who wants to turn their office, classroom, or home into something more like a game.
Tapping Into the Digital Layer
The advent of an ever-present digital connection is like the moon landing of our age. Now anything is possible. Disruptive technology in nearly every industry is challenging assumptions about leverage, scale, and what it takes to be successful. Expectations—from consumers and the c-suite—are sky high. Success for large and complex organizations lies in their ability to adapt to these changes and use their scale to their advantage before it's too late. Aaron Dignan works with global brands like GE and PepsiCo to help them make sense of a cultural transformation that is moving so fast, it's a full-time job for the team of digital strategists he leads in New York. In this presentation, he shares and explains examples of innovations occurring at the fringes of the digital space, relates their underlying significance back to mainstream business, and shares a roadmap for succeeding in the digital age.
The Game Frame Workshop
The Game Frame Workshop will take your company through a crash course in tackling challenges at work from the perspective of game design. Participants will workshop existing business challenges and walk away thinking like a game designer—equipped with the seeds and buds of solutions. This two day workshop is broken up into three sections: Play, Learn and Design.
Day 1
Play: Teams get a chance to experience what's great about games first hand. We build a custom game designed to prepare your company for the rest of the workshop. Our custom built games are collaborative and inspire teams to test their skills with a variety of playful and active indoor and outdoor challenges, which culminate in a team-based competition to design a balsa wood structure that can withstand hundreds of pounds of pressure.
Learn: Participates become students in our Game Frame 101 speech and presentation. They'll learn what makes games fun, rewarding and popular, as well as how to apply the principles of gaming to alleviate boredom and other challenges of the workplace.
Day 2
Design: After reiterating our Game Frame methodology, small teams work together to tackle the real problems that face your company's business. By the end of this session, participates walk away with actionable game-like systems to improve their everyday workplace.
This two day curriculum can easily be customized and adjusted for a variety of venues and schedules by request. Rejuvenate your business, by taking it through the game frame. It's game time baby!
Aaron Dignan: Digital Isn't Software, It's a Mindset
"There's some really obvious and simple things going on, but they add up to something quite profound." Aaron Dignan uses the experienced gained in working on digital technology with some of the world's most famous brands and explains how companies can adapt to its challenges and opportunities.
Aaron Dignan Keynote Speech
Aaron Dignan: How To Think Like a Startup