* Please note that while this speaker's specific speaking fee falls within the range posted above (for Continental U.S. based events), fees are subject to change. For current fee information or international event fees (which are generally 50-75% more than U.S based event fees), please contact us.
Top25 Speaker Voting

Aaron Beam needs 6 vote(s) to make it into the Top 25 speakers on Speaking.com!
Speaker Booking Tip
"Tip: some speakers might provide one of their popular book titles as a free gift to your audience. "
For Event Planners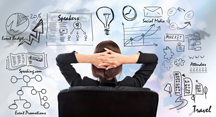 • Keynote Speaker Booking Toolkit.
• Booking a Celebrity Speaker.
• How to Find and Book the Right Speaker.
• Google+ Event Planning Forum.
• Tips for International Clients Booking U.S. Based Speakers.
Similar Speakers
Matthew Luhn

With over 25 years of experience as a Pixar Storyteller, Matthew Luhn is a master at creating dynamic characters and compelling struggles that make audiences…

Uri Gneezy

Uri Gneezy's early work on when and why incentives can backfire has become the cornerstone in a compelling line of research that explores when traditional…

John Jantsch

Dubbed "the Peter Drucker of small business marketing tactics," John Jantsch is the creator of Duct Tape Marketing, a system that has been used by…

Our account rep was great to work with. He helped facilitate some specific requests on our part, kept us in the loop of any issues, and promptly replied to all communications. Thanks for making this a great event!
Foundation for Economic Education
About SPEAKING.com
Established in 1994, we are exclusive agents for some of the world's leading experts, celebrities and professional speakers.
We offer event planners a fully staffed speaker logistics planning team, plus a personal SPEAKING.com Account Executive – a knowledgeable and trustworthy partner. We guarantee your satisfaction with your speaker and a smooth booking process.
Contact us today to book your favorite speaker.

"Aaron Beam's real life, rubber meets the road experience with healthcare fraud and abuse and financial irregularities is important for you to hear. The pressure of falsifying documents, in a publicly traded company is an intriguing story of how one man can bring a very successful organization and its people to the brink of financial ruin. Aaron Beam's matter of fact approach doesn't embellish, sugar coat, or hide his own participation in the fraud. He tells of his time in prison and the debt he has paid in a manner that causes all in attendance to take notice. Aaron has spoke for two of our events and his evaluations were stellar."
— Warren Hebert, RN, CAE
CEO HomeCare Association of Louisiana
RWJF Executive Nurse Fellow '06-'09
"...His presentation is professional and compelling. He is very effective at "painting the picture" for students... The reactions of students are always the same. They sit spellbound while Aaron speaks. They are captivated by his story and by his message. They are stimulated to ask many questions and to reflect on what they should be learning for their own lives and business practice."
— Barbara G. Danos, J.D.
Ourso College of Business Louisiana State University
"Our students benefited from hearing Aaron Beam speak on campus. Seeing and speaking with him as a real human being, not just as a figure on the many documentaries on HealthSouth, made our students realize that they may face the same ethical dilemmas that he faced during his tenure with HealthSouth. His message was clear and genuine --- think before you act. By hearing Mr. Beam's message, students are able to see that they need to be prepared for the consequences of ethical lapses."
— Dr. Sarah Dunn Stanwick
Taylor Associate Professor of Accountancy Auburn University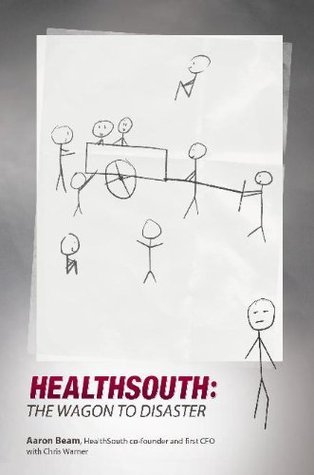 Healthsouth: The Wagon to Disaster
The Wagon to Disaster, told by former co-founder and CFO Aaron Beam, is the untold story of HealthSouth, one of America's most successful health care companies and consequently, the perpetrator of one of its biggest frauds in history. How big was the fraud? In 2003, just before news of the crime broke in the mainstream media, HealthSouth paid more money in taxes to the Federal Government than it legitimately earned the previous year. Beam takes the reader from HealthSouth's humble beginnings, through its meteoric rise and to its disastrous revelation, subsequent trial and his three-month incarceration in a federal prison. Moreover, he reveals the nature of the fraud and the true personality of the driving force behind HealthSouth Richard Marin Scrushy, one of the most enigmatic, nefarious characters the State of Alabama has ever produced a hard-charging, unscrupulous visionary whose caustic, Machiavellian approach ensured HealthSouth's success, and oddly, his predictable fall as the company's benevolent dictator.
Mr. Beam uses his unique experience and candid manner to deliver "Ethics First," a compelling story and message to any organization, group, or classroom that values ethical behavior, and the process of achieving it.
Mr. Beam's story is "the untold story of HealthSouth", one of America's most successful health care companies and subsequently the perpetrator of a $2.8 B accounting fraud, one of the largest in American history.
Mr. Beam speaks to University students, business and management groups and conventions; including Healthcare Companies, Financial Managers, Internal Auditors and Securities Training seminars. His client's and corresponding testimonials (link to C&T Page) from University ethics professors, the Institute of Internal Auditors (iiA) and the Healthcare Financial Management Association (HFMA), along with video samples of his interviews and speeches are evidence of Mr. Beam's effectiveness in communicating warnings about bad business behavior and pitfalls that led to a monumental corporate fraud.
As a founder and the first CFO, Mr. Beam takes an audience from HealthSouth's humble beginnings, through its meteoric rise to its disastrous revelation; the subsequent trial of Richard Scrushy and Mr. Beam's three-month incarceration in a Federal prison.
Moreover, Mr. Beam reveals the nature and specifics of the fraud and the twisted personality of the driving force behind HealthSouth – Richard Scrushy. Scrushy was a hard-charging, unscrupulous visionary whose caustic, selfish motives and manipulation of Wall Street led to his fall from grace and the expulsion from the company he created.

HCCA's Compliance Institute Keynote Speaker Aaron Beam
Aaron Beam narrates the rise of outpatient service provider HealthSouth and his relationship with chief executive Richard Scrushy. He recounts the first time he met Richard at an interview for a controller position with Lifemark, a Houston, Texas based healthcare corporation. After the interview left his head spinning, Mr. Beam drove home to tell his wife, "Today I've either met the most brilliant business man that I've ever met or the biggest conman that I'll ever meet."
Mr. Beam goes on to describe his first day on the job and early warning signs that in retrospect he wishes he had heeded regarding Richard. He explains that within his first fifteen minutes at his desk, Richard invited him to sit in on a presentation that he was going to make to their boss. "We went into his boss's office, he introduced me, and he said, 'Aaron and I worked on this contract for hours last night,'" Mr. Beam tells. "I hadn't worked on anything, but today I realized that Richard told that lie to size me up, because Richard thinks four or five steps ahead of most people. He wanted to see what a player I was being included in a lie."
HealthSouth Co-founder shares his story- The Wagon to Disaster
Healthsouth CFO Aaron Beam Tells How He Cooked the Books