Profile
Shawn Achor is the winner of over a dozen distinguished teaching awards at Harvard University, where he delivered lectures on positive psychology in the most popular class at Harvard. Shawn has become one of the world's leading experts on the connection between happiness and success. His research on happiness made the cover of Harvard Business Review, his TED talk is one of the most popular all time with over 4 million views, and his lecture airing on PBS has been seen by millions. Shawn teaches for the Advanced Management Program at Wharton Business School, and collaborates on research with Yale and Columbia University.
In 2007, Shawn founded GoodThinkInc to share his research with the world. Subsequently, Shawn has lectured or researched in more than 50 countries, speaking to CEOs in China, school children in South Africa, doctors in Dubai, and farmers in Zimbabwe. He has spoken to the Royal Family in Abu Dhabi, doctors at St. Jude Children's Hospital, and worked with the U.S. Department of Health to promote happiness. In 2013, Shawn helped lead the Everyday Matters campaign with the National MS Society and Genzyme to show how happiness remains a choice for those struggling with a chronic illness.
Shawn graduated magna cum laude from Harvard and earned a Masters degree from Harvard Divinity School in Christian and Buddhist ethics. For seven years, Shawn also served as an Officer of Harvard, living in Harvard Yard and counseling students through the stresses of their first year. Though he now travels extensively for his work, Shawn continues to conduct original psychology research on happiness and organizational achievement in collaboration with Yale University and the Institute for Applied Positive Research.
Shawn is the author of New York Times best-selling books The Happiness Advantage and Before Happiness as well as Ripple's Effect and The Orange Frog. He is featured in PBS's The Happiness Advantage with Shawn Achor special.
Programs
The Happiness Advantage: Linking Positive Brains to Performance
Most companies and schools follow this formula: if you work harder, you will be more successful, and then you will be happy. This formula is scientifically backward. A decade of research shows that training your brain to be positive at work first actually fuels greater success second. In fact, 75% of our job success is predicted not by intelligence, but by your optimism, social support network and the ability to manage energy and stress in a positive way. By researching top performers at Harvard, the world's largest banks, and Fortune 500 companies, Shawn discovered patterns, which create a happiness advantage for positive outliers—the highest performers at the company. Based on his book,
The Happiness Advantage
, Shawn explains what positive psychology is, how much we can change, and practical applications for reaping the Happiness Advantage in the midst of change and challenge.
Positive Leadership: Restoring a Culture of Confidence
Confidence, trust and job satisfaction are at historic lows. When the economic collapse began, the world's largest banks called in Shawn Achor to research how to restore confidence and forward progress. While many managers succumb to helplessness, with their teams and clients quickly following suit, Shawn researched those who maintained high levels of success and leadership during the challenge. He found that our brains create confidence based on the belief that our behavior matters to the outcome we desire. To develop this trust, we must create "wins" for our brain necessary to overcome learned helplessness and must train our brains for rational optimism. Based on the science of positive psychology and case studies of working with companies in the midst of an economic collapse, Shawn provides practical applications for raising the belief that individual behavior matters and helping leaders to keep teams motivated and engaged.
The Ripple Effect: How to Make Positive Change Easier
Common sense is not common action. This is because information does not necessarily cause transformation because we require a certain level of "activation energy" to start a change. Shawn′s research in the field of positive psychology has revealed how changes in our own brain due to mindset and behavior can have a ripple effect to a team and an entire organization. This positive ripple effect can create a more productive, positive work culture making positive change easier. Audiences will learn about the latest scientific research on mirror neurons and mental priming to explain how positivity and negativity spread, case studies on how to become a lightning rod for change, and findings on how a positive ripple effect profoundly affects an organization′s ability to transition and change.
Books / Videos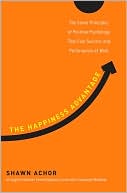 The Happiness Advantage: The Seven Principles of Positive Psychology That Fuel Success and Performance at Work
Our most commonly held formula for success is broken. Conventional wisdom holds that if we work hard we will be more successful, and if we are more successful, then we'll be happy. If we can just find that great job, win that next promotion, lose those five pounds, happiness will follow. But recent discoveries in the field of positive psychology have shown that this formula is actually backward: Happiness fuels success, not the other way around. When we are positive, our brains become more engaged, creative, motivated, energetic, resilient, and productive at work. This isn't just an empty mantra. This discovery has been repeatedly borne out by rigorous research in psychology and neuroscience, management studies, and the bottom lines of organizations around the globe.
In The Happiness Advantage, Shawn Achor, who spent over a decade living, researching, and lecturing at Harvard University, draws on his own research—including one of the largest studies of happiness and potential at Harvard and others at companies like UBS and KPMG—to fix this broken formula. Using stories and case studies from his work with thousands of Fortune 500 executives in 42 countries, Achor explains how we can reprogram our brains to become more positive in order to gain a competitive edge at work.
Isolating seven practical, actionable principles that have been tried and tested everywhere from classrooms to boardrooms, stretching from Argentina to Zimbabwe, he shows us how we can capitalize on the Happiness Advantage to improve our performance and maximize our potential. Among the principles he outlines:
The Tetris Effect: how to retrain our brains to spot patterns of possibility, so we can see—and seize—opportunities wherever we look.
The Zorro Circle: how to channel our efforts on small, manageable goals, to gain the leverage to gradually conquer bigger and bigger ones.
Social Investment: how to reap the dividends of investing in one of the greatest predictors of success and happiness—our social support network
A must-read for everyone trying to excel in a world of increasing workloads, stress, and negativity, The Happiness Advantage isn't only about how to become happier at work. It's about how to reap the benefits of a happier and more positive mind-set to achieve the extraordinary in our work and in our lives.
Order Here
Testimonials
"Rave reviews all around! Homerun! Way out of the park! We were enriched, refreshed and left wanting more. Discussion continues and will, I'm sure for some time."

-Carlos Hoyt, Associate Dean of Students, Phillips Academy Andover
"Shawn′s message was refreshing and fun; he made a significant impact in building a more positive workplace culture in our organization. His words impacted people at all levels of our organization and many of us are still talking about his message months later. It was a terrific day for our employees."
-Pam Milloy, Grand View College, Iowa
"The happiness seminar was outstanding. The speaker was articulate, informative and entertaining. A follow-up presentation would be highly recommended. You know that a presentation is good when the entire audience is still attentive even though you have crossed into lunch."
-Teacher, West Morris Public School District, New Jersey
---
*Please note that while this speaker's specific fee falls within the range posted (for Continental U.S. based events) at the top of this page, fees are subject to change without notice. For current fee information or international event fees, please contact your Speaking.com representative.
---
Reach us toll free: 877-717-5327 or via email at
speaker@speaking.com