Profile
Host,This is Life with Lisa Ling on CNN,
Journalist, Author, Correspondent, National Geographic Explorer
Journalist Lisa Ling travels around the world, bringing attention to stories that often go unreported. As the field correspondent for The Oprah Winfrey Show and contributor to ABC News' Nightline and National Geographic's Explorer, Ling has reported from dozens of countries. As host of Our America with Lisa Ling on OWN, Ling took viewers along for an in-depth look at some of the most controversial and thought-provoking issues in the United States today.
In each episode, Ling immersed herself into the lives of the people she met and challenged viewers to understand different perspectives and sometimes even question what they themselves have always believed to be true in Our America.
Ling got her start as a correspondent for Channel One News, where she covered the civil war in Afghanistan at only 21 years of age. She later went to become a co-host of ABC Daytime's hit show The View, which won its first daytime Emmy during her time at the show.
As the first woman host of National Geographic's Explorer, Ling has covered war-torn Iraq, investigated the increasingly deadly drug war in Colombia, and examined the complex issues surrounding China's one-child policy.
Ling was also a special correspondent for CNN's Planet in Peril series and is a contributing editor for USA Today's USA Weekend magazine. She is the co-author of Mother, Sister, Daughter, Bride: Rituals of Womanhood, and Somewhere Inside: One Sister's Captivity in North Korea and The Other's Fight to Bring Her Home, that she penned with her sister Laura.
Ling is also the co-founder of iVolunteer.org and secretsocietyofwomen.com. She currently hosts the investigative documentary series This is Life with Lisa Ling on CNN.
Programs
Mother, Daughter, Sister, Bride: Rituals of Womanhood
Co-authored by Lisa Ling and anthropologist Joanne B. Eicher, the new National Geographic book Mother, Daughter, Sister, Bride is a compelling exploration of all things female. Each chapter reveals the actions that connect a woman with herself, her family, her community, and other women. Ling presents the images and stories behind the book in this fascinating look at the historical, cultural, and emotional impact of women′s rituals.
Open Heart, Open Mind
Keynote speaker Lisa Ling uses her role as a journalist to focus on positive social change. She discusses her own career path in her explanation of how journalism plays an important role in the world around us, and how, as times continue to change, it can be a force for propelling the world forward in new and positive ways.
National Geographic Reports: A Global Perspective
Keeping Lisa Ling in near constant motion, the National Geographic Channel′s Explorer series takes viewers on unforgettable adventures and covers a wide range of human-interest stories, including the devastating natural disasters of the past few years. Showing dramatic video clips from Explorer, Ling shares her adventures and her personal success story and advocates having an open mind and heart to the issues surrounding us.
China′s Lost Little Girls
As a result of China′s one-child policy, thousands of baby girls are abandoned in China every year, just for being girls. Right now in the U.S., there are more foreign adoptees from China than any other country in the world. Ling has covered China for more than a decade; hear her take on this phenomenon and the consequences that the rapidly growing gender imbalance may have on the world′s fastest growing economy.
Books / Videos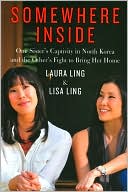 Somewhere Inside: One Sister's Captivity in North Korea and the Other's Fight to Bring Her Home
On March 17, 2009, Laura Ling and her colleague, Euna Lee were apprehended by fearsome North Korean soldiers and violently dragged through the forests along the China-North Korea border and across the Tumen River. They had been working on a television project about the human trafficking crisis that China and North Korea have been trying to cover up for years.
Shortly after, the battered and terrified women were brought before North Korea's Supreme Court and were sentenced to 12 years of hard labor in notorious gulag-style camps. They were the first Americans ever tried before the court.
Forming half of the story of Somewhere Inside, Laura provides a gripping account of struggle at the hands of the North Korean guards, as well as her cunning in being able to befriend some of the guards. For her meals in prison, Laura was given rice mixed with rocks before being subject to rounds of harrowing interrogations. Throughout her five months of imprisonment, Laura experienced the darkest moments of her life as she began to come to terms with the possibility that she might never see her family again.
After hearing of Laura's capture, Laura's sister, world-renowned journalist Lisa Ling, immediately thrust herself into private and public efforts to help secure Laura and Euna's release. She was unrelenting in her mission. Lisa recounts insider conversations with people in the highest levels of government, including Secretary of State Hillary Clinton, former Vice President Al Gore, Senator John Kerry, and Governor Bill Richardson, among others. She also shares insights into the balancing of agendas and egos with which she had to juggle.
From opposite ends of the world, Laura and Lisa Ling became an unprecedented channel of communication between North Korea, one of the most oppressive regimes on the planet, and its archenemy, the United States. Somewhere Inside is a story of survival, sisterhood and the ignition of a new relationship between two nations that have been at war for more than half a century.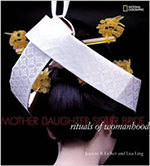 Mother, Daughter, Sister, Bride: Rituals of Womanhood
In a compelling exploration of all things female, Mother, Daughter, Sister, Bride celebrates the defining connections among women and honors their differences. Each chapter reveals the actions through which a woman connects with herself, with her family, with members of her community, and with other women—from quinceañera parties commemorating a Hispanic girl turning 15, to pre-wedding henna ceremonies in the Middle East, where the hands and feet of the bride and her party are lavishly painted for her special day. Readers also will learn about such American traditions as the debutante ball, as well as the coming of age rituals of Mende girls in Sierra Leone. Gorgeous photographs from the National Geographic archive portray these women and their customs across time and around the world.
Remarkable stories and anecdotes from anthropologist Joanne Eicher complement the profiles written by Lisa Ling, who as host of the weekly television program National Geographic Explorer, has traveled the world, observing and documenting rituals both ancient and emerging, from her exceptional perspective as a journalist.
Together these accomplished authors provide a fascinating look at the historical, cultural, emotional, and personal impact of women's rituals and ritual practices. Provoking a range of emotions—reverence, sadness, joy, and shock—Mother, Daughter, Sister, Bride puts women in perspective in the modern world, in multiple situations and on all levels.
---
*Please note that while this speaker's specific fee falls within the range posted (for Continental U.S. based events) at the top of this page, fees are subject to change without notice. For current fee information or international event fees, please contact your Speaking.com representative.
---
Reach us toll free: 877-717-5327 or via email at
speaker@speaking.com