Profile
Deep experience collaborating with clients on organizational strategy and passionate about accelerating the development of women leaders
Joanna Barsh serves as a leader of both the Consumer Packaged Goods and Organization Practices. Joanna's client experience spans mergers and acquisitions, corporate growth strategy, organization development and performance transformation.
Joanna is passionate about many things, but accelerating the development of women leaders is at the top of the list. She has been a New York City Commissioner on Women's Issues since 2002, appointed by Mayor Michael Bloomberg. Joanna created The McKinsey Centered Leadership Project, including a video archive of more than 125 in-depth interviews with women leaders from around the world.
A dedicated contributor to the New York community, Joanna has served the Partnership for New York City, the New York City Economic Development Corporation, the American Museum of Natural History, and the Manhattan Theatre Club, as well as St. Jude Children's Research Hospital and the Alaska Conservation Foundation. She has been a trustee of Sesame Workshop, the education organization responsible for Sesame Street, for 15 years.
Programs
Moving Mountains Quickly: The Centered Leadership Project
Based on ten years of research and dozens of training programs globally, this lecture equips audiences with a tool kit of practices based on the five dimensions of Centered Leadership:
Meaning: finding and using strengths on a path to living into one's leadership vision
Framing: learning to manage feelings and actions in difficult situations to lead in one's most resourceful state
Connecting: developing relationships, forming communities and cultivating sponsors in service of one's vision
Engaging: stepping up to challenges and opportunities, taking risks and actions
Energizing: managing one's energy through recovery and renewal practices
This program is available as a keynote lecture, workshop, or longer program upon request.
How Remarkable Women Lead
In this lecture, Barsh offers a hopeful outlook and unique ideas about success. It's the new "right stuff" of leadership, teaching participants self-awareness and their power to choose, offering practical take-aways and a road map to positive impact.
Books / Videos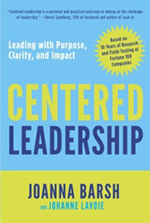 Centered Leadership
What enables some talented people to rise to the top and live their full ambitions at work and in life, while others stop short?
In 2007, Joanna Barsh led a team at McKinsey & Company to answer that very question. In the process, they uncovered what distinguishes leaders who are successful from those who achieve true greatness, developing an approach called Centered Leadership. They drew on research from across the academic fields of leadership, organization behavior, neuroscience, evolutionary psychology and positive psychology. In addition, Barsh interviewed over 160 leaders from many fields—including business, government and the arts—and from many countries. With quantitative research, the team learned that these leaders have mastered practices to find their balance in the midst of chaos and lead from their most resourceful selves, unleashing the potential of others. In 2009, Johanne Lavoie joined to lead development of programs that help executives build these capabilities. Their research and development work continues as more and more leaders experience Centered Leadership.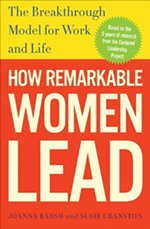 How Remarkable Women Lead
The remarkable discoveries about what drives and sustains successful women leaders.
Based on five years of proprietary research, How Remarkable Women Lead speaks to you as no other book has, with its hopeful outlook and unique ideas about success. It's the new "right stuff" of leadership, raising provocative issues such as whether feminine leadership traits (for women and men) are better suited for our fast-changing, hyper-competitive, and increasingly complex world.
Joanna Barsh and Susie Cranston establish the links between joy, happiness, and distinctive performance with the groundbreaking model of Centered Leadership.
The book's personal stories and related insights show you the magic that happens when you put the five elements of Centered Leadership–meaning, framing, connecting, engaging, and energizing–to work. They include:
How Alondra de la Parra built on her strengths and passions to infuse her life with meaning and make her way in the male-dominated world of orchestra conducting
How Andrea Jung, the CEO of Avon, avoided a downward spiral when the company turned down by "firing herself" on Friday and re-emerging on Monday as the "new" turnaround CEO
How Ruth Porat's sponsors at Morgan Stanley not only helped her grow but were also her ballast for coping with difficult personal and professional times
How Eileen Naughton recovered after losing her dream job, landing on her feet at Google and open to a new leadership opportunity
How Julie Coates of Woolworth's Australia makes energy key to her professional success, with reserves for her "second shift" as wife and mother
How Remarkable Women Lead is both profoundly moving and actionable. Woman or man, you'll find yourself in its pages and emerge with a practical plan for breaking through at both work and in life.
---
*Please note that while this speaker's specific fee falls within the range posted (for Continental U.S. based events) at the top of this page, fees are subject to change without notice. For current fee information or international event fees, please contact your Speaking.com representative.
---
Reach us toll free: 877-717-5327 or via email at
speaker@speaking.com