Profile
Ian Goldin is a leading global thinker and exceptional speaker. After a career which included being CEO of a bank and vice president of the World Bank, he is now at Oxford and serves on a variety of boards. His most recent and widely acclaimed books are Globalisation for Development and Exceptional People.

Goldin is the director of the Oxford University's Oxford Martin School which aims to provide solutions to some of the great challenges of our time. The School covers the frontiers of physical, environmental and medical science change and as well as population, migration, ageing, food and natural resources and the associated global governance challenges. Goldin is a Professorial Fellow at the University's Balliol College.

Goldin previously was at the World Bank, where he served as vice president with wide-ranging responsibilities. These included being a member of the Bank's Executive Committee and having responsibility for all major shareholder relations and relations with the UN and other global partners. From 1995 to 2001, Goldin was chief executive and managing director of the Development Bank of Southern Africa. Under his leadership, the Bank was transformed to become commercially independent and the leading agent of infrastructure development in the fourteen countries of Southern Africa, becoming the primary source of finance to over 500 municipalities and developing public private partnerships in the region. During this period, Goldin was an advisor to President Mandela and accompanied him on many state visits. Previously, Goldin worked at the European Bank for Reconstruction and Development (EBRD) in London, as principal economist, and prior to that at the OECD Development Centre in Paris, where he directed the Programs on Trade, Environment and Sustainable Development.

Goldin holds a BSc and BA (Hons) degree from the University of Cape Town, a MSc from the London School of Economics, an AMP from INSEAD and an MA and DPhil from the University of Oxford. He has received numerous awards and prizes, and has been knighted (Chevalier) by France and was nominated Global Leader of Tomorrow by the World Economic Forum. He has published over fifty articles and thirteen books, three of the most well-known being The Economics of Sustainable Development (Cambridge University Press), Globalisation for Development (Palgrave MacMillan), which Nobel Laureate Joseph Stiglitz has recommended as "essential reading", and his most recent Exceptional People: How Migration Shaped our World and Will Define our Future (Princeton) which Ned Phelps, Nobel Laureate has said will "will change, if anything, the way governments and organisations view migration policy."
Programs
The World In 2020
Ian Goldin has a unique insight into the future. Drawing on the frontiers of research at Oxford and elsewhere, he provides illuminating perspectives on the major changes in society and technology which are likely to take place over coming decades. His presentations focus on the big picture, looking at the implications for businesses, governments and individual choice.
Professor Goldin explains the connection between social and technical change, and draws out the lessons of the past thirty years of unprecedented globalisation. He discusses whether the tidal wave of globalisation will continue and whether past trends are sustainable.
He examines first population and demographic trends, considering the implications for pensions, retirement, dependency and migration patterns to the Year 2050. Next, he considers economic trends, considering whether the current dramatic instability in the market is likely to be a short-term deviation from longer term trends. He considers the rise of Asia and emerging markets, providing perspectives on economic growth and opportunities over the coming 10+ years. The connections between social, technical and economic change and market growth and consumer behaviour are unpacked. Professor Goldin provides fresh insights into the future of computing, biotechnology, nano-technology, genetics and the likely implications of frontier technologies.
Ian Goldin is a leading global thinker on the future. He has extraordinary wide ranging knowledge and an ability to combine the latest in research with insights from the inside of global politics and business.
Globalization and Systemic Risk: Lessons from the Financial Crisis
Goldin is a world leading expert on the new forms of systemic risk which he identifies as arising from turbo charged globalisation associated with sharply increased levels of connectivity and technical change. He shows how the opportunities created by closer integration simultaneously create risk and instability. Goldin considers the causes and lesson of the recent financial crisis. He provides fresh insights into the risks associated with the rapid integration of global risks and provides a framework for businesses and governments to meet this challenge. 
Humanity at the Crossroads
Goldin shows how this could be our best century ever. Or our worst, in which we may even destroy our centuries of progress. Professor Goldin identifies the major opportunities and progress which may be expected in coming years. He then draws out the ethical and social implications raised by the major shifts and advances in society and technology. He considers the public policy issues associated with the threats posed, including by climate change, pandemics and terrorism and identifies the measures necessary to ensure that society ensures that this is a century of shared opportunity, not destruction.
Migration
Goldin shows how our societies are created by a rich tapestry of migrants from different backgrounds. He identifies the vital role that migrants play in economic, social and technical development. He considers the implications of migration for the sending societies, the countries which receive migrants and the also the costs and benefits for the migrants themselves. In highly original analysis which goes far beyond the rhetoric of current debates on migration, Goldin provides long term perspective and shows how they inform future trends in migration and their implications. Drawing on a comparative historical and global perspective he provides principles and pragmatic insights for countries and communities dealing with this seemingly intractable issue.
Books / Videos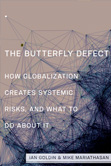 The Butterfly Defect: How Globalization Creates Systemic Risks, and What to Do about It
Global hyperconnectivity and increased system integration have led to vast benefits, including worldwide growth in incomes, education, innovation, and technology. But rapid globalization has also created concerns because the repercussions of local events now cascade over national borders and the fallout of financial meltdowns and environmental disasters affects everyone. The Butterfly Defect addresses the widening gap between systemic risks and their effective management. It shows how the new dynamics of turbo-charged globalization has the potential and power to destabilize our societies. Drawing on the latest insights from a wide variety of disciplines, Ian Goldin and Mike Mariathasan provide practical guidance for how governments, businesses, and individuals can better manage risk in our contemporary world.
Goldin and Mariathasan assert that the current complexities of globalization will not be sustainable as surprises become more frequent and have widespread impacts. The recent financial crisis exemplifies the new form of systemic risk that will characterize the coming decades, and the authors provide the first framework for understanding how such risk will function in the twenty-first century. Goldin and Mariathasan demonstrate that systemic risk issues are now endemic everywhere--in supply chains, pandemics, infrastructure, ecology and climate change, economics, and politics. Unless we are better able to address these concerns, they will lead to greater protectionism, xenophobia, nationalism, and, inevitably, deglobalization, rising conflict, and slower growth.
The Butterfly Defect shows that mitigating uncertainty and systemic risk in an interconnected world is an essential task for our future.
Exceptional People: How Migration Shaped Our World and Will Define Our Future
Throughout history, migrants have fueled the engine of human progress. Their movement has sparked innovation, spread ideas, relieved poverty, and laid the foundations for a global economy. In a world more interconnected than ever before, the number of people with the means and motivation to migrate will only increase. Exceptional People provides a long-term and global perspective on the implications and policy options for societies the world over. Challenging the received wisdom that a dramatic growth in migration is undesirable, the book proposes new approaches for governance that will embrace this international mobility.
Order Here

Globalization for Development: Trade, Finance, Aid, Migration, and Policy
Globalization and its relation to poverty reduction and development is not well understood. The book identifies the ways in which globalization can overcome poverty or make it worse. The book defines the big historical trends, identifies main global flows - trade, finance, aid, migration, and ideas - and examines how each can contribute to undermine economic development. By considering what helps and what does not, the book presents policy recommendations to make globalization more effective as a vehicle for shared growth and prosperity. It will be of interest to students, researchers and anyone interested in the effects of globalization in today′s economy and in international development issues.
Order Here

---
*Please note that while this speaker's specific fee falls within the range posted (for Continental U.S. based events) at the top of this page, fees are subject to change without notice. For current fee information or international event fees, please contact your Speaking.com representative.
---
Reach us toll free: 877-717-5327 or via email at
speaker@speaking.com