Profile
Anderson Cooper is the anchor of CNN's Anderson Cooper 360°, a nightly newscast that goes beyond the headlines—keeping politicians and policy makers honest with in-depth reporting and investigations. The show airs weeknights at 8:00pm ET on CNN.
Since the start of his career in 1992, Cooper has covered nearly all-major news events around the world, often reporting from the scene. Most recently, he has extensively covered the conflicts in Syria and Egypt, the NSA surveillance programs, the Boston Marathon bombing, and the Sandy Hook shootings.
Cooper has also played a pivotal role in CNN's political and election coverage and has anchored from conventions and moderated several presidential debates. In October 2012 Cooper moderated CNN's Republican debate from Las Vegas.
In addition to his shows on CNN Cooper is also a regular correspondent for CBS's 60 Minutes.
At CNN and 60 Minutes Cooper has won numerous major journalism awards. Cooper helped lead CNN's Peabody Award winning coverage of Hurricane Katrina and DuPont award winning coverage of the 2004 tsunami. Additionally, he has been awarded 8 Emmy Awards, including two for his coverage of the earthquake in Haiti, and an Edward R. Murrow award.
Dispatches from the Edge, Cooper's memoirs about covering wars and disasters, topped The New York Times' bestseller list and other bestseller charts.
Before joining CNN, Cooper was an ABC News correspondent and host of the network's reality program, The Mole. Cooper anchored ABC's off-beat overnight newscast World News Now, and was a correspondent for World News Tonight as well as 20/20.
Cooper joined ABC from Channel One News, where he served as chief international correspondent. During that time, he reported and produced stories, often on his own, from conflicts in Bosnia, Cambodia, Haiti, Israel, Myanmar, Russia, Rwanda, Somalia, and South Africa. Channel One News was a school television network seen daily in more than 12,000 classrooms nationwide.
Cooper graduated from Yale University in 1989 with a Bachelor of Arts degree in political science. He also studied Vietnamese at the University of Hanoi. Cooper is based in New York City.
Programs
A 360° Look at World Events
Cooper offers his perspective and insight on American politics and culture, and highlights the coverage of unconventional stories often overlooked by major news outlets. He shares his experience from reporting extensively from Russia, the Balkans, Haiti, the Middle East, Rwanda, and Somalia, and his time spent studying in Vietnam. Even while discussing heavy topics such as international affairs and the challenges facing the world today, he likes to focus on a positive aspect or share an encouraging "human" side to the story.
Books / Videos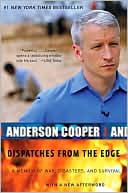 Dispatches from the Edge: A Memoir of War, Disasters, and Survival
Few people have witnessed more scenes of chaos and conflict around the world than Anderson Cooper, whose groundbreaking coverage on CNN has changed the way we watch the news. In this gripping, candid, and remarkably powerful memoir, he offers an unstinting, up-close view of the most harrowing crises of our time, and the profound impact they have had on his life.
After growing up on Manhattan′s Upper East Side, Cooper felt a magnetic pull toward the unknown, an attraction to the far corners of the earth. If he could keep moving, and keep exploring, he felt he could stay one step ahead of his past, including the fame surrounding his mother, Gloria Vanderbilt, and the tragic early deaths of his father and older brother. As a reporter, the frenetic pace of filing dispatches from war-torn countries, and the danger that came with it, helped him avoid having to look too closely at the pain and loss that was right in front of him.
But recently, during the course of one extraordinary, tumultuous year, it became impossible for him to continue to separate his work from his life, his family′s troubled history from the suffering people he met all over the world. From the tsunami in Sri Lanka to the war in Iraq to the starvation in Niger and ultimately to Hurricane Katrina in New Orleans and Mississippi, Cooper gives us a firsthand glimpse of the devastation that takes place, both physically and emotionally, when the normal order of things is violently ruptured on such a massive scale.
Cooper had been in his share of life-threatening situations before -- ducking fire on the streets of war-torn Sarejevo, traveling on his own to famine-stricken Somalia, witnessing firsthand the genocide in Rwanda -- but he had never seen human misery quite like this. Writing with vivid memories of his childhood and early career as a roving correspondent, Cooper reveals for the first time how deeply affected he has been by the wars, disasters, and tragedies he has witnessed, and why he continues to be drawn to some of the most perilous places on earth.
Striking, heartfelt, and utterly engrossing, Dispatches from the Edge is an unforgettable memoir that takes us behind the scenes of the cataclysmic events of our age and allows us to see them through the eyes of one of America′s most trusted, fearless, and pioneering reporters.
---
*Please note that while this speaker's specific fee falls within the range posted (for Continental U.S. based events) at the top of this page, fees are subject to change without notice. For current fee information or international event fees, please contact your Speaking.com representative.
---
Reach us toll free: 877-717-5327 or via email at
speaker@speaking.com