Talk with your customers. Listen to your employees. These are long-time, well tested truisms of business. But ask organizations to engage with people on Facebook or Twitter and a look of sheer terror crosses their faces. The long held concept of command-and-control leadership is being tested as organizations are experiencing the largest technological and sociological shift of our generation. In this presentation, Charlene helps audiences to feel in command in a world where they're no longer in control. For example, how open, how transparent, how authentic and how real do you need to be? More importantly, how do you leverage and measure the impact of using social technologies in your organization? Charlene lays out a new approach that today's leaders must adopt for competitive advantage.
Dr. Lior Zoref is a researcher, keynote speaker, advisor and author of the bestselling book, Mindsharing – the art of crowdsourcing everything. Mindsharing has been translated to many languages and was listed by Inc. Magazine as one of the best books for entrepreneur leaders, along with books by Richard Branson, Elon Musk and Tony Hsieh.
Dr. Zoref gave a talk at TED in Long Beach California and has been invited to speak at some of the world's most innovative organizations, including The White House, Nike, Google, MIT Media Lab, Microsoft and LinkedIn where he shared the stage with figures like Bill Gates, Al Gore, Jeff Bezos and more.
Dr. Zoref worked for fourteen years at Microsoft. His last role was vice president of marketing for consumer and online services. He earned his PhD in the area of crowdsourcing from Bar-Ilan University. He lives in Israel, married and a proud father of 3 kids.
From the prospective of a researcher, a former Vice President of marketing at Microsoft and a passionate speaker, this talk inspires a new look about the power of WE, a new perspective on leadership and and innovation using our collective intelligence.
This talk inspires setting big goals, innovation and making dreams come true.
Whether we need to make better financial choices, find the love of our life, or transform our career, crowdsourcing is the key to making quicker, wiser, more objective decisions.
But few of us even come close to tapping the full potential of our online personal networks. This book offers proven guidelines for applying "mind sharing" in new ways. For instance, how a mother's Facebook update saved the life of a four-year-old boy, and how a manager used LinkedIn to create a year's worth of market research in less than a day.
Organization are using these techniques to innovate and problem-solve in record time. Mindsharing reveals how crowdsourcing has the ability to supercharge our thinking and upgrade every aspect of our lives.
"Lior Zoref's presentation to our regional Brand Leadership team was insightful, inspirational and mind opening. Highly recommended!"
"In your pleasant, humble and humorous way, Lior walked us through his personal story while gifting us with key methods and technics of giving a presentation. I can already see the change and the step up of the team."
Dalit Sharon, Kodak
"Lior's lecture was inspiring, empowering, and taught us that 'the sky's the limit' is not just an empty phrase."
Rothy Bitterman, Perion
"Crowdsourcing is the base line of all sharing economy. Lior is doing outstanding job in providing the experience of how does it really work and the power of crowdsourcing."
Uri Levin, Waze co-founder and former president
"I invited Lior to present to our Microsoft Europe leadership team. They all LOVED IT! It was refreshing, relevant and most insightful. The session worked very well for a diverse audience and feedback was excellent."
Sally Katz–Atzmoni, Microsoft
"I used to think it was hard to match Malcolm Gladwell's skill of presenting complex subjects easily, but Lior Zoref's matches and at times exceeds it."
Vova Soroka, IBM
"The internet has become humanity's nervous system. In Mindsharing, Lior Zoref offers us powerful insights into how this will change the way we make our decisions in every aspect of our lives."
Peter H. Diamandis CEO, X PRIZE Foundation; Executive chairman, Singularity University
Peter gets up every day inspired to enable people to be extraordinary so that they can do extraordinary things. Extraordinary in the areas that really matter to them, areas that genuinely inspire them.
"What fires me up everyday is to see people achieving incredible things by being their true selves. Everyone has extraordinary talents and, when these are given space to breathe, combined with a clear sense of higher purpose, remarkable performance has a tendency to flow. Put simply, it's about reconnecting to what it is to be human."
Peter believes that when similarly inspired people come together in organisations, remarkable things can happen. Great performance is achieved by connecting people to a higher, common purpose – a 'Why'. This leads to places to work in which people feel more fulfilled, there is a high level of discretionary effort, innovation and empowerment thrives – and sustainable results follow. Peter is committed to helping shift the world of work to be a place where the vast majority of people go home fulfilled, energised and inspired by the work they do. Passionate about enabling people to be extraordinary and inspired by the theory of The Golden Circle, Peter has collaborated with Simon Sinek for over five years and has the role of Igniter and Implementation Specialist on the Start With Why team (startwithwhy.com).
Peter's commercial and industry experience has been at the most senior levels in sectors including oil & gas, construction, mining, pharmaceuticals, banking, television, film, media, manufacturing and services – across 80 countries. His career has spanned professional pilot; leading an aviation training and standards organisation; teaching post-graduates at an international college; and running a multi-billion pound procurement project. A former Royal Air Force senior officer, he has been a Force Commander during combat flying operations and has seen service across the world. He is a seasoned crisis manager, a former international negotiator for the UK Government, and executive coach. Peter is now dedicated to continuing to learn and share insights into how humans operate, communicate and relate.
A keynote speaker and facilitator, Peter presents around the world, offers workshops and bespoke leadership programmes. His talks include: Harness the Power of Why; Truly Human Leadership; and Leadership during Crisis.
A Fellow of the Royal Aeronautical Society and of the Chartered Management Institute, Peter holds a degree in mathematics, an MSc in aeronautical systems, trials and design, and an Airline Transport Pilot's Licence.
In association with Simon Sinek's organisation, Start With Why, Peter's keynotes have the ability to touch and inspire large groups of people in very short timescales. His talks can be a traditional keynote of up to 60 minutes, or delivered over several hours during which Peter will get the audience involved in exploring the ideas he shares.
Peter draws on his own experience and uses other case studies, including from NASA's space program, to identify how this different type of leadership can be applied in business to produce results that extend far beyond what may be expected.
Peter illustrates his insights into what makes people tick by drawing on his broad commercial, flying and military experience, including his first-hand compelling account of being a Force Commander during the 2003 Gulf War. Using examples drawn from industry, he then explains how these principles can be applied in any business to create an extraordinary, inspiring and sustainable organization.
Bespoke, integrated programs to create sustainable Why-based cultures, inspired teams and transform business results.

The programs bring together Adaptive Leadership skills, Right-to-Left Thinking techniques and unique strategic planning tools, delivered through workshops and coaching over several months.
Books / Videos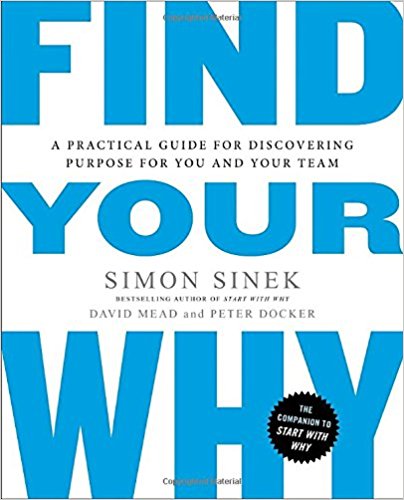 Find Your Why: A Practical Guide for Discovering Purpose for You and Your Team
With detailed exercises, illustrations, and action steps for every stage of the process, Find Your Why can help you address many important concerns, including:

* What if my WHY sounds just like my competitor's?
* Can I have more than one WHY?
* If my work doesn't match my WHY, what should I do?
* What if my team can't agree on our WHY?


Whether you've just started your first job, are leading a team, or are CEO of your own company, the exercises in this book will help guide you on a path to long-term success and fulfillment, for both you and your colleagues.
Testimonials
"Peter was a wonderful speaker, very well received. We received excellent feedback so far on our surveys noting that he was a dynamic speaker and set the event off on the right foot. Such a nice person with great insights. We truly appreciated him joining us in Monaco!"
- EMC

"Peter's presentation was brilliant. He was a very engaging speaker and he made it so relevant that you could really understand how it would work day-to-day in your role and workplace. " - Human Resources Institute of New Zealand Conference

"Peter brings an exceptional level of commitment and integrity to his work – and it shows in the results he gets. But, perhaps most of all, his ability to see old, gnarly problems in a clear, illuminating new light makes working with him full of potential and hugely exciting. Occasionally, you meet a group of people who can truly inspire. It's rare to be blown away by a consultancy firm, even rarer still to meet some with the passion, enthusiasm and humanity of Why Not. We came away feeling honoured that they chose to work with us and help us become all we could be. Rare indeed."
- Freeman Christie Ltd.



Profile
President and CEO of the Aspen Institute & Bestselling Biographer
Walter Isaacson is the President and CEO of the Aspen Institute. He has been the Chairman and CEO of CNN and the editor of TIME magazine. He is the author of Einstein: His Life and Universe, Benjamin Franklin: An American Life (2003), and Kissinger: A Biography (1992) and is the coauthor of The Wise Men: Six Friends and the World They Made (1986).
Most recently Isaacson published the highly anticipated and only authorized biography – Steve Jobs. Based on more than 40 interviews with Jobs conducted over two years—as well as interviews with more than a hundred family members, friends, adversaries, competitors, colleagues—Walter Isaacson has written a riveting story of the roller-coaster life and searingly intense personality of a creative entrepreneur whose passion for perfection and ferocious drive revolutionized six industries: personal computers, animated movies, music, phones, tablet computing, and digital publishing.
Isaacson was born on May 20, 1952, in New Orleans. He is a graduate of Harvard College and of Pembroke College of Oxford University, where he was a Rhodes Scholar.
He began his career at the Sunday Times of London and then the New Orleans Times-Picayune/States-Item. He joined TIME magazine in 1978 and served as a political correspondent, national editor and editor of new media before becoming the magazine's 14th managing editor in 1996. He became Chairman and CEO of CNN in 2001, and then president and CEO of the Aspen Institute in 2003.
He is the chairman of the board of Teach for America, which recruits recent college graduates to teach in underserved communities. He was appointed by President Barack Obama and confirmed by the Senate to serve as the chairman of the Broadcasting Board of Governors, which oversees Voice of America, Radio Free Europe, and other international broadcasts of the United States. He is vice-chair of Partners for a New Beginning, a public-private group tasked with forging ties between the United States and the Muslim world. He is on the board of United Airlines, Tulane University, and the Overseers of Harvard University. From 2005-2007, after Hurricane Katrina, he was the vice-chair of the Louisiana Recovery Authority.
At the podium, Isaacson brings a combination of wit, history, drama, and humanity to the stories of Jobs, Einstein and Franklin, and their contributions to the world. His presentations are informed by a deep knowledge of history and its significance to the news of the day.
Programs
Suggested Speaking Topics:

Great Innovators: Benjamin Franklin, Einstein and Steve Jobs
Profiles in Leadership: Historians on the Elusive Quality of Greatness
American Sketches: Great Leaders, Creative Thinkers, and Heroes of a Hurricane
Books / Videos
Steve Jobs
Based on more than forty interviews with Jobs conducted over two years—as well as interviews with more than a hundred family members, friends, adversaries, competitors, and colleagues—Walter Isaacson has written a riveting story of the roller-coaster life and searingly intense personality of a creative entrepreneur whose passion for perfection and ferocious drive revolutionized six industries: personal computers, animated movies, music, phones, tablet computing, and digital publishing.

At a time when America is seeking ways to sustain its innovative edge, and when societies around the world are trying to build digital-age economies, Jobs stands as the ultimate icon of inventiveness and applied imagination. He knew that the best way to create value in the twenty-first century was to connect creativity with technology. He built a company where leaps of the imagination were combined with remarkable feats of engineering.

Although Jobs cooperated with this book, he asked for no control over what was written nor even the right to read it before it was published. He put nothing off-limits. He encouraged the people he knew to speak honestly. And Jobs speaks candidly, sometimes brutally so, about the people he worked with and competed against. His friends, foes, and colleagues provide an unvarnished view of the passions, perfectionism, obsessions, artistry, devilry, and compulsion for control that shaped his approach to business and the innovative products that resulted.

Driven by demons, Jobs could drive those around him to fury and despair. But his personality and products were interrelated, just as Apple's hardware and software tended to be, as if part of an integrated system. His tale is instructive and cautionary, filled with lessons about innovation, character, leadership, and values.
Order Here




Einstein: His Life and Universe
By the author of the acclaimed bestseller Benjamin Franklin, this is the first full biography of Albert Einstein since all of his papers have become available.

How did his mind work? What made him a genius? Isaacson′s biography shows how his scientific imagination sprang from the rebellious nature of his personality. His fascinating story is a testament to the connection between creativity and freedom.

Based on newly released personal letters of Einstein, this book explores how an imaginative, impertinent patent clerk -- a struggling father in a difficult marriage who couldn′t get a teaching job or a doctorate -- became the mind reader of the creator of the cosmos, the locksmith of the mysteries of the atom and the universe. His success came from questioning conventional wisdom and marveling at mysteries that struck others as mundane. This led him to embrace a morality and politics based on respect for free minds, free spirits, and free individuals.

These traits are just as vital for this new century of globalization, in which our success will depend on our creativity, as they were for the beginning of the last century, when Einstein helped usher in the modern age.
Order Here




Profiles in Leadership: Historians on the Elusive Quality of Greatness
"Though we cannot learn leadership, we can learn from leaders, which is why this volume is so engaging and valuable." —Boston Globe

What made FDR a more successful leader during the Depression crisis than Hoover? Why was Eisenhower more effective as supreme commander at war than he was as president? Who was Pauli Murray and why was she a pivotal figure in the civil rights movement?

Find the answers to these questions and more in essays by great historians including Sean Wilentz, Alan Brinkley, Annette Gordon-Reed, Jean Strouse, Frances FitzGerald, and others. Entertaining and insightful individually, taken together the essays address the enduring ingredients of leadership, the focus of an introduction by Walter Isaacson. 13 black-and-white illustrations
Order Here





Profile
Matthew Luhn is a writer, story and branding consultant, creative writing instructor and keynote speaker with over 25 years' experience creating stories and characters at Pixar Animation Studios, The Simpsons, and beyond.
Alongside his story work in Hollywood, Matthew also trains CEOs, marketing teams, directors and other professionals how to craft and tell stories for Fortune 500 companies, Academy Award winning movies and corporate brands.
Matthew's "Story Seminars" and "Story for Business Workshops" run in New York City, Los Angeles, London, and other major cities worldwide. His "Story for Business Workshops" and keynotes train business leaders and entrepreneurs how to use storytelling to bridge the gap between heart and business to build better brands and business communication, while his "Story Seminars" train attendees how to develop stories and write dialogue to create compelling stories and screenplays. His clients include Target, Procter and Gamble, Adidas, BMW, Sony, Mattel, Facebook, Charles Schwab, Microsoft, Warner Brothers, Google, Salesforce, and many more.
Matthew's story credits include Toy Story (1995), Toy Story 2 (1999), Monsters Inc. (2001), Finding Nemo (2003), Cars (2006), Ratatouille (2007), UP (2009), Toy Story 3 (2010), Monsters University (2013), Toy Story of Terror (2013), Toy Story That Time Forgot (2014), and other films and TV shows currently in development.
Matthew's career began at 19 years old, as the youngest animator to work on the TV series, The Simpsons. His TV credits on the The Simpsons include "Kamp Krusty" (1992), "Lisa's Pony" (1992), "Homer Alone" (1992), "Colonel Homer" (1992), "Homer Defined" (1992), and "Burns Verkaufen der Kraftwerk" (1992).
Along with his seminars and consulting work, Matthew has a sustained interest in teaching and empowering children around the world how to draw, write, and make films. Collaborating with The General Pencil Company, the first pencil factory in the USA, Luhn has created a series of "how to draw" books and art programs for kids of all ages.
Programs
StorySelling
Storytelling is the #1 business skill necessary to connect, motivate, and lead people in today's world. Stories compel us to engage in experiences, learn lessons, and define our values and ourselves within our organization. Matthew Luhn, a 20-year Pixar story veteran, brings his experience creating and developing 10 blockbuster films at Pixar, and provides practical strategies that teach and inspire people and teams to connect more effectively with audiences. Matthew uses the power of storytelling to bridge the gap between business and heart, driving your story toward one unforgettable selling point.

Big Data and Story Telling
Big data is changing everything from content development to culture itself. Matthew Luhn, a 20 year Pixar story veteran will share how big data is being used to create great stories and characters in films like Toy Story 3, Inside Out and beyond. Matthew's experience and insight will empower and inspire publishers, advertisers and innovators on how to forge stronger, more meaningful connections with consumers.

Inspiring Creativity in the Workplace
As one of the original story creators at Pixar Animation Studios, Matthew Luhn participated in building and sustaining the creative culture at Pixar from startup to the most successful filmmaking group in the history of Hollywood. Matthew's engaging and action-oriented talk will provide strategies on how to create a culture that encourages and nurtures new ideas, and embraces fear and failing as a necessary part of the creative process. He demonstrates how to empower relationships and build trust through authentic communication.

Becoming an Effective Leader, as Told by Pixar Heroes
In film and in the business world, every story needs a great hero. In this unique session, Matthew Luhn shares his tips and techniques to creating authentic, inspirational, and memorable heroes that are relatable to leadership and business. Exploring and analyzing the character traits of Pixar heroes and other great story protagonists can provide a model for outstanding leadership that will leave your audience inspired and empowered.

It's the Feel that Seals the Deal: Are Your Consumers Feelin' it?
70% of all first time visitors to Disney movies, stores, and theme parks return for more. Why? Because they want to feel delighted and entertained.

To create a more profitable and desirable brand, we need to create experiences that affect people and make them feel something special. Without a clear feeling that follows our brand, we send out confusing messages to our clients and employees. Or worse, we blend in by telling the same story as everyone else, simply becoming white noise. Learn from Matthew Luhn as he shares how to discover and tell your one clear and concise message that will leave your target audience feeling that special something and wanting more.
Testimonials
"Matthew was a true professional to work with. He customized his presentation to match our theme on data, and as he promised made the audience laugh, cry and learn something new about storytelling. He is a truly inspirational and inspiring speaker! I hope we can work together in the future."
-Amit Kotecha Head of Marketing EMEA, Quantcast

"We get many good speakers coming in talking about some very interesting concepts and ideas, we don't get many 'Matthews" though. This guy will take you on an inspirational ride of emotions that will blow any speaker out of the water!"
- Laggi Diamandi Head of Learning and Development, Foster + Partners

"Over the course of two days Matthew helped sculpt three compelling stories for the BBC. It was probably the most constructive two days on the entire production, thank you Matthew for your wisdom and entertaining us so much!"
-Mark Brownlow, Series Producer, BBC Natural History Unit

"Matthew spoke at a conference GV hosted for communications and marketing executives in the technology industry. His session was an empowering lesson about the art of building connections through storytelling. Matthew's talk was inspiring, entertaining, and actionable, and many attendees told us that his keynote was the highlight of the entire day."
- Jodi Olson, Communications Lead, Google Ventures

"Matthew is a born storyteller and mentor. As a teacher, he demonstrates a true passion, drive, and expertise that is world class. Matthew is a true master of the craft of story."
- Emily Dean, Story Artist, Warner Brothers

"Matthew's ability to connect with the audience and share his valuable insights through stories was truly amazing. There were parts of his talk where the audience would be doubled over in laughter and other instances where the messaging was so touching that many cried. It was a beautiful experience and very inspiring. A great experience that I would recommend for any company."
- Katrina Moss, Onboarding Program Manager, Shopify

"Thank you Matthew for teaching our staff how to give oral presentations with strong structure that can change the beliefs of the world. In a nutshell, if we take a story — one of our success stories, for example —back it up with data and make people feel something, people will remember it. Big thumbs "Up" for edutainment value!"
-Lise Lindia, Team Lead, HR Services and Programs, Canadian Institute for Health Information (CIHI)

"Attending Matthew's story workshop has made a drastic difference in growing my business and my understanding of why I am in my business. By learning why we tell stories and how to effectively tell a story, I am now able to look at my story and write it in a way that can communicate to my clients and staff."
- Heather B. Quick, CEO, The Quick Law Group

"Matthew's Story Workshop at The Walt Disney Family Museum was inspiring, full of energy and gave a clear explanation of the story process from beginning to end. There was a wide experience range among the students that participated, but whether they were a pro or just getting started everyone had something to take away from Matthew's story workshop."
- Jenna Calvao, Community Program Coordinator, The Walt Disney Family Museum

"Matthew has a gift for explaining story structure that is both engaging and extremely understandable. His lectures and workshops at Fisher-Price have been attended by many in Marketing, Design and Media Production who look to improve their storytelling."
- Robert "Bud" Kolich, Director VizLab, Fisher Price



Profile
Bill Nye – scientist, engineer, comedian, author, and inventor – is a man with a mission: to help foster a scientifically literate society, to help people everywhere understand and appreciate the science that makes our world work. Nye's wit and enthusiasm have helped to garner 18 Emmy awards for his PBS/syndicated series Disney Presents Bill Nye the Science Guy.
Nye is also the host of Stuff Happens, a show examining the everyday stuff of our lives, and the far-reaching effects our actions have on the planet. He uses his trademark humor, to help viewers gain understanding on big issues, like the environment and sustainability, and presents positive, upbeat solutions to these critical problems.
Serving as an ambassador for science education, Nye has traveled across the US and has served on children's education, science, and TV committees and acted as an advocate for children's safety and health.
An accomplished author, Nye has written five books including, Bill Nye the Science Guy's Big Blast of Science, Bill Nye the Science Guy's Please Consider the Following—A Way Cool Set of Science Questions, Answers and Ideas to Ponder, and his most recent book, Bill Nye the Science Guy Considers the Big Blue Ocean.
After a debate with a creationist who believes the world is only 6,000 years old, Nye wrote his first book for a general audience, Undeniable—Evolution and the Science of Creation, featured on the New York Times' bestsellers list. He considers it a primer on the discoveries and principles of evolution, and with his book and all his writing, Nye hopes to change the world. His next book for the general audience will explore the subjects of energy and climate change, while his next children's book will be about space exploration.
Nye supports the need to raise the standard of living for women and girls by educating people as effectively as possible. With Disney, Nye wrote and produced Solving for X, a series on DVD about algebra, which turns out to be the most reliable indicator of whether or not a student will pursue a career in science – girls especially.
Nye received a mechanical engineering degree from Cornell University, where he studied under Carl Sagan. He joined Boeing Commercial Airline Company in Seattle, where he worked on flight control systems until his love of entertainment led to work as a stand-up comic and his eventual creation of the persona of the Science Guy.
Bye currently speaks regularly at colleges, appearing often on news and television about a variety of topical science matters, and remains the CEO of the Planetary Society. He fights to raise awareness of climate change and the value of critical thinking, science, and reason. Through all his work, Bye hopes to inspire people everywhere to change the world.
Testimonials
We had so much wonderful feedback from our day with Bill! We really enjoyed our time with him, his presentation, and his time with the kids at the Hands-on Museum. Please thank him for such a wonderful visit. He was charming and a delightful person to work with!
-Llamasoft

The event went so well! Everyone that saw the show raved about how good it was and loved Bill. He signed posters for everyone, including the Student Activities Board members and took group pictures with the Board and meet and greet winners. Overall, this is one of the biggest events we have had in quite some time and I think that people will be talking about it for a long time.
-Truman State University

The event went very well. We sold out and it was an enthusiastic crowd. The students loved his talk and he was great to work with. He was really engaging, humorous, and educational – all in all, a major success!
-Buffalo State College



Profile
Joseph A Michelli, PhD, CSP, is an internationally sought-after speaker, author, and organizational consultant who transfers his knowledge of exceptional business practices in ways that develop joyful and productive workplaces with a focus on the total customer experience. His insights encourage leaders and frontline workers to grow and invest passionately in all aspects of their lives.
Dr Michelli is a Wall Street Journal, USA Today, Publishers Weekly, Nielson Bookscan and New York Times #1 bestselling author. His latest book is Driven to Delight: Delivering World-Class Customer Experience the Mercedes-Benz Way. Joseph's other titles include Leading The Starbucks Way: 5 Principles for Connecting with Your Customer, Your Products, and Your People; The Zappos Experience: 5 Principles to Inspire Engage and WOW; Prescription for Excellence: Leadership Lessons for Creating a World-Class Customer Experience from UCLA Health System; The Starbucks Experience: 5 Principles for Turning Ordinary into Extraordinary; The New Gold Standard: 5 Leadership Principles for Creating a Legendary Customer Experience Courtesy of The Ritz-Carlton Hotel Company; and When Fish Fly: Lessons for Creating a Vital and Energized Workplace, which was co-authored with the owner of the "World Famous" Pike Place Fish Market in Seattle.
Joseph holds the Certified Speaking Professional designation from the National Speakers Association (NSA) and is a member of the Authors Guild. He received his Masters and Doctorate from the University of Southern California. Joseph has won the Asian Brand Excellence Award, is an editorial board member for the Beryl Institute's Patient Experience Journal (PXJ), and is on the Founders council of CustomerExperienceOne. He was named as one of the Top 10 thought leaders in Customer Service by Global Gurus.
Having journeyed with a close family member through a six year battle with breast cancer, Dr. Michelli is committed to social causes associated with curing cancer as well as abating world hunger.
Programs
Presentation/workshops based on Dr. Michelli's bestselling business books:

Driven to Delight – Delivering World-Class Customer Experience the Mercedes-Benz Way
Many businesses were not created on a customer experience or customer service foundation. They started from a founder's passion for a given product or industry. These types of businesses might have innovative products, operational excellence, and even great marketing. What they often lack is consistent and emotionally engaging customer experience that live up to their product quality.

In Driven to Delight, Dr. Michelli looks at how an iconic brand with the motto "best or nothing" set sights on being one of the world's best customer experience providers. Moving from the middle of the pack among luxury automobile manufacturers on customer satisfaction surveys toward levels that rival a brand like The Ritz-Carlton Hotel Company, leaders at Mercedes-Benz USA created a compelling transformational vision while aligning and mobilizing people, processes, and technology. If you are on a cultural journey to be Driven to Delight, this message will inform and resonate!

Leading the Starbucks Way – 5 Principles for Connecting with Your Customers, Your Products, and Your People
Let's assume you have an engaged workforce and a consistent experience that drives staff and customer loyalty. How will you sustain and build on that success? For example, how does your business remain relevant with your existing customer base while continually developing products that attract diverse customer segments?

In Leading the Starbucks Way, Dr. Michelli touches upon key drivers that led to Starbucks meteoric success but emphasizes actionable takeaways born from the wisdom of Starbucks leaders as they leverage technology, mobilize the interpersonal connection through social media, expand offerings into the consumer product goods space, and increase sustainability and global relevance. If you are looking for lasting success built on passion for product and people, Leading the Starbucks Way is for you.

The Zappos Experience – 5 Principles to Inspire, Engage, and WOW
Culture, culture, culture! This presentation highlights tools that have created a rich and unorthodox service culture at Zappos. Against all odds this online business (known primarily for selling shoes in a playful and emotionally engaging ways) has revolutionized social media strategies, developed an environment which has earned it a consistent spot in the top ten of Fortune Magazine's best places to work, created zealous fans, and attracted Amazon.com as a purchaser for more than 1.2 billion dollars.

In this keynote or workshop, Dr. Michelli outlines the 5 principles leaders and frontline worker can use to "zappify" enduring success (Serve a Perfect Fit, Make it Effortlessly Swift, Step Into the Personal, S T R E T C H, and Play to Win). It's time to integrate (not balance) work and fun. It's time to benefit from the unique and effective customer employee and customer engagement techniques of Zappos!

Prescription for Excellence – Leadership Lessons for Creating a World Class Customer Experience from UCLA Health System
Imagine running a business that requires the innovation of Apple, the commitment to safety of NASA, and the customer service of The Ritz-Carlton. Further, imagine your mandate demands you are a worldclass educator, your work product holds life and death in the balance and you are responsible for discoveries that shape the future of medicine – that is the charter of UCLA Health System and as such UCLA offers a view into a diverse set of challenges faced by most businesses.

Borrowing from transformational leadership at UCLA, Dr. Michelli outlines lessons on how to catapult your business to preeminence at an unusually rapid pace, transform the satisfaction and engagement of your customers through a service-centric approach, achieve enviable profitability during economic downturns and re-design, elevate, and humanize your customer experience. Through the context of business principles like Commit to Care, Make the Best Better, and Create the Future, Dr. Michelli offers insights to elevating service excellence by consistently executing against the highest service standards.

The New Gold Standard: Leadership Principles for Creating Legendary Customer Experiences
In this presentation, Dr. Michelli examines how to deliver legendary customer experiences such as those consistently offered by The Ritz-Carlton Hotel Company. The New Gold Standard presents cutting edge leadership strategies for selection, training, and retention of the "right" staff. It demonstrates how leaders and front line workers can drive staff engagement and ownership behavior that ultimately produces transformational customer experiences.

Expounding on leadership principles such as "Define and Refine," "Empower Through Trust," and "It's Not About You," this presentation examines ways to keep your service relevant to changing customer needs and shifting economic times.

The Starbucks Experience – 5 Principles for Turning Ordinary into Extraordinary
By strategically focusing and executing on the details of the internal and external customer experience, Starbucks has become an employer and coffee provider of choice. In essence, Starbucks has become a name synonymous with coffee itself. While most people see Starbucks as a coffee company that serves people, its success is based on the inverse. It is a people company serving coffee.

In this keynote or workshop, Dr. Michelli shows frontline workers and business leaders how to "stage" and perform on their brand's promise. He analyzes the importance of identifying a desired emotional connection with the customer. Further, Dr. Michelli helps participants see the important distinction between "good" and "bad" profit (for example, bad profit is that made at the expense of the customer need). Using principles like "Make it Your Own," "Surprise and Delight," and "Embrace Resistance," Dr. Michelli shows how to create the ultimate customer experience. Lights, camera, action – your experience awaits.

When Fish Fly: Lessons for Creating a Vital and Energized Workforce
Dr. Michelli helps you create a unique and durable experience that energizes employees and draws customers. Excerpting from his book of the same name, Dr. Michelli reels in the complete fish story behind the World Famous Pike Place Fish Market in Seattle (where they are known for throwing fish and engaging antics). In this keynote or workshop, Dr. Michelli examines core principles like "Commit It," "Be It," and "Coach It" which create Pike Place Fish's uniquely vital and creative culture. A culture that leads to excellent customer service, legendary employee morale, a fun and dynamic work environment, and ultimately makes a "World Famous" difference in the lives of those they serve.

This presentation offers a cohesive strategy for achieving world famous results for owners, managers, front-line workers, and customers alike. If Pike Place Fish can achieve world fame from a small storefront, with zero advertising in a smelly, physically arduous profession, just think what is possible for your company!

Service Excellence and Customer Experience Presentations:

So, You Want to Deliver Consistently Outstanding Customer Experiences
You are not alone in wanting to deliver outstanding customer experiences. According to Forrester Research, customer experience elevation is on the strategic priority list of 92% of businesses; 23% of those small, medium and large companies have customer experience as their #1 priority. Despite that prioritization, consumer satisfaction research suggests customer engagement is at a 9-year low.

This presentation outlines the difference between companies that "aspire to" and those like Mercedes-Benz USA that "execute to" deliver customer delight. It outlines the role leadership vision and alignment play, as well as offers approaches to inspire customer-centricity for everyone who represents your brand. Moreover, it offers practical tools on how to integrate technology with human service delivery to create a uniquely special bond with your customers.

Service or Experience? Defining your Way We Serve Statement™
Let's face it – consumer behavior has fundamentally changed since the third quarter of 2008. While some business leaders have decided to drop prices to the lowest possible level, others have sought ways to add value to their existing goods and services.

In this presentation, Dr. Michelli presents customer trends verifying the wisdom of adopting a cost-effective commitment to elevating service and customer experience. Building on data showing that even in these difficult times 50% of consumers are paying more for a better experience and 50% of customers are still leaving businesses because of bad experiences, Dr. Michelli shows how to strategically design a relevant experience targeted to customer retention and acquisition of your competitors' disgruntled customers. The experience design process begins with crafting a Way We Serve Statement to help all staff members understand the nature of the optimal experience to be delivered. In this keynote, Dr. Michelli also demonstrates how to make costconscious decisions that drive customer loyalty and increase customer spend.

Service Serves Us™
Survival in business is rather simple. No company makes money or stays in business unless they serve the needs of others. Moreover, creating "craveable" customer experiences drive consumer loyalty. Conservative estimates suggest it costs 6 times more to attract a new customer than to retain an existing one. When consumers cut back on spending patterns, it is all the more important to focus on customer retention. Opportunities also exist to identify the as yet unmet needs of your current customers so you can offer solutions to address those needs and increase your customers' desire to spend more money at your business.

In this keynote or workshop, Dr. Michelli discusses ways to innovate solutions that will enhance the life of the customer, such that existing customers spend more and increase their referrals to your business. By identifying the drivers of loyalty, Dr. Michelli helps audience members understand how to allocate limited financial and staff resources for maximum customer experience return.

Service is an Inside Job
Who delivers compelling experiences that draw customers? The short answer is everyone in the business! Dr. Michelli's keynote or workshop challenges each audience member to take ownership in their workplace to assure long-term viability. By making distinctions involving varying levels of employee engagement (owners, renters, and squatters), Dr. Michelli helps redefine the role of every employee to being that of an "equity generator." He demonstrates that every employee affects the engagement level of colleagues and contributes to positive or negative customer experiences.

Dr. Michelli shows how a single employee can change a culture, lift morale, innovate breakthrough products, create customer evangelists, and even save a business. This inspirational presentation is an impassioned yet optimistic call for strong action in these turbulent times. It is a call for "rock-solid" execution of customer service standards.

Employee Engagement and Customer Loyalty Presentations:
Customer Loyalty: Driving Ease and Engagement through People, Process and Technology
The drivers of customer loyalty are changing! Consumers no longer stay loyal to brands that simply satisfy them. Increasingly, customers churn because brands are difficult to do business with and/or those brands don't develop emotional or lifestyle connections with them.

In this Customer Loyalty presentation, Dr. Michelli looks at best practices from brands like Mercedes-Benz USA, Zappos, and Starbucks as they forge emotional connections at high value touch points. He also demonstrates approaches to mobilize an entire workforce to listen to the voice of customers and look for ways to remove pain points and enhance delight. This presentation also explores the role of employee loyalty to customer loyalty and the leadership behaviors needed to achieve both.

Transforming Your Culture to Drive Customer Engagement, Loyalty and Referrals
A Harvard Business Review research article suggests that "customer experience initiatives" are failing because they are not grounded in cultures of service excellence. In Transforming Your Culture, Dr. Michelli looks at how brands like Mercedes-Benz USA create a compelling vision of change urgency, align leaders in pursuit of tangible customer experience objectives, offer technology and process tools to delight customers, and change the internal conversation to discuss the business from the customer's vantage point.

If you are seeking a fundamental shift toward true "customer-centric" execution, this presentation will offer a roadmap and tools for transformational change!

Mastering Change, Unleashing Innovation and Leaving a Legacy Presentations:

Change or Die! Securing Maximum Innovation and Staff Engagement
This presentation examines the primary drivers of change in the technological age. It demonstrates ways to establish flexible service and quality standards while encouraging the sharing of unique ideas and talents of employees. By making important leadership distinctions between "being" and "doing," Dr. Michelli offers a fun yet practical approach to infusing greater employee vitality, ownership and fun. It helps participants utilize essential strategies for seizing opportunities in a rapidly changing world.

The Road to Practical Innovation
Innovation is a daunting word. In this presentation, Dr. Michelli demystifies the innovative process. By exploring the inside (ideas of staff) and outside (benchmarking other businesses) lanes, Dr. Michelli demonstrates how your business can gain a competitive advantage in creative product development and service delivery. Dr. Michelli shows how to effectively elicit and implement staff-generated ideas while also looking for best practices both inside and outside of your industry. Dr. Michelli offers structured and advanced innovation strategies that lead to results-based breakthroughs.

Legacy/Service Significance Presentations:

Leadership - The Art of Lasting Significance
From Dr. Michelli's perspective, leadership involves engaging people to do the right things to profit people. While much research has been done on leadership success principles, Dr. Michelli focuses on two unifying aspects of leadership greatness - positive influential communication skills and the ability to develop leaders who develop leaders.

Utilizing a leadership legacy model, Dr. Michelli helps managers and leaders understand the importance of finding ways to know and engage what is likable about those they lead. Further, he guides leaders in the process of understanding that their influence is shaped by both their effort and by the scope of leaders they develop. Leadership - The Art of Lasting Significance takes participants through a process to define their own personal "Leadership Legacy Statement."

Leave Your Mark
Why do you come to work here? That fundamental question is the foundation for a presentation that looks at the transformational power of work and service. By shifting the focus away from the task nature of work to the underlying purpose of a person's job choice Dr. Michelli helps participants reidentify and ignite that passion and calling of the work in which they engage. Dr. Michelli guides employees at all levels of the organization understand how they can do more than transact business and instead how they can develop gifts and talents in the service of powerful transcendent goals.
Books / Videos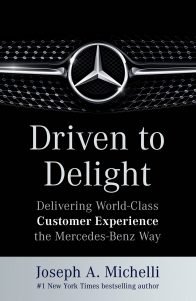 Driven to Delight: Delivering World-Class Customer Experience the Mercedes-Benz Way
Driven to Delight offers an exclusive, behind-the-scenes look at CEO Steve Cannon and his leadership team's ambitious, multi-pronged strategy to elevate the company's customer experience to best-in-class across all brands and industries. This is an in-depth, all-access look at senior leadership's vision, strategy, and tactical steps to create and sustain the wide-sweeping actions needed to deliver a customer experience that lives up to the company's brand promise, "the best of nothing."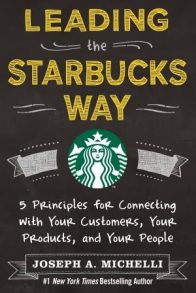 Leading the Starbucks Way: 5 Principles for Connecting with Your Customers, Your Products and Your People
One of the best-recognized and admired brands in the world, Starbucks singlehandedly transformed the ordinary delivery of coffee into a cultural phenomenon - a result of the company's exemplary leadership practices. In Leading the Starbucks Way, Joseph Michelli describes that success is all about loving your product, loving your customers, and loving your employees. Sincerely. Without fail. Even in the face of business challenges.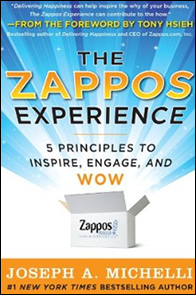 The Zappos Experience: 5 Principles to Inspire, Engage, and WOW
In The Zappos Experience, learn about the rich and unorthodox service culture at Zappos, a company known primarily for selling shoes in playful and engaging ways. Joseph Michelli explores effective employee and customer engagement techniques and the integration of work and fun at Zappos. Prepare to be Zappified!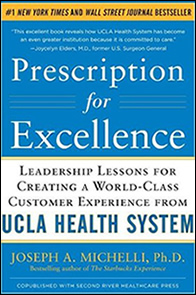 Prescription for Excellence: Leadership Lessons for Creating a World-Class Customer Experience from UCLA Health System
This book shares the journey of UCLA Health System to transform the satisfaction and engagement of their customers through a service-centric approach. Joseph Michelli examines the success and leadership principles of UCLA Health System and includes how-to tips, and practical tools useful to all business sectors. In essence, all business is personal.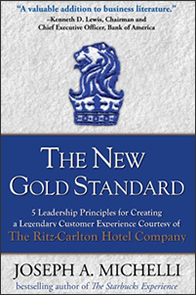 The New Gold Standard: 5 Leadership Principles for Creating a Legendary Customer Experience Courtesy of The Ritz-Carlton Hotel Company
The New Gold Standard takes you on an exclusive tour behind the scenes of the Ritz-Carlton. With access to the company's executives, staff, and award-winning Leadership Center's training facilities, Joseph Michelli explores every level of leadership within the organization.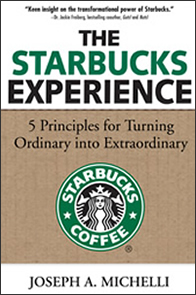 The Starbucks Experience: Five Principles for Turning Ordinary into Extraordinary
For the first time, an outsider has been given unique access to Starbucks, offering readers an in-depth look at every level of the company. The Starbucks Experience offers a rare blend of boardroom strategies, employee motivation tips, community involvement, and customer satisfaction - for a full-bodied experience that really pays off.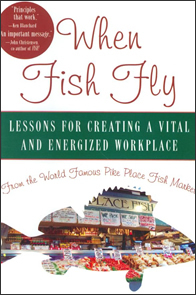 When Fish Fly: Lessons for Creating a Vital and Energized Workplace
In this revealing business advice book, the magic of the World Famous Pike Place Fish Market proves a dynamic example of what a group of people can create when they are aligned and living a powerful vision.
Testimonials
"It was an incredible experience having Joseph Michelli, a visionary and author of books on Starbucks, Ritz Carlton, Zappos, and Mercedes-Benz, lend his customer-centric insight to ACUITY's formalized strategic planning process. He embraced our organization, intent on fully understanding our culture, direction, and goals, doing so with excitement and captivation. Such discernment allowed Joseph to tailor an extraordinary presentation to ACUITY's management team, helping foster discussions and ideas that are heightening our company's future. I was absolutely delighted and honored by Joseph Michelli's engagement with ACUITY. His message and unique delivery style are unmatched."
Ben Salzmann, President and CEO, ACUITY, A Mutual Insurance Company

"I can't say enough good things about the experience Joseph provided for the agents and advisors at our annual World Series of Sales. He was the first of our featured speakers and he set a high bar for all who would follow with a compelling and enthusiastic presentation that both reminded us of the importance of going above and beyond for our clients and provided us with key insights into how to make that happen across our organizations. Joseph's real-life examples really helped drive home that all business truly is personal and that if we're not finding a way to reach our clients on a person level, we're doing a disservice to them and to ourselves. I've already had several agents and advisors tell me that they've purchased Joseph's books and are working with their staffs to begin implementing his ideas. I would wholeheartedly recommend him to anyone who wanted to help build capacity in their organization for creating positive and memorable client experiences."
Cody Foster, Founder, Advisors Excel

"Joseph provided us with an absolutely phenomenal "Michelli Experience!" He wowed our front line staff with his presentation on service; many of our folks commented that it was probably the best workshop they had ever attended. He also provided exceptional insights into leaving a leadership legacy with our donors and special friends of Lethbridge College. I have no hesitation in recommending Joseph as an outstanding speaker!"
Dr. Tracy Edwards, President and CEO, Lethbridge College

"Dr. Michelli provided an energetic and thought provoking kick-off to our annual client conference. His energy and ability to relate the experiences of his research with leading edge organizations immediately captured and inspired the audience. Our clients gave us kudos for his insights into the opportunities that exist to connect all employees to the daily delivery of a company's mission. His central message is right on the mark and even more so for organizations trying to remain competitive in today's challenging economic climate."
David Lissy, CEO, Bright Horizons

"I highly recommend Joseph to any organization that is focused on providing the highest degree of customer service and obtaining world-class results. In the competitive and crowded field of consultants and business advisers helping organizations align and integrate their customer service objectives into their core mission and daily operations, Joseph stands out. He has separated himself from the pack and, once you see him in action, you'll understand why."
Bernie Snow, Director of Organizational Development, St. David's HealthCare

"The goal of our conference was to provide small businesses with a roadmap to developing a customer service model that drives referrals through word of mouth. Dr. Joseph Michelli's workshop delivered exactly what we needed. In 20 years of conference programming his workshop has to rank at the top in terms of useable content. Too many speakers rely solely on entertainment and gimmicks. Dr. Michelli provides content that, if implemented appropriately, can actually result in meaningful change in a company's culture and in demand for their services."
David Brown, Executive Director, America Outdoors Association

"Thank you for your help in making the Travel Alberta Industry Conference a great success. We sincerely appreciate the time and effort you took to plan and deliver excellent and thought-provoking session information. Your willingness to share your experience, expertise and knowledge helped provide participants with a valuable, practical learning experience. Evaluations for the conference have been very positive, as follows:
- Fantastic, smart, well informed presentation from an equally smart and fantastic individual.
- Words cannot express how amazing this presentation was - WOW!!
- Absolutely amazing - well spoken, professional, authentic, personal, genuine - a true pleasure to listen to.
- Very engaging, great messaging, relevant to business "people business" really, really well done.
- Emotional and engaging - haven't cried in a presentation before.
- Excellent!! Wow!! What else can I say?!
- Enlightening and encouraging - great speaker.
- The best and most insightful presentation."
Jean Silzer, Conference Manager, Travel Alberta

"Thank you for the outstanding presentation you gave to our managers and sales staff. Your message was right on track with our company's goals and philosophy, and you presented in such a way as to reach everyone in the audience. Your ability to share examples and insight regarding culture were an inspiration to us all. As a company moving along in a 5 year journey, your talk inspired us to continue to become better every day. Again, thank you for a great presentation and helping to make our annual sales conference a huge success."
Steve Bunger, President & CEO, Mobile Mini, Inc.

"I highly recommended Joseph's services. He is terrific. We're holding our breath a bit because the speaker we have hired for next summit has some pretty BIG shoes to fill! We just hope we didn't raise the bar too high with Dr. Michelli!!!"
Kathi Herman, General Manager, IT&BI Business Relations, Southern California Edison

"Dr. Michelli not only met our expectations, but exceeded them. When our group gave him a standing ovation, I knew he was a big hit."
Betty Thomas, Director, Expositions and Special Events, California Association of Realtors

"I would like to personally thank Joseph Michelli on his tremendously popular keynote. Our operators, exhibitors and partners were so enthusiastic about the subject and rated the presentation as one of the key highlights of the entire event."
Ana Shmin, Customer Relations & Events Manager, Bombardier Commercial Aircraft

"Over the years I have enjoyed the privilege of hearing many top business and leadership speakers, including Joseph Michelli. Prior to hearing him speak, I had read his book "The Starbucks Experience" and thought it was a dynamic overview of Starbucks and more importantly, full of excellent business lessons for us all. But hearing Joseph live was a special occasion. Joseph was phenomenal. His presentation was absolutely full of content and practical application. His style was humorous yet sobering and his personal story was the grand finale that makes him a true "Icon" in the speaker world today. I will seek out opportunities to hear Joseph again. He is truly one of the best business speakers available today."
Mark Nichols, Chick-fil-A Franchisee

"You WOWED us beyond all expectations!! I can't thank you enough for all the time, energy and enthusiasm you brought to your presentation. And your willingness to sit in on the table discussion was completely unexpected. To top all of this off, the comments I've received from everyone, especially senior management, were all incredibly positive. Thanks again for a fabulous day."
Dana Klein, former Director, Janus Labs

"Dr. Michelli was OUTSTANDING at our Good Morning Tucson breakfast event. His enthusiasm and expertise is just what Tucson businesses needed to hear to pump them up and motivate them to rise above their competition. We are still hearing great things about the event weeks after it took place! Our members truly took to heart Dr. Michelli's presentation and passed along the information to their own respective personnel. Dr. Michelli's open personality and depth of knowledge made for an exciting and memorable presentation."
Jack Camper, President/CEO, Tucson Metropolitan Chamber of Commerce

"Dr. Joseph Michelli's presentation to the leadership of Saint Peter's Healthcare System was one of the most insightful and inspirational educational programs we have ever organized or attended. Dr. Michelli's "Prescription for Excellence" reminded and challenged us to remember our calling. We were left with not only a better understanding of WOW experiences, but how we have the potential each and every day to deliver world class service, forge lasting relationships, and change lives. We are forever grateful to Dr. Michelli for participating in our ongoing journey to excellence!"
Robert Puglisi, Leadership Development Team, Saint Peter's Healthcare System

"It was an absolute pleasure working with Dr. Michelli leading up to and at our event. He is extremely professional, personable and is a great listener. From our pre conference phone calls he was able to tailor a keynote presentation to our audience on Leaving a Legacy that Lasts. He provide a energetic and moving presentation. Having to present to a mixed audience (home building industry professionals and their spouses) is difficult for anyone but I believe he delivered a great presentation that had an impact on many of our attendees."
Laara Braz, Awards & Events Manager, Canadian Home Builders' Association

"Joseph, we could not have been more pleased with your message and the delivery of your positive strategy for success. We Get It! On behalf of our 7,000 CMAA members, the 2.3 million members of the clubs managed by CMAA members and the small business vendor community who were exposed to your presentation for the first time - a huge 'Thank You.' We played hard, worked harder and succeeded in New Orleans at our 85th Annual Conference and Club Business Expo this past week. Your keynote presentation was a significant part of that success. Thank you, again, for exceeding our expectations."
Jim Singerling, CEO, CMAA

"I recently had the opportunity to see Joseph speak to an auditorium that was engaged, moved, touched and found themselves leaving the room, realizing that something special had just happened. Joseph has gained access to and the confidence of some of the most inspirational leaders and organizations of our time. He combines the academic perspective of a PHD, with the lightness of a comedian and the human perspective of a husband, a father and an individual, who just wants to be his best. I left feeling educated, inspired and compelled to make the world, and the world of my friends and family, a better place."
Kevin MacDonald, Partner, The Coaching Department



Profile
Rick is a servant leader, a student-teacher, and a Go-to Chief. He is also an experienced and trusted confidant, an author, a sought-after speaker, and an expert at driving sustainable growth. For over 30 years, Rick served as a successful business executive in roles including President and/or CEO in a Fortune 10, a Fortune 30, a startup, and a non-profit. In each case, he was recruited from the outside to turn around poor performance in difficult times. Rick Miller is a Chief not because of his many high-ranking titles, but because of his ability to bring out the best in others—and in himself—using the choices he developed in his Power Compass.
Across different industries and facing challenges that range from a market crash to a war zone, unethical competitors, and friendly fire from inside his own company, Rick led teams that have repeatedly tripled the growth rates of million and billion dollar organizations. At the same time, these companies drove record levels of customer and employee satisfaction and loyalty.
Known for helping leaders ask the right questions, Rick has been in demand for the past ten years as a confidential adviser to many of today's most senior executives, and is extensively connected within the global business and leadership communities. Rick continues to serve senior executives by offering broad business experience in six specific areas: customers, competitors, costs, capital, communities, and culture.
Rick began his career in 1980 as a sales trainee in the tech industry working for Sperry Corporation. There he learned important lessons about relationships, accountability, and constant change. Rick developed skills as a turnaround specialist and rose to serve as a Division VP/GM for the North America Division.
Rick left Sperry in 1995 to serve as a Corporate Officer at AT&T, running a "long-lines" unit—he was AT&T's first outside recruit for that position in 100 years. Rick's team tripled the growth rate to 15% and held it for three years as they built a robust $5B unit. Rick was then promoted to President of Global Services.
In 2000, Rick was recruited by the internet start-up, Opus 360, to serve as President and COO. During the market crash of 2000, Rick's team completed a successful IPO while dramatically increasing revenue and profit.
Then in 2002, Rick was recruited as the first hire of a newly-appointed Lucent Technologies CEO to turnaround sales at the $21B telecommunications provider. After the company returned to profitability, Rick was asked to serve as President of Lucent's Government unit, which became the fastest growing unit at Lucent for the next three years.
During this period, Rick also led the non-profit organization, The Balance & Stretch Center. As President and CEO, he led the development of products used by other non-profits to help children with diabetes.
Since mid-2008, Rick has worked with senior leaders across many industries including hi-tech, pharmaceutical, manufacturing, automotive, media services, financial services, and in non-profit organizations. First at Choices & Success LLC and now at BEING CHIEF LLC, the result is always growth.
Rick also works with the Weatherhead School of Management at Case Western University. Specifically, as a Senior Advisor to The Strategic Innovation Lab at The Fowler Center for Business as an Agent of World Benefit, Rick offers counsel to engage the business community in programs that lead to sustainable long-term growth.
Rick earned a bachelor's degree from Bentley University and an MBA from Columbia. He currently lives in Morristown, NJ.
Programs
Few career business executives have proven they can succeed on the front lines and deliver sustainable growth at different companies, of different sizes, in different industries, and in tough times.
Fewer have a track record of growing leaders as a primary strategy.
Very few are also servant leaders who have demonstrated an ability to help everyone in an organization increase their power.
Rick is one of the very few. With humility and humor, he works to enable every audience member to leave each session with practical growth tools that apply in companies ranging from startups to multinationals. Rick enlightens, enables and energizes audiences.
Driving Sustainable Growth – Lessons from the Front Lines
Is your organization doing all it can to build success that lasts? Conventional management theory does not drive sustainable growth. In this keynote, Rick shares the three proven keys to long-lasting success.
First, Rick describes the six strategic planning prerequisites for growth: Customers, Competition, Financial Capital, Costs, Community, and Climate.
Second, Rick shares important research linking effective Human Capital strategies to growth and offers best practices and simple tools to optimize this most critical asset.
Finally, Rick leads the audience through a self-assessment exercise that enables every attendee to leave the session with personalized plan to drive sustainable growth.
Unleashing the Power in Your Team
Do individuals believe the real power in your company is at the top of your organization chart? Power is a noun with four primary definitions: ability, influence, energy, and positional authority. The biggest problem in companies today is that too many people ignore the first three definitions due to a preoccupation with the fourth.
To learn where real power lies, this keynote introduces audience members to two levels of actions to unleash an organizations real power.
First, Rick outlines what people in positions of authority can do to improve the engagement that unlocks real power: Measure employee engagement; ensure diversity and gender-balanced leadership; consistently assess, improve, and expand employee "hard and soft" skillsets; add new skillsets when necessary; align team members around a values-based vision for the future; and build a change-adaptive culture to meet accelerating market changes and drive management's strategy.
Second, Rick introduces audiences to his concept of Viral Engagement and what's needed to create a self-sustaining engagement culture. This two-tiered strategy drives productivity, loyalty, innovation, and sustainable top and bottom-line results.
Books / Videos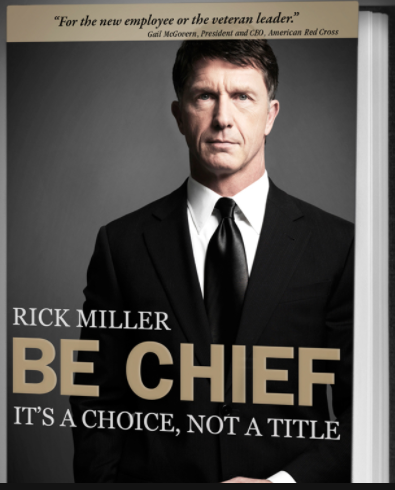 BE CHIEF
"The leadership values and skills of a chief need not be confined to the C-suite. Rick Miller's outstanding new book, BE CHIEF, is a guide to ways in which you can bring your leadership skills up to the highest level, and inspire those around you to do the same. Don't wait for someone to hand you the title—be Chief now!"
- Daniel H. Pink, New York Times bestselling author of Drive and To Sell Is Human

"Reading Rick's unconventional insights and advice on leadership and how to create a winning corporate culture in today's hyper-connected, hyper-competitive world is like having one head slapping ah-ha moment after another. More than a business book, BE CHIEF is a valuable reference and resource guide that you will find yourself turning to time and again."
- Jim McCann, Founder and CEO of 1-800-FLOWERS.COM

"BE CHIEF offers a simple and compelling roadmap of options for each of us to unlock our potential while being our authentic selves. As women, we have traditionally been more likely to help others succeed to be Chief rather than focus on ourselves. This special book offers valuable examples of women who do both!"
- Betsy Myers, Founding Director of the Center for Women and Business at Bentley University, former Director of the White House Office for Women's Initiatives and Outreach, and author of Take The Lead
Testimonials
"Rick Miller is one of the most brilliant business thinkers and leaders of today."
- TEDxWallStreet

"I first worked with Rick on an event in Chicago for Fortune 1000 CHROs. Rick got great reviews and was a pleasure to work with. His extensive and diverse business experience as an executive combined with his humor and humility make him an informative and engaging speaker. We have continued to engage Rick for other C-Suite audiences and he consistently delivers. He is a true professional. I highly recommend Rick Miller for any of your speaking engagements."
- Dustin Davis, Director at Evanta, a CEB Company

"I have shared a stage with Rick, brainstormed a whole weekend with him and even hired him for my own leadership retreat of 300 CEOs. Rick is articulate, charismatic and a straight shooter. He delivers a simple, clear and deep discovery of self and leaves you with a roadmap as a constant reminder to keep your compass focused on the stuff that matters most!"
- Stefan Swanepoel, NYT & WSJ best-selling author, CEO T3

"Rick Miller is truly a leader. He delivers great content and is a witty and skilled presenter. I have worked with him multiple times at different leadership events and he hits it out of the park every time. If you are looking for a dynamic speaker Rick is your guy. I highly recommend him."
- Darlene Lyons, President of EzEvents, Inc.

"We selected Rick to deliver the keynote at a recent Institute for Sustainable Enterprise session at Farleigh Dickinson University. What struck me most was the ease with which he connected with our diverse audience, while delivering a powerful talk and focusing on how his concepts could be applied by each participant when they left the session. I was not surprised to see great audience feedback survey results… particularly when I saw that two hours after he concluded his talk, there was still a line of students from different area colleges waiting to talk more. Highly recommended."
- Jeana Wirtenberg, President & CEO, Transitioning to Green

"We've used Rick repeatedly to speak at our National Publicity Summit and several other events. He's super-knowledgeable and a very inspiring communicator, who's also easy to work with and always over-delivers. You should see the line of attendees who want to talk with him when he's off-stage! He never leaves until every single person gets all their questions answered. A total class act. Highly recommended."
- Bill Harrison, CEO, Bradley Communications Corp



Profile
Bear Grylls has become known around the world as one of the most recognised faces of survival and outdoor adventure. His journey to this acclaim started in the UK, where his late father taught him to climb and adventure.
Trained from a young age in martial arts, Bear went on to spend three years as a soldier in the British Special Forces, serving with 21 SAS. It was here that he perfected many of the skills that his fans all over the world enjoy watching him pit against mother-nature.
His TV Emmy nominated show Man Vs Wild / Born Survivor became one of the most watched programmes on the planet with an estimated audience of 1.2 billion. He then progressed to US Network TV, hosting the hit adventure show 'Running Wild' on NBC, where he takes some of the world's best known movie stars on incredible adventures, including the likes of President Barack Obama, Ben Stiller, & Kate Winslet, Zac Efron and Channing Tatum.
Bear co-owns and hosts the BAFTA award winning The Island with Bear Grylls on Channel 4, which has sold as a format all around the world. In addition Bear co-owns and hosts ITV & CITV's Bear Grylls Survival School as well as Survivor Games and Absolute Wild for Chinese TV.
Bear is currently the youngest ever Chief Scout to the UK Scout Association and is an honorary Colonel to the Royal Marines Commandos. He has authored 20 books, including the number one Bestselling autobiography: Mud, Sweat & Tears.
Programs
A Survival Guide for Life
In A Survival Guide for Life, Bear Grylls, globally renowned adventurer and television host, shares the hard-earned wisdom he's gained in the harshest environments on earth, from the summit of Mt. Everest to the boot camps of the British Special Forces. Filled with exclusive, never-before-told tales from Bear's globe-trekking expeditions, A Survival Guide for Life teaches the audience—no matter your age or experience—that we're all capable of living life more boldly, of achieving our most daring dreams, and of having more fun along the way.

Facing the Frozen Ocean
It started out as a carefully calculated attempt to complete the first unassisted crossing of the frozen north Atlantic in an open rigid inflatable boat, but it became a terrifying battle against storm-force winds, crashing waves and icebergs as large as cathedrals. Starting from the remote north Canadian coastline, Grylls and his crew crossed the infamous Labrador Sea, pushed on through ice-strewn waters to Greenland and then found themselves isolated in a perfect storm 400 miles from Iceland. Compelling, vivid and inspirational, Facing the Frozen Ocean will appeal to all who like a good story and the inspiration to survive.
Books / Videos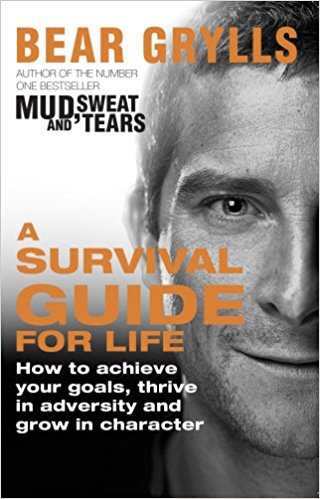 A Survival Guide for Life
Life in the wild teaches us invaluable lessons. Extreme situations force us to seize opportunities, face up to dangers and rely on our instincts. But living a purpose-driven, impactful life can be an even greater challenge...

In A Survival Guide for Life, Bear Grylls shares the hard-earned lessons he's learned from some of the harshest environments on earth.

How do you keep going when all the odds are stacked against you? How can you inspire a team to follow you in spite of obvious danger? What are the most important skills to learn if you really want to achieve your maximum potential?

Bear's instantly inspiring tales from his adventures in all four corners of the globe include his personal life lessons you will never forget. We're all capable of living life more boldly and of having more fun along the way. Here's to your own great adventure!



Profile
Programs
Dr. Eid-Oakden brings brilliant insights and expert advice regarding the following themes:
• Entrepreneurship
• Female entrepreneurship
• Gender issues
• Business opportunities in MENA
• Energy/Unconventional energy
• Infrastructure
• TMT
• Retail
• Banking
• Investment/Financing
• Islamic finance
• FX Strategy/Credit Strategy/Fixed Income
• Investment Management
• Private Equity/Venture Capital
• Intra-Regional Remittances
• Iran
• Iran-Arab: resuming ties
• Africa-MENA
• Sahel
• Latin America-MENA: transitions
• Turkey-MENA: Economics and politics
• ASEAN-MENA: Emerging hubs of South-South trade
• New Industrialized Asia-MENA
• Sino-MENA relations
• Geopolitics
• Arab Spring
• India-MENA relations
• Ecommerce & fintech
• GCC healthcare
• GCC Education
• Pharma
• Subsidy reform in MENA
Recent topics include:
• The Middle East Today: What is exceptional and what isn't?
• Risks and opportunities of doing business in the Middle East
• The low oil price environment: A rite of passage toward more responsive economic management in the GCC?
• Iran's return to global markets will present regional economic challenges and opportunities. What about its politics?
• China's New Silk Road will transform trade and investment patterns. Who benefits most?
• Islamic finance, a perfect fit for infrastructure investment in the region?
• Suffering from the highest rate of youth unemployment worldwide, could entrepreneurship become a game-changer for MENA labour markets?
• How are markets adjusting to and accommodating lower oil prices? Has there been a cyclical pick-up in other commodity prices?
• Assessing the impact of Iran on regional geopolitical trends, what are the implications of the Trump presidency for the Iran nuclear deal?
• Are we witnessing a resurgence in Sino-MENA relations? What of relations with India as a major trading partner?
• Changing Economic Foundations in the GCC -- What Will the Next Ten Years Bring?
• How can central banks suppress volatility? What will the consequences be for increased rates? What are the implications of continued unconventional monetary policies by central banks for Europe? What will the outlook be for debt markets investors with continued Eurozone malaise?
• The Arab Spring Six Years On: Progress or Regress?
• Economics in a Turbulent World: How Will Developments in Energy Markets, The Rise of China, Economic Reform in KSA and Iranian Regional Ambitions Play Out.
• Private Equity in African and the Middle East: Driving Africa's Economic Transformation
• Arab Societies and the Winds of Change: New Dynamics and Perspectives or a Step Back?
• Economics, Trade and Business: New Challenges, new horizons for MENA
• Entrepreneurial Finance: What it Means for MENA
• Beyond the headlines: MENA opportunities emerge
• Markets 160 million strong: Parsing through the volatility
• The New Maghreb: Business Opportunities in North Africa

---
*Please note that while this speaker's specific fee falls within the range posted (for Continental U.S. based events) at the top of this page, fees are subject to change without notice. For current fee information or international event fees, please contact your Speaking.com representative.
---
Reach us toll free: 877-717-5327 or via email at speaker@speaking.com