Simon Mainwaring Featured in Speaker Magazine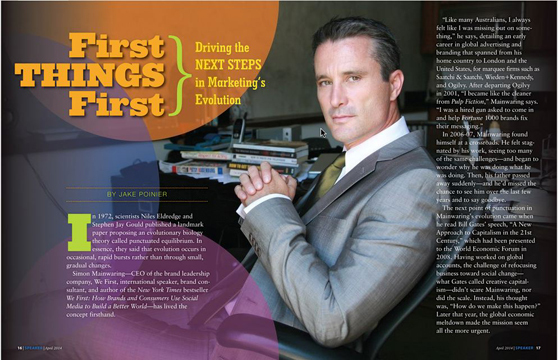 Simon Mainwaring, one of our favorite speakers, is on the current April 2014 cover of Speaker Magazine.
A respected author, influential blogger and international speaker, Simon is considered one of the world's foremost experts on branding and social media. He offers corporate executives, top brands and non-profit leaders critical insights into how to capitalize on social media to build brand communities, profits and positive impact.
Simon is master at distilling complex ideas down into simple, memorable communications, and at engaging an audience on a powerful, emotional level. His unique combination of spontaneity, disarming humor, and seriousness of purpose ensures that each engagement leaves his audiences enlightened, inspired and wanting more.
Click here for the full article about Simon and his work.